Fantasy Basketball Midseason Top 100: LeBron James Is the New No. 1
February 28, 2012

Mike Ehrmann/Getty Images
We are at the midway point of the NBA season, and that means it is a good time to reevaluate where guys land in the ranking system of fantasy basketball.
It's not an easy task to choose between some of these guys, but it can be very helpful for trading to know where each player ranks and who might be valued higher or lower than they actually are.
These rankings are pertain to now through the rest of the season and do not take into consideration long-term value.
So without further rambling, here is my own Top 100 for the second half, complete with a new No. 1 player:
LeBron James—Miami Heat
Kevin Durant—Oklahoma City Thunder
Kevin Love—Minnesota Timberwolves
Chris Paul—Los Angeles Clippers
Deron Williams—New Jersey Nets
Dwayne Wade—Miami Heat
Russell Westbrook—Oklahoma City Thunder
Kobe Bryant—Los Angeles Lakers
Dwight Howard—Orlando Magic
Derrick Rose—Chicago Bulls
Dirk Nowitzki—Dallas Mavericks
Al Jefferson—Utah Jazz
Monta Ellis—Golden State Warriors
Josh Smith—Atlanta Hawks
LaMarcus Aldridge—Portland Trail Blazers
Kyle Lowry—Houston Rockets
Pau Gasol—Los Angeles Lakers
Andrew Bynum—Los Angeles Lakers
Stephen Curry—Golden State Warriors
Blake Griffin—Los Angeles Clippers
Rudy Gay—Memphis Grizzlies
John Wall—Washington Wizards
Marc Gasol—Memphis Grizzlies
DeMarcus Cousins—Sacramento Kings
Carmelo Anthony—New York Knicks
Danny Granger—Indiana Pacers
Rajon Rondo—Boston Celtics
Marcin Gortat—Phoenix Suns
Greg Monroe—Detroit Pistons
Paul Millsap—Utah Jazz
Steve Nash—Phoenix Suns
Paul Pierce—Boston Celtics
Tony Parker—San Antonio Spurs
Kyrie Irving—Cleveland Cavaliers
David Lee—Golden State Warriors
Andre Iguodala—Philadelphia 76ers
Ricky Rubio—Minnesota Timberwolves
Amare Stoudemire—New York Knicks
Marcus Thornton—Sacramento Kings
Ty Lawson—Denver Nuggets
Roy Hibbert—Indiana Pacers
James Harden—Oklahoma City Thunder
Chris Bosh—Miami Heat
Serge Ibaka—Oklahoma City Thunder
Joe Johnson—Atlanta Hawks
Jeremy Lin—New York Knicks
JaVale McGee—Washington Wizards
Ryan Anderson—Orlando Magic
Tyreke Evans—Sacramento Kings
Gerald Wallace—Portland Trail Blazers
Brandon Jennings—Milwaukee Bucks
Kevin Martin—Houston Rockets
Nikola Pekovic—Minnesota Timberwolves
Luol Deng—Chicago Bulls
Mike Conley—Memphis Grizzlies
Nicolas Batum—Portland Trail Blazers
Joakim Noah—Chicago Bulls
DeAndre Jordan—Los Angeles Clippers
Danilo Gallinari—Denver Nuggets
Jrue Holiday—Philadelphia 76ers
Tyson Chandler—New York Knicks
Brook Lopez—New Jersey Nets
Jamal Crawford—Portland Trail Blazers
Paul George—Indiana Pacers
Kris Humpries—New Jersey Nets
Nene Hilario—Denver Nuggets
Tim Duncan—San Antonio Spurs
Antwan Jamison—Cleveland Cavaliers
Jose Calderon—Toronto Raptors
Kevin Garnett—Boston Celtics
Marshon Brooks—New Jersey Nets
Carlos Boozer—Chicago Bulls
Jason Terry—Dallas Mavericks
Luis Scola—Houston Rockets
Ray Allen—Boston Celtics
Darren Collison—Indiana Pacers
Mo Williams—Los Angeles Clippers
Dorell Wright—Golden State Warriors
Manu Ginobili—San Antonio Spurs
Caron Butler—Los Angeles Clippers
Jeff Teague—Atlanta Hawks
David West—Indiana Pacers
Zach Randolph—Memphis Grizzlies
Kemba Walker—Charlotte Bobcats
Nick Young—Washington Wizards
DeMar DeRozan—Toronto Raptors
Al Harrington—Denver Nuggets
Rodney Stuckey—Detroit Pistons
Wilson Chandler—Free Agent
Ersan Ilyasova—Milwaukee Bucks
Isaiah Thomas—Sacramento Kings
Drew Gooden—Milwaukee Bucks
Channing Frye—Phoenix Suns
Trevor Ariza—New Orleans Hornets
Wesley Matthews—Portland Trail Blazers
Chris Kaman—New Orleans Hornets
Lou Williams—Philadelphia 76ers
Jason Richardson—Orlando Magic
Jared Dudley—Phoenix Suns
Andrea Bargnani—Toronto Raptors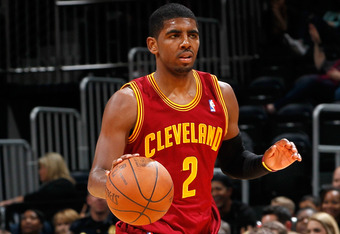 Kevin C. Cox/Getty Images
Kyrie Irving vs. Ricky Rubio
A lot of people are enamored with Ricky Rubio, and I am one of them. I love watching the guy play, almost more so than anyone else in the NBA. But when I step back and look at Kyrie Irving compared to Rubio for fantasy, I have to side with Kyrie by just slightly.
I think Irving is developing as a passer, and his assists totals will climb up to over six per game by the end of the season. He's also improving defensively and will continue to add to his steals totals.
I would give an edge to Rubio long term because I think his game is still developing and he'll continue to get better and better, but for the rest of this season it's Irving for me.
The Mighty Has Fallen
I even surprised myself a little when I was trying to find a place to pencil Amar'e into my rankings, and I had to talk myself into working him into the Top 40—a guy who was a borderline top-10 pick before the season.
The more talent around Amar'e, the worse his stats get.
The presence of Tyson Chandler is taking away from his rebounding, and the presence of Carmelo Anthony and now Jeremy Lin is taking away from his points.
Until Amar'e finds a way to work in this system again, he's going to be closer to the Roy Hibbert-type of centers than the Dwight Howard types. 
The Rise of Pekovic
The NBA is enthralled with Linsanity and it is a ton of fun to watch, I have to admit. But meanwhile, there are other guys doing impressive things, and one of them is Nikola Pekovic in Minnesota.
Through 13 February games, Pekovic has averaged 17.2 points, 10.4 rebounds, 1.2 blocks and 0.9 steals.
Pekovic has quickly established himself as this year's version of Marcin Gortat and just keeps piling up the stats. It's amazing that anyone can average double-digit rebounds playing next to Kevin Love, but the big man from Yugoslavia is making it happen right now. 
Free Wilson
He may not have a team to play for yet, but it's only a matter of time before Wilson Chandler is back in the NBA. I am expecting some very nice things from him in the second half.
Chandler was one of my favorite sleepers before getting trapped in China, and now that he is forgotten he may be an even bigger sleeper.
Wherever Chandler lands I anticipate he'll put up 15-16 points, 5-6 rebounds and a block and steal per game. Don't sleep on Chandler just 'cause he's been gone for a while—he could have a very nice second half.
What do you think of these rankings? There's nothing like a good ranking list to stir up some controversy, so tell me where I am wrong or where I am right. I would love your opinions either way.
If you want more fantasy basketball content like this, check me out at RotoProfessor Basketball or follow me on Twitter.