Dwight Howard Trade Rumors: Orlando Magic Deny Favorable Trade with L.A. Lakers
February 28, 2012

So the Orlando Magic's front office has vehemently denied the recent rumor that they have come to an accord in principal to trade Dwight Howard, Jameer Nelson and Hedo Turkoglu to the Los Angeles Lakers in exchange for Pau Gasol and Andrew Bynum. 
And?
Of course the Magic's front office is denying the rumor.  Any franchise involved in trade talks for a player of Howard's magnitude is going to deny any and all rumors until the ink is completely dry on the contracts.  There is too much at stake. 
If the trade falls through the aftermath can be devastating, as we saw before the season began with the Chris Paul-to-the-Lakers trade.  David Stern came in like Sacha Baron Cohen's The Dictator and squashed the trade.  This resulted in Lamar Odom's delicate ego being bruised and then demanding a trade in which the Lakers essentially received two sticks of gum, some pocket lint and a receipt for a Big Gulp that Mark Cuban had purchased earlier that day. 
The Lakers are still reeling from the fallout of that failed deal.  The Magic were paying attention, and until everything is completely hammered out there is no way they'll risk similar devastation to their franchise.
The fact that the Magic's front office is denying the rumors really means absolutely nothing.  In the end, nobody will truly know until everybody knows.  That is the NBA that Stern and his front office have created with their insistence on micromanagement and need to oversee everything that happens in the league.  Rumors are now more dangerous to a franchise than injuries in many ways.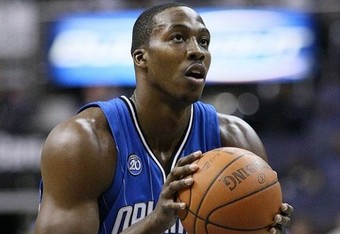 What is more interesting is whether or not this trade makes sense.  And that depends completely on which side of the table one is sitting.
From the Magic's point of view, this trade could not get any better. 
There is no question that the best scenario for the Magic is keeping Howard.  But since their franchise player has done everything outside skywriting to indicate that he's leaving at the end of the season, they must look for the next best option.  
What GM could hope for more than two All-Stars in exchange for a bloated contract they wish they could unload anyway (Turkoglu), a point guard whose play is so schizophrenic they're never sure which guy's going to show up each night (Nelson) and their fleeing hero (Howard)? 
For the Magic this trade makes all the sense in the world and they will not get a better offer anywhere else in the league.  If you're Otis Smith, you're praying you can get this done before anyone else comes to their senses. 
Right?
Maybe not.  The Lakers are in an interesting situation themselves.  At first look, this trade seems exceedingly lopsided and not a great idea. But there are reasons this trade makes a lot of sense when looked at in greater detail.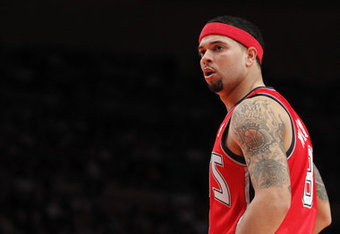 The Lakers as structured now are not getting past the second round of the playoffs.  Their window to win with Kobe Bryant is closing fast so there is a certain urgency within the franchise to make a move that will be a game-changer.  This trade, if nothing else, shakes things up.  It changes the equation and gives the Lakers something new to try to win with.  
After all, the definition of insanity is doing the same thing over again and expecting different results.  If this team isn't winning, why cling to it?
Another reason this makes sense for L.A. is they are once again poised for the post-Kobe era.  Howard is a bona fide superstar in the NBA and will carry the Lakers into the next series of championships.  If nothing else, this trade makes sense in that respect.
If you followed the link above to the article I wrote a few weeks ago you will see another reason it might make a lot of sense for the Lakers.  Anyone who has followed the Howard trade drama has undoubtedly noticed that a certain Deron Williams is chomping at the bit to come play next to Howard. 
He has made it fairly evident that if the New Jersey Nets don't land Howard themselves this season he will not shy away from testing the waters of free agency. 
So where does he want to play if not in New Jersey?  Wherever Howard winds up playing.  If that ends up being L.A. you can bet your next paycheck he'll at least be very interested in listening to what the Lakers have to say this offseason.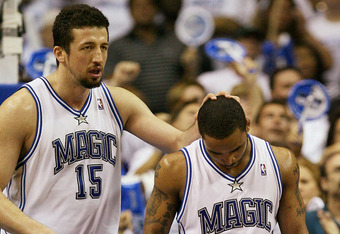 One obvious critique of that argument is that the Lakers could simply never afford to bring D-Will to L.A. as well as Howard.  But that may be the subtle brilliance of this trade.  
Putting aside the fact that the Lakers are afforded far more to spend in luxury taxes due to that $3 billion (yeah, with a "B") cable TV deal with Time Warner, by dumping the salaries of both Bynum and Gasol and then bringing in Turkoglu to make the trade work in terms of dollars and cents, they set themselves up nicely to amnesty Turkoglu's ridiculous contract and create large amounts of cap space—like $11.5-million-next-season types of cap space.
Nelson only has one more season on his contract as well and that will open up another almost $8 million before the new harsher salary cap penalties take effect.  If they acquire Williams in free agency then they have no need for Nelson and can either trade him for another piece, future draft picks or simply use him as a backup next year and let his contract expire after that.  The combination of Nelson and Turkoglu's salaries combined leaves room for more than a max contract.
The Lakers also have several expiring contracts themselves this season.  Most of the new players who have proved rather worthless to the team like Troy Murphy, Josh McRoberts, Andrew Morris and Jason Kapono were all signed to one-year contracts.  If the Lakers show up this offseason with a shiny new center and sign a premier point guard you can bet there will be players lining up to take mid-level exceptions and veteran-minimum short-term contracts to play for a championship with the new powerhouse in the West.  One might begin to see how this deal could begin to appeal to management.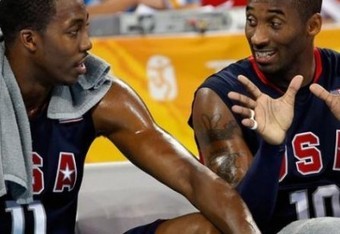 Finally there is one more point of view to explore—that, of course, is Howard's. 
From Howard's perspective, is there a better place in the NBA to go than the Lakers?  Let alone the fact that it's just an amazing place to live with the world's best climate and celebrities on every corner (and more importantly on every chair along the sidelines of every game), the Los Angeles Lakers are one of the most storied franchises in the league and have a solid history of doing whatever it takes to win—something Orlando has failed to do for Howard several times over. 
In L.A., Howard can be a star in a major market in a way that no other major market can offer.  Los Angeles has no football team.  The Lakers literally own this town.  From a sports perspective, L.A. is a basketball town.  It's the Lakers and then in a very distant second come the Dodgers and Angels. 
If he were in Chicago he'd share the limelight with the Bears.  In New York it's a split between something like 12 teams.  There's the Yankees, the Giants (fresh off a Super Bowl victory), the Jets, the Mets and even the Rangers.  And there is also the other basketball team.
If he goes to New Jersey there is the Knicks.  If he goes to the Knicks there's New Jersey, which is moving to Brooklyn.  There is a lot of sports love to spread around in New York, even across the bridge in Brooklyn. 
In L.A. he will be king—especially in a couple short years after he and Kobe win two more championships and Kobe either takes a back seat to him or, already conquering the known basketball universe, retires. 
One more reason to come to L.A. is he will instantly become the favorite to go to the finals every June.  Assuming Williams acts as he has indicated and follows Howard wherever he decides to go, coming to the Lakers makes them favorites year in and year out to waltz their way through the Western Conference and into the finals.  Their biggest competition right now would be the Oklahoma City Thunder, and a lineup of Kobe, Howard and D-Will looks stronger than even the potent combination of Russell Westbrook and Kevin Durant. 
If Howard were to stay in the Eastern Conference he would have to deal with the powerhouses that are the Miami Heat and the Chicago Bulls.  Not to mention the up-and-coming Knickerbockers in New York.  New York was one piece away from being solid contenders and may have found that piece in Jeremy Lin.  On the left coast he is facing a much easier road while those teams pick each other off back in his previous conference.
The Magic front office can continue their policy of denial as long as they'd like; this is a deal they are interested in.  The real question is whether or not the Lakers are truly interested.  Jim Buss has seemed hesitant at times to deal Bynum away.  But if the rumors are true, I can't imagine the denial will continue much longer.  
The receipt of two All-Stars in exchange for one who is leaving anyway seems way too good to be true for Otis Smith.  He could be given GM of the Year for recuperating so much for a departing superstar if Stern hadn't already locked that up as the Clippers GM. 
One thing is for certain: The coming weeks until March 15 should be interesting and NBA fans, those in Orlando and L.A. in particular, will be watching attentively with bated breath.