Deron Williams to the Los Angeles Lakers?: It's a Matter of Faith
January 25, 2012

Let's face it, if you're a Lakers fan, this season has been less strawberries and champagne and more rotten tomatoes and sour milk. 
Just last year the Lakers were favorites to come out of the West. Now it looks as if the beloved franchise would be lucky to win a series. And the Lakers' record does not indicate just how bad the future is looking. 
The new coach, Mike Brown, is apparently a defensive guru. Unfortunately, nobody told him there were two sides of the ball and you have to play both of them. They look as if there is absolutely nothing resembling a game plan or strategy on the offensive side of the ball. 
If anything can be gleaned from the season so far, it is just how important Phil Jackson was to this team. They may have allowed more points under Coach Jackson, but at least they were able to score.  Under Coach Brown's system, assuming there is a system, the Lakers appear befuddled and lost on offense. 
Most of the time someone, usually Gasol or Bynum, receives the ball, holds it for anywhere from six to 12 seconds, then passes it to Kobe with six seconds or less on the shot clock and he is forced to put up a low percentage prayer of a shot to avoid a 24-second violation.
This seems to be Brown's offensive scheme. 
There are some positives, though. Kobe Bryant looks healthy and spry again for the first time in years.  All that time off allowed him the rest he needed and an opportunity to have a procedure done in Germany on his knee. He looks like he's the Kobe we knew from four or five years ago. Andrew Bynum has shown flashes of greatness. He is currently the leading vote getter in All-Star voting for centers in the Western Conference.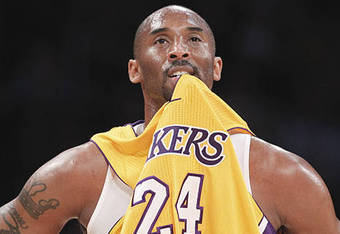 But then again, who else plays center in the West? 
Unfortunately, Kobe is being forced to play longer minutes and take more shots than he probably ought to, and this could potentially lead to exhaustion by the end of the season—or worse. And Bynum is inconsistent, at best. He has shown up and brought 20/20 games and then turned around and turned in subpar performances. Relying on him is, frankly, inadvisable.  
Although things seem bleak for Lakers fans, late last week a shining ray of hope broke through the dark clouds and shined down on Laker Nation. Deron Williams came out and announced that the Lakers are on his short list of teams to play for. This came as a surprise to some, as many assumed the Lakers were losing their allure to star players due to their unimpressive play thus far and bleak future. 
But this is still the Los Angeles Lakers after all.  
Even when they're down, they're never really out. Star players know that this organization is always going to do what it takes to win. So with Deron Williams and Dwight Howard putting the Lakers on their wish lists it seems that there is an outside shot at greatness for Kobe Bryant once more. There is a catch, however, and as far as I can see, a gamble involved in trying to make this happen. 
In order to bring Williams to the Lakers, they are going to need to win the Dwight Howard sweepstakes. It seems clear that Deron Williams is going wherever Dwight Howard ends up next year, as his wish list looks suspiciously similar to Howard's.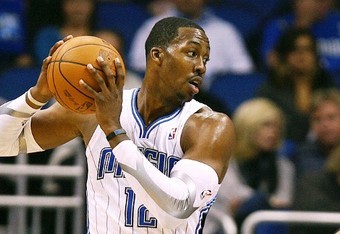 There are other teams on those lists as well, so it's not a done deal for Los Angeles. The Mavericks, for example, are on both players' list, and Deron Williams is from the Dallas area. He also stated that he would stay with New Jersey if they brought Howard in. 
Both of those teams are rumored to be ranked ahead of the Lakers on Howard's list of desired locales.  But the Lakers have an advantage—they have far superior trade bait. All the more true when considering trying to reel in Deron Williams as well. 
Here's what I mean:
In order for the Lakers to sign both Howard and Williams to play for them, a few things have to happen. First and foremost, they need to clear cap space to bring them in. The new salary cap rules and the monetary penalties for breaking them take effect after next season, and the penalties are punitive—to put it lightly. 
Therefore, if the Lakers want both players, they need to come to terms with parting ways with both Pau Gasol and Andrew Bynum. I know, I know, "Gasol is amazing and no big man in the game can pass like him." But is that really true?
Look at Pau's play of late. It spurns me to say it because I like the guy and he helped the Lakers win two championships, but he does not look like the type of player who should be earning close to $20 million per for the next couple years. He does not appear to have anything resembling a killer instinct and he is certainly not a hard hitter down low like most seven footers. 
He has taken 11 three-point attempts this year, and we're only a month in! His career high in attempts is 16. He is starting to play softer and more outside with each passing season.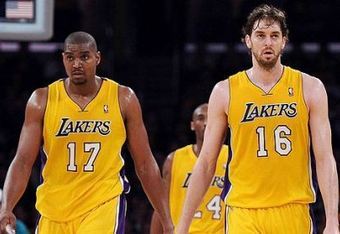 It is my opinion that in today's league, a top-tier point guard is far more valuable than a softening power forward, especially if you have the best center in the league to protect the paint for you. And if the Lakers use Pau Gasol to acquire Howard, then they will have the best center in the league patrolling the key for them.  
It's a risky proposition, I know. In order to get Howard, the Magic reportedly want both Bynum and Gasol. It seems like a lot to give up, and I wasn't sold on it initially either, but when Williams announced the Lakers as a top destination, it made me reconsider. 
The trade of both of them could potentially clear up multiple problems for the Lakers. First, the salary cap mess they need to clear to be capable of signing both players would be addressed. Bynum and Gasol represent two of the top three salary obligations.
By picking up expiring contracts with Howard in a trade with Orlando, Los Angeles would be opening the salary cap space left behind from losing Gasol and Bynum to sign Howard and Williams to long-term contracts. And in exchange for them, the Lakers might be able to get some decent talent from Orlando to implement as auxiliary role players and to make the trade work in terms of a salary exchange. 
They have a pretty nice looking roster to pick from with players like JJ Redick, Jason Richardson, Chris Duhon, Quentin Richardson, and Jameer Nelson. Many of those players would certainly be an upgrade in their respective positions from who the Lakers have playing now. 
The next step in attracting Williams to L.A. would be to use the amnesty clause. This is where it gets tricky. Most pundits agree that Orlando would expect whichever team trades for Howard to take the bloated and long-term contract of Hedo Turkoglu along with him. That sounds nice, but I think that with the Lakers offering such an attractive package (both Gasol and Bynum in my scenario), they might be able to avoid it. 
If they can avoid taking on such a nasty contract, then the Lakers should amnesty the contract of Metta World Peace. His play has been well below what the Lakers expected from him when they signed him to a five-year contract. Dropping his salary obligation of more than $7.25 million per year on average over the next three years would be hugely beneficial to the team and open up space for new players. 
Assuming the Lakers are forced to take on Hedo Turkoglu's offensively bloated contract (only the Raptors would give an aging Turkoglu $60 million for five years), they will be forced to amnesty his salary instead and keep Metta World Peace, otherwise they won't have the space to sign Williams as well. 
The last piece of this puzzle is Kobe Bryant, and he may be the trickiest part. Kobe is due to make huge money over the next two years. Next season he is set to make nearly $28 million and the season after that—which is the first season of the harsher salary cap penalties—he is set to make over $30 million dollars. 
That is some serious cheese. 
That figure represents more than half the current salary cap in the NBA ($58 million). There's no chance that Kobe will renegotiate the contract he currently has in place, but when it comes time to negotiate for the future, will he be willing to take less money than his teammates? 
He will eventually have to face the fact that he is getting old and he will no longer be "the man" on the Lakers. Kobe will have to take less money so that the Lakers can afford to keep the other two.
I believe he wants to win. I think he needs to get a sixth championship and really wants to reach seven or more and surpass Michael Jordan. I think he needs it more than he needs more money, so I believe he will make the financial sacrifice. 
This leaves a luxury tax problem for next season, and more urgently the season after that. The reason the Lakers won't have a problem with this is multi-faceted.
First off, they are one of the most profitable teams in the league. They consistently rank in the top five teams in terms of annual revenue per year in the NBA. Second, they've got great ownership. Jerry Buss has never been afraid to spend in order to win. With that ownership passing to his son Jim, there is undoubtedly a question mark in that department, but one can only assume he learned a trick or two from his father, and the old adage "like father like son" will apply in this case as well. 
But the third reason, and probably the most important reason as to why the Lakers will willingly take on the salary cap penalties, is the huge, and I mean massively huge, television deal the organization just signed with Time Warner for the exclusive rights to games not broadcast on national TV. 
The Lakers and Time Warner recently signed a 20-year agreement for $3 billion. That equates to approximately $2.5 million per game, of which the Lakers keep a healthy percentage. With that deal comes the expectation that the Lakers keep a championship-caliber team together that will draw ratings. 
In other words, Time Warner gave such an immense amount of money to help subsidize the cost of salary cap penalties. This agreement will undoubtedly help the Lakers stay atop the Western Conference and should help them be contenders for the next 20 years. It certainly gives them the monetary means. 
Some people will certainly say it's crazy to trade both Gasol and Bynum for Howard. Were the end goal to simply get Howard, they would be correct. But in this case, the Lakers need to read the writing on the wall. Deron Williams wants desperately to team up with Dwight Howard, and vice versa.
Why not let it be in Los Angeles?
By dropping two of their largest contracts, the Lakers can set the stage for that to happen. This takes faith on the Lakers ownership's part, but Williams has given every indication that he will be exercising his player's option this summer unless New Jersey acquires Dwight Howard. If the Lakers ensure they don't do that, they have the ability to sweep him up. 
To quote George Michael, "You gotta have faith."