Northwestern's NCAA Tournament Hopes Are Just That
February 26, 2012

Andy Lyons/Getty Images
Let me preface this article by saying that I hope I am dead wrong about this.
Though I'm not originally from Chicago, I have had no problem adopting Northwestern as my local basketball team.  I have watched most of their Big Ten games on TV and have made the trip up the Red/Purple Line to Evanston a couple times to see them in person this season. 
I feel I have accumulated a pretty significant sample size of Wildcat games watched, including last night's agonizing one-point theft of a win at last-place Penn State. 
Northwestern appeared to have been bailed out by a questionable, un-Big Ten-like foul call with just over three seconds to play.  Penn State's Jonathan Graham was whistled to have hit John Shurna on the arm, though the contact seemed very minimal from the angles shown.  Again, it might have technically been a foul, but usually would not be called given the league and the situation. 
Shurna—as you would expect from the school's all-time leading scorer—calmly drained both free throws to give his team a critical win.  Had the foul not been called, Northwestern's NCAA Tournament hopes would be on total life support at the moment.  Instead, they are still very much alive.
With the win, Northwestern is 17-11 overall and 7-9 in the Big Ten.  As of late last night, ESPN's Joe Lunardi has the Wildcats as the second-to-last team in the NCAA Tournament.  For fans of a team desperately seeking its first-ever NCAA Tournament berth, it's certainly a nice piece of hope to cling on to.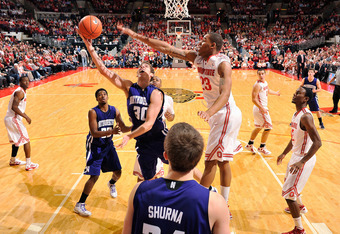 Jamie Sabau/Getty Images
However, the problem I find with the current "last four in-out" feature is it doesn't account for something almost certain to take place: conference tournament upsets.  Lunardi assumes at-large-worthy teams from leagues like the Missouri Valley, Mountain West and West Coast conferences will also win their conference tourneys. 
However, it is extremely rare that we actually see this happen.  This year, with more non-BCS conferences sporting at-large-worthy teams, it seems almost certain not to happen.  What if UCLA wins the Pac-12 tourney; how about if UTEP wins the C-USA Championship?  These are all things that are very tough to take into account with bracketology.
That said, Northwestern's current status as "in," according to Lunardi, would change to "out" given just two conference tournament upsets, if all else held constant.    
That aside, Northwestern still has to win at least one more game in order to maintain their current "in" status.  That will be quite a challenge. 
Northwestern's final two games are against Ohio State at home followed by a trip to Iowa to close out the regular season.  They have to win at least one to continue to feel good about their NCAA chances.
Beating Ohio State is not entirely out of the question given the Wildcats beat Michigan State in Evanston back in January, but will still be quite the task.  With OSU looming, the more realistic game to circle for a potential win is the finale at Iowa.
Last time they faced Iowa, Northwestern dominated the Hawkeyes, winning by 19 at home.  The possibility of repeating that performance is very unlikely.  Iowa has been extremely unfriendly to Big Ten teams in Iowa City this season.  Just ask Michigan, Indiana and Wisconsin.  All three teams lost there.
Winning one of its final two games is going to be fairly difficult.  If Northwestern can do it, they should be in a little better position—relative to other bubble teams—than they are right at this moment.  For bracketology sake, the Wildcats would likely move ahead of the other two "last four in" teams and maybe one or two more. 
However, it's also worth considering that Northwestern could have taken itself out of this precarious position by now had it shown an ability to win one or two tough, close Big Ten games. 
Everyone knows about the debacle against Michigan this past Tuesday.  However, the Wildcats also had a good chance to win in their first meeting with the Wolverines in Ann Arbor.  They led for most of the second half in that game, but let it slip away due to a complete inability to rebound or protect the basketball during Michigan's rally.  They folded under the weight of the situation.
Beat Michigan once, and Northwestern is in great shape right now at 18-10 overall, 8-8 in Big Ten, and an RPI ranking perhaps 10 notches higher than its current rank of 47. The same statements (except maybe the RPI) would apply had the Wildcats been able to convert final-possession chances against Illinois or Purdue at home. 
Win one of those four games, and Northwestern would not be a "last four in" team.  It would not have to win against either a Top 10 team (Ohio St.) or a team (Iowa) capable of beating anyone in the league at home.  It wouldn't have to worry about making a run in the Big Ten Tournament.
The Big Ten is the top-rated conference in the country this year.  As such, it has provided ample opportunities for teams like Northwestern to get the requisite wins to solidify an NCAA at-large berth.  The win over Michigan State combined with a bunch of losses to the other good teams in the league will not be enough. 
I believe the best chances for Northwestern to make history and reach the NCAA Tournament have already come and gone.  There will still be hope for the next two weeks, but ultimately there simply won't be enough to back up that hope.
Again, I would love to be wrong about this.  Prove me wrong, Purple.  Beat OSU and make history.
Other NCAA Tournament Bubble Breakdowns