Why Jermichael Finley's New Contract Won't Affect Miami's Pursuit of Matt Flynn
February 23, 2012

Jonathan Daniel/Getty Images
Packers tight end Jermichael Finley agreed to a two-year, $14 million deal with Green Bay on Wednesday. Once the news broke, the Dolphins' perpetually nervous, chicken-little fans went, well, chicken-little on everyone.
I, for one, never felt that way.
If you look closer at the Packers' cap situation, you will see that they will be anywhere from $10-13 million under the cap. However, if Flynn gets the franchise tag, he will cost them $14.4 million.
Hence, in order to make the deal work, the Packers would have to release other players, such as wide receiver Donald Driver and left tackle Chad Clifton. Now what good would it be to have to release two other players already on your roster just so that you can trade a player that you don't need.
I'm not saying the Packers won't do it; however, it's likely a decision won't be made until after the combine. That's when Packers GM Ted Thompson will make the rounds to gauge a team's interest in Flynn. Miami won't be the only team interested; however, here's something to remember.
Peyton Manning is likely to be available without providing any compensation to the Colts. St. Louis will also be shopping around their No. 2 draft pick, which looks more and more like it will be Robert Griffin III.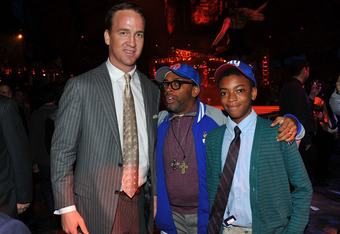 Theo Wargo/Getty Images
Flynn will likely be worth a first and third-round pick. Robert Griffin III will likely garner two first-round picks and a second-round pick. However, Griffin has a bigger upside—at least in my humble opinion—which to me actually makes this decision a wash.
So here's what Miami should do and likely will do: not bite on any Flynn discussions with Green Bay. While Philbin has a great relationship with the Packers (and thus meaning the Packers will likely gauge interest from the Dolphins first), it is—gulp—Ireland that makes the decision. Ireland should thus let it be known to the Packers that Manning or Griffin are his top two choices, then leave it at that.
If the Dolphins do this, then the Packers are going to have to think really long and hard about whether or not franchising Flynn—which, remember, means cutting two very important veterans and also the possibility of losing their center, Scott Wells—would be worth it. In the end, I just don't see them doing that. Green Bay has until March 5 to make a decision on their franchise tag, so if they don't see a market for him under that scenario, it will be unlikely that such an action will occur.
And even if they do, Miami should only jump into the Flynn race if the Cleveland Browns decide to not participate. The one team that scares me in going for Robert Griffin III is Cleveland. Washington will likely go after Peyton Manning and, outside of Arizona and Miami, provides him the best option, and other teams have higher draft picks that might not be as appealing to St. Louis as what Miami can offer (for sure the No. 8 or 9 pick in the draft).
If Cleveland is so dead-set on Griffin that they won't even entertain the notion of Flynn (something I doubt since smart teams tend to stick with only one or two options), then I would say the water is safe.
The other factor, of course, is St. Louis. Technically, it is the Rams who would be setting the price. See, what made Flynn so appealing was the thought that no draft picks had to be exchanged in order to sign him. It was as simple as, well, signing him. Speculation as to what to give up for Flynn won't come into play for Green Bay until they know what the Rams are going to do.
Now, do you think the St. Louis Rams are going to make a trade for their draft pick now, or don't you think they'll wait until the week of the draft when other teams will be under the gun and more desperate and willing to pull the trigger on a deal? Remember, they have that luxury; Green Bay doesn't.
Even if they cut Clifton and Driver, they still will only have anywhere between $20-24 million of cap-room, with Flynn's franchise tag taking up $14.5 million of it. They can't afford to wait til the draft like St. Louis does; other holes must be filled, and most of the free agents they will likely have their sights set on will be gone by then.
So before you panic at the possibility of Miami having to give up too much to sign Flynn, think pragmatically. Think from Green Bay's side; think from every side. Don't go into Dolphins-fan chicken-little mode just yet.
Because for right now, it's much-ado about nothing. Since the focus will be on Manning and Griffin, the Packers won't have the ammunition to franchise Flynn. Relax; if he's coming to Miami, it will be of his own accord and no draft picks will be exchanged.
Unless, you know, the Dolphins panic, which this offseason, they shouldn't do.