2012 NFL Combine: Denver Broncos' HC John Fox Lays out Plan to Improve Personnel
February 23, 2012

Joe Robbins/Getty Images
The Denver Broncos' head coach, John Fox, addressed the media on the first day of the NFL Combine, to answer questions and give direction to where the team is headed in 2012 in terms of personnel, drafting priorities, and improvements to the team.
The @Denver_Broncos twitter handle gave the quick recap of comments Fox made about those areas on his team.
As far as Tim Tebow goes, Fox and company are comfortable moving forward with Tebow at the helm, but plan on having four quarterbacks in camp to compete, trying to earn the spot:
@Denver_Broncos Fox: "At the end of the day, we're very comfortable with Tim (Tebow)...we became division champs."

@Denver_Broncos Fox: "Typically we go to camp with four quarterbacks. If you do the math, we have two, so we need two more."
As far as Tebow's development, Fox and his staff are prepared to let him continue to mature and develop, understanding that the quarterback position takes time to groom and polish before one is ready to produce consistently.
@Denver_Broncos Fox: "The reality is Tim (Tebow) is ... a young player at a position that takes some time. ... we're in the middle of that process."
As of now, Tebow is the starting quarterback going into training camp, but who they will bring in for him to compete against remains to be seen. The only quarterback besides Tebow under contract for next season is Adam Weber, who spent all of the 2011 season on the practice squad.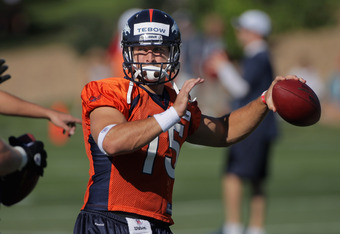 Doug Pensinger/Getty Images
Outside of Weber, the Broncos will likely draft a quarterback in the later rounds of this draft, and are expected to pick up a free agent quarterback that is available.
Brady Quinn's regrettable comments about this season in Denver will likely secure his departure from Denver as I don't see the Broncos doing very much to keep him in town.
One of Fox's main concerns will continue to be defense:
@Denver_Broncos Fox: "The importance of defense is still critical, I think, in winning championships."
John Fox was not specific as far as which area of defense needs the most improvement, but two areas of great need will be the secondary, where the Broncos have lots of youth, three rookies still in development, and some wily, aging veterans; Champ Bailey (33), Andre Goodman (33), and Brian Dawkins (38), who may be retiring.
One guy a lot of people have forgotten about is Syd'Quan Thompson, the 25-year-old cornerback who has shown flashes on special teams and will be coming back off of Achilles heel tear he suffered during the final preseason game of 2011. David Bruton, the 24-year-old safety, is the other more experienced defensive back playing besides Rahim Moore and Quinton Carter (the two rookies drafted last year) that will get a shot next season.
The other area of need comes on the defensive line, which was inconsistent last year. Brodrick Bunkley is a top priority to keep around next year as he becomes a free agent in March. The Broncos hope that Ty Warren and Kevin Vickerson will be back to full strength for the 2012 season as they were lost early in the season and placed on injured reserve.
ESPN AFC West blogger, Bill Williamson, on  thinks that this year might be the one the Broncos use their first round draft pick on a defensive tackle.
He writes, "Denver could take a defensive tackle at No. 25. Among the players it may consider are Penn State's Devon Still, Mississippi State's Fletcher Cox and Michigan State's Jerel Worthy."
This year's talent at DT has been much deeper than previous years.
Running back is an area to improve upon, to go get another guy or two to complement Willis McGahee, as the Broncos will continue to rely on the running game to carry the offense:
@Denver_Broncos Fox: "We're going to be doing everything we can to get better. Having a stable of running backs is important. I believe in that."
There are lots of names being thrown around that the Broncos could go after in the draft to solidify the running back spot. Some marquee names connected with the Broncos include: Miami's Lamar Miller, Washington's Chris Polk, Virginia Tech's David Wilson and Boise State's Doug Martin.
As far as free agency the best free agents who will be available in a month or so include: Seattle's Marshawn Lynch, Oakland's Michael Bush, and the most interesting candidate could be bring back Peyton Hillis from Cleveland, who will be available.
Others that might tempt the Broncos are possibly revitalizing another faltering career of the Bengals' Cedric Benson or the multi-talented FB/RB from San Diego, Mike Tolbert.
The Broncos are way under the salary cap and look to be major players this offseason with their first priority securing some of their own 17 free-agents-to-be, and then making some plays for the top talent available come March.
A link to the full video of John Fox's press conference is here.