5 Improvements Andrew Luck Can Still Make Before His Pro Day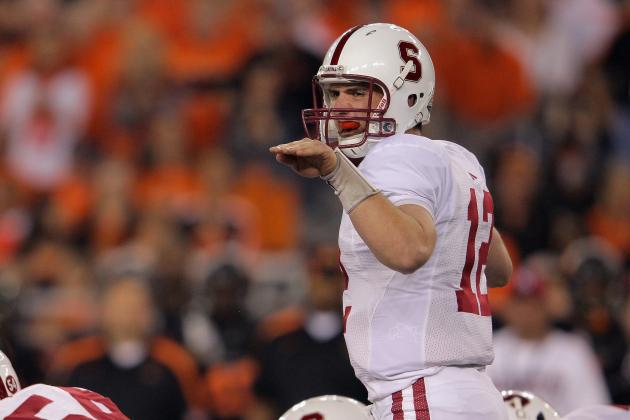 Doug Pensinger/Getty Images

Andrew Luck is almost universally (with the notable exceptions of Skip Bayless and Kordell Stewart) projected as the best quarterback prospect in the 2012 draft. Many pundits have had to hearken back to Peyton Manning to settle on a quarterback with as much promise. With as many plaudits as are headed Luck's way, it's easy to get sidetracked and neglect to actually study his body of work at Stanford.
Luck's prototypical size, skill at reading defenses, excellent pocket presence and good accuracy have launched him into the consensus No. 1 spot for the draft. I want to stress that I think that Luck will be an exceptional quarterback in the NFL. This slideshow is just going to pick a few nits for him. We all need our nits picked now and again.
As Luck's pro day nears (it'll be on March 22), let's get nit-picky and take a closer look at five aspects of his game that he could improve.
Begin Slideshow

»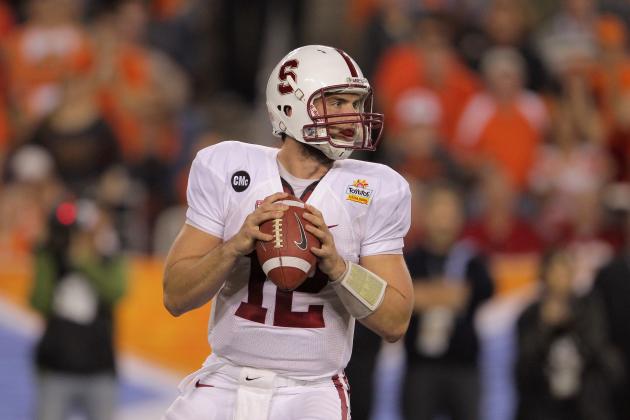 Doug Pensinger/Getty Images

Luck's throwing motion is generally very sound. He gets the ball out quickly and fluidly after starting his wind up just below his right ear.
Once he starts his motion, his right shoulder has a tendency to drop a bit in order for him put more muscle into the throw. This approach is effective for short and intermediate passes. It is not ideal, however, for passes down the field.
As this video from Stanford's game against Virginia Tech in the Orange Bowl shows, Luck's motion sometimes causes the ball to float a bit. At the 2:34 mark, Luck is picked off on a ball that is slightly off-target due to his shortened technique.
If Luck can correct this minor flaw in his throwing motion, his pro day will be even more impressive.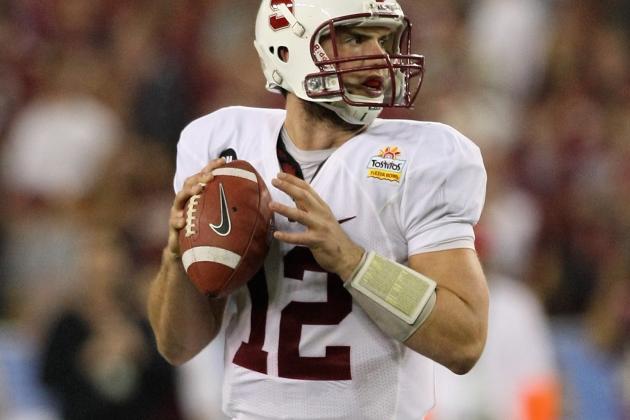 Donald Miralle/Getty Images

Much like Drew Bledsoe early in his career, Andrew Luck has the habit of patting the ball just before he makes a throw. This tendency could get him in trouble when he faces off against top-tier cornerbacks and safeties in the NFL.
His ever-so-slight pat telegraphs his intentions to opposing teams' defense and allows defensive backs to get a jump on his passes. Luck needs to cease and desist when it comes to patting. We all know that he loves the football; he doesn't need to reassure it anymore.
By stopping this one small quirk, Luck will be an even more dangerous quarterback in the NFL.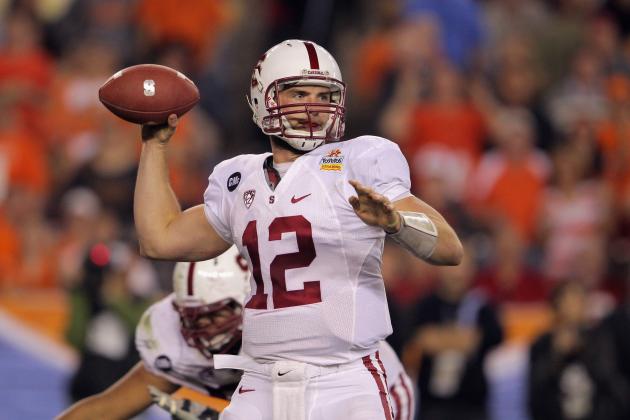 Doug Pensinger/Getty Images

Mel Kiper Jr. and Todd McShay point out in this ESPN scouting report that Luck sometimes trusts his arm too much. This trust is mostly well-founded, but sometimes it creates enough hubris for him to try to fit the ball into spots that are covered too tightly.
With a career high 10 interceptions this past season, Luck clearly made a few bad decisions that hurt his team.
As Luck gains experience, he will get better at decision-making and knowing when to try to make a tough pass and when to just throw the ball away. As he heads toward his professional career, Luck needs to remember that he doesn't always need to try to make a superb throw. A punt is always far superior to an interception.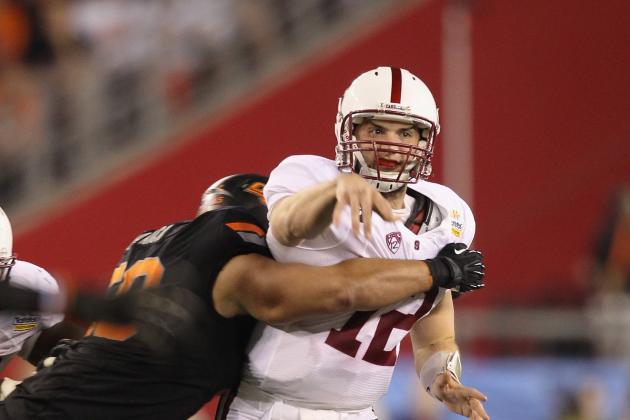 Christian Petersen/Getty Images

Although he's already an extremely accurate thrower, Luck can continue to improve at getting the ball down the field with accuracy. He needs to do this to compensate for his lack of elite arm strength.
He won't toss lighting like Brett Favre or Jay Cutler, so he needs to be sure that his deep throws are lofted to just the right spots.
This is truly a tiny quibble with Luck's game. He does have the strength to get the ball to wherever he wants to, it's just that he's not a burner like some of the big names in the NFL.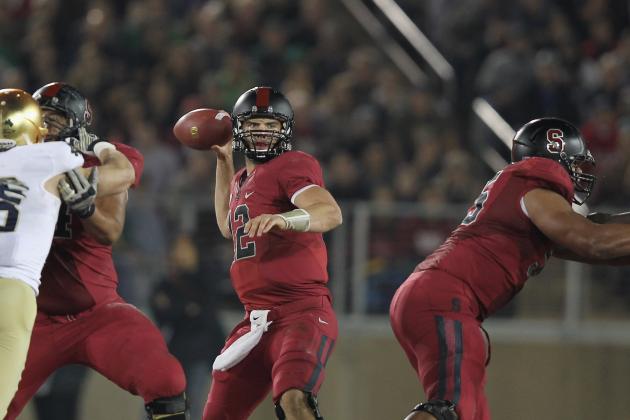 Ezra Shaw/Getty Images

Luck certainly benefited from having a fantastic crew of offensive linemen protecting him. With two offensive linemen from Stanford's 2011 team likely to go in the top 15 in the draft, Luck may not be ready for the type of pressure that he'll get in the NFL.
Both guard David DeCastro and tackle Jonathan Martin are expected to be chosen anywhere between No. 8 and No. 15 in the draft this year. Bleacher Report's Matt Miller has DeCastro going to the Kansas City Chiefs with the No. 11 pick and Martin going to the Arizona Cardinals with the 13th pick.
With all that talent around him, Luck may have gotten complacent at Stanford. He'll need to adjust his expectations as he enters the NFL.
Fortunately, Luck is a good runner and his vision in the pocket is superb, so even if the play breaks down, he should still be able to make something happen. But even so, Luck will need to be sure to prepare for the heavier pressure of the pro game.