Todd McShay 2012 NFL Mock Draft: Pick-by-Pick Breakdown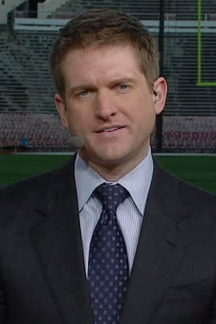 Power polls, rankings and any other form of trying to determine the best, and for that matter, the worst in any sport, is a debate that has raged on since the beginning of sports time.
Most notably, college football is often front and center in every rankings controversy simply because they do not have a playoff system to determine its champion. If you watched the BCS National Championship game, than you awoke the next day, and once again felt unfulfilled, and even more grateful for the NFL and their playoff system.
While most concede that LSU and Alabama were the best two teams in the land prior to the BCS title game, one wonders that if the FBS (Football Bowl Subdivision) had a plus 1 system, would the Tigers, Crimson Tide, or neither even been in the big easy to compete for the most prestigious trophy in all of college sports.
That is a debate that will rage until there is a playoff of any kind in division one college football, but this slide show is about ranking the remaining eight NFL playoff teams using a BCS style point system. Even with a playoff system, fans still clamor to see where their favorite NFL teams are ranked every Tuesday afternoon when ESPN, the NFL, and the Bleacher Report release their power polls during the regular season.
Like the BCS system, none are perfect, and are flawed in some way. This one is no different, but I feel this system evens the playing field by highlighting a team's flaws as much as their strength's. This ranking system is simply similar in strategy to how the BCS uses numbers to rank teams, and is not an exact science.
With their high powered offenses, and superstar quarterbacks, it is easy to say that the Green Bay Packers and New Orleans Saints are the best teams in the NFL. However, wasn't the 2007 New England Patriots also in that class with both?
Where does strength of schedule fit in, and what does it mean to beat the Panthers, Buccaneers, and Falcons as opposed to the Steelers, Browns, and Bengals twice in one season.
How will a team with a great defense and rushing attack like the Baltimore Ravens, and Houston Texans compare to the top flight passing attacks and mediocre defenses of the above mentioned teams, and what does it all mean.
Well, over the next 11 slides, I will try to put into perspective what all of these numbers mean, and rank each team accordingly.
Accompanying each slide will be some strength's, weaknesses, and intangibles that may or may not have each team on the field of Lucas Oil Stadium on the first Sunday in February.
This is a very comprehensive look at the NFL's Elite 8, and their matchup this weekend. As always, feel free to leave your comments, but please stay within the boundaries of good taste.
*Game Day press releases from each team assisted with stats for this slide show
Begin Slideshow

»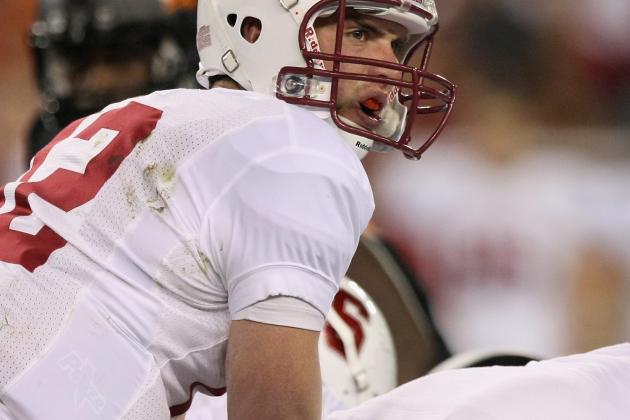 Donald Miralle/Getty Images

Well, this pick is a bit obvious. If the Colts pick at No. 1, they will select Andrew Luck. That is 100 percent guaranteed.
McShay could have gone out on a limb and projected something stupid, but he made the logical decision and went with the obvious choice. There really isn't too much to say here.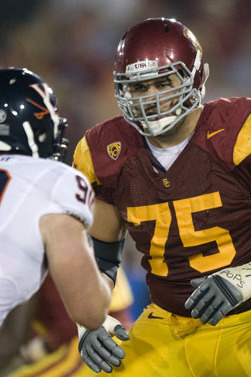 On some levels, this pick seems a bit odd for the Rams. St. Louis has invested multiple early draft picks and lots of money along the offensive line. Spending the No. 2 pick on an offensive tackle seems ludicrous.
However, these pricey investments haven't worked. The Rams still have a terrible offensive line and need to add a franchise left tackle. Matt Kalil is also the best value here, so the pick works all around.
The other option here is Justin Blackmon. Both wide receiver and offensive tackle are positions of need, but the better value wins out.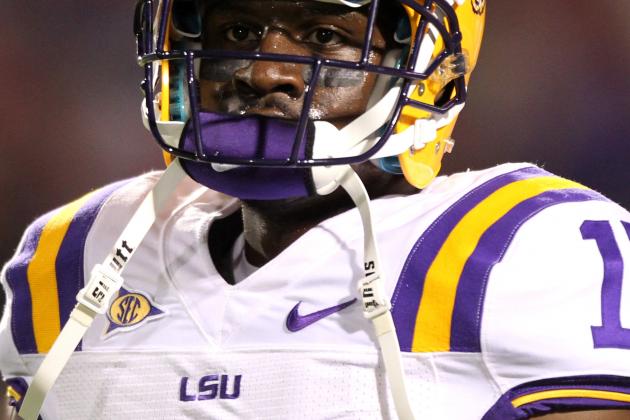 Joe Murphy/Getty Images

With a terrible, aging secondary, the Vikings need to address their defensive backfield. Antoine Winfield will be 35 years old before the 2012 season starts, and Cedric Griffin is returning from two knee injuries.
A cornerback hasn't been drafted this high in the past decade, though. Selecting Morris Claiborne here is certainly bold, but he is a great player and fits a huge need. Minnesota does need help at wideout also, so Justin Blackmon could be the pick.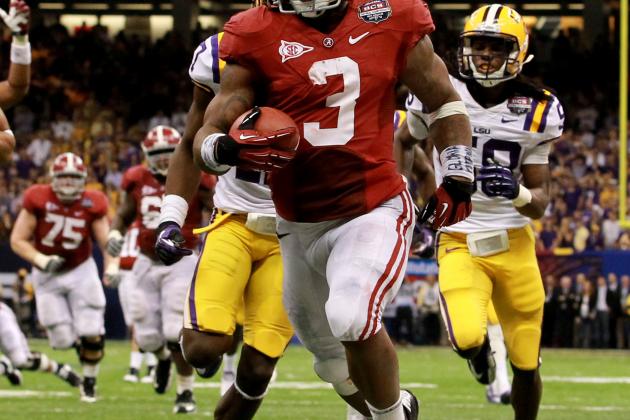 Ronald Martinez/Getty Images

This is the first pick that I really question. Trent Richardson is a fantastic player and fits a need for the Browns, but Cleveland needs to add a quarterback before anything else.
Though he isn't a perfect fit for Pat Shurmur's West Coast Offense, Robert Griffin is a good value here offers the Browns a legitimate quarterback. There's no way around it: Cleveland needs to replace Colt McCoy.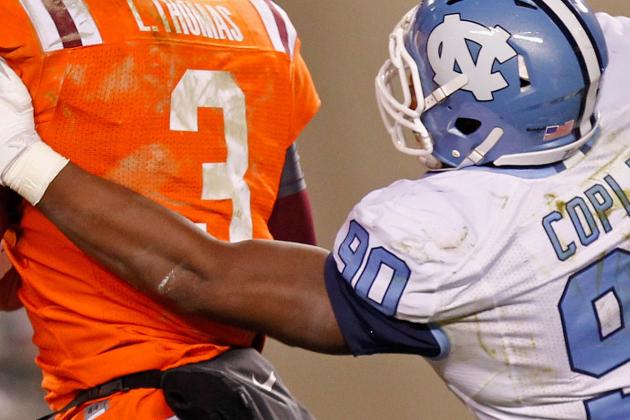 Geoff Burke/Getty Images

Now, McShay is starting to get on a roll. The Jaguars need help at defensive end, but that's where the logic for this pick stops. Quinton Coples is a reach in the top 10, and he would be a disastrous pick at five.
Though he is a fantastic athlete, Coples has been inconsistent and isn't a great pass-rusher. The Jaguars need a wide receiver, and unlike Coples, Justin Blackmon is actually a good value here.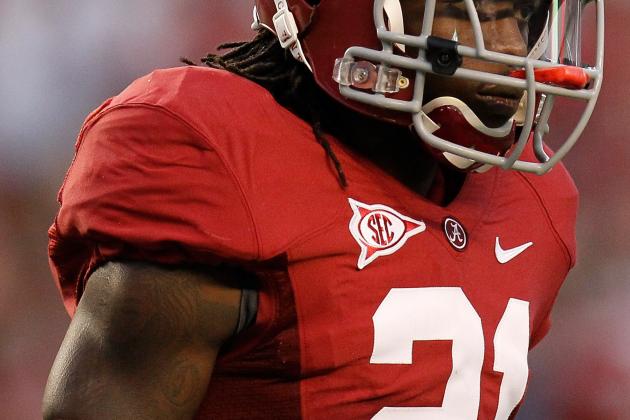 Kevin C. Cox/Getty Images

Rebound time for McShay. Ideally, the Buccaneers would add a dynamic player like Trent Richardson. However, that isn't an option and Dre Kirkpatrick has great potential and fills a need.
It's not yet known if Tampa Bay will continue to run its famous Tampa 2 defensive scheme, but if they do, Kirkpatrick is a perfect fit. The 6'3", 190-pounder can tackle and play physically close to the line of scrimmage.
This pick simply makes sense.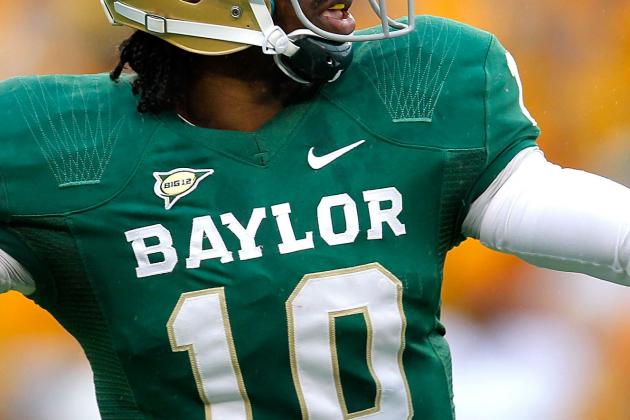 Sarah Glenn/Getty Images

This is Washington's dream scenario. As was expected, Rex Grossman and John Beck both played horribly in 2011, and Mike Shanahan needs to find a quarterback.
Somehow, Robert Griffin fell to No. 7. The Redskins' offensive scheme is irrelevant. All that matters is finding a quarterback, and the team got theirs here.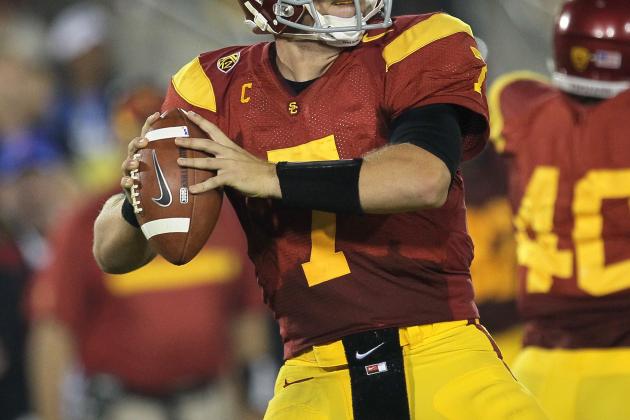 Stephen Dunn/Getty Images

If Matt Barkley had declared, he would be a perfect fit on the Miami Dolphins. Miami has talent on offense, yet they are unable to really compete and win games. The problem is at quarterback.
A 6'2", 220-pounder, Barkley is incredibly accurate and intelligent. He probably wouldn't fall this far, but he is a great pick here.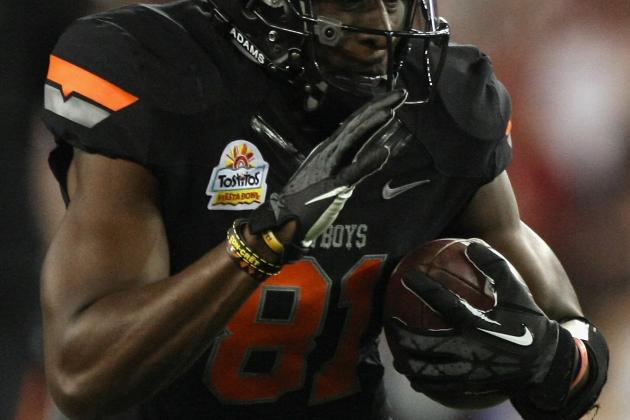 Donald Miralle/Getty Images

I can't envision a scenario in which Justin Blackmon falls this far, so he is obviously a superb value. Though they have a star in Steve Smith, the Panthers need to add more talent to their receiving corps and build around Cam Newton.
Blackmon will probably never be a star, but, at the very least, he will be a solid player. In Carolina, Blackmon could start immediately and offer Newton a good option underneath.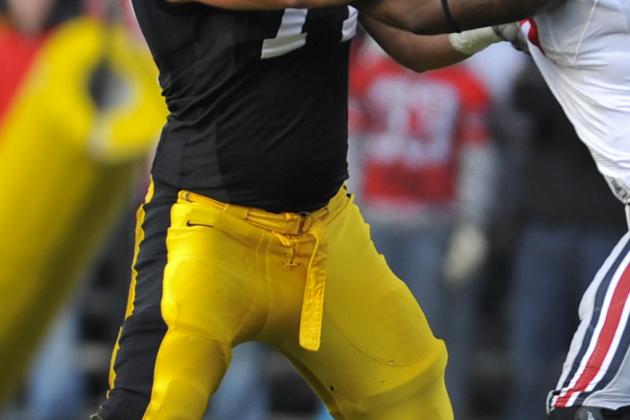 David Purdy/Getty Images

Though the Bills' offensive line has often been denounced, it really isn't that terrible. Chris Hairston didn't play badly at left tackle, and Buffalo has several decent offensive linemen.
However, Riley Reiff is a solid value here and Buffalo's offensive line isn't exactly great. There aren't any great options for the Bills, so they go with the "safe" pick.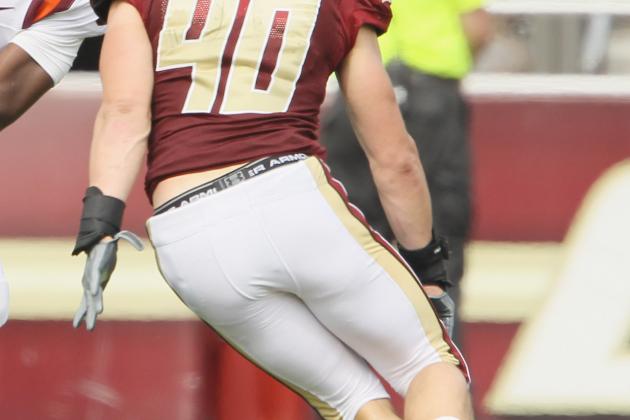 Elsa/Getty Images

If the Eagles draft Luke Kuechly, I will praise them. Kuechly fits a huge need and is one of the best defensive players in this draft. He would immediately upgrade the Philadelphia defense.
However, I'm not sure it will happen. It very well could, and I do not at all disagree with this pick, but there are several other good options. Wide receivers Alshon Jeffery and Michael Floyd could both help replace DeSean Jackson and would add another dimension to the Eagles' offense.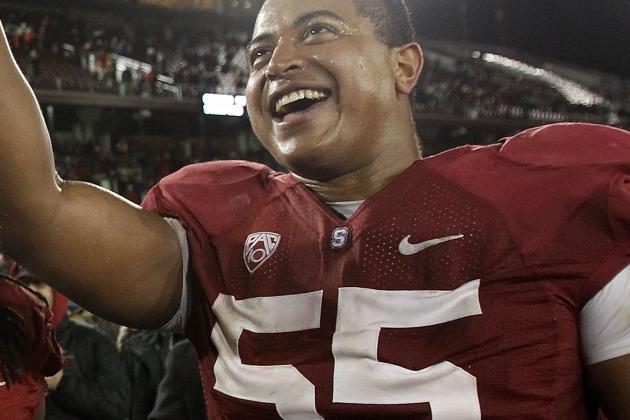 Ezra Shaw/Getty Images

Well, McShay definitely hit a position of need here. Barry Richardson is putrid at right tackle, and the Chiefs desperately need to add an offensive tackle.
I'm not sure Jonathan Martin is the right tackle, though. Mike Adams has much more upside and, unlike Martin, is a great athlete. It's hard to gauge whether Adams or Martin will go first, but I would have gone with Adams.
Kansas City also needs a nose tackle, and Dontari Poe would be a good value.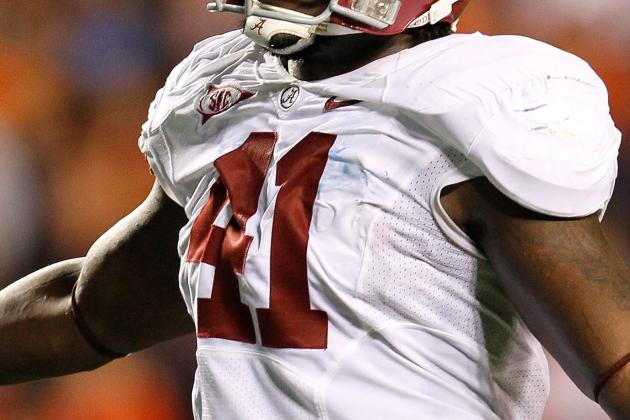 Kevin C. Cox/Getty Images

Along with offensive line, outside linebacker is Arizona's biggest weakness. The Cardinals lack any significant pass-rushers, and Courtney Upshaw should be a solid player for years to come.
But this simply isn't the best pick here. Arizona desperately needs to add offensive linemen, and either Mike Adams or David DeCastro would be a much better pick. Adams and DeCastro could both go in this range, and they fill the bigger need.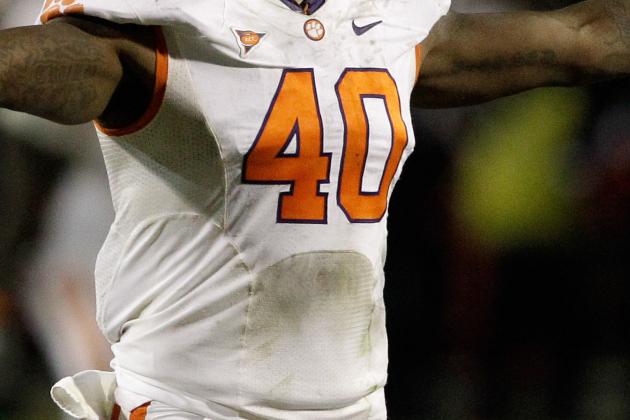 Rob Carr/Getty Images

It is hard to argue with the Titans selecting a defensive end. This pick is awful, though. Andre Branch would be a reach at the end of the fist line, much less the middle. Branch is talented, but he really isn't that good.
Tennessee would be much better off drafting David DeCastro. Chris Johnson's poor 2012 season was partially because of terrible interior line play, and DeCastro is a future star. He will be a top-five guard in the NFL.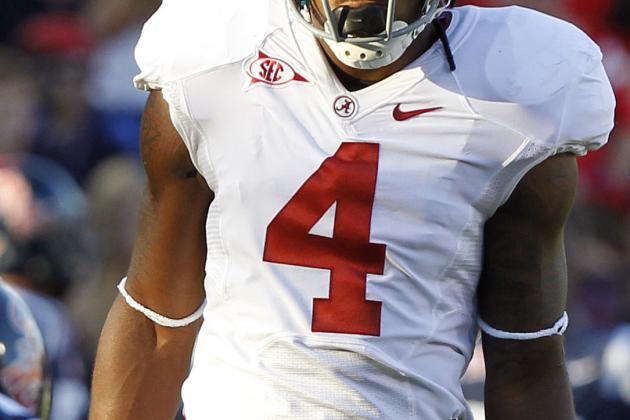 Butch Dill/Getty Images

This is another terrible reach, and the Chargers don't even have a huge hole at safety. Eric Weddle is an excellent player, and Mark Barron is more of a second-rounder than a first-rounder.
San Diego wants to add a pass-rusher or right tackle. Melvin Ingram and Nick Perry are both still available and could start immediately opposite Shaun Phillips. Mike Adams could be an excellent right tackle too.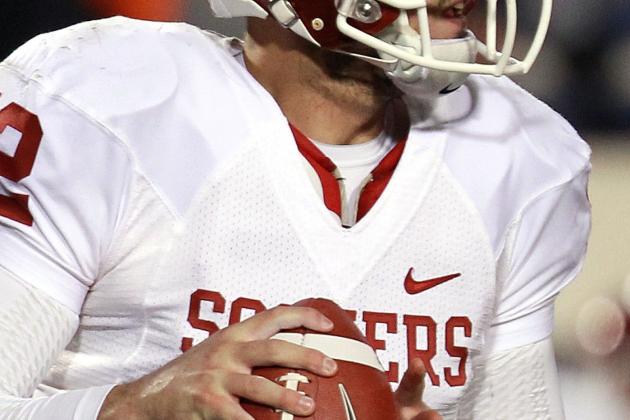 Ronald Martinez/Getty Images

If Landry Jones had entered the draft, this wouldn't be too terrible of a pick. The Seahawks definitely need to add a quarterback, and Jones' potential can be used to justify the early selection.
However, Jones has struggled too much to be a good value pick here. His accuracy is erratic, and his decision-making is downright awful at times. He is a huge projoect, and Seattle wants someone who can start immediately.
Ryan Tannehill is a better quarterback prospect than Jones is, and Nick Perry or Melvin Ingram would be a great pick at defensive end.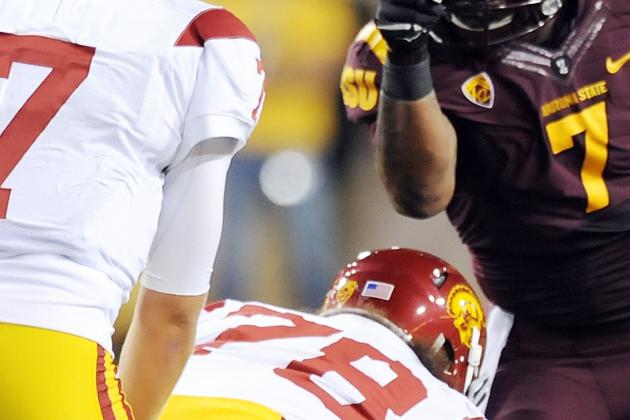 Norm Hall/Getty Images

Based on talent, Vontaze Burfict is a top-ten pick. The Giants need a middle linebacker, and Burfict is a high-upside project. It doesn't hurt that New York has shown a willingness to take chances on these types of players.
Offensive tackle remains a position of need for the Giants, and Mike Adams is potential bookend tackle. I really couldn't argue with David DeCastro either.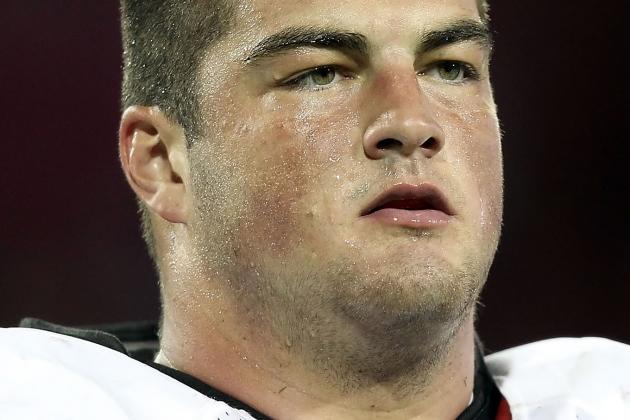 Christian Petersen/Getty Images

David DeCastro is exactly what the Bengals are hoping for. Cincinnati's offensive line is average, but DeCastro could help put the unit over the top. The Stanford lineman really is an unbelievable prospect.
With Andy Dalton at quarterback, Cincinnati is trying to build its offense around—not through—the quarterback position. DeCastro would help give Dalton additional time to throw while providing a push in the run game.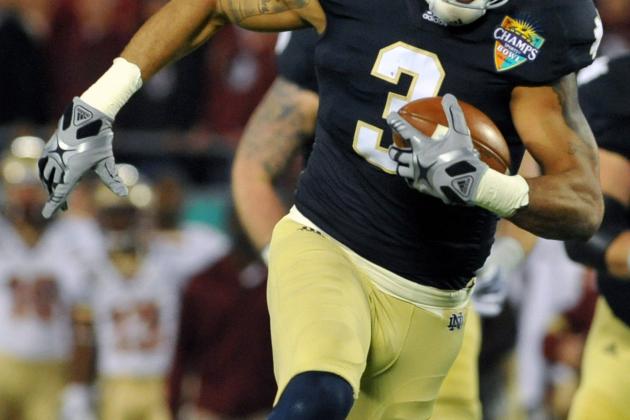 Al Messerschmidt/Getty Images

Given that the Bears don't seem interested in investing in wide receivers, it's not a surprise the team's wideouts are pretty bad. Michael Floyd is talented enough to be selected in the top 10, and he is a great fit in Chicago.
All the Bears' wide receivers are shorter, faster types. Floyd breaks that mold and offers Jay Cutler a physical possession receiver.
Chicago could easily opt for the higher upside wideout in Alshon Jeffery though. If Chicago wants to keep adding smaller, quicker wideouts, Kendall Wright would make sense too.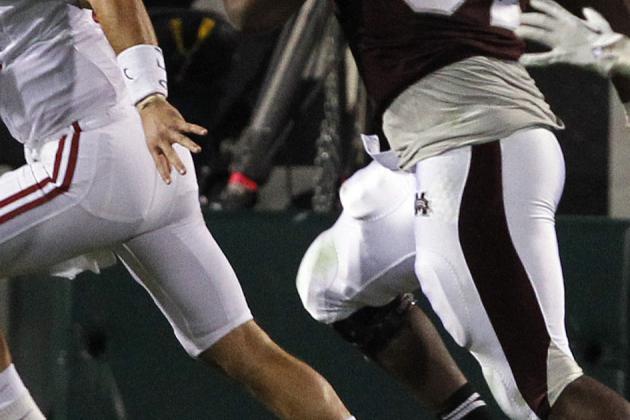 Butch Dill/Getty Images

The Cowboy have one defensive star in DeMarcus Ware, but they could use help at every other position. Marcus Spears has always been unspectacular, and Dallas is looking to upgrade at 5-technique.
At 6'4", 295 pounds, Fletcher Cox is a fantastic athlete and a perfect fit in Rob Ryan's defense. An explosive player, Cox excels at making plays in the backfield and can hold stout against the run when asked to.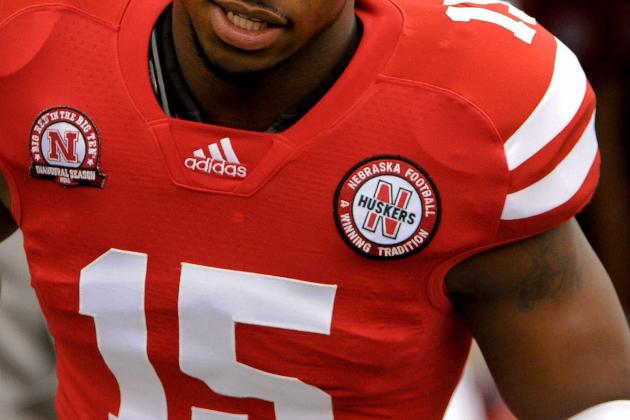 Eric Francis/Getty Images

After Jonathan Joseph left in free agency, cornerback immediately became a need for the Bengals. Now that Leon Hall has torn his Achilles tendon, the position is even weaker.
Alfonzo Dennard's stock has fluctuated, but he is a high-quality player. The Nebraska cornerback isn't a great athlete; however, he can play physically at the line of scrimmage and shut down physical wideouts.
If Cincinnati wants a more physically talented, but troubled cornerback, they would opt for former Florida star Janoris Jenkins.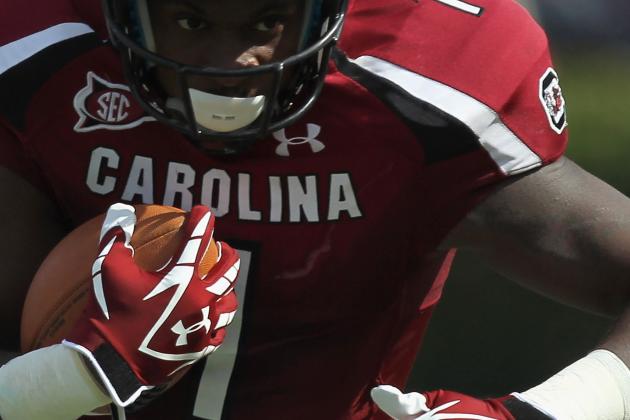 Streeter Lecka/Getty Images

Santonio Holmes appears to be done in New York. Plaxico Burress is only a decent player, and the Jets need someone to fill in as the team's No. 1 wideout.
The 6'3", 235-pound Alshon Jeffery is incredibly talented and may have the most upside of any wide receiver in the draft. Jeffery can catch almost any pass and would serve as a great safety net for Mark Sanchez.
Kendall Wright may be the better player, though, and is a smaller player like Holmes.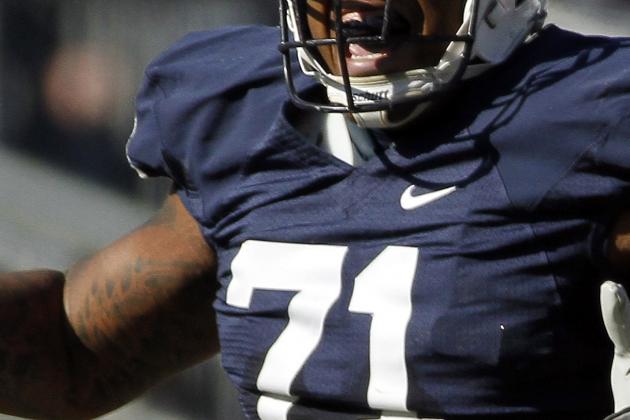 Justin K. Aller/Getty Images

Though Brodrick Bunkley played well in 2011, the Broncos desperately need help at defensive tackle. Bunkley is actually a free agent, and even if he stays, Denver needs a second defensive tackle.
Devon Still is a talented player who has underachieved in the past. The Penn State star is a good value here, but Memphis defensive tackle Dontari Poe is the better player with more upside.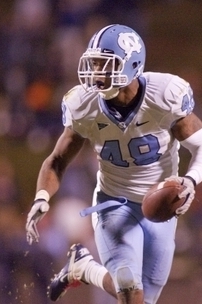 Yes, the Browns could use help at WILL. However, D'Qwell Jackson has been great in the middle, and Chris Gocong has stepped up at the other linebacker spot. General Manager Tom Heckert has never drafted linebackers early, and he probably won't start now.
Cleveland desperately needs to add offensive talent. Baylor wide receiver Kendall Wright is the type of speedster the team needs, and he fills a huge position of need.
Ryan Tannehill shouldn't be ruled out as a potential quarterback either.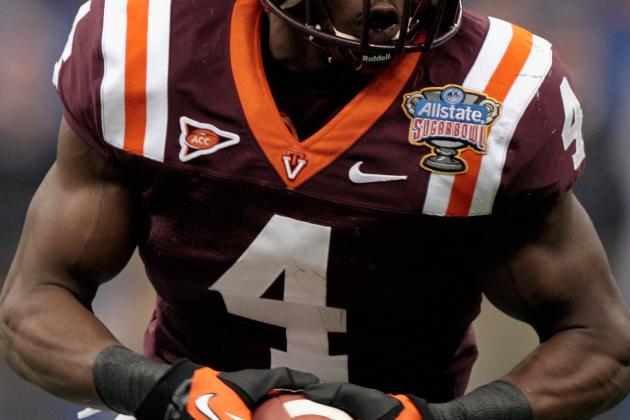 Chris Graythen/Getty Images

Uh, what? Another running back for the Lions? This pick doesn't make any sense. Sure, Jahvid Best has suffered from injury problems, but Mikel Leshoure is returning from injury, and the two should make a great duo.
I feel like I've mentioned his name a thousand times, but Mike Adams would be a great pick here. Quarterback Matthew Stafford is still getting killed—partially because of left tackle Jeff Backus—and Adams is a fantastic value at this point.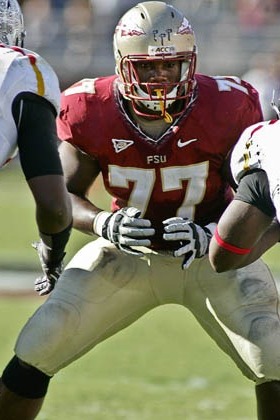 This pick makes no sense. Offensive tackles Duane Brown and Eric Winston have both been great, and the Texans don't need help along the interior offensive line either.
Kendall Wright, on the other hand, would make a ton of sense for Houston. Andre Johnson missed a ton of playing time thanks to injuries, and even when he is healthy, the Texans lack a solid threat opposite him. Wright's skill-set is the perfect complement for Johnson's physical play.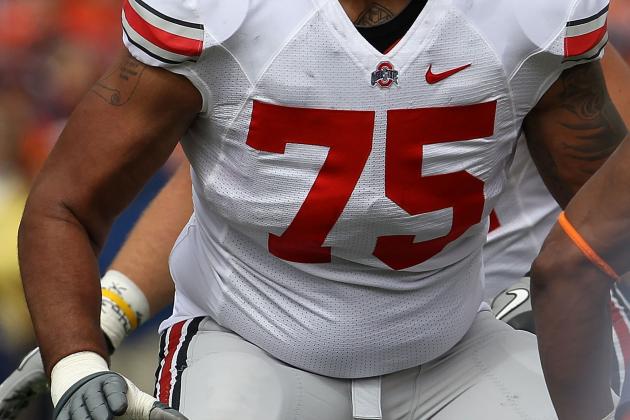 Jonathan Daniel/Getty Images

Finally, Mike Adams comes off the board. Bryant McKinnie really struggled in his first—and maybe only—year as a Raven, and Michael Oher definitely is not a left tackle. Adams fits one of the Ravens' biggest "needs" and is a fantastic value.
Unlike Baltimore's other tackles, the 6'8", 320-pound Adams is athletic enough to play on the blindside. Adams has legitimate franchise left tackle potential and would immediately start for the Ravens.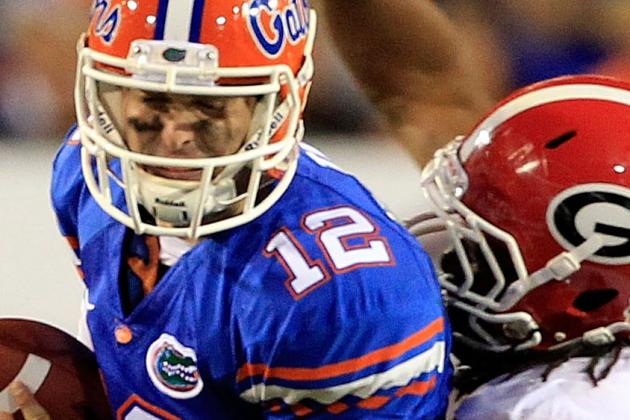 Sam Greenwood/Getty Images

If Jarvis Jones had chosen to enter the draft, he would be a steal here. Though the Steelers don't really need a pass-rusher, the team could certainly justify the pick.
James Harrison is all but gone, and Jason Worilds has been inconsistent when healthy. Jones has sick potential and could be a dynamic threat off the edge with LaMarr Woodley manning the other side.
Pittsburgh still needs help protecting Ben Roethlisberger, and there are several good guard prospects available.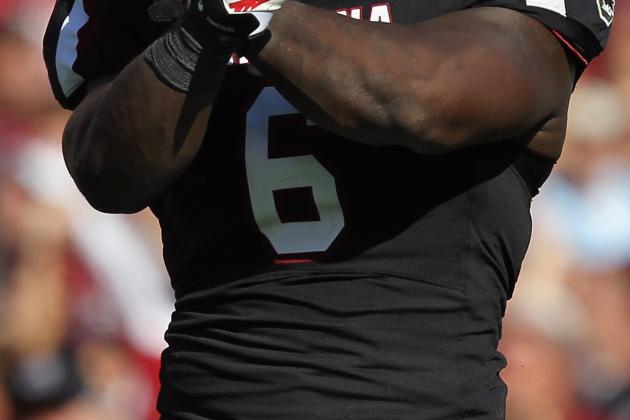 Streeter Lecka/Getty Images

Though he lacks many of Bill Belichick's desired qualities, Melvin Ingram is the type of versatile pass-rusher Belichick loves. The 6'2", 275-pounder can play defensive tackle, defensive end or outside linebacker. Remind you of Belichick's former player, Adalius Thomas?
On one hand, Ingram fits a big need for the Patriots and offers Belichick a ton of flexibility. On the other hand, Belichick has never drafted such a short pass-rusher, and Vinny Curry or Nick Perry may be a better fit.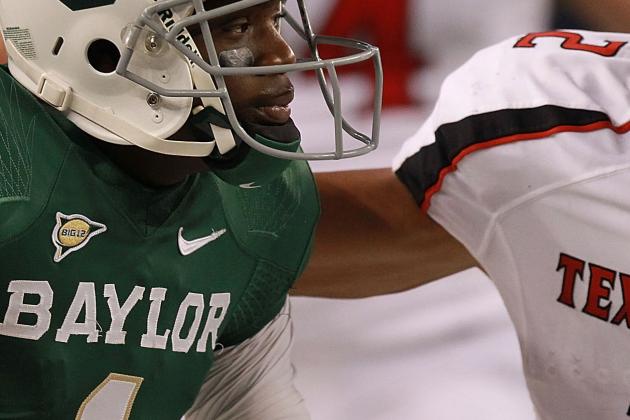 Ronald Martinez/Getty Images

With Michael Crabree still not living up to expectations and Braylon Edwards flopping, the 49ers find themselves in need of wide receiver help. Kendall Wright is the speedy, dynamic player Crabree is not and could add a playmaking threat to the team's offense.
Though San Francisco most needs offensive help, the 49ers could opt for a cornerback like Stephon Gilmore. Carlos Rogers may leave in free agency, and the team's other options are all pretty terrible.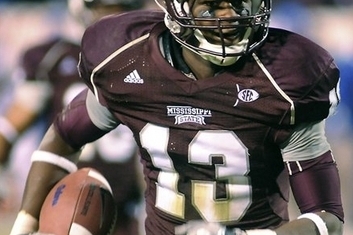 This is a huge reach. Stephon Gilmore is a much better cornerback than Jonathan Banks is and fits Bill Belichick's scheme. Belichick has made some crazy picks in the past, but this is a little too off-the-wall.
New England could still use defensive line help, so they could opt for Dontari Poe or Michael Brockers. A wide receiver like Mohamed Sanu would be a great fit as well.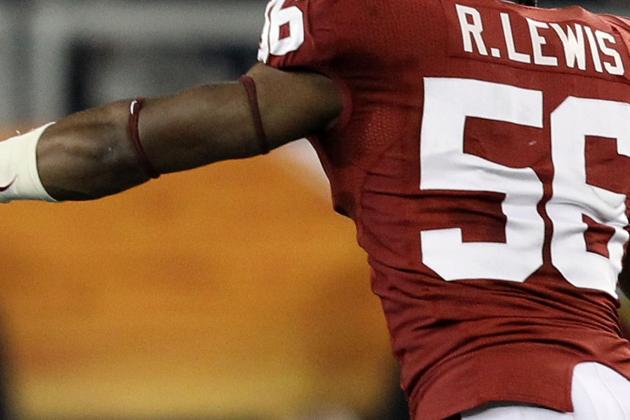 Christian Petersen/Getty Images

It has become obvious the Packers need someone opposite Clay Matthews. Matthews is a legitimate star off the edge, but Green Bay's defense has struggled—partially because of the team's lack of an other pass-rusher.
Ronnell Lewis is an explosive, speedy defensive end best suited for a 3-4 defense. Defensive coordinator Dom Capers could move Lewis around and take advantage of the Oklahoma star's athletic ability.
Though Lewis is a good pick, Nick Perry would do a better job of playing the same position.