New York Knicks: Race Plays a Factor in How Jeremy Lin Is Covered in the Media
February 20, 2012

Chris Trotman/Getty Images
Jeremy Lin is taking the NBA and sports world by storm. Lin, a Harvard grad who has bounced around the NBA and D-League the last year-and-a-half has ignited the once pathetic New York Knicks by leading them to victories.
Lin's story is one of rags to riches. Lin has risen from the depths of obscurity into bright lights of consistent media coverage and being a star. He went from being nearly cut two weeks ago to being the face of the New York Knicks franchise today. 
There are several things that are rather telling about Lin's story.  One, he is averaging 25 points and nine assists per game. Very impressive considering he largely went unnoticed up to this point.
Two, Lin is a Harvard grad.  It's not like Harvard is a perennial power in terms of producing a plethora of basketball players who excel in the NBA. 
Lastly, Lin isn't your prototypical point guard for obvious reasons. The NBA is 80 percent African-American. It's safe to say not many Asian-Americans are in the league let alone playing point guard. 
Boxing great Floyd Mayweather recently suggested if Lin were African-American his accomplishments wouldn't be a big deal. Mayweather stated via Twitter that "Jeremy Lin is a good player but all the hype is because he's Asian. Black players do what he does every night and don't get the same praise."
Overall, I agree with Mayweather's assessment too, but not for the reasons some of you may think.
As noted earlier, the NBA is 80 percent African-American. African-American players have dominated the league for the past three decades. The sports world has become accustomed to seeing African-American basketball players excel and gain notoriety.
Conversely very few American white players have excelled to the degree of African-American players.  The closet thing the NBA has in terms of white great talent is Kevin Love, Dirk Nowitzki and Steve Nash. Nowitzki is of course German and Nash is Canadian.
What's even rarer is witnessing an Asian-American playing point guard in the NBA.  
Race factors in how Lin covered because he is largely a rare breed of player excelling in a league that's dominated by African-Americans.
You don't think race matters?
An ESPN employee was fired for using a racially charged headline when covering Jeremy Lin.  According to reports, ESPN issued an apology directly to Lin.
For added perspective: Imagine if you were at a gym playing pick up basketball and there are approximately 20 people present with 19 of them being African-American. The other one is Jeremy Lin.
Just by perception alone some would not pick Lin as their top choice because of what they see. Lin would not fit within the mold of being a basketball player therefore it is likely Lin would not get picked to play right away. The latter is obviously predicated on those present never seeing Lin play before.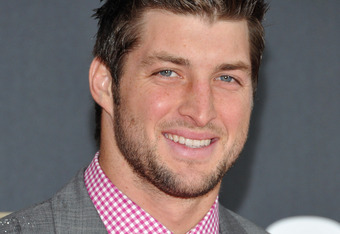 Mike Coppola/Getty Images
That being said, is it possible scouts overlooked Lin because of race?
Before Lin's ascent if one closed their eyes and envisioned a point guard in the NBA you'd likely see Jason Kidd, Chris Paul or Derrick Rose.
Before Barack Obama became the first African-American President of the United States, if we were to close our collective eyes and envision a president we would see white men.  
My point is simply this: We now have to expand and diversify our minds to embrace things we've never seen before. 
More importantly that's why diversity is needed in the media. The more varied the coverage along racial lines the more accurate stories can be disseminated.
Some have compared Lin's story to Tim Tebow. Tebow ignited frenzy in the NFL. He  helped lead the Denver Broncos to the playoffs after a 1-4 start. The media went nuts with his story and currently the same is true of Lin's coverage.
Race played a factor in Tebow's ascent as well yet it wasn't critically addressed. There has never been an African-American quarterback in the NFL who was elevated from fourth on the depth chart to starter without beating out the other quarterbacks on the team.
Tebow benefited from a fanbase that wanted to seem him play and the Broncos organization caved in. 
Furthermore, Tebow had an offense built just for him to cover up his many flaws. Instead of mandating he play the game like a real quarterback, his glaring deficiencies were excused instead of being addressed. 
If Tebow were African-American with such a flawed skill set he may be relegated to bench, asked to switch positions or bounced out of the league.
The only relevant similarity of Tebow-Mania and Linsanity is the persistent media coverage. The glaring difference between the two stories is Lin can actually play and Tebow can't. 
Wouldn't you agree Lin is a much better passer than Tebow?
In closing, I don't have an issue with what Mayweather asserted about Lin. I believe his statement had a high-level of credence and it is worthy of discussion as long as it is constructive of course.
Email Dexter:  drttcd@gmail.com
Twitter:  @DextersVPoint
View My Upcoming Movie Trailer