Houston Texans Free Agency Rumors: What to Believe & What to Dismiss
February 19, 2012

Bob Levey/Getty Images
For years, fans groaned in Houston when the Texans wouldn't make a big splash in free agency by bringing in a big fish. After years of building in-house, they finally opened the checkbook last offseason bringing in elite cornerback Jonathan Joseph, who proceeded to have an all-pro type season. Money well spent, right?
But this season, things will be a little different. Little to no noise will be made on the free agent market, possibly. This isn't a case of Bob McNair watching his bottom line, rather a case of trying to keep this young, talented team together. A little thing called the NFL salary cap is trying to make life quite difficult for Houston, as they have too many guys in need of a new contract or a raise headed into 2012.
Mario Williams, Arian Foster, Chris Myers, Mike Brisiel and Joel Dreessen lead the list of players who could be wearing different uniforms this September if the situation isn't handled correctly.
Williams is the biggest question this free agency period, because there are many rumors about him possibly being offered the richest contract for a defensive player in NFL history. Such a deal would mean that he won't be a Texan next season, as Houston can't match that type of a deal without sacrificing about a third of their roster. The result of Williams' situation effects what they do the rest of the way before kickoff this fall.
If the team lets Mario walk, as many are suggesting that they will, they have enough coin to go out and mingle with some lower tier free agents and resign the other four guys I mentioned earlier. This seems to be the most intelligent move going forward, as we all love Williams, but he isn't the kind of guy that's going to be worth that much cap-crippling space in the long run. He is saying all of the right things about how being the highest paid defensive player isn't meaningful to him, but he isn't the first guy to say that before taking the money and running.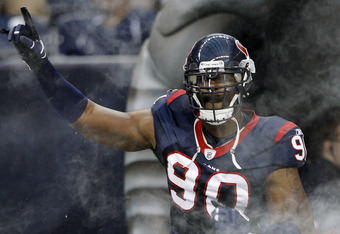 Bob Levey/Getty Images
But after Williams, there are plenty of rumors flying out there about who the Texans would be interested in. Stanford Routt was reported to be coming in for a visit, but that was later refuted and, apparently, premature as he never made his way to Houston. 
The people dreaming of a big time free agent wide receiver coming here may be disappointed. Dwayne Bowe, Vincent Jackson and Brandon Lloyd are young men looking for their first big contract and that isn't likely to field an offer coming from Reliant. Mario Manningham and Reggie Wayne will probably get more lucrative offers elsewhere and Marques Colston would be a fool to leave Drew Brees. This isn't Madden and these kinds of additions don't just happen when you have this many new deals needed.
Perhaps, if Williams does indeed walk, Houston can look at a guy like Robert Meachem when all of the other teams sign the "top guys" to big contracts and he's looking for the best situation over money. Someone out there is going to want to come to this system and love the idea of being wide open when teams double Andre Johnson. If not, they'll look to address the problem early in the draft, but quit dreaming of Vincent Jackson in a Texans uniform. It just doesn't make sense monetarily.
Then there is the big enchilada, so to speak, in the Peyton Manning rumor. As tempting as it is, as I wrote already, it's just too much of a risk for a team that people view as an AFC title contender, as is, to take. Plus, he isn't going to play for free, regardless of all his talk of accepting an incentive laden deal. Go ahead and file this one under "not likely to happen." It just doesn't seem like a Texan-like move.
Arian Foster, while restricted, does need a new deal. If the team isn't able to reel Mario back in, it'll happen. But if they can convince Mario to stay at a reduced rate, Foster is likely to earn the franchise tag and his agent has already confirmed that he'd be fine with that move.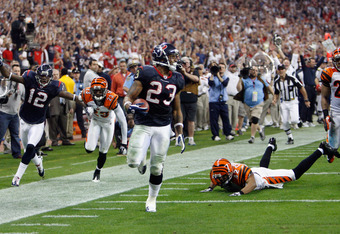 Bob Levey/Getty Images
But this is playing with fire and is very risky, as under the new CBA rules a team only has to give up a first round pick to pluck away a restricted guy from another team. Houston can always match, but not if a team uses what is known as a "poison pill" and front loads a contract so high that the Texans can't match it. That's considered "bad business," but Foster is a special kind of player that I could see someone taking the bad publicity over. Houston told him they would work out a new deal with him if he duplicated his 2010 success in 2011 and they need to own up to it somehow.
As for the other guys, I still don't think Myers is going to get ridiculous offers on the market, as they know he is a product of this scheme and I believe he will be back with a raise over his last contract. He isn't going to break the bank. Same with Brisiel, he will be back with a minimal pay bump. However, I think Dreessen is too good to be stuck behind Owen Daniels and he will get an offer to start somewhere, and make the smart decision to take it. It isn't an ideal situation among fans, but this is the problem that good teams have.
Another reason that the Williams conundrum is such a headache is because you have to think ahead another year for who will be due for new deals in 2013. If Connor Barwin has another season like last year, he's going to be a hot item on the free agency market as is Duane Brown. He is going to deserve top 5 tackle money and if Houston doesn't pay it, someone else will. Matt Schaub is going into a contract year, too. 
In what seems like forever, fans in Houston always asked when they would finally have a good team. Now they can only wonder if they have what it takes to keep them together. Last year spoiled a lot of people in the free agency game, but you have to take care of your own first or you get the train wreck that was like what the "Dream Team" had in Philly last year. Keeping this nucleus together is more important than killing your cap on a diva wide receiver.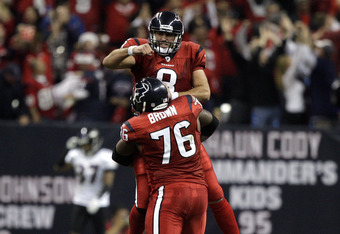 Bob Levey/Getty Images
But cheer up, when was the last time you saw teams with lasting success like Baltimore, Pittsburgh and New England go wild on the free agent market? Next to never, that's when. Good teams build through the draft and this regime has done a mostly a good job on that front. If they hadn't, you wouldn't be seeing the problem they have right now with trying to keep their team together.
So let go of all the dreams of Peyton, V-Jax and Paul Soliai in Houston next season. Keep those fantasies on your PS3 & XBOX consoles when playing dynasty mode on Madden. Those kinds of moves are the things that have kept teams like Washington and Oakland in obscurity for the past decade. Follow the model that teams like Pittsburgh and New England conduct and draft well, develop and keep them together. If it's worked for them for all these years, I see no reason why it can't be duplicated in Houston.
Mike Kerns is a Featured Columnist for the Houston Texans at Bleacher Report. Feel free to follow him on Twitter and catch his latest Texans podcast on iTunes.