Philadelphia Eagles: Will They, Should They Bring in Randy Moss?
February 15, 2012

Jim Rogash/Getty Images
Randy Moss has announced his desire to return to the NFL. He is one of the greatest talents the sport has ever seen and one of the game's most dangerous weapons. But it was only when he chose to be.
Reports have already surfaced, at least superficially, that the Eagles were one of four teams to express some level of interest. With that, it is time for another installment of "Will They, Should They?," a feature being undertaken by myself and fellow Bleacher Report writer Dave Stoessel. 
In this feature we offer our own opinion on whether the Eagles should do something and then ultimately determine if they WILL do it.
Often the thinking into whether they actually will do something is overlooked, but with the Eagles, it never should be.  It is honestly always the more important question to consider.  Last week we debuted this feature concerning the future of DeSean Jackson.
So should the Eagles take a chance on Randy Moss?  If you look at the way this team has gone about building its team, absolutely not.  Andy Reid and Howie Roseman have created a veritable Frankenstein's monster of an NFL roster, and Moss may as well be the final bolt on the Eagles' neck.
An organization that used to pride itself on building a team through the draft couldn't have strayed further from that philosophy.  Building through the draft ideally is a process where you get to evaluate young players on your roster and you get the first opportunity to lock them up long-term.  Ideally, you get a group that grows together into a galvanized unit that can compete consistently for five to six years.
Outside of 2009, the Eagles have faltered in the draft for the last half-dozen years, so they were forced to turn to the mercenary route.  It proved to be an utter failure in 2011.  It may improve next year, but last year it resulted in a disjointed team that didn't know how to play together and was bereft of leaders.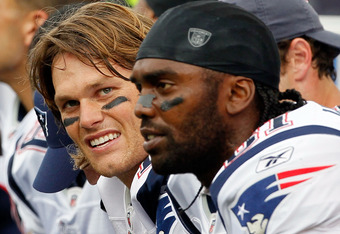 Jim Rogash/Getty Images
If Randy Moss is going to be successful, he needs to be kept in line.  There is not enough leadership or accountability on the Eagles' roster to accomplish this.  There was a time when this was a strong and disciplined team, but those days are long gone.
Last season was marred by proclamations by backup quarterbacks.  By constant whining about fan reactions to losing.  By pouting and complaining about contracts and trade rumors.  By excuses made for under-performance.
This is a team without a real backbone and clearly not an ideal place for Randy Moss to be the good Randy Moss.
Now will they take a shot at Moss?  Sure, why not?
In the early part of the 2000s, this would have been laughable.  The Eagles were known for their emphasis on character and would never consider anyone who had even the smallest pock-mark on their record.  This is a new decade though, and at this point, all bets are off.
It started with being the surprise team to sign Michael Vick out of jail, despite enormous amounts of backlash from the city.  It turned out well with all things considered, so their stance can only be emboldened.
On smaller scales, the Eagles drafted DeSean Jackson, Jack Ikegwuonu and Winston Justice despite at least some character concerns.  They signed Vince Young who was a questionable personality and were interested in Plaxico Burress, another player who was a former inmate.
So will they sign Randy Moss?  It's impossible to say definitively yes, but if he wanted to come here, it is likely they would take him on.  The only likely thing standing in the way is money or Moss' desire to play in a better situation.
There is my take and now it's time to see where Dave stands on the issue:  
The latest buzz about the Philadelphia Eagles is whether or not they have, or will have, interest in Randy Moss. Moss, as you may have heard, is coming out of a one-year retirement from the NFL.
Jason Cole of Yahoo! Sports reported recently that "according to a source close to Moss," the Eagles are "at least curious" about him. However, take that with a grain of salt as the so-called source could just be his agent trying to drum-up a market for his client.
But at the least, this gives us some food for thought regarding the possibility of seeing Moss in midnight green. So, will the Eagles seriously pursue him? Should they?
As far as whether the Eagles should try and get him, I'd have to say no, they should not. This was my first reaction upon thinking about that question. Why, you ask? I mean, it's Randy Moss, right?
Look, right now there is no good reason to even think about adding him to this team. At best, the man is of questionable character and has displayed some undesirable behavior throughout his career.
Moss ended his first stint with the Minnesota Vikings on rocky terms with QB Daunte Culpepper and was traded to Oakland. During his two years with the Raiders, he mostly struggled, was viewed as quitting on his team, and was largely a non-factor.
Moss was then traded to New England for a ham sandwich and somehow the magic of Tom Brady and Bill Belichick revived his career, including an outstanding season in 2007 when he caught 98 passes for 1,493 yards and 23 touchdowns.
However, things went sour there too and in October of 2010, he was traded back to Minnesota. It was there that Moss lost it and showed what kind of person he could be.
Moss ripped head coach Brad Childress by saying he was unfit to be an NFL coach, questioned the play calling of the coaches, completely disrespected a "mom and pop" restaurant owner who catered meals every week for the Vikings, and openly lamented about not being with the Patriots anymore.
All of that led the Vikings to release him after only one month with the team. And, they had given up a third-round pick for him, too.
Moss was then ultimately claimed by the Titans off waivers and finished out a horrible 2010 season in Tennessee before retiring.
Throughout his years, Moss has a general reputation for taking plays off and only plays well when he's motivated. He was mostly a deep threat receiver and didn't take too well to over-the-middle routes.
Given all this, why should the Eagles bring in a player who just a year ago decided he was done with football? The guy was once a rare and special talent but that time has passed. When you look at his age, a year away from the game, and his history of questionable behavior, the Eagles should not even bother.
For a team that is looking to gel and trying to forge an identity, adding a guy like Moss would be a detriment to those goals. Plus, after a year of all that Dream Team nonsense, this team does not need another distraction...and that's exactly what Moss would be.
Now, having said all that, will the Eagles actually show any serious interest in acquiring him? No, I don't think they will. They might kick his tires a little bit, but I'm sure he will be several players down their "wish list" this offseason.
First of all, they still have DeSean Jackson. Second of all, there could be an abundance of wide receivers hitting the free-agent market this year and there will certainly be much better candidates than Moss.
At one time, back in 2008, the Eagles did have interest in signing him. They reportedly offered him more money than what he ended up signing for in New England but Moss turned the Eagles down.
The fact that they had shown interest in the past may lead you to believe that they could still have interest in him, but that's not exactly the case. The Eagles could have claimed him off of waivers in 2010 but never put in a claim for him.
According to Business Insider Sports, the Eagles were No. 17 in the waiver order and Tennessee was No. 20, so they could have had him if they wanted. Therefore, they apparently weren't that interested in 2010.
Moss just turned 35 years old and has been out of football for a year. Who knows how he'll hold up physically and how he would handle being a role player. He has character concerns and the Eagles won't be in desperate need of his services.
Don't be surprised if you hear more rumors about the Eagles being interested. Like I said, they may feel him out, but things will boil down to what happens with DeSean Jackson and other potential free agents.
If the Eagles part ways with Jackson and the potential glut of free agent wide receivers thins out, I could see the Eagles become desperate enough to consider Moss. Ultimately though, if things go according to plan, Moss will not be a Philadelphia Eagle in 2012.