NFL Predictions: Predicting the Denver Broncos' Second Toughest 2012 Schedule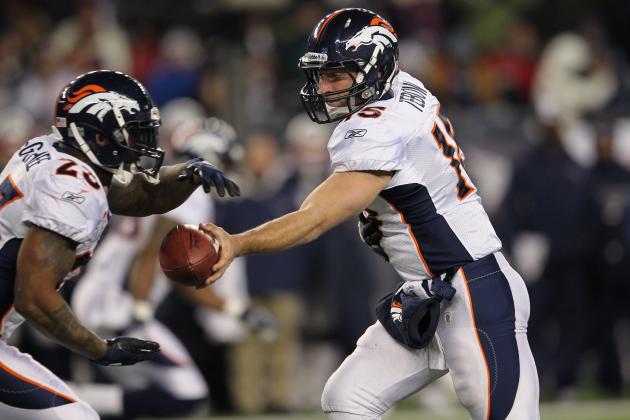 Jim Rogash/Getty Images

Statistically the Denver Broncos have the second toughest schedule in the entire league behind the New York Giants for the 2012 NFL season. With expectations high in Denver such a tough schedule is brutal timing for the Broncos, especially in the midst of the Tim Tebow saga. Then again, aren't these kind of situations what makes Tebow-mania so exciting?
Conventional wisdom is that Denver will improve with a full off-season and a full year of the same quarterback. If this is true, then a reasonable prediction would have the Broncos at 10-6, which should be more then enough to win the AFC West again.
However, taking things game by game might give us a different scenario. Tebow thrives in situations where he's not expected to win, and with games against Pittsburgh, New England and New Orleans to name a few, Tebow will have more than his fair share of games where he will be expected to fail.
Keep in mind, we are pre-draft, pre-free agency, and pre-any and all injuries that may come into play during the course of next season. At this point scheduled games haven't even been given dates, so we don't know what days or order these games will be played in. However, assuming a reasonable comparison of skill level to last year, taking into account that young up-start teams improve slightly and that veteran powerhouse teams likewise decline, we can make some sensible predictions about the fate of the 2012 Denver Broncos.
Here are predictions and rationale for all 16 games.
Begin Slideshow

»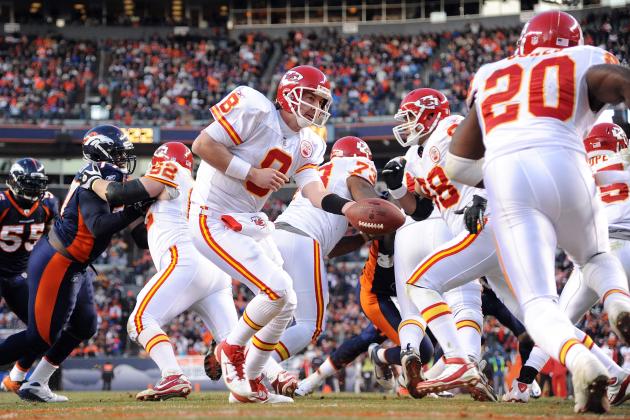 Garrett Ellwood/Getty Images

The odds of Kyle Orton being behind center for Kansas City in 2012 are slim to none, and we aren't likely to see the Chiefs draft a quarterback at number nine.
Improving the position through free agency is an option, yet with so many teams vying for quarterbacks this year, Kansas City will be hard pressed to significantly change their current offensive situation.
With that being said, barring a Matt Flynn or Peyton Manning signing, this team doesn't seem set to significantly improve during the 2012 season.
The Chiefs were 26th against the run last year, as they rolled out the red carpet for an average of 132 rushing yards against per game. This doesn't bode well against the Broncos who have established themselves as the leagues best rushing attack.
Tebow's arm will be better next year as well, and we should expect him to contribute far more through the air against Kansas City then he did last season.
Denver at Kansas City: 20-14 - Broncos
Denver vs. Kansas City: 14-12 - Broncos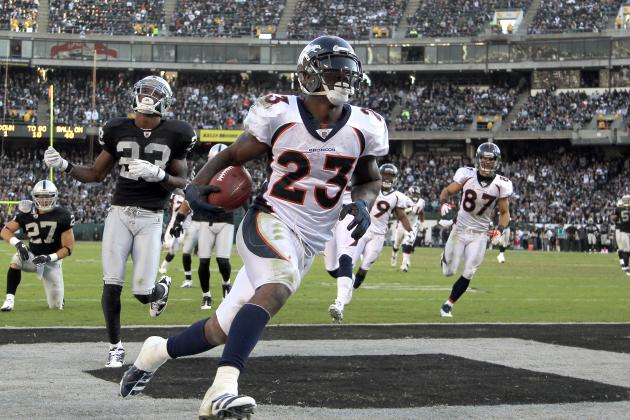 Ezra Shaw/Getty Images

Without Tim Tebow, the Broncos lost their first game of the season to the Raiders by only three points. In the second meeting of the season, Tebow and McGahee steamrolled the Raiders on their way to an easy win.
You have to take into consideration that the Raiders will have the "full version" if you will, of Carson Palmer. However with a new coach (Dennis Allen, the Broncos ex-defensive coordinator), expect Palmer to have yet another season of adjusting and getting used to a new offense.
Having Allen coach against his old team will add some extra intrigue to these games as well, and while more competitive then the Chiefs, expect Denver to again wrap up both divisional games against the Raiders who finished right behind Kansas City at defending the run.
Denver at Oakland: 21-20 - Broncos
Denver vs Oakland: 34-27 - Broncos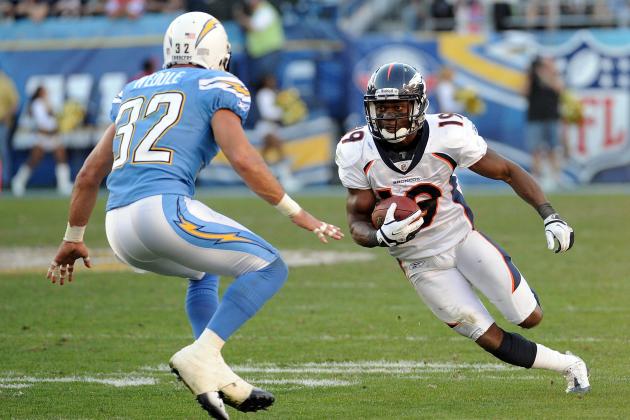 Harry How/Getty Images

With such a tough schedule outside of their division, a great performance within their division is going to be crucial if Denver wants to have a successful year.
They'll cap it off nicely against the Chargers who's history of inconsistency and the looming possibility of a new coach will make them an easy target for the Broncos.
Expect San Diego to decline significantly next year, enough to be uncompetitive when it comes to the AFC West crown.
Though with Denver and Tebow establishing a bit of a track record of losing games they should win, they'll split the season series giving up the second game of the year (home or away) to the Phillip Rivers passing attack.
For now, we'll say that second game will be a home game for the Broncos.
Denver at San Diego: 17-14: Broncos
Denver vs. San Diego: 42-15: San Diego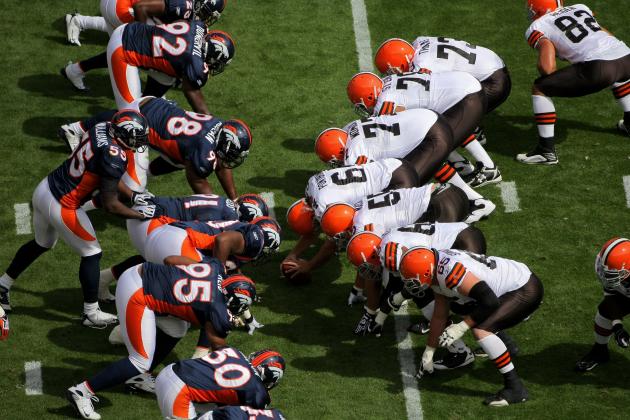 Doug Pensinger/Getty Images

It's tempting here to give Cleveland the victory, because of Denver's tendency to lose games they should win.
Tempting yes, but just not reasonable. You simply can't ignore the Browns' 30th ranked rushing defense, and the fact that this is a home game for Denver.
This should, and will be an easy game for the Tebow offense who will no doubt run rough shod over a team that will have spent most of their off-season energy looking for a quarterback and a way to improve their struggling offense.
Denver vs. Cleveland: 26-17: Broncos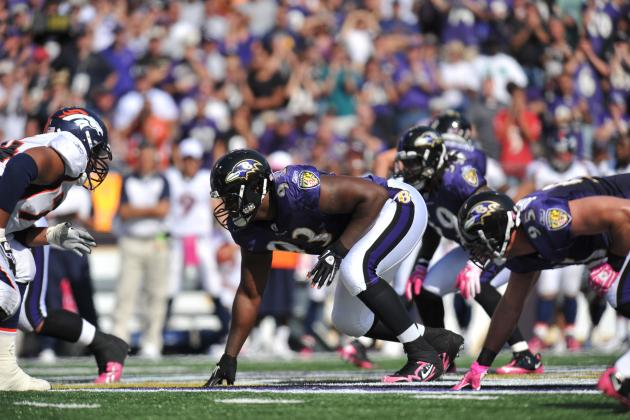 Larry French/Getty Images

An away game against a suffocating defense isn't a recipe for success for any team. While it must be considered that Tebow thrived under a similar situation (though a home game) against the Pittsburgh Steelers, facing a team that gave up less then 100 yards on the ground last season is just too tall of an order for Tebow.
The game will be low scoring, but we'll likely see a very flustered and anxious Tebow, against the aging, though incredibly talented and experienced Ravens defense. Expect turnovers to be a huge issue for Denver in this game, even if the Broncos' defense can limit the bleeding to field goals.
Denver at Baltimore: 15-6: Ravens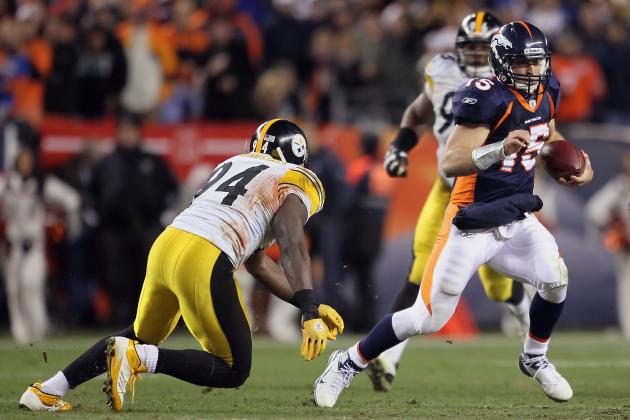 Jeff Gross/Getty Images

A rematch of the infamous wild card playoff game that saw the Broncos miraculously beat the Steelers in overtime: This game may possibly be the second of the NFL's opening Monday night double header.
The game will again be played in Denver, and assuming a healthy Steelers team, this game will match up somewhat differently.
Nonetheless, Tebow has built up lasting confidence against this club, and while the Steelers defense isn't likely to make the same mistakes twice, expect the Broncos to take advantage of a Pittsburgh team who will overplay the pass in an effort to avoid another Demaryius Thomas disaster.
Denver vs. Pittsburgh: 17-13: Broncos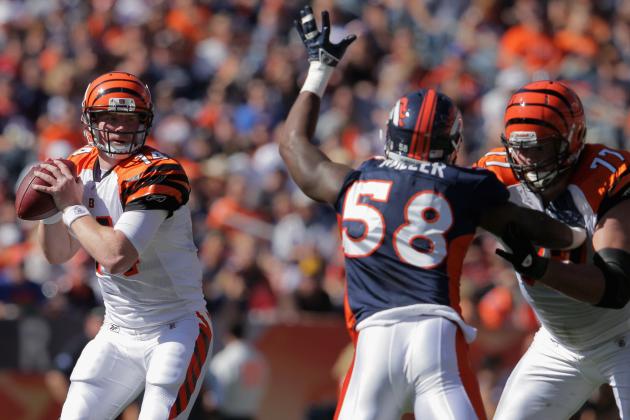 Doug Pensinger/Getty Images

Two young quarterbacks will get a week off from the pressure of facing an established and proven veteran signal-caller. Both Andy Dalton and Tebow should benefit from this and come out firing on all cylinders.
Though the Bengals outranked the Broncos in almost every defensive category, this game will play out similar to the Minnesota-Denver game last year, where Christian Ponder and Tebow exchanged scoring drivers en route to a close finish.
As is often true in close games involving the Broncos, last second heroics from Matt Prater will push Denver over the finish line.
Denver at Cincinnati: 38-35: Broncos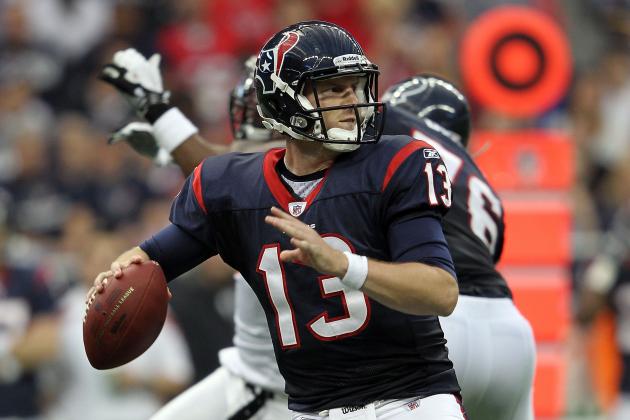 Jamie Squire/Getty Images

The luxury of having to deal with TJ Yates at quarterback probably won't be afforded to the Broncos next season. Assuming a healthy Matt Schaub and a defense akin to last year's, this match up posses some huge problems for Denver.
Third and fourth best against the pass and run respectively, Houston has all the tools necessary to shut down Denver and put up huge points in the process. This will be the reincarnation of the Broncos-Lions game last year and will bring Tebow back down to earth in a big way despite the fact Denver will be playing at home.
Denver vs. Houston: 32-3: Texans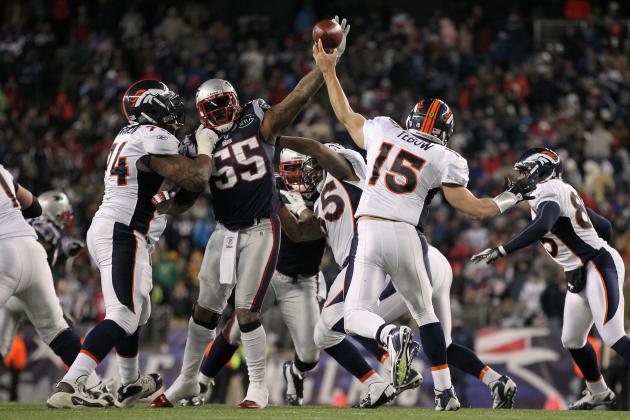 Jim Rogash/Getty Images

Regardless of outcome, don't expect this game to be as lopsided as the prior two meetings. Though likely to address a lot of their pass defense issues during the offseason, the Patriots will be susceptible to the improved and underestimated arm of Tebow.
When the Broncos played the Patriots during the regular season last year, they owned the first quarter hands down. This game will play out similarly, though the Denver defense will be able to force Brady into costly mistakes, and ultimately break his confidence.
Denver at New England: 24-20: Broncos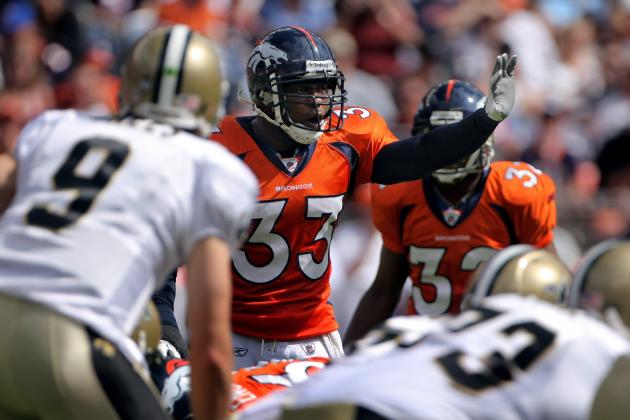 Doug Pensinger/Getty Images

The Broncos defense will improve this off-season, and be more consistent game to game. Yet this matchup against the Saints would be a tall order for any defense, much less the up-start Broncos.
Tebow won't be the biggest factor here, as the major question mark in this game will be how the Broncos defense handles Drew Brees. Though Von Miller and Denver's healthy mix of youth and experience at cornerback derserve a nod, there's just no good reason to bet against the Saints offense.
The game will have a slow first quarter, but Brees will ultimately dismantle the Broncos' secondary.
Denver vs. New Orleans: 35-6: Saints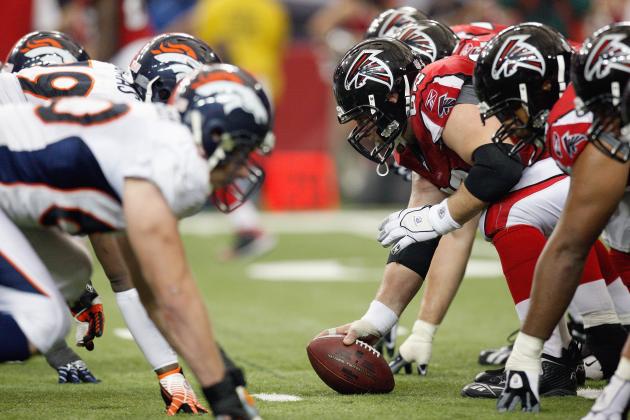 Kevin C. Cox/Getty Images

The Falcons are a great regular season team in recent years and are always a favorite in the NFC. Also great stopping the run last year (sixth best), Atlanta should have all the tools in place to keep Tebow and the Broncos rushing attack under wraps.
Don't expect Matt Ryan to be as threatening to Denver's defense as other clubs, though his production will be enough to keep Denver playing from behind start to finish.
Denver at Atlanta: 17-3: Falcons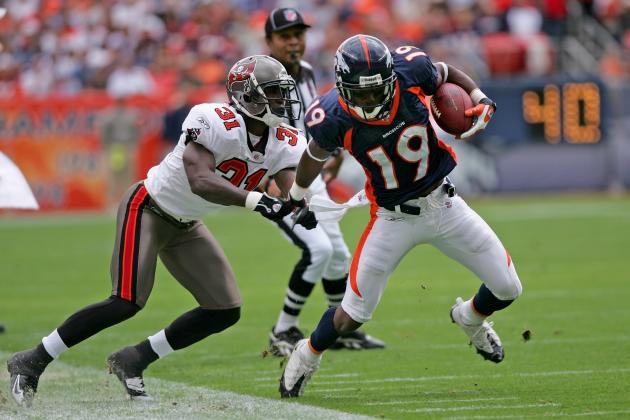 Doug Pensinger/Getty Images

Like the Cleveland game, it's tempting to pull the upset card on the Broncos for this matchup.
Though doing so without consideration of Tampa Bay's 2011 defense would be ill-advised to say the least. The Buccaneers were dead last defending the run giving up a staggering 156 yards per game on the ground. Their pass defense didn't fair much better, and as a whole were one of the most susceptible units in the league last year.
While the team will certainly address some of these issues in the off-season, expect the Denver rushing attack to take over this game from the start. Having a Florida team at such high altitude won't help matters either. This will be a solid home win for Denver.
Denver vs. Tampa Bay: 28-9: Broncos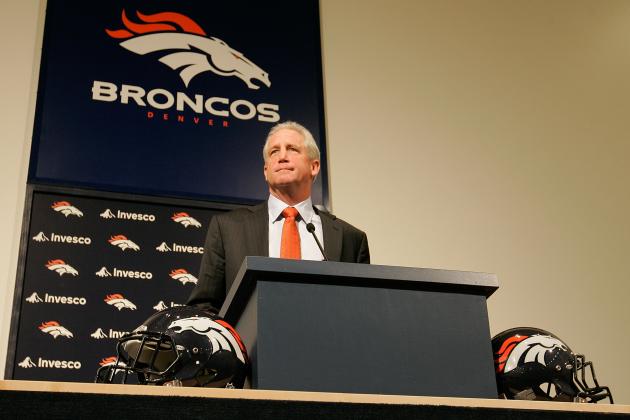 Justin Edmonds/Getty Images

This matchup, featuring the return of John Fox to North Carolina, is probably one of the most intriguing games that this schedule has to offer.
In addition to Fox's homecoming, you have two of the most interesting, unorthodox quarterbacks in the game today facing off against one another. While Tebow will have a better team surrounding him, Cam Newton has been more statistically reliable.
Yet again, you can't ignore the poor performance of the Carolina defense.
This game has all the makings of a shootout, where both defensive coordinators will undoubtedly be pulling out their hair. Though as Tebow has proven, close games, regardless of the score, bring out the best in him.
It'll be close, but Tebow will be Tebow -- No Prater necessary.
Denver at Carolina: 42-38: Broncos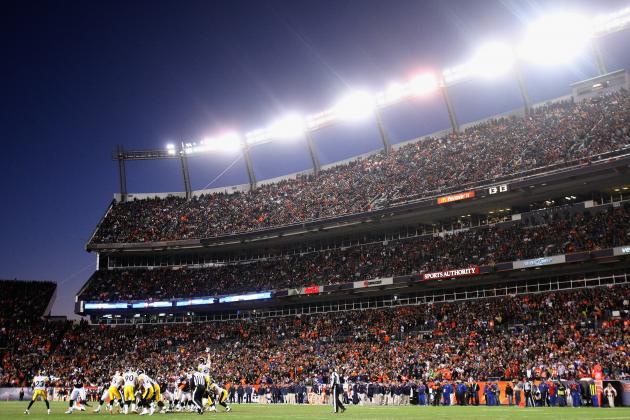 Jeff Gross/Getty Images

An entire season of one quarterback and one offense will push Denver into the realm of AFC royalty during the 2012 season.
Make no mistake, the team's schedule is difficult, but in a weak division the Broncos will do more then necessary to win the AFC West and will possibly be in position to grab a first round bye and home field advantage.
Obviously the draft, free agency and injuries can alter this landscape entirely, though it's still fun to speculate, and for the next six months, that's all we've got. Here's a summary of my predictions.
Comments, opinions and debate are welcome.
Final Record: 11-5

Home: 5-3
Away: 6-2
Points For: 314
Points Against: 360
Net Points: -46
Touchdowns: 37
Division: 5-1
Conference: 9-3
Non-Conference: 2-2