NBA All-Star Game 2012: What the All-Star Starters Looked Like in High School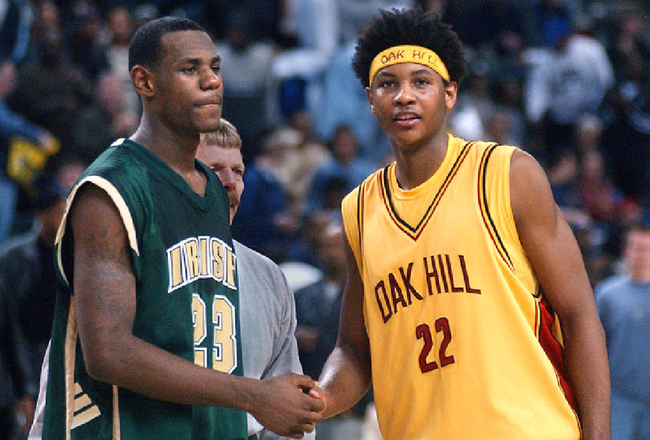 The 2012 NBA All-Star Game is only two weeks away, and the rosters, like always, are filled with the elite of the elite in the NBA.
The players on the 2012 NBA All-Star rosters are all grown up, earning their multimillion-dollar paychecks by being the best basketball players in the world.
But they wouldn't have made it to where they are now if they forgot where they came from. Lucky for them, I haven't forgotten where they've come from, and I've got pictures to remind them.
Take a journey back in time and see what every 2012 NBA All-Star starter looked like when he was back in high school. Enjoy.
Eastern Conference C Dwight Howard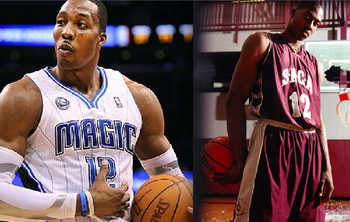 Putting the high school version of D12 up against the present-day version brings one word to mind, and that word is steroids.
I'm sure Dwight Howard's never used steroids, but it sure looks like he has. It looks like Howard doubled in size since leaving high school for the NBA.
The high school version of Howard isn't nearly as intimidating as the new one. Just goes to show how much ridiculous hard work goes into becoming an NBA All-Star.
Eastern Conference PG Derrick Rose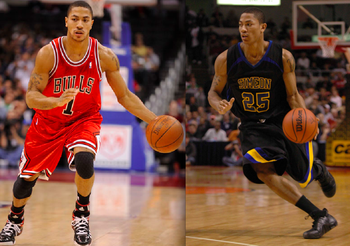 This one's just like looking in the mirror, mainly because Derrick Rose was in high school just six years ago in 2006.
It's hard enough for NBA defenders to stop Rose, so just imagine how ridiculously hard that must have been back in high school with Rose being nearly the same size that he is now.
D-Rose is the one guy on this list who doesn't look like he's bulked up at all, and luckily for him, he doesn't need to. Rose could own the NBA if he was 5'4'', 155 lbs; he's just that unstoppable.
Eastern Conference SG Dwyane Wade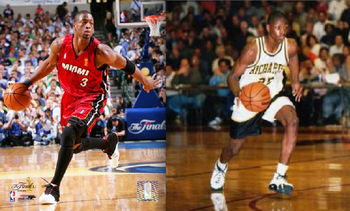 If Dwyane Wade lost 30 pounds of muscle, you wouldn't be able to tell him apart from the high school version of himself.
Wade was probably a little easier to stop back in high school before he had filled into his 6'4'' frame that makes him so unstoppable today.
Unlike other guys on this list like Kevin Durant, Wade has filled into his 6'4'' frame quite nicely. But even if he hadn't, he'd still be a perennial All-Star because he's got a winning mentality.
Eastern Conference SF Carmelo Anthony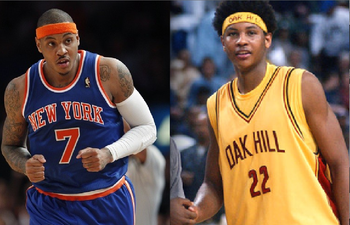 Oh Carmelo, I wish you still had your high school mini-fro. It was absolutely epic.
Maybe 'Melo's mini-fro is the missing key to an NBA Championship for the New York Knicks. Oh no, wait, the missing link is Jeremy Lin—but still, 'Melo's mini-fro wouldn't hurt the Knicks' title hopes.
Of all the NBA All-Stars on this list, 'Melo's at the top of the list of guys that changed the most since leaving their high school days behind.
Unfortunately for 'Melo, he should go back to his high school look.
Eastern Conference F LeBron James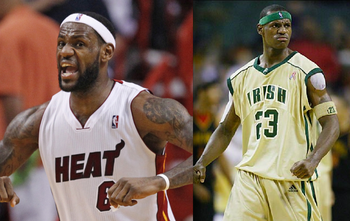 I wonder why LeBron James doesn't wear those weird things on his biceps and shoulder anymore. Well, actually I bet he doesn't wear them because they're useless.
Anyway, it's nice to see that LeBron has filled into his monster physique nicely in the past nine years.
LeBron is right up there with Dwight Howard as the guys who've put on the most muscle since their high school years.
Still, LeBron was a pretty huge guy in high school. Just imagine yourself back in high school trying to stop him. Yeah, not going to happen.
Western Conference C Andrew Bynum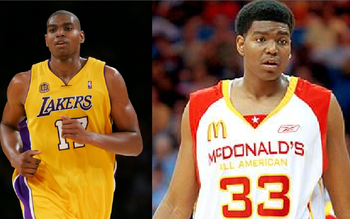 Wow, Andrew Bynum must have eaten his feelings back in high school, and he must've had a lot of feelings to eat.
Bynum really was a pretty big guy in high school, but he did a solid job of toning up his large body into a solid muscular frame that's helped him earn his first NBA All-Star appearance of his young career.
Bynum wins the honor of being the only NBA All-Star on this list that looks like he's actually gotten in better physical shape since leaving high school.
Western Conference PF Blake Griffin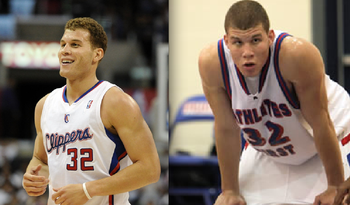 Blake Griffin's high school appearance isn't that far off from how he looks today. Just add some hair and some size to his biceps, and you've got Blake Griffin today.
The reason why Blake looks the same today as he did in high school is because he's only four years removed from his high school years. Just imagine how monstrous Blake will look with another year or two of NBA training under his belt.
In addition to Blake looking the same today as he did in high school, he also wore Los Angeles Clippers colors back in high school. Interesting, isn't it?
Western Conference SF Kevin Durant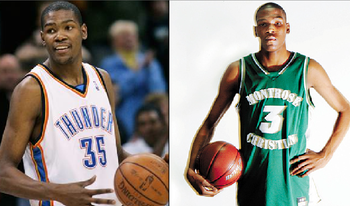 If you think Kevin Durant is scrawny now, just take a look at his tiny physique back when he played at Montrose Christian.
I'm amazed that Durant didn't get broken in half back in high school, weighing in at 6'9'', 185 lbs. Lucky for Durant, he doesn't make his money banging against big forwards. He relies on his nasty quick-shot jumper.
Unlike a majority of other NBA All-Stars, he hasn't really changed all that much since his high school days. I mean he's put on a good bit of weight, but he's still rather lanky, and he probably always will be.
Western Conference PG Chris Paul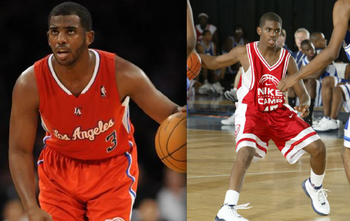 Sure, Chris Paul is a bit bigger and stronger now, but he still looks almost identical to the way he did in high school. He even had his trademark mustache back in high school.
Paul was a pretty undersized guard back in high school, which is probably why he's developed such a "me against the world" mentality. CP3 is one of the grittiest and toughest players in the NBA, and he has to be because he sure isn't one of the biggest.
Even if Paul was as small today as he was in high school, he'd still be just as good as he is today, because that's just how hard of a worker he is.
Western Conference SG Kobe Bryant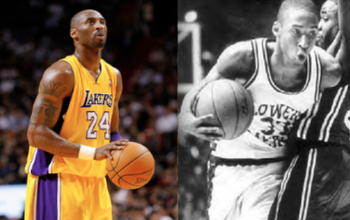 Kobe Bryant really hasn't changed that much since high school, even though it's been 16 years since he's walked the halls of Lower Merion High School.
While Kobe's grown into his 6'6'' frame nicely, he was still a pretty decent-sized guy back in high school. Just imagine how hard trying to stop a 17-year-old Kobe Bryant was back in 1996. I'm sure it was nearly impossible.
Check out this interview with Kobe back in 1995, at the age of 16. Looks like his image isn't the only thing that hasn't changed much. Sweet turtleneck, Kobe.
Thanks for checking out the article. Follow me on Twitter @peteremerick
Keep Reading