Oklahoma City Thunder: Why OKC Fans Need to Get Behind Russell Westbrook
February 11, 2012

Brett Deering/Getty Images
Browsing Bleacher Report today, I stumbled across an article about why Dwight Howard would be a good fit for the Thunder. In the article, it is suggested that Oklahoma City should trade Kendrick Perkins and Russell Westbrook for Howard. It looks pretty good, in theory. Howard and Kevin Durant on the same team? That looks like a guaranteed title.
I do not want to start a flame war, as I feel Mr. Lorimer's ideas are well thought out. The only thing I have issue with is this feeling among the Oklahoma City fan base and the media that Westbrook is holding the Thunder (and by extension, Durant) from greatness. OKC fans need to realize how lucky they are to have Westbrook.
Westbrook is easily one of the top five point guards in the league. It isn't a stretch to put him in the same class as Derrick Rose, Chris Paul and Deron Williams. Westbrook is a dynamic scorer and one of the fastest players I have ever seen. The way he accelerates to the rim reminds me a lot of his contemporary in Chicago.  He is also a solid defender and a very good rebounder for a point guard.

Westbrook needs to work on his decision making and passing, but one needs to realize that he is only 23 years old. He should only get better.
Increasingly, it looks like the NBA is turning into a point guard-driven league. The modern point guard isn't a simple distributor anymore. He is a constant scoring threat and the manager of your offense.  In short, you need a good point guard to be win. 

For an example of what a team looks like without good point guard play, look at the Lakers. The Lakers have Kobe Bryant, Pau Gasol and Andrew Bynum in their starting lineup and they still struggle with offensive flow.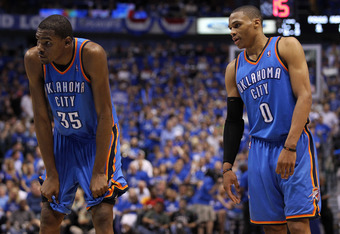 Ronald Martinez/Getty Images
Why would any team want to trade away a player like Westbrook? I've often heard from fans and the media that Durant and Westbrook's playing styles are incompatible. If you honestly believe this, you have not been watching the games. Westbrook takes over large portions of the game, and Durant closes them out. I don't see Westbrook taking away from Durant's opportunities. If anything, his presence gives Durant more one-on-one situations.
I've also heard the argument that Eric Maynor would fill in perfectly fine for Westbrook at point. That seems OK in theory, but answer me this question: Would you rather have Westbrook or Maynor as your starter? I think most would probably go for Westbrook. If the Thunder need to do anything with their roster, it is to make James Harden the key distributor. He has proven himself to be a good decision maker. It would also let Westbrook focus on slashing to the rim.  
Westbrook is so instrumental to the Thunder's long term success because of the team's current makeup. If the Thunder have a glaring weakness, it's that their offense revolves around Durant, Westbrook and Harden. OKC doesn't have a guy after them that can kick in an extra 10 or so points every night. If you get rid of Westbrook, you have no one on your team to match his production. Harden is a fantastic player, but he is no Westbrook.  
Without Westbrook, the Thunder would be in the same boat that Chicago is in. Rose is that team's offense. It would be a similar situation for the Thunder. Durant would have to do all of the scoring, all of the time. One of the main reasons that the Thunder have been so successful is because of the Durant/Westbrook juggernaut.
It would be neat to see Durant and Howard in the same uniform, but the Thunder simply do not need him. Durant and Westbrook are one of the best tandems in the league. To break them up willingly would be suicide for the Thunder.