After Two Super Bowl MVPs, Eli Manning Is Hall of Fame Bound. Believe It.
February 6, 2012

Handout/Getty Images
After orchestrating another come-from-behind victory for the New York Giants in the Super Bowl, Eli Manning has more than proven he is an elite quarterback in the NFL.
Prior to the 2011 season, the sentiment in media circles was that Eli was nothing more than mediocre…a fraud.
Now, after two Super Bowl rings on the backs of two MVP performances, there is no question that Manning is one of the elite quarterbacks in the game. Yes, he may even become one of the elite quarterbacks of all time. 
Let's answer this: Did his performance in Super Bowl XLVI really vault Eli Manning into the future Hall of Famer conversation? 
This is a real question now, folks. We live in a world where Eli Manning is now a potential Hall of Famer. Wrap your head around that thought, and let's go through some of the facts that back this up.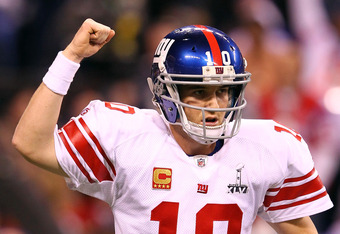 Al Bello/Getty Images
First, let's examine his performance in the biggest games. Manning is 8-3 in his career in the playoffs. In his three losses, he has just two touchdowns to six interceptions, and all of those games have been first-round exits, two of which came at home.
While those numbers certainly aren't Hall of Fame worthy, his performance in the other eight games sure as heck have been. 
In the eight playoff wins, Manning has passed for 14 touchdowns and just two interceptions. He threw for more than 304 yards per game this postseason, and his completion percentage in the playoffs this year was 65 percent—well higher than his career average. Eli isn't just good; it looks like he's getting better. 
People thought Manning's first Super Bowl MVP was a bit sentimental—coming because there really wasn't a better choice—but his performance in Super Bowl XLVI certainly warranted another trophy. Manning was fantastic, outplaying a sure-fire Hall of Famer in Tom Brady.
Speaking of sure-fire Hall of Famers, how does Eli stack up against other great quarterbacks?
A quarterback has won the Super Bowl MVP in 25 of the 46 contests, with 19 different signal callers taking home the hardware. Of those 19 quarterbacks, nine are in the Hall of Fame, five are active players and one—Kurt Warner—retired too recently to be up for induction.
There are just four quarterbacks to ever win a Super Bowl MVP who are not in the Hall of Fame. Manning now has two MVPs.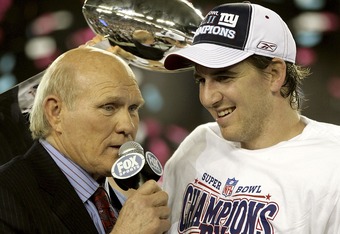 Donald Miralle/Getty Images
In fact, he's just the fifth player to win multiple Super Bowl MVP awards, with Terry Bradshaw, Joe Montana, Bart Starr and Tom Brady—three Hall of Famers and a guy who will be in as soon as he's eligible. 
If you think anything other than winning Super Bowls actually matters to a quarterback getting into the Hall of Fame, you're nuts. Terry Bradshaw has a career completion percentage of 51.9 percent and he has four Super Bowls rings and two MVP trophies.
Do you think people would look at Drew Bledsoe or Vinny Testaverde a little differently if either of them had won a Super Bowl? Certainly.
Having said that, Manning is no slouch when it comes to compiling regular-season stats, either. Through seven and a half seasons as the Giants' starting quarterback, Manning has amassed 27,579 passing yards, putting him on pace to surpass 40,000 yards by the end of the 2014 season. 
There are just 13 quarterbacks in NFL history to pass for more than 40,000 yards—14 if you count Tom Brady, who is 21 yards away from the milestone. Of those 14 quarterbacks, all but three are either in the Hall of Fame or will be as soon as they are eligible.
Yes, it's now a passing league and Matt Hasselbeck is less than 7,000 yards away from reaching the 40,000-yard threshold before Manning. But Manning has more passing yards than anyone to come into the NFL since the turn of the century, not named Brady or Brees.
Plus, unlike Hasselbeck who went to a Super Bowl but didn't win it, Manning has those two beautiful rings.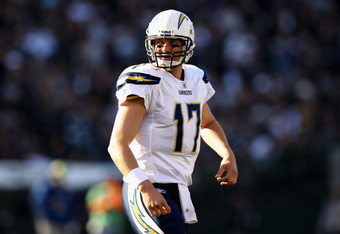 Ezra Shaw/Getty Images
People have always compared Manning with Philip Rivers and Ben Roethlisberger; an easy comparison to make given how the three were drafted into the NFL the same year. The general sentiment has been that Roethlisberger is the best of the bunch with Rivers next and Manning a somewhat distant third.
That can't be the case anymore.
First, Rivers is a talented player and people constantly compare his career with Manning's because of the infamous trade demand that sent Manning's rights from San Diego to New York in exchange for Rivers. Would the Giants have two Super Bowl wins in five years with Rivers instead of Manning? 
That's an impossible question to answer. 
I do know that Rivers has been on some pretty good Chargers teams, and despite having the best completion percentage of the three quarterbacks (63.5%), he has a rather mediocre 3-4 playoff record with a 58.5 completion percentage and nine touchdowns to nine interceptions.
Of course, Rivers' lack of success in the playoffs could have as much to do with his coaching staff as Rivers himself. Still, two Super Bowl wins for Eli to zero appearances for Rivers, and the windfall of talent the Chargers accumulated with the other picks in that trade, probably means the Giants made out on that deal in the long run.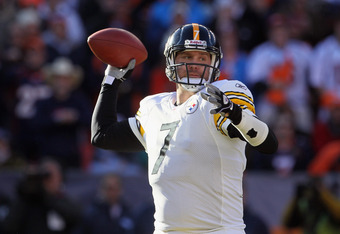 Jeff Gross/Getty Images
Roethlisberger is another case entirely. Ben has 26,579 career passing yards and is on a similar pace to Manning to surpass 40,000 yards. (For what it's worth, Rivers should pass 40,000 yards by 2015 or 2016 if he stays healthy. Aaron Rodgers got a bit of a late start after sitting behind Brett Favre, but he could eclipse 40,000 by 2016 or 2017 at the pace he's going.
Manning does have 20 more regular-season touchdown passes than Roethlisberger and 23 more than Rivers, which is roughly an entire season more than either contemporary quarterback.
Roethlisberger is just 1,000 yards behind Manning in his career but has a much higher completion percentage (63.1) than Manning (58.4). Roethlisberger is also 10-4 in the playoffs with 23 touchdowns and 17 interceptions to Manning's 16 and eight.
In their careers, Roethlisberger has 26 regular-season game-winning drives to Manning's 23, and both players have obviously orchestrated key game-winning drives in the playoffs and the Super Bowl.
The point that Roethlisberger hasn't won a Super Bowl MVP does stand out, but the fact that in his two Super Bowl wins in three tries, the trophy went to one of his receivers says as much about Ben as those catching his passes.
Let's also not forget that while both quarterbacks have won two Super Bowls, Roethlisberger has gone to three. That's an important fact to remember when comparing the two.
It's also an important fact to remember that Roethlisberger is probably a Hall of Famer himself! How crazy does that sound?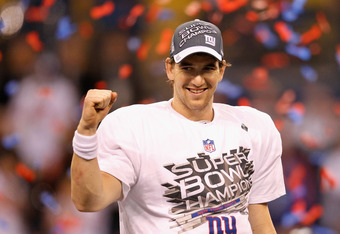 Rob Carr/Getty Images
Well, it's crazy enough to be true. If we're comparing Manning's overall career numbers with Roethlisberger's, it's basically the equivalent of comparing Bradshaw's with Elway's. It doesn't matter because they're all great…and all made better by those Lombardi Trophies they've been collecting.
To actually answer the question I posed earlier—is Eli Manning a Hall of Famer? No. Not yet. If he retired today, Manning would not be a Hall of Famer. (Note: Peyton would, Eli would not.)
But Manning isn't retiring today. The Giants have a relatively young team that could win a lot more games in the next few years. Manning could accumulate a lot more stats and possibly pad those exceptional playoff numbers.
He's still getting better.
After winning his second Super Bowl on the heels of the best statistical season of his career, it's rather evident that we are no longer talking about if Eli Manning will be a Hall of Famer as much as when.