Pittsburgh Steelers: A To-Do List for New Offensive Coordinator Todd Haley
February 6, 2012

Donald Miralle/Getty Images
*Article was written a matter of hours before it became clear that Todd Haley was the team's new offensive co-ordinator. Headline was updated after.
The Pittsburgh Steelers are yet to bring in a new offensive coordinator to replace the departed Bruce Arians, who is now an Indianapolis Colts coordinator, but clearly the offense needs to be taken in a new direction.
Throughout Arians' career in Pittsburgh, he received a lot of national acclaim, but was the lightning rod for the majority of criticism from fans locally.
Without Arians, the Steelers need to find someone who fits the team's personnel. Arians was initially a wide receivers coach and he is leaving that mark on the roster with guys like Mike Wallace, Antonio Brown and Emmanuel Sanders all being excellent talents left over for the next coordinator.
Even though there is a palpable clamor from fans, and indeed from some more important people, for the Steelers to run a more balanced offense, the reality is this offense's future is brightest with the ball in the air.
Needless to say, that means the offense's future begins with Ben Roethlisberger.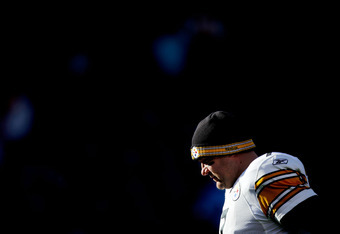 Justin Edmonds/Getty Images
Roethlisberger was one of Arians closest friends within the organization and as such left him seeking answers once Arians wasn't re-signed. Outside of the personal relationship, Roethlisberger obviously loved Arians because of the freedom that he gave his franchise quarterback.
While Roethlisberger is often at his most effective after extending plays past their design, or running the hurry up offense calling his own plays, Roethlisberger's best season as a Pittsburgh Steelers signal caller came when that right balance was found between disciplined play and using his creativity.
In 2010, Roethlisberger may have started the season off horribly with a four game suspension, but once he stepped on the field, he had the best season of his career. He threw only five interceptions in 389 attempts.
Even though his 2007 season was statistically more explosive, Roethlisberger's balance between managing situations and lighting up the scoreboard is what the team's new offensive coordinator will be aiming for.
The difference between Roethlisberger that year and his other seasons in the NFL came off the field. He was easily in the best shape of his life as his arm, and more importantly his mobility, allowed him to do more on the field than at any other time.
One of the biggest flaws in Roethlisberger's game is his rash decision making when under pressure. For any quarterback trying to extend plays, that is always going to be an issue. However, when at his peak level of fitness, which he was in 2010, Roethlisberger wasn't rushed into throws or throwing, as often, with defenders pressuring him.
It was also clear that season that Roethlisberger had put more time in off-the-field studying defenses.
Roethlisberger is never going to be a Peyton Manning or Tom Brady. He won't diagnose and pick apart coverages on every play, but he can manipulate defenses with his own play, his pump action fake is arguably the best in the league.
Opposed to 2010, Roethlisberger returned last year to not playing sharp football.
In 2010, because of his study/concentration levels, whichever it was, he easily adjusted to blitzes, manipulated coverages and found matchups. Last year, none of that came through for Roethlisberger. Part of that was due to his offensive line not protecting him and the poor running game, but another part of it was Roethlisberger's fitness and decision making.
Whoever comes in as offensive coordinator, establishing a relationship with Roethlisberger, and subsequently convincing him to return to his habits of 2010, will be vital for the team's prospects next season and beyond.
Roethlisberger is not only the team's franchise quarterback,but he is also the Steelers' best weapon. Getting the best out of your best players is what coaches are meant to do. It's a basic aspect of any successful football team.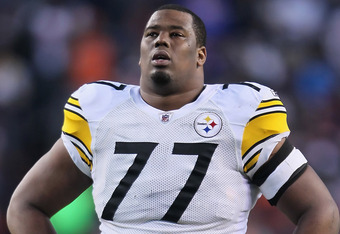 Jeff Gross/Getty Images
Aiding Roethlisberger's attempts at returning to an elite passer would be done by evaluating the team's offensive line first and foremost. Marcus Gilbert becomes the most vital chip in the Steelers' offensive line make-up entering the off-season.
Had Max Starks not been injured, he would definitely have been re-signed. The veteran left tackle will now likely be evaluated by the Steelers' coaching staff during the off-season and a decision will be made by the coaching staff whether he is capable of returning next year.
In the meantime, the Steelers' new coordinator will have to determine if Marcus Gilbert can play left tackle or not.
The large investment in Willie Colon, and the Steelers' cap issues in general, will force the team away from any free agent additions this off-season. Jonathan Scott is being overpaid and could be cut, but even if he is kept, he is not capable of protecting Roethlisberger's blindside on a consistent basis.
In an ideal situation, Starks will be able to return and Gilbert will stay at right tackle. This will then put the focus on Colon and whether he is capable of playing right guard. With Colon at guard, and the two tackles in place, neither tackle was the issue with the offensive line last year, the Steelers' offensive line could be set to finally stop handicapping the players around it.
Health is the biggest issue facing the Steelers next season on the offensive line. Outside of left guard, there is potential starters available at each position. Even there, Ramon Foster should be OK to hold down one of the guard positions if Colon steps up at the other.
With that offensive line, the Steelers won't be returning to an imposing running game. With that offensive line, the Steelers would be playing to their strengths as a passing group.
Having an overall identity to work toward is something the Steelers' offense has lacked in recent times. The staple of the team has always been Roethlisberger's abilities to extend plays, but that is not an offensive identity.
Bruce Arians' playbooks and play-calling never truly gave the team a direction and personality to buy into. When Ken Whisenhunt was leading the offense, the Steelers had a clear ideology to buy into. Whether it was Jerome Bettis or Willie Parker, the offense went out on every play and knew that it was looking to play physical football blowing defenders off the ball.
Recently the Steelers looked like a passing team that was still trying to use a feature back to carry the offense. They were never balanced because of the lack of consistency in both facets of the game, but they also never truly decided how they defined themselves.
Rashard Mendenhall was supposed to be a feature franchise running back, but the Steelers never built the offensive line to complement him. They did give Chris Kemoeatu a big deal and sign Flozell Adams after Colon was injured, but for the most part their offensive linemen were more agile opposed to bulky maulers who would blow open holes.
The team's next offensive coordinator needs to sit down and determine what direction the offense is going in. Unless he is dead set on running a grind it out offense on the ground, then the decision is obvious that the Steelers will become a passing team.
That begins with what tools are put in place on the offensive line.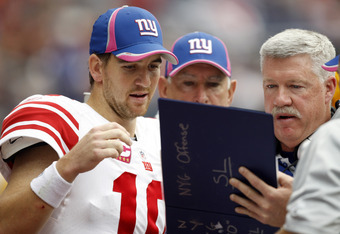 Bob Levey/Getty Images
Being decisive was never a strength of Arians'. Whether it was in giving the offense a direction or simply the design of his plays.
Despite having a huge amount of talent at the skill positions in Pittsburgh, Heath Miller, Rashard Mendenhall, Hines Ward, Emmanuel Sanders, Mike Wallace, Antoio Brown etc etc, Arians looked to deceive defensive coordinator schematically opposed to just going out and letting his talent win the game for him.
A perfect example of an offensive coordinator playing to his team's strengths was put on show last night in the Super Bowl by Kevin Gilbride. Gilbride, the Giants' offensive coordinator, didn't ask his offense to do things that it is uncomfortable doing.
Gilbride established the run with direct attacks in the middle of the offensive line with Brandon Jacobs in the game, while he ran counters and cuts for Ahmad Bradshaw. Once that occured, he looked to get the ball vertical using Eli Manning's deep accuracy and Hakeem Nicks ability to beat defenders down the field. Even though Nicks averaged 10 yards per catch, most of his receptions were caught at the point he was brought down. There was no need for YAC.
Arians did the complete opposite of this when designing and calling plays for the Steelers.
With a poor offensive line, he put the pressure on them to hold blocks longer than the average group by running lots of draw plays and complex route combinations. With a wide receiving corp like the Steelers' group, Arians would have been better suited just installing simple routes and letting the talent outside beat the defenders for the ball.
Instead, the Steelers' playbook had the team's receivers doing multiple cuts, quick screens or running routes that took a few seconds to develop. For a team that saw a lot of blitzes, slow developing routes made no sense at all.
The team's new offensive coordinator needs to take a leaf from the Washington Redskins' Kyle Shanahan. Shanahan may not have the greatest talent available to him, however he does get the best out of what he has got.
Santana Moss and Jabarr Gaffney are not the most talented starting receivers in the league, but their quality route running is complemented by the decisive routes that are a staple of the Redskins' passing game.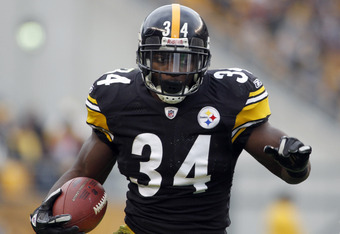 Justin K. Aller/Getty Images
With speed like Brown, Sanders and Wallace on the field, one cut is generally enough to get some level of separation. Two or three cuts are just counterproductive.
Once the passing game is in place, the Steelers need to find a complementary running game. Rashard Mendenhall is an excellent running back to have in a pass-first offense. He is a strong enough runner that teams will second guess leaving their base package, while his blocking is vicious and his receiving is above average.
Mendenhall's ACL injury could majorly hinder him though. Because of his style of running, his aggressive cutting with such a heavy frame will put a lot of pressure on his knees, Mendenhall may not be the same player next season.
In order to counter that, the Steelers need to look to their backup running backs. Isaac Redman is a good runner but limited football player. He doesn't have the dynamism to consistently play in a pass-first offense. On the Steelers' roster, he would just be a goal line specialist.
Jonathan Dwyer has done little in the NFL and was a fullback in a triple option in college. Much like Redman, he won't be a nice fit with the Steelers if they move to a passing game. The next offensive coordinator will have to determine whether Baron Batch is capable of being a consistent contributor next year while Mewelde Moore's return will remain up in the air.
The Steelers won't need an Adrian Peterson or Maurice Jones-Drew in the backfield. They do need the right pieces in place, however, those pieces are there, whether the next offensive coordinator can continue their development and mold them into the offense remains to be seen.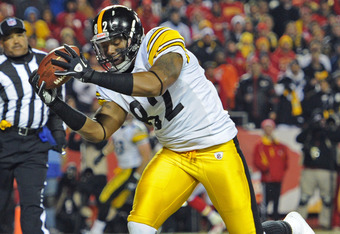 Peter Aiken/Getty Images
For all of Arians' limitations, the Steelers' younger players did develop well under his scrutiny.
The combination of Kevin Colbert's drafting and Arians' coaching staff going to work was a winning formula for the Steelers. It's difficult to truly determine what was more important for the emergence of guys like Mike Wallace and Antonio Brown, but Arians definitely had some hand in the early success those players have had.
The team's next offensive coordinator will need to focus on getting the best out of not only Brown and Emmanuel Sanders, but also Wesley Saunders who showed a lot as a rookie.
Saunders seems to have the ability to be a starting tight end in the NFL. His physicality was notable in the running game last season while his athleticism as a receiver, despite not being targeted too often, was impressive.
He is not the biggest tight end in the NFL, nor is he the quickest, but today's NFL is about having multiple tight ends. If the Steelers can have two established tight ends on the field together at once, the balance of matchups falls in their favor.
Arians did make use of tight end sets pretty well for the Steelers. It is a part of the offense that should remain because of the talent available at the position. Heath Miller's consistency will be there no matter the situation, but upgrading the depth through coaching would go a long way to making the offense one of the best in the league.
Whoever is named the Pittsburgh Steelers' offensive coordinator this off-season, that person will have a lot to do in order to get the best out of the talent available. However, the talent is undoubtedly there more-so than in most offenses throughout the whole league.
The Pittsburgh Steelers have a very intriguing off-season ahead of them this year. There is some rebuilding to do on both sides of the football.
Tweeting @Cianaf