Super Bowl 2012: Manning vs. Brady for Lombardi Trophy—There Can Only Be One
February 4, 2012

Ezra Shaw/Getty Images
There is absolutely no portion of Super Bowl XLVI that is lacking in intrigue, assuming of course that you are in fact a red-blooded American who loves football.
If not, well, enjoy the commercials!
For the rest of us, this game could not be more soap opera-esque, what with the Brady vs. Manning storylines, the ever-running mouths of Brandon Jacobs and Antrel Rolle, and the fact that many seem to finally want to see the Patriots win again, after so much animosity was thrown their way during and following the so-named 2007 "spygate" season.
Without further ado, let's go ahead and take an in-depth look at what each team must do in order to succeed.
1. Run the ball: As good as Manning has been this season, he cannot win this game on his own. Brandon Jacobs and Ahmad Bradshaw must find any running room that they can against the Patriots' big and fast front seven.
This will open the gate to play-action passes, which could tilt the balance of the game in the Giants' favor.
2. Take chances, but limit mistakes: Manning and the offense must be willing to stick with the game plan that got them here, and that is to be daring but not stupid.
Putting the ball on the back shoulder of a receiver down the field in man coverage is a calculated risk. Throwing the ball into double coverage in short-distance situations is foolish, and the risk will be higher than the reward.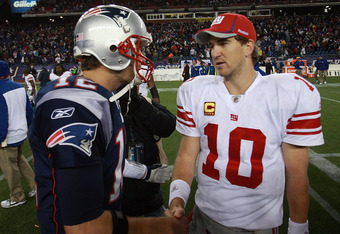 Jim Rogash/Getty Images
Tight coverage on Hakeem Nicks and Victor Cruz should open up opportunities for Mario Manningham deep, and for Bradshaw in screens and dump-offs. Patience will be the key; any team that wants to beat the Patriots will need to outthink and out-wait them.
3. Batter Tom Brady: If Peyton Manning is the purest passer the league has ever seen (and he is), Brady just might be the most accurate, and he is definitely the best at working in and sticking to rhythm passing. Give him time, and he will pick you apart piece by piece until there is nothing left.
Brady's patience level is inhuman, as he can out-wait any defense, so dropping most defenders won't work; his pass protection is too good to allow three-man rushes to get to him in time.
The key is to consistently force him to deal with pressure both in and out of the pocket, and throw off his timing. Hit him as often as possible, and make sure those hits count. If Brady feels fresh late in the game, he will have no lack of confidence stepping into throws and putting the team on his shoulders.
The Giants cannot allow Tom Brady to remain comfortable—"Tom Terrific" wins championships, but if he become frustrated and bruised, Brady should be vulnerable enough to open a window of opportunity for the Giants.
If "Big Blue" wants to hoist the Lombardi Trophy, they will need to hit Brady until he is black and blue.
Eli Manning is more than capable of directing the Giants to victory in this game. While he is not facing the best offense ever, as was the case in 2007, Manning will still need to do his part to at least play keep up, or better yet, keep away. These Patriots are more than adequate at putting up monster yards and points in a hurry.
The Giants' offense hinges on Manning, so if he is at his best, this team has a great chance.
1. Protect Tom Brady: The Giants boast perhaps the best pass rush in the league, and their rotation will be put to the test against the Pats' hurry-up offense.
Defensive linemen Justin Tuck, Jason Pierre-Paul, Osi Umenyiora, Chris Canty and Rocky Bernard have been a nightmare for pass protection, and could cause some sleepless nights for Brady as he relives his Super Bowl XLII battering, where he was hit and harassed relentlessly.
If Brady gets time, this offense has all of the pieces necessary to put up more than enough points to keep up with the Giants. If the passing game struggles, running backs BenJarvus Green-Ellis and Danny Woodhead are not exactly ideal to carry the offense, so it would be safe to assume that the Pats' hopes for victory ride on the arm of Brady to help balance the gameplan.
2. Get after Eli: As much as the Pats' offensive line needs to protect Brady, their defensive line has an equally important job of making life a living hell for Manning.
Despite his great play of late, Manning has shown in the past that he is as flappable as anyone, and that he would rather throw up a duck under duress than throw the ball away before defenders arrive or take a sack to preserve possession.
While he has limited his mistakes, Manning has also shown he is prone to them, a thought that has undoubtedly occurred to Patriots head coach and defensive mastermind Bill Belichick.
The Patriots need to use disguised coverages and exotic blitz packages to apply maximum pressure, and hope that they can expose a panicked and desperate Eli. If they should face the opposite, I am not convinced their secondary is ready or able to keep up with the Giants' receivers.
3. TE Party: One aspect of the Pats' offense that is particularly terrifying to scheme against is their dynamic duo of tight ends, Rob Gronkowski and Aaron Hernandez. Gronk is coming off one of the best TE seasons of all time, hauling in a record 17 TDs in 2011.
Gronkowski can beat you in many ways, as he has the size, speed and hands to play out wide, catch over the middle, and make leaping grabs near or in the end zone. Defenders often bounce helplessly off of his enormous frame during futile tackling efforts, and even if you happen to defend him correctly, you have likely left his counterpart wide open.
Hernandez is not just a threat in the passing game, but also has proven to be a legitimate runner, lining up as a halfback and either carrying the ball, blocking, or leaking out into a route, and all of the above options can spell doom for defenses.
If Tom Brady can effectively spread the ball around to his nine—count them nine—receiving threats (seriously, count them: Gronkowski, Hernandez, Welker, Branch, Edelman, Underwood, Woodhead, Green-Ellis and the man that time forgot, Chad Ochocinco), he should be able to run as much of a balanced—albeit hurried—offense as he wishes, and should cause fits for the Giants defense, regardless of how good their pass rush may be.
Prediction:
My view is that the Patriots simply have too much on both sides to lose this game. Their front seven should be able to contain the Giants' rushing attack, and their secondary is just good enough to cover the Giants' receivers for the three or four seconds the pass rush will need to attack Manning.
On the flip side, the Patriots' offense should make use of the indoor track at Lucas Oil Stadium to spread out and wear down the Giants' defense, similar to how the Packers used their speed and wide-open offense to beat the Steelers last year at Cowboys Stadium.
If the game comes down to QB play, and I believe it will, then Brady gets my vote. He is the more polished player at the position, and he has seen it all, whereas Eli is seemingly just now finding his niche as an elite passer, but has yet to prove he can maintain that level of play.
I predict the Giants to be down seven points with five or fewer minutes to play. Eli throws a "what are you doing?!" type of throw that has the opposite effect of the David Tyree helmet catch.
The Patriots pick him off, run off a minute or two, score a touchdown, and hand the ball back to the Giants while up 14 with just over two minutes remaining. Eli, now composed, leads a scoring drive, and the Pats recover the onside kick.
Brady takes a knee, and the Pats win 31-24, and now begins the talk of who is the better player, Brady or Montana?
To conclude, hope you all enjoy the game, and please, be responsible.