NBA All-Star Game 2012: 5 Players Who Should Be Starters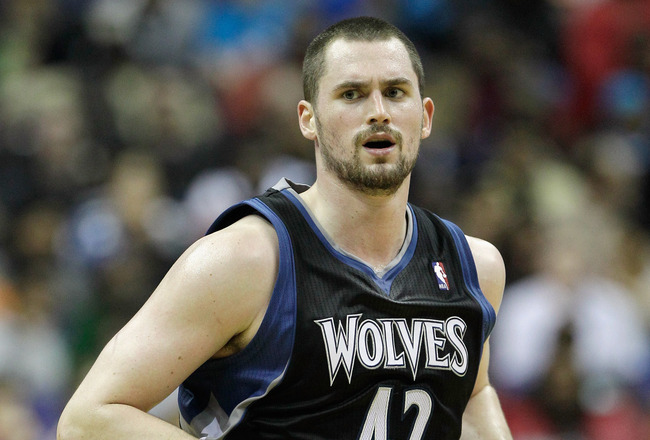 Rob Carr/Getty Images
The 2012 NBA All-Star game starters were recently announced, and there are five players who were snubbed.
This happens a lot, since fans vote in the starting lineups. Often times fans just pick the biggest name, and sometimes it works out the right way. However, great players are often left to be reserves—or not make the team at all.
In 2012, the Western Conference All-Star starting five consists of Chris Paul, Kobe Bryant, Andrew Bynum, Blake Griffin and Kevin Durant.
Durant, Bryant, Paul and Bynum are all good selections, but there are some players that have played better than Griffin this year.
Griffin brings excitement to the court and most people know him because of his dunks, but some other forwards have played better, more consistent ball in the NBA this year.
Paul was also injured for a good portion of the season. I am not saying that he is not deserving— because he has played lights out whenever he wasn't hurt—but there are some other deserving point guards as well.
The Eastern Conference has a very similar situation.
The starters this year consists of Dwyane Wade, Derrick Rose, Dwight Howard, Carmelo Anthony and LeBron James.
Anthony undoubtedly made this game purely because of his reputation. He and the New York Knicks have struggled greatly this year, and there are a few forwards that deserved this spot over him.
Wade is similar to Paul in the fact that they are both amazing players and have played well when in the game, but they missed significant time with injuries this season. Both are deserving of a spot, but it could be argued that there is another point guard that should start the game.
Let's take a look at five players that should have been voted starters in the 2012 NBA All-Star game.
Kevin Love, PF, Minnesota Timberwolves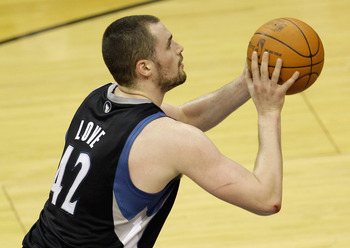 Rob Carr/Getty Images
2011-2012 Stats: 25.3 PPG, 13.6 RPG, 25.83 PER
Kevin Love has played some great basketball this season and he definitely deserves to start in this year's NBA All-Star game.
Love could possibly be the biggest snub this season.
Blake Griffin of the Los Angeles Clippers has played well this year, but he cannot touch Love's numbers. Griffin has averaged 21.4 points and 10.9 rebounds per game, while holding a 22.48 player efficiency rating. All of those numbers are lower than Love's this year.
Love has played in every one of Minnesota's 22 games this season and has a double-double in 20 of those games. Griffin has only 12 double-doubles in this season, but is starting at the power forward spot in the All-Star game.
Love will still be on the roster because the coaches will undoubtedly pick him as an All-Star reserve, but he should have been the starter in the first place.
Chris Bosh, PF, Miami Heat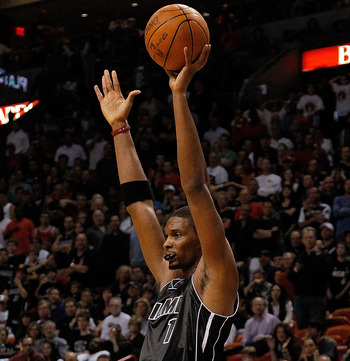 Mike Ehrmann/Getty Images
2011-2012 Stats: 20.4 PPG, 7.8 RPG, and 20.97 PER
Chris Bosh should be an NBA All-Star starter.
The Eastern Conference has two small forwards starting in Carmelo Anthony and Lebron James.
James definitely deserves his starting role, but Anthony probably should not be a starter in this year's game.
Bosh is having one of the best years in his career and has played a huge role on the Heat this year. Miami has been without Dwyane Wade for a large portion of the year, and Bosh's consistent production has helped the Heat continue to win games.
Bosh should have taken Anthony's spot on the All-Star team and been dubbed a starter in the 2012 NBA All-Star game.
He will surely still make the team as a reserve.
Deron Williams, PG, New Jersey Nets
Jonathan Daniel/Getty Images
2011-2012 Stats: 20.5 PPG, 8.5 APG, 3.5 RPG and 19.65 PER
First of all, Deron Williams should not replace Derrick Rose as the Eastern Conference's starting point guard, but I do believe that he should have gotten the nod ahead of Dwyane Wade.
It is not uncommon for two players of the same position to start in an NBA All-Star game. In fact, it is happening this year with Carmelo Anthony and LeBron James.
The NBA should have seen two point guards on the starting roster for the Eastern Conference.
Wade is a fantastic player, but he has only played in 13 games for the Miami Heat this year. Williams has played in every one of the Nets' 22 games.
The Nets do not have much a team around Williams, but he has still played very well this season.
Williams also has achieved more points and assists per game than Wade. It is not much of a surprise that Williams has more assists, since he plays the point guard spot, but that still counts for something.
Wade should be an All-Star, but Williams should have been the starter.
LaMarcus Aldridge, PF, Portland Trail Blazers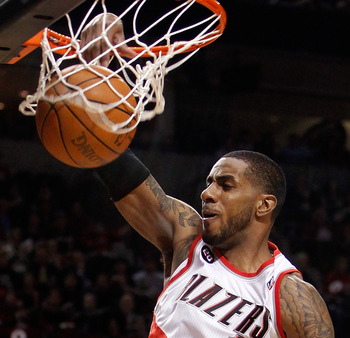 Jonathan Ferrey/Getty Images
2011-2012 Stats: 22.8 PPG, 8.7 RPG and 24.04 PER
Lamarcus Aldridge is another player that should have started over Blake Griffin in the NBA All-Star game.
Aldridge has average more points than Griffin all season and has a much higher player efficiency rating. Griffin averages a couple more rebounds per game and neither player has accounted for many blocks this season.
However, Aldridge is the more deserving player in this case. He is seventh in the NBA in scoring and has deserved to be an NBA All-Star for two years now.
Aldridge should end up being a reserve for the Western Conference, but he would have been the better choice as a starter over Griffin.
Andre Iguodala, SF, Philadelphia 76ers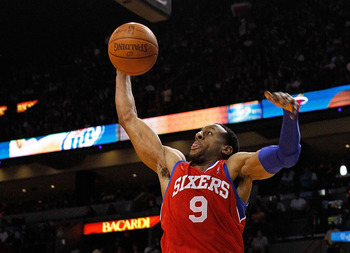 Mike Ehrmann/Getty Images
2011-2012 Stats: 13.1 PPG, 5.0 APG, 6.7 RPG and 19.21 PER
Andre Iguodala is having an outstanding season this year and definitely deserves to be a starter in the NBA All-Star game.
He should have been chosen over Melo.
While he does not put up as many point per game as Anthony, he does average more assists and rebounds.
Anthony is definitely not having a good season by his standards, and made the roster from his past performances.
Iguodala is a key part of a 76ers team that is second in the Eastern Conference and has taken the league by storm this year.
Philadelphia definitely deserves to send a player to the All-Star game, and I am sure that they will have a reserve on the team. However, Iguodala should be a starter in the NBA All-Star game this season.
Keep Reading