Why Tom Coughlin Is One of the Most Under-Appreciated Coaches in NFL History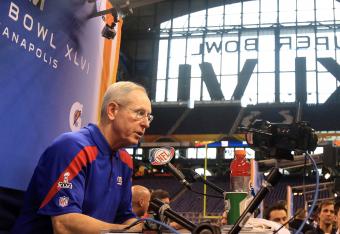 Scott Halleran/Getty Images
On the brink of his second Super Bowl appearance with the New York Giants, maybe it is time to consider Tom Coughlin one of the most under-appreciated coaches in NFL history.
He is almost never listed among the better coaches in the league, yet he has led the Giants on two of the more improbable Super Bowl runs in NFL history.
I am guilty of being dead wrong about Coughlin. I was happy to say I was not one of the people who thought he should be fired in 2007, but after the loss to the Redskins this season, I was not happy.
I made a case as to why Coughlin would be fired after the season, and after some dominant play and a little help from the Cowboys, he has the Giants back in the Super Bowl.
However, I also said Coughlin was not a bad coach, I just felt like he had worn out his welcome among the players.
Could you blame anyone who felt that way? The mood on the sideline of the Redskins game resembled that of a funeral. Obviously something changed after that loss.
Something kicked inside this Giants team as they convinced themselves they were capable of greatness.
Coughlin's success goes far beyond the job he's done with the Giants. It all started when he took the expansion Jacksonville Jaguars to heights no one ever imagined.
Hired due to his success with Boston College, Coughlin's coaching style would bear a striking resemblance to his mentor, former Giants coach Bill Parcells.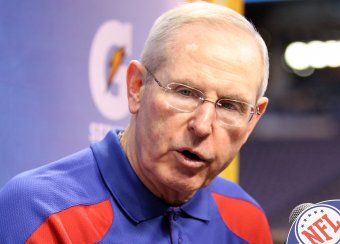 Andy Lyons/Getty Images
Coughlin spent the 1988-1990 seasons as the Giants' wide receivers coach, winning a ring in the process, and he became known as a strict disciplinarian who expected his players to adhere to strenuous meeting schedules and act right on and off the field.
For the first several years, his style proved to work as he took the expansion Jaguars to the AFC Championship game twice. His success with the Jaguars is easily the best start for an expansion franchise in NFL history.
Coughlin went 49-31 in his five years, but was never able to win the ring that eluded him.
Over the final three years in Jacksonville he began to fall out of favor. His players resented his dictator style when it was not producing wins on the field.
He would go 19-29 in that stretch, resulting in the Jags firing him in 2002. They have never reached the level he took them to since.
After being hired by the New York Giants in 2004, Coughlin would immediately make a decision that was not popular with fans but would help the franchise in the long run.
After starting the season 5-4, Coughlin turned to rookie quarterback Eli Manning. They finished 6-10 and Manning looked like anything but the No. 1 overall pick.
However, it proved to be a crucial decision, as the Giants would make the playoffs over the next three years—even winning the NFC East in 2005.
After two crushing playoff defeats, Eli turned a corner in 2007. Coughlin rode Eli, a dominant run game and suffocating defense all the way to a championship.
With a win in Super Bowl XVLI, is Tom Coughlin a Hall of Famer?
But before that, during the 2007 regular season, fans were calling for Coughlin's head. Losing two playoff games in the two seasons prior and an inconsistent regular season in 2007 caused fans to question Coughlin's ability to coach their team.
Luckily, the Giants have an owner who couldn't care less what the fans think in terms of his coaching staff.
Even after two years of not making the playoffs, and fans wanting and expecting John Mara to fire Coughlin, he came out before the final game of the 2010 season and said Coughlin was his man.
Maybe it is the nature of the beast that is coaching a team in New York, but fans have short-term memories in the Big Apple.
I must admit I have suffered from this on occasion, but here they are with a chance to win a second championship in four years.
Where would we be if ownership gave in to fan demands and fired Coughlin midway through the 2007 season?
Can you imagine if we had an owner with a quick trigger? Coughlin may not have lasted the 2004 season. They would be stuck in a constant rebuilding mode, searching for answers.
Instead the Giants are always in contention and have never had a losing record outside Eli's rookie season.
Maybe instead of always looking for a reason to get rid of this guy for the younger, fiery, motivating coach, we should appreciate the man behind the success.
This year he took a team no one gave a chance of making the playoffs all the way to the promised land. A team that lost multiple starters and significant backups to injuries vastly over achieved.
They definitely had their sour moments during the season, but that happens with most teams. Coughlin still has problems that are well documented, such as his propensity to let his team play down to their competition or not perform well in the second half of the season—but he is still a great coach.
Big Blue nation needs to take a step back and appreciate the job Coughlin has done over the years, myself included.
This article is
What is the duplicate article?
Why is this article offensive?
Where is this article plagiarized from?
Why is this article poorly edited?

New York Giants: Like this team?