Super Bowl Media Day Winner? Not Tom Brady or Eli Manning. It Was Deion Sanders
January 31, 2012

Michael Heiman/Getty Images
Super Bowl media day was constructed to give the swarms of media a chance to ask players and coaches from both championship teams whatever questions they've always wanted to ask. Super Bowl media day isn't for the...ahem...real media covering the teams. Super Bowl media day is a circus.
Think about this year—the NFL let fans come in to watch the proceedings. They let in a bearded fellow who asked Tom Brady if he would unleash his dragon—I swear this happened.
At least five times during the Giants media day, NFL Network analyst Kurt Warner talked about how terrible the day is for players, finishing each horrible memory with a half-hearted comment like, "You just have to embrace it and have fun."
So who had the most fun? There is no doubt the MVP of media day this year and every year, is NFL Network analyst-turned-sideline-reporter Deion Sanders.
Deion patrolled the field for NFL Network during both media sessions, asking questions like a kid in the greatest candy store in the world. Were any of his televised questions hard-hitting? Let's take a look at some of the best:
First question of the day, to Tom Brady:
"Fifth time. Fifth time! Are you excited? Is there anything different"?

"You were emotional…you know going late in the draft, being overlooked…I saw Tom Brady shed tears, showing that emotional side. Where would you rank this…in history? Where would you rank yourself, all-time"?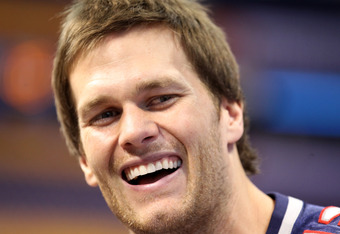 Andy Lyons/Getty Images
That right there, is a perfect Deion question. He asked Brady about being emotional, but he gave no context; he mentioned Brady being overlooked for no apparent reason, and he asked where Brady ranks this year's Super Bowl…in history. 
"Well, Deion, there's The Big Bang Theory, the invention of the wheel, fire, the miracle of flight…sliced bread…then this moment right here with you."
The thing is, the question worked for Deion. Brady gave a really thoughtful answer, talking about how he's not into comparisons and talking about his preparation before spinning it back to the real star of the day, Deion Sanders.
Prime asked if Brady was concerned about Rob Gronkowski's health and asked if he wishes he could take something back from his performance in the last Super Bowl against the Giants. These are great questions. Then…the Ochocinco theme began.
Deion: "I'm not going to ask you if you're going to win or lose, what you think about that? I have one question and I need you to be honest: Can Chad get a ball"?

Brady: "I hope so! You know when he does start making plays for us, you know, it sparks our whole offense. So, you gotta go talk to him. Go pump him up and get him ready. Chad's pretty fired up this week. He's been in Cinci for a long time, and they didn't have any chances to get here. I think that he's really enjoyed this experience so far. He had a great day of practice yesterday—we need a few more of those and then we'll be ready to go."
Flash forward to Prime's interview with Ochocinco, something that looked like it should have taken place on a therapist's couch, not a Super Bowl field.
To Wes Welker, the hard-hitting questions:
"Undrafted free agent, second appearance in the Super Bowl. Are you excited"?

"You watch NFL Network, correct?" "What do I always say about you?" 
After he breaks the ice, Deion talks about the Giants defense and the potential revenge factor. He did fall a little flat when he asked Welker for some secrets about Belichick or Brady, but that was probably Welker's fault more than Deion's. The question of the session:
"You're going to have a big game because you always have a big game in big games. And after that big game, will they pay this man"?
That, folks, is how you ask a guy about his contract situation five days before the Super Bowl. 
Welker's answer: "They're going to have to."
Boom. Prime.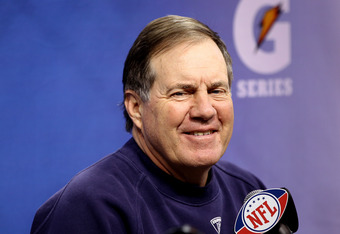 Michael Heiman/Getty Images
To be honest, there was just too much classic Prime to detail. His Vince Wilfork interview was top notch and he got Bill Belichick to smile, which has to be something.
"You're looking sharp today." 

"This is what I do, coach." 
Prime. 
Of course, he asked Belichick how he would be used in the Patriots system and of course, Belichick told him he'd return kicks.
Prime didn't relent when the Giants came up, either. After promising not to talk to Eli Manning about his brother, he threw this into the conversation with Eli:
"I would be remiss if I didn't ask you about your brother, considering this is his house. How should they handle him and his future"?
He finished the chat with Eli asking about the song he made up on NFL Network. This is an ongoing theme during the Giants session. 
Prime got the "just a minute" finger from Tom Coughlin before talking about how many times the coach was fired in his Giants career.
To Victor Cruz:
"Undrafted free agent. How did you make it here?"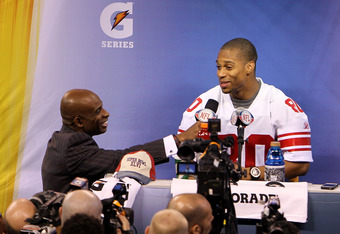 Michael Heiman/Getty Images
Wes Welker knows how Cruz will get that question next time he goes to the Super Bowl. 
Deion asked Cruz if he and the other receivers have talked about which one will win the MVP. Are these conversations that take place in the real world, or is this just the type of thing that happens when you are as great as Deion? 
He wouldn't give up on the MVP talk with Giants receivers, asking Hakeem Nicks if he was going to say he's going to Disney World. Let the man play the game, Prime!
Deion's conversation with Antrel Rolle was as fantastic as his chat with Brandon Jacobs was awkward.
"You know I call it like I see it. Fourth-and-1. You come back with three inches. You gotta give me that one. This game? This is the Super Bowl. World's largest stage. Are you going to change your style or are you just going to be physical, aggressive, nasty, tenacious? What are you going to give me"?
Ah...Deion. You were SO CLOSE to having the comment of the day from a player. You let Jacobs off the hook by giving him the answer. Jacobs talked all about how nasty he was going to be on Sunday. Too bad he wasn't nasty today.
Despite a few hiccups in the day, it was clear that Super Bowl media day was created for people like Sanders. If you STILL don't believe me, check out the tape from when NFL Network went off the air.
You will believe.