Super Bowl Media Day 2012: TV Coverage, Live Stream and Preview
January 30, 2012

Ezra Shaw/Getty Images
Super Bowl Media Day is just what it sounds like. It's a chance for the media to gather and put questions to the two teams participating in the Super Bowl, for the sake of doing their journalistic duty.
It just so happens that this is the one day of the year where "journalistic duty" is pretty loosely defined. Most of the media members in attendance use Super Bowl Media Day as a chance to goof off and have some fun. The players are typically more than willing to play along.
The whole thing is decidedly pointless, but it's not all bad if you can appreciate the essential fun-ness of it. 
To do that, though, you need to know where to watch and what to watch for. That's what we're here to discuss.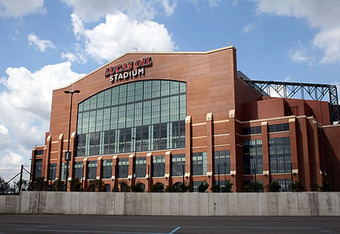 Where: Lucas Oil Stadium, Indianapolis, Indiana
When: New England Patriots' Media Day starts at 10:00 a.m. ET, New York Giants' Media Day starts at 12:00 p.m. ET.
Watch: NFL Network's coverage starts at 9:00 a.m. ET, and you can also follow along on NFL.com.
Key Storylines
This is a rematch of Super Bowl XLII, so you can expect the media to beat that angle to death, especially when talking to the players who well remember the events of the last Super Bowl.
Tom Brady and Eli Manning will be at the center of it all. Brady is, after all, one of the greatest quarterbacks in NFL history, and he's about to play in his fifth Super Bowl. Manning is suddenly the darling of the NFL, and you can expect him to field a lot of questions about his brother seeing as how Eli will be playing in Peyton's (for now) backyard.
In terms of serious storylines, Rob Gronkowski's wounded ankle will get some attention. Aside from that, there are no serious storylines.
Patriots Players to Watch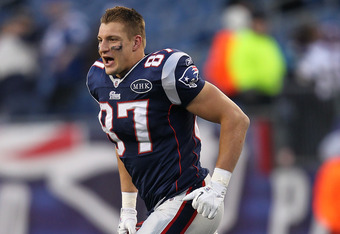 Jim Rogash/Getty Images
I just mentioned him, and I'll mention him again: Rob Gronkowski. He's got a wounded ankle, to be sure, but aside from that he's a pretty good interview. He'll have some fun.
The same goes for Chad Ochocinco. He is not a big part of New England's plans these days, but he's a colorful personality who never fails to give the press something to write about.
I'm also expecting Vince Wilfork to get some attention. He's one of the only players the Patriots have on defense who's actually worth a damn, and he's had a very good postseason so far.
And of course, Brady will get some attention, too. A lot of attention, in fact. He's Tom Brady.
Giants Players to Watch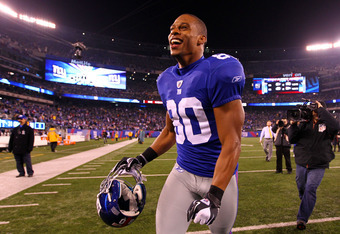 Al Bello/Getty Images
The key member's of New York's defensive line will get some good press, especially Justin Tuck, Osi Umenyiora and Jason Pierre-Paul. They'll field questions about what it will be like to chew Brady up and then spit him out on Super Sunday.
Victor Cruz will get some press as well. He's a great player, but he's also gotten the press' attention as a great feel-good story. They'll go to the well.
Oh, Hakeem Nicks will get some love, too. He's just as good as Cruz.
The media will also geek out over Manning. That's just what the media does these days, as Manning has successfully convinced them that he is no longer the lesser of two Mannings.
Bold Predictions
Somebody's going to ask Gronkowski about BiBi Jones and/or other porn stars. Remember, "journalistic duty" will be loosely defined, so this will be an ideal time to go off the rails.
Cruz will be asked to do his salsa dance at least four times. He'll only do it thrice. Mark down those exact numbers so I can brag about being right later.
At some point during the proceedings, Shane Vereen and Andre Carter will pool their resources and determine the exact number of Pi. They're wicked smart, you see. Just look where they went to school.
When this whole thing is over, Manning will have provided more SportsCenter fodder than Brady. 
Lastly, the total package will be fun. Pointless, but fun.