Minnesota Timberwolves Made Right Choice Choosing Ricky Rubio over Kevin Love
January 31, 2012

Harry How/Getty Images
Just about a week ago, the Minnesota Timberwolves reached a near 11th-hour deal with Kevin Love, who many observers call the best power forward in the NBA today.
Being a fan of Minnesota sports teams knowing they rarely retire in the state that drafted them (see Moss, Randy; Hunter, Torii; Santana, Johan; or Garnett, Kevin as recent examples), I fully expected him to sign the one-year offer and then go home wistfully to his beloved Los Angeles Lakers.
As a Wolves fan, of course I am glad he stayed with the team for what essentially amounts to a three year deal. Love's four-year, $62 million deal has an opt-out after the third season that has Wolves fans scared that he will do just that, because they are right, and he will.
Players want to get paid I believe, first and foremost, with winning being second.
They say all the right things about winning a championship and playing to win, but do you think they would still have that kind of fire and emotion (especially at a young age), if they had to keep signing small one- or two-year deals for the duration of their careers?
No.
And anyone who contests to that should look no further than the job security that is second to their money demands. Why do they want to get paid so much? They want the going rate of their peers, sure, but more years also means more money, and more stability, and this I believe is the second pillar with winning as the third pillar.
If "winning was the only thing," as former Packers coach Vince Lombardi once said, then you wouldn't see bad teams sign mediocre players like Gil Meche formerly of the Kansas City Royals or Alex Rodriguez's original contract with the cellar-dwellar Texas Rangers in 2000.  This happens more often than not if we just took the time to look at the contracts a bit closer.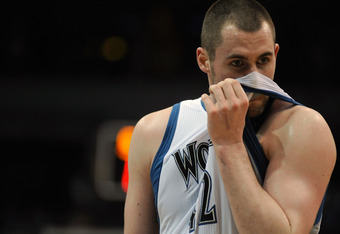 Hannah Foslien/Getty Images
Love has now completed that first pillar, he is a rich (or richer even) man because of this deal.
The Wolves basically chose Rubio over Love (and made the right move)
Last week on the Monday and Tuesday editions of Jim Rome is Burning, Yahoo columnist Adrian Wojonoski from Yahoo Sports talked with host Jim Rome about the rumored Love contract.
Neither could figure out why the Wolves were not just giving Love the five years he wanted as he thought he was equal to the overrated contract prima donna Russell Westbrook got with the Oklahoma City Thunder.
For all his idiocy (he still refused to give [Wolves President of Basketball Operations] David Kahn much credit), Wojnarowski correctly stated the team basically chose Rubio over Love as it was now Rubio's team and "we know who they are saving that money for." He went on to add that "Rubio sells out arenas" and is an exciting player but you could tell both were perturbed they would have to wait a few more years to get Love into a real market like L.A.
In taking Wojnarowski's logic one step further, not only does Rubio sell out arenas, but he's an international superstar more than Love is. While both will likely be on many future Olympic teams, which is so 1992 anyway, Rubio has legions of fans in Spain and all over the globe as he's been playing professional basketball since he was 14 and been on the Spanish Olympic team when he was 17.
Love is a nice guy, but he's hardly irreplaceable.
"What?!"
You say. "Did I just read that right?" "25-and 15 each and every night".
Yeah and to that I add, I see Love as nothing more than a "temporary Timberwolf" as I am dubbing it. Love's heart and mind are always in California from where he was born and where he went to college (UCLA) despite the fact he grew up in Oregon.
I fully expect him to don the overrated, has-been purple and gold of the LA Fakers sooner than later, so because of this I refuse to get emotionally attached to him. I've seen far too many Minnesota sports stars leave and I am expecting this will end no differently, just a matter of when.
If he wants to go join an aging, and I mean aging, Kobe Bryant, with no bench, and a crybaby, lazy Dwight Howard, so be it. Only one guy is going to be able to be designated the "designated player" anyway, as per the new CBA rules and Howard will be a free agent after this season, so he'll already have stolen that, and Love's money. Love will have to take less to join that Faker "Super Team".
In four years Kobe will be 37 years old but more importantly, in his 20th season in the NBA. Mike
Brown is a downgrade as a coach from that of Rick Adelman who the Wolves have now, but what-ev, Kev.
If however, he wants to stay, then the youthful Wolves, have easily their best resemblance of Garnett (Love) and Marbury (Rubio) for years to come. Michael Beasley is going to have to do his best Tom Gugliotta impression...
Point Guard driven League
David Kahn of all people successfully knows the NBA is a point guard driven league. Given so much flak for the two point guards he actually drafted with intent to keep, bust Jonny Flynn and Rubio—note this means shut up about Ty Lawson who was drafted in a pre-arranged draft-day deal with Denver, at least he knew this, where predecessor Kevin McHale did not.
Oh, McHale tried, trading for Marko Jaric, signing Mike James, Troy Hudson, Terrell Brandon, Sam Cassell, Stephon Marbury, Will Avery and Chauncey Billips over the years but with the exception of Marbury (1996-1998), Brandon (1998-2000) and Cassell (2004), for the majority of the franchise's 22 years of existence, this position has historically held them back.
Billups was never the player he was until he got to Detroit, Cassell was a one-year wonder, Marbury forced his way out of town and Brandon had career-ending injury problems. So for roughly six out of 22 years, the Wolves have had a good, capable point guard until now with Rubio.
Look at how the ESPN Hype Machine gushes now over all things Clippers ever since they traded for Chris Paul. This week alone they are going to have two marquee match ups on national television. The talking heads can't say enough about Derrick Rose or Rajon Rondo.
Of course it helps they all play in their beloved big markets! All this recent Clippers bandwagon gala is nice, but its almost like they are perfectly willing to throw out the previous 30 years of absolute putridity and force us to forget it. We have to remember it in order to appreciate this revelation.
Players want to play with point guards
I've said it before and I will say it again, if the Wolves can somehow find a way to keep Rubio, I believe, unlike any other position, good free agents will want to come to what is perceived by many as a frozen Siberia or the tundra.
The only thing players really want is to get the ball, and for others to get out of their way so they can pad stats and get paid. Rubio, as an unselfish, pass-first point guard is the perfect compliment to any big man. If Love can't seem to realize that in that big airhead, Valley Girl brain of his, and wants to run off to Disney World and be just another punk-ass Laker in four years, that's on him, but provided we can keep Rubio, someone else will be the beneficiary of his star power in Minnesota.
Again, looking back at Rose, Paul and where all the good point guards play, these are precisely the NBA destinations these selfish, me-first stars like Howard want to play. No one is going to say "Oh, I want to play with Love! He's going to get 25 and 15 every night!" That doesn't make them better. All he's doing is cleaning up your mess and padding his stats, not yours.
Other than Joe Smith (and we all know how that turned out), no good player ever said in Garnett's dozen seasons in Minnesota that "I want to play with KG!" Hudson and Trenton Hassell, two of KG's friends, unfortunately did and it cost us money and set us back for years. Then again, I've said he would have made a terrible GM evidenced by his insistence on the team keeping and paying all the wrong players that happened to be his friends.
I know some of you are going to bring up Allen Iverson before he got traded to the Denver Nuggets, bu his desire to want to play in Minnesota with KG is all hear-say, McHale never made the move so what's the point of debating it and Denver really only got one good year out of him anyway.
The Wolves are 10-11 as of today. On pace for 31 wins in this shortened 66-game season, or 39 if the season was the normal 82 games. That is dramatic improvement but its not because Love's game keeps improving, it's because of Rubio and the excellent, but unsurprising teaching of the Coach of the Year to this point, Rick Adelman.
The Wolves sucked the past two years, winning just 32 games combined out of 132 under the joke that was Kurt Rambis, yet Love put up his numbers and it didn't translate to wins. That is because outside of an occasional game-winning shot, Love can't affect the outcome of a game more than a point guard can. There is a reason they quarterback the offense on the court, they make everyone around them better by finding the open man each time down.
Wolves had to have every advantage when it comes to re-sign Ricky
Wolves fans are leery Love's contract will allow him to bolt in four years. Okay, what if we signed him for five, and Ricky leaves after four when his contract is up? Then what? There is the argument that without Love, Rubio won't stay anyway, but I disagree.
If we still have Adelman along with Derrick Williams, who is coming along nicely for a rookie, we will always have a shot.
If and when Love leaves, I have no doubt Williams will be ready to slide into the forward spot and take his place as best he can without missing much of a beat.
Rubio is changing the culture in Minnesota. He is making them "Must see TV" and a designation. While I expect him too to someday break my heart and sign with the Lakers or Knicks, by not giving Love the max contract, at least we have that carrot to offer him that no other team can.
We can essentially franchise him along with matching any offer he gets should he get to restricted free agency, which if Kahn is still around, and I hope he is, yes I said it, you can bet that will never happen.
We all know Kahn staked his entire legacy to Rubio and so far, it has far exceeded most fans expectations including my own. While I had him winning Rookie of the Year with my preseason picks, and wrote about him two years ago, I fully expected when he hit double figures in scoring on a given night, for it to be a rare occasion. The assists were expected, but only because he was going to have the ball all the time, mixed with a flurry of bad shots and turnovers but he is far better than advertised. 
Quite frankly, I am surprised Kahn, whose contract himself is up after this season, hasn't got an extension of his own by now.
He has three things going for him:
He works cheap which is important to Wolves frugal billionaire owner Glen Taylor
His cultural ties to Rubio having courted him from Spain when every know-it-all jock was certain he would never play for podunk Minnesota and Kahn being his lifeline of consistency
His moves have actually started to pay off as the team has gotten better. Face it, Kahn deserves a three year extension so his, Rubio, Adelman, and Love's contracts can all run out at the same time.
I don't mean to suggest the Wolves have just a three-year window to win and then its back to the usual irrelevancy, but that is how its looking at least until Taylor does something about it and staggers contracts.
The team can now pay Ricky roughly $78 million over five years, which they would not give to Love, and players will want to play with him.
He could always turn down the money as players like Chris Bosh, LeBron and others took less money to go where they want and form their own "Super Teams" but maybe in four years Ricky will be so humbled and appreciative of his admiration that he won't want to play anywhere else, and Love too will want to stay.
If not, and he wants to pull a Marbury and leave, then he can simply get in line behind so many Minnesota stars like David Ortiz, Hunter, Santana, Moss, Marian Gaborik, Jack Morris, Gary Gaetti and so many others before him.
At least unfortunately, the fans are all too used to it.
Information and references from ESPN, "Jim Rome is Burning" and the Minneapolis Star-Tribune directly contributed to this article.