Indiana Pacers: Are They the Most Complete Starting 5 in the Eastern Conference?
Kevin C. Cox/Getty Images
In a brutal shortened season with so few days off and a hectic schedule complete with frequent back-to-backs and even the rare back-to-back-to-back gauntlet thrown in, teams are going to be tested and star players overworked.
This year more than others, depth and complete starting lineups will be the key to surviving the regular season and ensuring good playoff position.
The league's top stars will still carry their teammates most nights, but with injuries, nicks and bruises and fatigue already having played such a factor, it's clear that complete rosters, quality depth and young legs are going to have atypical impact in determining playoff seeding.
Therefore role players and starters not accustomed to stepping up and filling the stat sheet will have to adjust to being called on on a more regular basis.
Here are the most complete starting fives with few or no glaring holes from point guard to center in the Eastern conference.
15. Charlotte Bobcats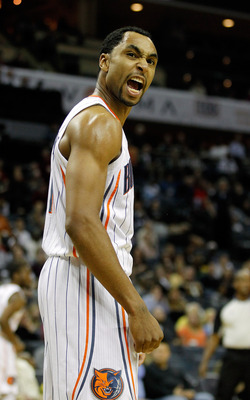 Detroit Pistons
Streeter Lecka/Getty Images
It's no wonder the Bobcats have the worst record in the NBA. While they rotate-in and play a lot of guys, Charlotte just doesn't have the talent to compete night-in-and-night-out. Henderson has been better than expected but otherwise it's hard to imagine another player finding a starting job somewhere else. If Henderson isn't on, the Bobcats don't have many options elsewhere.
Starting Five (based on number of games started):
PG: D.J. Augustin
SG: Gerald Henderson
SF: Boris Diaw
PF: Tyrus Thomas
C: Byron Mullens
Superstars: None
Star Players: None
Quality Starters: Augustin (stretching it), Henderson
Liabilities: Diaw, Thomas, Mullens
14. Washington Wizards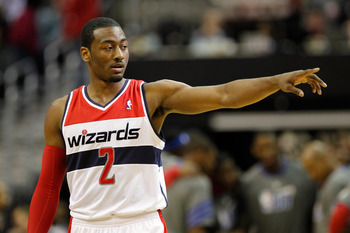 Charlotte Bobcats
Rob Carr/Getty Images
Right above the hapless Bobcats are the equally doleful Washington Wizards who at least have their point guard of the future in John Wall to build around. Plagued by a mishmash of talent that doesn't fit together, the Wizards have more of an identity problem than an issue of a dearth of talent, which says something about the state of the roster.
Starting Five:
PG: John Wall
SG: Nick Young
SF: Rashard Lewis
PF: Andray Blatche
C: JaVale McGee
Superstars: None
Star Players: Wall
Quality Starters: McGee, Young (borderline)
Liabilities: Lewis, Blatche
13. Detroit Pistons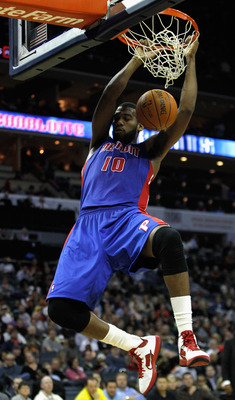 Pacers Bench
Streeter Lecka/Getty Images
Greg Monroe and rookie guard Brandon Knight are good pieces to build around but other than them, it's fairly slim pickings on a roster that is almost equally disjointed as their counterparts in the nation's capital.
Starting Five:
PG: Brandon Knight
SG: Ben Gordon
SF: Tayshaun Prince
PF: Jonas Jerebko
C: Greg Monroe
Superstars: None
Star Players: None
Quality Starters: Monroe (not quite a star just yet, but will be), Knight (ditto), Gordon
Liabilities: Jerebko, Prince
12. Milwaukee Bucks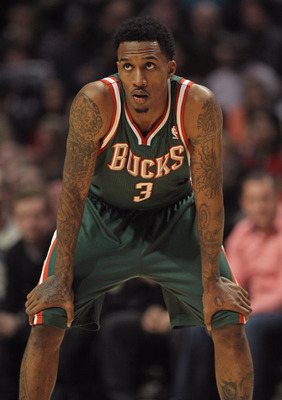 Jonathan Daniel/Getty Images
The Milwaukee Bucks are a completely different team with (and a decent one at that) with Andrew Bogut in the lineup. Unfortunately between his broken elbow, family issues and now his fractured ankle, Bogut has hardly seen the court in the last few years. Without Bogut, it's hard to imagine that the Bucks can compete and remain in playoff contention for much longer.
Starting Five:
PG: Brandon Jennings
SG: Stephen Jackson
SF: Carlos Delfino
PF: Drew Gooden
C: Ersan Ilyasova
Superstars: None
Star Players: None
Quality Starters: Jennings (just a notch below being a star), Jackson (barely), Gooden (being nice)
Liabilities: Ilyasova, Delfino
11. Toronto Raptors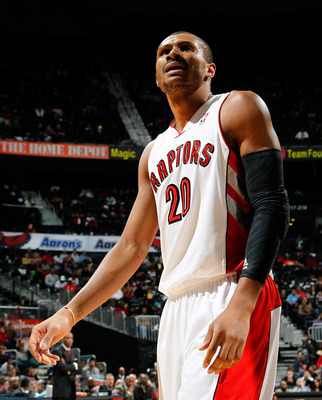 Kevin C. Cox/Getty Images
There are no excuses for why the Raptors are this bad. Andrea Bargnani and Demar DeRozan and Jose Calderon should be plenty good enough to compete for a final playoff spot in the East.
Sure there isn't much behind them, but those three guys have the games to win Toronto more ball games than they have so far.
Starting Five:
PG: Jose Calderon
SG: DeMar DeRozan
SF: Rasual Butler
PF: Amir Johnson
C: Andrea Bargnani
Superstars: None
Star Players: Bargnani (Yes, he's a star. He's averaging 23.5 and 6.4. He just plays in Canada.)
Quality Starters: DeRozan, Calderon
Liabilities: Butler, Johnson
10. Orlando Magic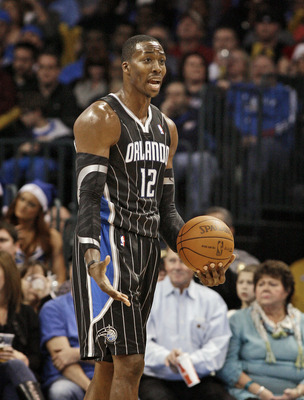 Brett Deering/Getty Images
Orlando faithful have to be in full panic mode. They lost four of their last five including a current four game losing streak, didn't break 70 in three of those games (including a 56 dud, which was probably the worst offensive performance in the NBA in a decade) and of course are about to lose Dwight Howard.
To make matters worse, outside of Howard, they have one of the least talented rosters in the Eastern Conference.
Right now Otis Smith is engaged in a pretty dangerous—and one could say stupid—game of chicken insisting he isn't going to make major moves (aka trade Howard). If he doesn't and Howard leaves for nothing in return, would you really be confident ranking the Magic's roster ahead of Washington or (gasp) Charlotte?
No. Jameer Nelson is having a terrible year, Turkoglu and J-Rich are barely serviceable starters and Ryan Anderson is on a tear that is way above his skill level and isn't sustainable.
Take Howard away and this is one of the worst teams in the league. That they are still games above .500 is further proof that Howard is a top five if not top three, player in the league.
Starting Five:
PG: Jameer Nelson
SG: Jason Richardson
SF: Hedo Turkoglu
PF: Ryan Anderson
C: Dwight Howard
Superstars: Howard (He is three assists from leading the Magic in the all the main statistical categories.)
Star Players: None
Quality Starters: Anderson
Liabilities: Nelson (He hasn't be a quality starter this year. Not yet.), Turkoglu, Richardson
9. New Jersey Nets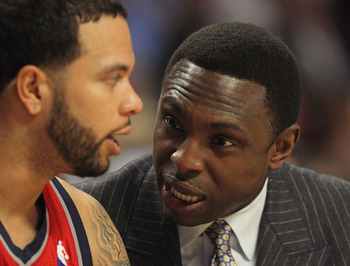 Jonathan Daniel/Getty Images
When Brook Lopez finally comes back from injury, the New Jersey Nets are going to be remarkably better. Already they have started to figure things out and are 4-4 in their last eight games after starting the year 2-9. Deron Williams has turned it on of late and is flashing his usually brilliance more consistently while Kris Humphries is surprisingly still averaging a double-double. Nets fans are just counting down the days until Lopez gets back onto the court.
Starting Five:
PG: Deron Williams
SG: MarShon Brooks
SF: Anthony Morrow
PF: Kris Humphries
C: Mehmet Okur
Superstars: Williams
Star Players: None (Lopez could be, maybe.)
Quality Starters: Brooks (He's a rookie and already can flat out score.), Humphries
Liabilities: Morrow, Okur
8. Cleveland Cavaliers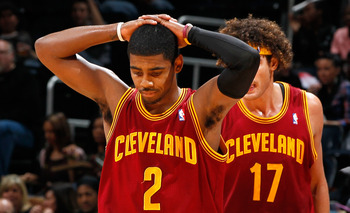 Kevin C. Cox/Getty Images
With Kyrie Irving proving he is well deserving of the being the No. 1 overall pick, there is a renewed sense of optimism in Cleveland.
Few predicted the Cavs would be in the mix for a playoff spot this late into the season but riding the steady play of Irving, this is a re-energized team and organization.
Starting Five:
PG: Kyrie Irving
SG: Anthony Parker
SF: Omri Casspi
PF: Antwan Jamison
C: Anderson Varejao
Superstars: None
Star Players: None
Quality Starters: Irving (a few more months until he's a star), Jamison, Varejao
Liabilities: Casspi (not for long), Parker
7. New York Knicks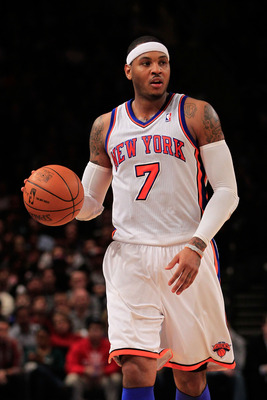 Chris Trotman/Getty Images
How can a team with a superstar, a star player and a quality big man who can change a game with his defense be eighth in the East when it comes to having a complete roster? (Same question should be asked about their record too.) Because they have nothing else and when you don't have a true point guard who can distribute the basketball in Mike D'Antoni's system, your offense (and team in general) is going to be stagnant and really struggle.
Iman Shumpert and Landry Fields are good young players and prospects but Shumpert can't run the point and Landry Fields can go for 20 one night and then not score the next.
Starting Five:
PG: Iman Shumpert
SG: Landry Fields
SF: Carmelo Anthony
PF: Amare Stoudemire
C: Tyson Chandler
Superstars: Anthony
Star Players: Stoudemire (He's not a superstar. Superstars average more than 17 and 8.)
Quality Starters: Chandler
Liabilities: Shumpert (at least at the point), Fields (perhaps a liability because of a stagnant offense)
6. Boston Celtics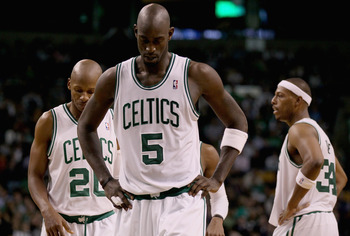 Elsa/Getty Images
They might be old, but if they have any gas left in the tank come playoff time, the Boston Celtics are going to be the last team Chicago or Miami are going to want to face in the first or second round.
The Celtics stars know this is their last great hurrah. They know that next year's Celtics team will look very different (and that they may not be a part of it), and they know that if they can survive the regular season, anything can happen in the playoffs.
Starting Five:
PG: Rajon Rondo
SG: Ray Allen
SF: Paul Pierce
PF: Kevin Garnett
C: Jermaine O'neal
Superstars: None
Star Players: Rondo, Pierce (In big games, he definitely is.), Allen (ditto)
Quality Starters: Garnett (still possesses star qualities)
Liabilities: O'Neal
5. Miami Heat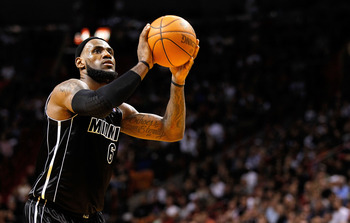 Mike Ehrmann/Getty Images
Miami along with Chicago are definitely the teams to beat, and given the star power, last year's run to the NBA Finals and the fact that Chris Bosh has elevated his game to superstar status, The Heat have the edge as the front runners to return to the Finals and win the championship. After all, they do have the game's best player in LeBron.
That being said, they are far from being the most complete team in the East. Maybe that won't matter but in a crazy shortened season where fatigue and injuries come in to play, maybe a lack of depth will affect them. What happens should LeBron James be forced to miss time with an already banged up D-Wade battling his own injuries? Should that happen, the Heat could have serious issues.
Mario Chalmers barely cuts it as a quality starter and I am pretty confident that Joel Anthony couldn't start for at least a handful of D-league teams.
Starting Five:
PG: Mario Chalmers
SG: Dwayne Wade
SF: Lebron James
PF: Chris Bosh
C: Joel Anthony
Superstars: Wade, James, Bosh
Star Players: None
Quality Starters: Chalmers (could still use some convincing, but he makes the cut)
Liabilities: Anthony (big time)
4. Philadelphia 76ers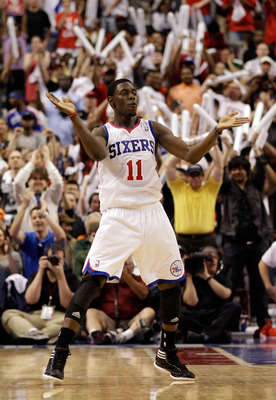 Rob Carr/Getty Images
Save the possibility of Chicago, the other teams on this list ahead of Miami are not better teams, but rather more complete starting fives across the board. Does that mean that Jodie Meeks won't get torched by Dwayne Wade. Of course not, we should expect nothing less. But it does mean that Philadelphia is way more consistent over all five positions than a Miami which forces its stars to cover the black hole that is Joel Anthony.
The 76ers would be one spot higher over Indiana if not for Doug Collins decision to go with Meeks over Evan Turner and Brand over Thaddeus Young. Then again when you have seven players (two coming off the bench) scoring comfortably in double figures on a nightly basis (and almost eight), maybe that's what makes them so dangerous.
Starting Five:
PG: Jrue Holiday
SG: Jodie Meeks (really should be Evan Turner...)
SF: Andre Iguodala
PF: Elton Brand
C: Spencer Hawes
Superstars: None
Star Players: None
Quality Starters: Holiday (could turn into a star), Iguodala, Brand, Hawes,
Liabilities: Meeks (He's hardly a liability though and Turner should start, because he isn't one.)
3. Atlanta Hawks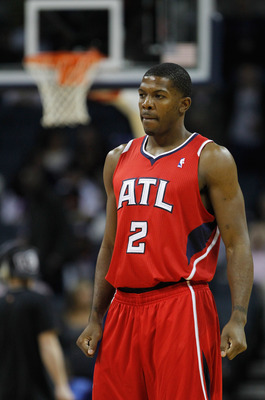 Streeter Lecka/Getty Images
Rumors always seem to circulate that Atlanta can't win with the roster they have and should trade or amnesty Johnson and change things up. The question is why? Even if they did dangle Johnson as trade bait there is no deal which would make Atlanta demonstratively better nor, even in an extremely deep draft class, is there a college player who could come in and put the Hawks over the top.
Atlanta doesn't need to tinker with what they've got. On the contrary, they are one of the deepest teams with a great mix of youth and leadership and are playing great basketball. On paper they might not be able to beat Chicago or Miami but in a wacky year such as this, anything is possible. The East is a lot more wide open than people think and Atlanta is very much in position to break through.
Starting Five:
PG: Jeff Teague
SG: Joe Johnson
SF: Marvin Williams
PF: Josh Smith
C: Al Horford
Superstars: None
Star Players: Johnson
Quality Starters: Teague, Williams, Smith, Horford (when healthy)
Liabilities: None
2. Indiana Pacers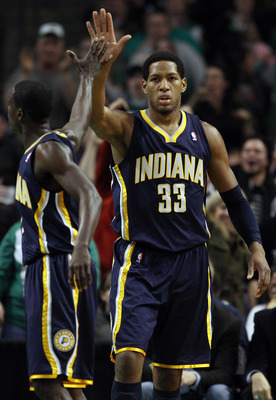 Elsa/Getty Images
Like Philadelphia, the Pacers are sitting pretty at 14-6 because of their incredible balance and depth.
Indiana has a little bit of all the key ingredients you need to be a successful championship caliber team. They have youth (team), toughness (team) and play with tenacity (Hansbrough in particular). They have a deep bench (Hill, Hansbrough, Jones), timely scoring (Granger), veteran leadership (Granger, West), length (team George in particular), outside shooting (Collison and George) and perhaps their biggest weapon, a dominant center in Roy Hibbert.
Larry Bird has done an outstanding job of resuscitating a floundering franchise and has turned a rudderless team into one with a core identity and flush with young up-and-coming talent.
A rather pedestrian Indiana team pushed top seeded Chicago in last season's first round and by many accounts outplayed the mighty bulls. With the additions of West and Hill and the progression of George, Collison and Hibbert, this team is immeasurably better.
Can they beat Chicago in a seven game series? Yes, they definitely can. The question is do they believe and do they have the consistency to do so.
Starting Five:
PG: Darren Collison
SG: Paul George
SF: Danny Granger
PF: David West
C: Roy Hibbert
Superstars: None
Star Players: Granger
Quality Starters: Collison, George, West, Hibbert (He's inching closer to that star status.)
Liabilities: None
1. Chicago Bulls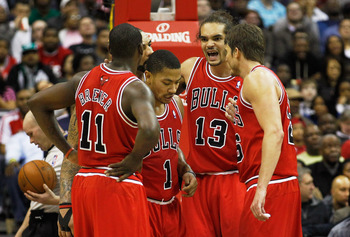 Rob Carr/Getty Images
Chicago is not only one of the best teams in the NBA, but also possesses one of the most complete starting fives in the league.
Like Indiana, the Bulls have a mix of everything you need to be successful. They play tough D, rebounding, have scoring balance and play with high energy and heart.
Unlike the Pacers, the Bulls have a not-so secret weapon: Derrick Rose. What separates the Bulls from Indiana (and from most of the rest of the league for that matter) is that they have a superstar and reigning league MVP.
Coupled with the strongest supporting cast built around a superstar the Bulls are Miami's worst nightmare because they can beat them where Miami is weakest: point guard and center and with Luol Deng and Carlos Boozer, Chicago can slow down Miami's Big Three where other teams can't.
Starting Five:
PG: Derrick Rose
SG: Richard Hamilton
SF: Luol Deng
PF: Carlos Boozer
C: Joakim Noah
Superstars: Rose
Star Players: None (Although the way they play as a team, all the guys feel a bit like stars.)
Quality Starters: Hamilton, Deng, Boozer, Noah (Quality starters doesn't do them justice.)
Liabilities: None
Keep Reading

Indiana Pacers: Like this team?