Revisiting the Failed Chris Paul Trade 20 One-Third of the Way in the NBA Season
January 31, 2012

Doug Pensinger/Getty Images
Sometimes in sports there is a trade that comes along that would help every team involved. Team A gets what it wants in return for Player X, while Team B receives exactly what it covets. In the end, the deal is consummated and everyone is happy.
On December 8, 2011, the New Orleans Hornets had a deal in place. Unfortunately, it was a deal that never happened.
The NBA is a star-driven league and many of its stars look to play in large markets such as Los Angeles and New York.
They crave the idea of being on a big stage. This isn't to say that players such as LeBron James won't play in certain cities. In LeBron's case, his first seven seasons in the NBA were played in Cleveland. It will continue to be the case. as evidenced by Oklahoma City, where two superstars (Kevin Durant and Russell Westbrook) play.
It is suggesting that some players, when winning, are happy wherever they are playing.
Take into consideration the LA Clippers' Chris Paul.
In the December 8 deal mentioned above, he was a player getting his wish, which was to join a wining situation.
Stephen Dunn/Getty Images
For six years, Paul had been part of a franchise that has seen highs and lows but was, at the time, facing an overhaul. It was an overhaul that he wanted no part of, and as a result he was traded in a deal involving the LA Lakers and Houston Rockets.
For a struggling franchise without an owner, in getting back the Lakers' Lamar Odom and Houston's Kevin Martin and Luis Scola, New Orleans seemingly would have a team in place that would have been respectable, given how wide open the NBA West is.
For some reason, the league office said no.
No to a deal that would have helped the Hornets for the future as well as the present. Instead the NBA opted for a different deal, one that would bring the Hornets some of the Clippers' young talent in Eric Gordon and Al-Farouq Aminu as well as a veteran center (Chris Kaman).
Twenty games into the season, Gordon has not signed the Hornets' extension offer and Kaman is officially on the trading block. The team has won only four games this season, the worst record in the Western Conference, in part due to Gordon only playing two games thus far.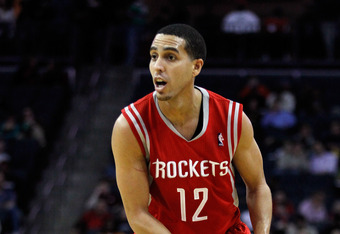 Streeter Lecka/Getty Images
To add salt to the wounds, Houston is only a half-game behind Dallas in the Southwest Division, using the failed trade that would have netted them Pau Gasol from the Lakers.
Martin and Scola lead the Rockets in scoring, and optimism is buzzing for a team that has won nine out of its last 10 games. For the Hornets on the other hand, things look bleak.
When you witness a failed trade that eventually altered the way that the Paul trade ended, you have little to cheer for how the initial trade would have made your team better.
Here we are at or around 20 games into the NBA season for all of the teams that were involved and I wonder: Which of the two deals was the better Chris Paul trade?
The one that happened or the one that did not?
In the original trade, the Lakers would have been better in the short-term with Chris Paul aboard but without two major factors from their last two championship teams missing, they would have been a Andrew Bynum injury from disaster.
Unless they were looking to add Dwight Howard later in the season the trade would not have really benefited the Lakers.
The New Orleans Hornets have suffered the most.
Short-term goals of crafting a competitive team to generate revenue would have brought in prospective buyers to the Hornets franchise. There would have been a positive buzz around the team that have not been heard or felt since Chris Paul was throwing lob passes to a healthy Tyson Chandler. At this current time there is not much excitement to a franchise and a city that sorely needs it.
In the long-term, the Hornets will continue to suffer as the NBA opted to go with youth over proven talent. Youth has it promise but with Eric Gordon having only played two games this season, this deal has crippled New Orleans in a way that we have never witnessed before.
We the fans, whether you root for New Orleans or not deserve better.