Peyton Manning: Why Peyton Manning Should Go Back to Tennessee
March 7, 2012
Jonathan Daniel/Getty Images
Elvis Presley, Dolly Parton and Peyton Manning.
All three are among the most popular celebrities to come out of the state of Tennessee.
When he helped lead the Tennessee Volunteers to the national title in 1998, Manning was just a kid sporting the orange and white. However, Tennesseans have not forgotten the legendary accomplishment that had Volunteer country on top of the world.
Now Manning is out of Indianapolis, and Tennesseans are licking their chops.
One thing is for sure: Tennesseans want Peyton to come back home.
Don't believe me? There's a website dedicated to the hope of the state's favorite son returning home.
With their own quarterback construction, the Titans are looking like they will stick with veteran Matt Hasselbeck for next season, slowly incorporating Jake Locker as well.  
If Locker is sitting behind a veteran and learning anyway, what better quarterback than Peyton Manning to teach him the ways of leading an NFL team?
Hasselbeck and Locker have the Washington state connection, but Hasselbeck had only a decent first year with Tennessee.
With Kenny Britt returning, Nate Washington's warrior abilities and the beastly Jared Cook running down the field, Manning could get the passing offense rolling in Tennessee. The passing game was sporadically featured throughout the season but had little consistency behind Hasselbeck.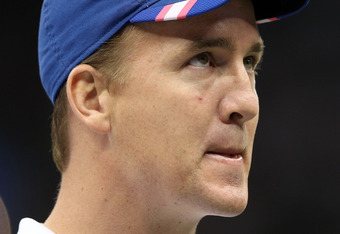 Jamie Squire/Getty Images
Also, a plus for Manning to land in Tennessee is the exceptional play of the offensive line protecting the quarterback. This past season, the O-line only allowed 28 sacks, the second least in the NFL (a specialty of previous OL Mike Munchak and Bruce Matthews).  
Before we get ahead of ourselves, this is starting to sound a lot like Brett Favre going to the Minnesota Vikings (without the Jets hiccup in between).
Peyton might only have a couple of years left in his tank, and with Indianapolis choosing to go with Luck, Manning is on his way out and looking for a new home.
Peyton wants to play, there's no doubt about that. Tennessee would much rather have Manning, a Super Bowl-winning quarterback, leading this team and preparing Locker; well who wouldn't? I don't know Peyton myself, but I feel like he would like to face the Colts twice a year.
Plus, Titans country shows very little attachment to Hasselbeck after one season, but has extremely high expectations for the future years with Jake Locker. Manning is the biggest free agent quarterback in recent history, and the Titans would be disappointing their entire fanbase if they don't consider going after him.
Locker and Peyton combined as the Titans quarterbacks would show how Tennessee is striving become a better passing team than the Vince Young and Kerry Collins tandem. 
Passers win Super Bowls, that's just how the recipe goes.
Colts fans hate to see their spine ripped out of their organization, but there's no question he will go to a new team, transform his haters into lovers and win football games.
Now, CJ2K has most of the Titans' money to his name, so if the Titans can pay Peyton what he wants or not is a different story.
Mannings are natural born winners, and although Peyton is out of Indy, he can still win for multiple teams, he would fit really nicely in Tennessee this season.