The Most Overrated Players on the New York Jets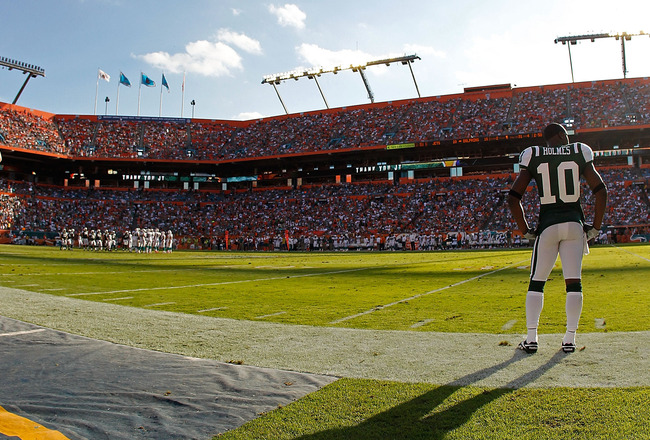 Mike Ehrmann/Getty Images
The New York Jets were one of the most disappointing NFL teams in the 2011 season.
With Superbowl aspirations following two straight AFC Championship appearances, the Jets finished this past season with a dull 8-8 record. It was the first time since 2007 that the Jets didn't win over half their games.
While turmoil in the locker room had its effect, the players bare most of the responsibility.
Here are the most overrated players in the Jets locker room who couldn't get it done on the field. Whether overrated by the front office, Jet fans or fans of other teams, these players are the ones who are getting too much credit despite a failed season.
D'Brickashaw Ferguson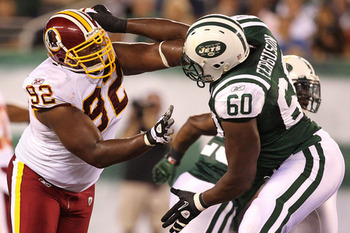 The Jets rewarded their 2006 first-round pick with a contract extension before the 2010 season for his hard work. In 2011, Ferguson showed why he didn't deserve it.
Despite being paid as an elite left tackle, Ferguson played poorly, allowing 9.5 quarterback sacks in 16 games, the most on the team according to ESPN.
Considering Ferguson has the most important role on the offensive line—protecting his quarterback's blindside—he failed miserably. Quarterback Mark Sanchez fumbled the ball 10 times in 2011, losing eight of them to the defense.
The fact that he played in the Pro Bowl, a game for the best players in the league, is simply horrible. It may have been the most undeserved Pro Bowl spot this season. And it's the perfect reason to label him here as one of the most overrated players on the team.
Joe McKnight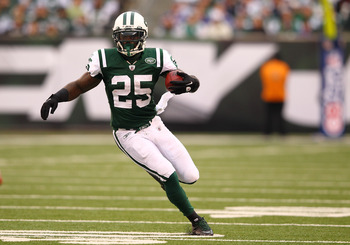 Al Bello/Getty Images
Joe McKnight had a fantastic season as the Jets kickoff returner. Overall, though, his success is hard to be shocked with.
The Jets have always had successful return men, especially since special teams coach Mike Westhoff joined the team in 2001. Since the hiring, the Jets have had one of the better special teams in the NFL, returning the most kicks for touchdowns (15).
So McKnight's achievements with the team aren't so great. Brad Smith, the Jets 2010 kickoff returner, was unable to generate success in Buffalo despite being brought there to do so. Smith only had 15 returns in Buffalo, for a mere 282 yards with no touchdowns. In 2010 with the Jets, he had 1,432 yards with three touchdowns.
McKnight's hot start was wonderful for Jet fans, but at the end of the day, he also had two costly fumbles and was replaced by Antonio Cromartie from time to time after his gaffes.
Overall, it seems like whoever the Jets stick in the back of the endzone will have success. McKnight is no different than Justin Miller, Leon Washington or Chad Morton...except that he may not be as good of a returner as any of them.
Considering McKnight has received credit as one of the best returners in football, he's overrated.
Calvin Pace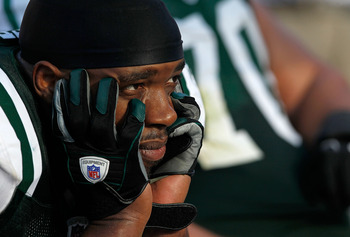 Mike Ehrmann/Getty Images
The Jets signed Calvin Pace after a dismal 2007 season to be the team's pass rusher in a 3-4 defense.
After an impressive season in 2008 with seven sacks followed by an eight sack season in only 12 games during the 2009 season, Pace has been on the downfall ever since.
He has failed to break through and provide the same amount of pressure that he did in his first two seasons with the Jets.
Pace's role in 2011 changed drastically this season after linebacker Bryan Thomas went down for the season with a torn Achilles heel. Thomas, who was mostly responsible for run support, had to be replaced, leading to Pace jumping into the role.
He was only moderately successful as a run supporter and managed to generate less pressure, having only 4.5 sacks on the season.
With his speed diminishing more with every season that passes, it's unlikely that Pace will ever be the pass rushing threat Jet fans were hoping for. Although next year fans will likely go in with high expectations, Pace probably won't deliver. And unless he does, it will probably be his last season as a Jet.
Pace will be a free agent after the 2012 season and will be 32 years old.
Jim Leonhard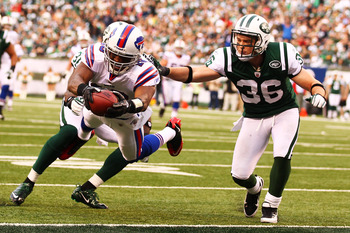 Al Bello/Getty Images
Yes, the Jets lost their final three games in 2011 after Leonhard's injury, but that had far less to do with him being out than the team's overall collapse.
Aside from a beatdown in Philadelphia, where the defense allowed 38 points, the team's losses fell on the shoulders of an offense that couldn't move the chains and turned over the ball too often.
Leonhard is an intelligent player, but he's simply too short and lacks the athleticism to be a starter in the Jets secondary with his current role. The Jets defense asks the 5'8'' safety to do too much, and he can't handle the responsibilities.
Leonhard's most successful seasons have been when he has been able to focus on stopping the run while other safeties did the majority of deep coverage. Now that he isn't with future Hall of Famer Ed Reed, or the Cardinals' Kerry Rhodes, Leonhard has struggled as a cover safety.
Leonhard enters 2012 as a free agent and may not be back with the team. Coming off of two consecutive season-ending injuries, the Jets may go a different route for the middle of their secondary.
If the team does decide to keep Leonhard as a starter, they should look on the market for someone who can cover exceptionally well and limit the amount of deep coverage Leonhard has to perform. With a good safety beside him, Leonhard can be a positive for the team again.
Dustin Keller
Mike Ehrmann/Getty Images
Statistically, Dustin Keller's 2011 season looks fantastic.
He was the first tight end to lead the Jets in receptions since Mickey Shuler in 1984-1985 and had the sixth most receiving yardage by a tight end. Stats don't always tell the whole story though, and that is why Keller is among the most overrated players on the team.
Keller is a liability in the blocking game and completely one dimensional. When Keller is in the game, it's not likely he is staying in and blocking, therefore allowing a linebacker to basically just stick to him or drive past him in an effort to get to the quarterback.
With Keller's lack of speed, he doesn't get much separation from linebackers, forcing quarterback Mark Sanchez to try and make tighter throws that he can't make.
And even when the pass gets to Keller, there is a chance he will drop it. Keller led all tight ends in 2010 with eight drops and was among the team leaders in dropped balls yet again this season.
Keller has the potential to be a great tight end for this team. Even right now, he is still one of the Jets best offensive weapons. But until he can start being more consistent, it will be hard for the Jets to look at both Aaron Hernandez and Rob Gronkowski on their rival Patriots. The Patriots didn't use a first-round pick on either of those players like the Jets did for Keller, and it's fairly safe to say they are both better.
Perhaps under a new offensive scheme with Tony Sparano, Keller will be better for the Jets in 2012.
Aaron Maybin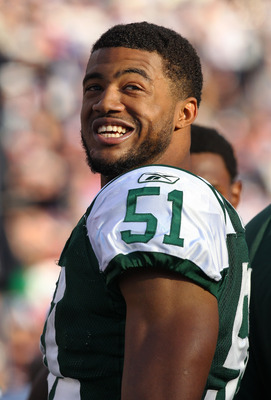 Tom Szczerbowski/Getty Images
Look, Aaron Maybin is a fan favorite. After being deemed a bust by the Buffalo Bills, the Jets took a flyer on the speedy linebacker—and it paid off. He led the team in sacks with six and was able to generate pressure the way Gang Green wasn't able to without him: using speed.
It was a feel good story. He was the man who worked hard to earn his success after being thrown away by a divisional rival. There were "Mayhem" jerseys in honor of his collegiate nickname circulated around Metlife Stadium on Sundays. It's hard to dislike Maybin.
But he just isn't as good as fans would like to say he is.
At this stage, Maybin is just a one trick pony, only able to use his speed to get to the quarterback. He hasn't developed pass rushing abilities to make him a real threat that can stay on the field consistently.
On third down, if you need a player to try and use his speed to get around the offensive line, he can be the guy. As an every down player, though, Maybin is simply not ready, and the many Jet fans calling for him to become a starter are making a mistake.
Covering slot receivers, running backs or tight ends is just not an option for him. He also struggles in run support since he over pursues on the pass rush out of his unique sprinter stance. He needs to work on fixing those problems before he can begin getting the serious repetitions Jet fans want him to receive.
Can he do it? With a lot of hard work over the offseason, it's a possibility. But right now, he is a liability when he isn't rushing the passer on third down.Thus, an overrated tag gets placed on him here, with hope that he can shed it with another year in Rex Ryan's system.
Santonio Holmes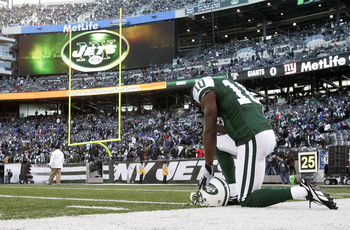 Rich Schultz/Getty Images
Santonio Holmes received a contract after the lockout that gave him top of the line dollar. His five-year, $50 million contract made him one of the highest paid wide receivers in league history.
He showed the Jets his gratitude by putting up disappointing numbers across the board and exploding in the team huddle during their final game of the season.
But this article isn't analyzing Holmes as a person, teammate or citizen. This is about his on-field performance.
Fact of the matter is, the Jets paid Holmes to be a top receiver in this league, and he was anything but that in 2011. Throughout his career, Holmes has never really been a fantastic No. 1 option. Outside of his final season in Pittsburgh, Holmes has never had more than 60 receptions in a season. Holmes this season was more of what he has always been than what he was paid to be in late July.
Holmes has always showed the flashes to take on the responsibility of a No. 1 target, but he has never finished the job. When Holmes has another good weapon opposite him, a guy like Braylon Edwards or Hines Ward, he preforms better. With an underachieving Plaxico Burress beside him who couldn't stretch the field, Holmes struggled.
Overall, Holmes drops balls, cannot block, struggles to get separation and can be a pain in his teammates' neck. Does that really sound like one of the best receivers in football? Because that is what Santonio Holmes is being paid like.
Keep Reading

New York Jets: Like this team?