Looking Back on Football's Greatest Players: The All-Time NFL Offense
January 30, 2012

Otto Greule Jr/Getty Images
The Giants are set to play the Patriots in the Super Bowl in less then a week. It will be a rematch of the 2007 Super Bowl (if you didn't know).
For only the third time ever, the annual Pro Bowl was played one Sunday before the Super Bowl. It used to be held the Sunday after the Super Bowl.
As most know, the Pro Bowl is where the NFL's best players from that particular year all get together on one field and play a game. The Pro Bowl roster can be looked upon as the All-Season team for the year in which the roster was selected.
Since this last season was the end of the 2000's decade, the Associated Press came up with their All-Decade team for the decade of 2000-2010. The team's roster consists of the best individual players from the previous decade.
As I looked at the All-Decade roster, I was very satisfied with who the Associated Press decided upon. The roster included names like Tom Brady, LaDainian Tomlinson, Tony Gonzalez, Charles Woodson and Darren Sharper.
But as I looked at the names, I couldn't help but replace them with the names of other players, players that performed before the year 2000. Players that I thought were better than the ones on the roster.
Obviously, I knew that the players I had in mind weren't eligible for the roster in which I was looking at. In fact, the only way I could place all the players that I wanted to on one roster, it would have to be able to include any NFL player who played in any given time period.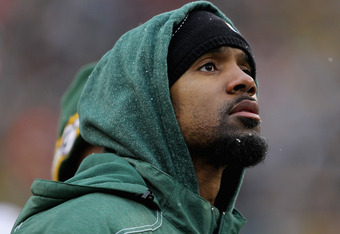 Jonathan Daniel/Getty Images
That's when I thought of it. What I had jumbled in my head was my own personally chosen All-Time Pro Football team. Basically, a list of the greatest players to ever play in Pro Football at each position.
The following contents of this article will explore the great history of the NFL and pluck out 12 of the best football players this world has ever known and make one scary offensive roster. The 12 chosen players includes all 11 players on the offense and one kicker.
The offense's 11 players includes one quarterback, one running back, one fullback, two tackles, two guards, one center, one tight end and two wide receivers.
For the readers that are wondering about the eligibility of players that are still currently playing in the NFL, the answer to that is very simple. If the player is the best the NFL has ever seen at that position, he will make this roster. Simple as can be.
Now, without further ado, let's unleash the All-Time Pro Football Offense.
Quarterback: Joe Montana
This choice was, admittedly, very difficult.
I was having a hard time choosing between quarterbacks who have record-breaking statistical numbers, like Brett Favre and Peyton Manning, or quarterbacks with a history of winning championships, like Tom Brady, Joe Montana and Bart Starr.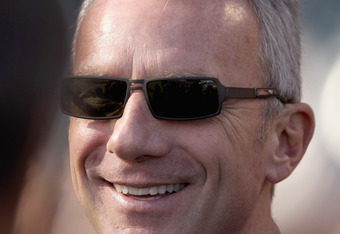 Ezra Shaw/Getty Images
Ultimately, though, Joe Montana is the best quarterback to ever play the game.
He has four Super Bowl rings, the most by any starting quarterback. He has 40,551 passing yards, 273 passing touchdowns and 139 interceptions. He was selected to the Pro Bowl eight times and won the Associated Press's Most Valuable Player award twice. His career QB rating is 92.3.
This decision to go with Montana was based on two things. For starters, he has four rings. As a player in the NFL you get paid to win, and Montana deserved all the money he got paid—and more—for his accomplishments.
The other thing was his yards per attempt and TD percentage when compared to the statistical leader in almost every major passing category, Brett Favre.
Favre holds the career passing yards record with just under 70,000 yards. Montana is distantly behind him with just over 40,000 yards.
But when comparing yards per attempt, Montana looks a lot better. Favre has a career yards per attempt average of 7.1. Montana's yards per attempt average is 7.5.
So even though Favre holds the record, if both quarterbacks were to get 100 throws each, Montana would be likely to pass for more yards than Favre would.
Also, when you compare TD percentage, you don't get as great of a gap as 497 to 273 is. Favre's career TD percentage is 5.1 percent, while Montana's TD percentage is 5.1 percent as well.
Again, giving these quarterbacks each 100 throws, you would expect that they would both pass for five touchdowns.
Joe Montana was inducted into the Hall of Fame in 2005.
Running back: Jim Brown
This decision was much easier than the quarterback slot.
Jim Brown is the best Running Back to play in the NFL.
What really pushed Brown into this slot was his yards per rush and yards per game averages. His career yards per rush average is 5.2.
This is an amazing number when talking about one's entire career. Also, he averaged over 100 yards per game during his career. He is the only running back to ever accomplish that.
More accomplishments by Brown are nearly endless. He made the Pro Bowl every single year he was in the league.
He won the Associated Press's Most Valuable Player award three times. He has over 12,000 career rushing yards and over 100 career rushing touchdowns.
What's astonishing is Brown did all this when there were only 12 or 14—depending on the year of his play in question—games in a season.
Jim Brown was inducted into the Hall of Fame in 1971.
Fullback: Daryl Johnston
I don't feel I can put anyone else here besides Daryl Johnston.
Yes, there are other great fullbacks in NFL History, just as there are other great quarterbacks and running backs. However, I couldn't find a fullback in history that I liked more than Daryl Johnston.
He did exactly what a fullback had to do in his situation: Block and make a pathway for the running back behind him.
Johnston blocked for Emmitt Smith. He paved the way for Smith to become the NFL's All-Time leading rusher in both yards and touchdowns.
It was also because of Johnston that the fullback position was inserted into the Pro Bowl. In 1993, Johnston was the first ever fullback to be selected to the Pro Bowl.
Some of Johnston's other achievements are his 22 touchdowns, 753 rushing yards and his three Super Bowl rings.
Tackle: Anthony Muñoz
This will probably be the easiest decision I will make for this entire roster.
Anthony Muñoz is the best tackle in history, and maybe the best offensive lineman ever.
He played from 1980 to 1992 with the Cincinnati Bengals. He tried to return to the NFL in 1993 with the Tampa Bay Buccaneers, but was released before the season began and then decided to retire.
Muñoz was selected to 11 consecutive Pro Bowls from 1981-1991. He was selected to nine First-Team All-Pro rosters as well, with two Second-Team selections too.
When drafted by the Bengals at the third overall pick in the draft, he was considered a big risk. Muñoz played just eight games in his junior and senior at USC due to a history of injuries.
Fortunately for Anthony, all injury problems flew out the window when he reached the NFL, starting 182 games out of a possible 185.
Anthony Muñoz was inducted into the Hall of Fame in 1998.
Tackle: Walter Jones
The first tackle was easy. It's the one behind him that was hard to choose.
There's Art Shell, Jackie Slater and Jonathon Ogden. But there's also Walter Jones, one of the best offensive tackles in history.
Jones was drafted sixth overall by the Seattle Seahawks. He has played 13 years from 1997 till 2010. Jones released Tweets on his Twitter account indicating that he will retire, but he has made no official announcement yet.
Walter was named to nine Pro Bowls, including eight consecutive selections from 2001-2008. He also made the First-Team All-Pro roster four times. He was also selected to the 2000's All-Decade team.
Guard: Gene Upshaw
Upshaw played offensive guard for the Oakland Raiders from 1967-1981. Out of a possible 217 games, he played 207.
He was selected to six consecutive Pro Bowls from 1972 to 1977. He is a four time First-Team All-Pro and also a four time Second-Team All-Pro.
Gene is the only player in NFL History to play in three Super Bowls with the same team in three different decades. He won two of those Super Bowls.
Gene Upshaw was inducted into the Hall of Fame in 1987.
Guard: Joe DeLamielleure
Joe DeLamielleure is very deserving to get this guard slot.
In 1973, Joe's first year in the league with the Buffalo Bills, he was remarkable. He was part of an offensive line nicknamed the "Electric Company."
The line were the blockers that paved the way for O.J. Simpson to rush for 2,003 yards. That was the first time an NFL running back rushed for 2,000 yards in a season, and O.J. did it in 14 games.
Joe was selected to six consecutive Pro Bowls from 1975-1980. Also in the span of 1975-1980, he was named to six consecutive First-Team All-Pro rosters. He made the 1970's All-Decade team as well.
Joe Delamielleure was inducted into the Hall of Fame in 2003.
Center: Jim Otto
Jim Otto is the best center in the history of any league.
Jim played for the Oakland Raiders from 1960 to 1974. He played his first 10 years in the AFL and then his last 5 in the NFL.
He is one of only 20 players to play in all the ten years that the AFL existed. He was selected as an AFL All-Star every year he played in the league, so overall 10 consecutive selections.
When the AFL ceased to exist, the Raiders moved back to the NFL and Otto was selected to the Pro Bowl for three consecutive years. Overall, Otto was named as an All-Star every one of his first 13 years as a Professional Football Player. 
Not only 13 All-Star selections, he was also a 13 time All-Pro when you add his 10 in the AFL and 3 in the NFL.
Otto never missed a game due to injury. If you include preseason, regular season, and postseason games, Otto competed in 308 consecutive games.
Jim Otto was inducted into the Hall of Fame in 1980.
Tight End: Kellen Winslow 
Before I explain why Kellen Winslow is the best tight end of All-Time, I want to credit Tony Gonzalez.
Tony is the only tight end to really challenge me to pick anyone over Kellen. Tony has dominated as a tight end, but he did it when the tight end position was more of a receiving position over purely blocking.
Who was the tight end that contributed greatly to that transformation of the position?
Kellen Winslow.
Kellen Winslow played nine years in the league with the San Diego Chargers before he had to retire due to injury. He played when the tight end position was more of a blocking role than receiving. Kellen is one of the great tight ends that made it into a receiving position.
In the 1980 season, Kellen set an NFL record that still stands for receiving yards in a single season, a whopping 1,290 yards.
In the 1981 season, he tied an NFL record by catching five touchdown passes in one game.
He has 541 career receptions, 6,741 career receiving yards and 45 touchdowns scored. He was selected to five Pro Bowls and named to the 1980's All-Decade team.
Kellen Winslow was inducted into the Hall of Fame in 1995.
Wide Receiver: Jerry Rice
Do I really need to explain this one?
Jerry Rice is the All-Time leading receiver in receiving yards, touchdowns and receptions. He has 1,549 receptions, 22,895 receiving yards and 208 total touchdowns scored.
Rice has three Super Bowl rings, was named to 13 Pro Bowls, 11 First-Team All-Pro rosters, played 20 NFL seasons and made both the 1980's and 1990's All-Decade Teams.
Jerry Rice was inducted into the Hall of Fame in 2010.
Wide Receiver: Don Hutson
This one I do have to explain.
Don Hutson is, at the very least, the second best wide receiver in NFL History.
No wide receiver in NFL History dominated the league more than Hutson did.
He played 11 seasons with the Green Bay Packers, and he was easily the best receiver in the NFL for all 11 seasons. Hutson at receiver is what made the receiving position what it is today.
As of the end of the 2010 NFL season, Hutson still holds the following records:
Most seasons leading league in pass receptions (8),
Most consecutive seasons leading league in pass receptions (5),
Most seasons leading league in pass receiving yards gained (7),
Most consecutive seasons leading league in pass receiving yards gained (4),
Most seasons leading league in pass receiving touchdowns (9),
Most consecutive seasons leading league in pass receiving touchdowns (5), 
Most seasons leading league in scoring (5), and
Most consecutive seasons leading league in scoring (5).
His 1942 season can be considered the best season a wide receiver has ever had. He had 74 receptions for 1,211 yards with 17 touchdowns.
The next three of the league's leading receivers in 1942 combined for 74 receptions, 1,336 yards and 17 touchdowns. Remember, that's combined stats of the next three leading receivers in the year.
Also, his 1942 season was not a 16-game year. Projected over a 16-game schedule, Hutson's 1942 season would look like this: 108 receptions, 1,761 yards and 25 touchdowns.
Don't forget that Hutson did this when the passing game wasn't even close to what it is today. 
Hutson destroyed the league his entire career. His career numbers are 488 receptions, 7,991 yards and 99 touchdowns. Those were all records at the time of Hutson's retirement. Hutson was also selected to the 1930's All-Decade team.
Kicker: Morten Anderson
Morten Anderson is the All-Time leader in points scored, field goals made and extra points made.
He played in the NFL for 24 seasons, 13 of which were for the Saints and 8 of which were for the Falcons. He leads both franchises in points scored.
Morten made the Pro Bowl seven times, made the First-Team All-Pro roster three times and was selected on both the 1980's and 1990's All-Decade team.
So, there it is. The All-Time Pro Football Offense. Damn, it would be brutal for a defense to have to face off against that roster in a Pro Bowl type game.
It would make yesterday's 59-41 score look like a defensive battle.
I hope you guys liked this piece, and if you have any disagreements with my selections, feel free voice you're opinions below.