2012 Pro Bowl
Pro Bowl 2012: AFC and NFC Rosters, Date, Time and TV Info

Kent Nishimura/Getty Images
January 24, 2012
Every player in the league would like to be disqualified from the 2012 Pro Bowl, but only the New England Patriots and New York Giants players are that lucky—or good—this year.
The majority of the league's top players will instead be in Honolulu for the NFL's annual all-star game.
Big names like Aaron Rodgers and Drew Brees will be on hand, but there are also some players "out with injury" like Ray Rice and Terrell Suggs.
Overall, the experience is an exciting one for players both young and old.
It isn't Indianapolis, but the second-best place to be this year is certainly Hawaii.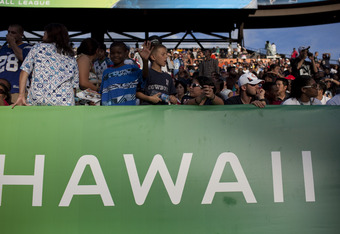 Kent Nishimura/Getty Images
Where: Aloha Stadium, Honolulu
When: Sunday, Jan. 29, 7 p.m. EST
Watch: NBC
Rosters (by position)
*-denotes starter
x-denotes out because of injury
y-denotes replacement for injured or Super Bowl player
z-will not play; Super Bowl participant
QBs

AFC

*z-Tom Brady, New England
Ben Roethlisberger, Pittsburgh
Philip Rivers, San Diego
y-Andy Dalton, Cincinnati
NFC
*-Aaron Rodgers, Green Bay
Drew Brees, New Orleans
z-Eli Manning, N.Y. Giants
y-Cam Newton, Carolina 
RBs
AFC
*x-Ray Rice, Baltimore
Maurice Jones-Drew, Jacksonville
x-Arian Foster, Houston
y-Ryan Mathews, San Diego
y-Willis McGahee, Denver
NFC
*-LeSean McCoy, Philadelphia
Matt Forte, Chicago
x-Frank Gore, San Francisco
y-Marshawn Lynch, Seattle 
FBs
AFC
*-Vonta Leach, Baltimore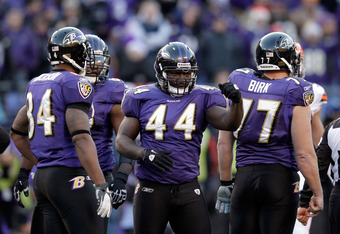 Rob Carr/Getty Images
NFC
*x-John Kuhn, Green Bay
y-Michael Robinson, Seattle
WRs
AFC
*z-Wes Welker, New England
*-Mike Wallace, Pittsburgh
A.J. Green, Cincinnati
Brandon Marshall, Miami
y-Vincent Jackson, San Diego
NFC
*x-Calvin Johnson, Detroit
*-Larry Fitzgerald, Arizona
Steve Smith, Carolina
Greg Jennings, Green Bay
y-Roddy White, Atlanta
TEs
AFC
*z-Rob Gronkowski, New England
Antonio Gates, San Diego
y-Jermaine Gresham, Cincinnati
NFC
*-Jimmy Graham, New Orleans
Tony Gonzalez, Atlanta
OTs
AFC
*-Joe Thomas, Cleveland
*x-Jake Long, Miami
D'Brickashaw Ferguson, N.Y. Jets
y-Ryan Clady, Denver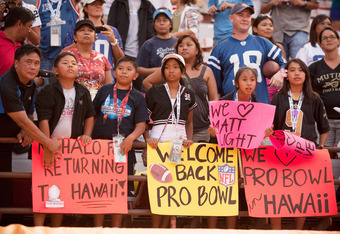 Kent Nishimura/Getty Images
NFC
*-Jason Peters, Philadelphia
*-Joe Staley, San Francisco
Jermon Bushrod, New Orleans
OGs
AFC
*z-Logan Mankins, New England
*z-Brian Waters, New England
Marshal Yanda, Baltimore
y-Ben Grubbs, Baltimore
y-Brandon Moore, N.Y. Jets
NFC
*-Jahri Evans, New Orleans
*-Carl Nicks, New Orleans
Davin Joseph, Tampa Bay
Cs
AFC
*x-Maurkice Pouncey, Pittsburgh
Nick Mangold, N.Y. Jets
y-Chris Myers, Houston
NFC
*-Ryan Kalil, Carolina
Scott Wells, Green Bay
DEs
AFC
*-Dwight Freeney, Indianapolis
*x-Andre Carter, New England
Elvis Dumervil, Denver
y-Antonio Smith, Houston
NFC
*-Jared Allen, Minnesota
*-Jason Babin, Philadelphia
z-Jason Pierre-Paul, N.Y. Giants
y-Julius Peppers, Chicago
DTs
AFC
Larry French/Getty Images
*-Haloti Ngata, Baltimore
*z-Vince Wilfork, New England
Richard Seymour, Oakland
y-Geno Atkins, Cincinnati
NFC
*-Justin Smith, San Francisco
*-Jay Ratliff, Dallas
B.J. Raji, Green Bay
OLBs
AFC
*x-Terrell Suggs, Baltimore
*-Von Miller, Denver
Tamba Hali, Kansas City
y-James Harrison, Pittsburgh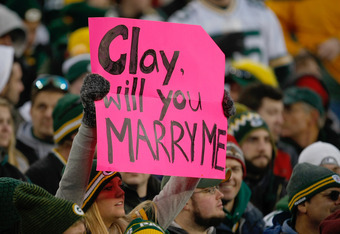 Scott Boehm/Getty Images
NFC
*-DeMarcus Ware, Dallas
*-Clay Matthews, Green Bay
x-Lance Briggs, Chicago
y-Chad Greenway, Minnesota
ILBs
AFC
*-Ray Lewis, Baltimore
Derrick Johnson, Kansas City
NFC
*-Patrick Willis, San Francisco
x-Brian Urlacher, Chicago
y-London Fletcher, Washington
CBs
AFC
*-Darrelle Revis, N.Y. Jets
*-Champ Bailey, Denver
Johnathan Joseph, Houston
NFC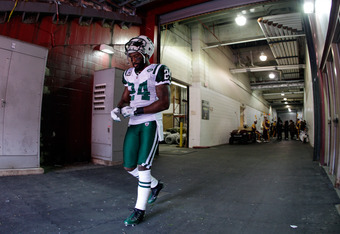 Rob Carr/Getty Images
*-Charles Woodson, Green Bay
*-Carlos Rogers, San Francisco
y-Brandon Browner, Seattle
Charles Tillman, Chicago
FSs
AFC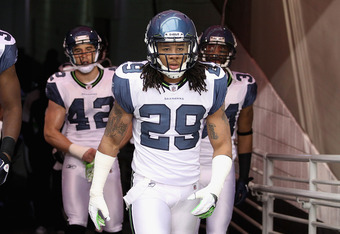 Christian Petersen/Getty Images
*-Ed Reed, Baltimore
Eric Weddle, San Diego
NFC
*-Earl Thomas, Seattle
Dashon Goldson, San Francisco
SSs
AFC
*x-Troy Polamalu, Pittsburgh
y-Brian Dawkins, Denver
NFC
-Adrian Wilson, Arizona
y-Cam Chancellor, Seattle
Ps
AFC - Shane Lechler, Oakland
NFC - Andy Lee, San Francisco
PKs
AFC - Sebastian Janikowski, Oakland
NFC - David Akers, San Francisco
KRs
AFC - Antonio Brown, Pittsburgh
NFC - Patrick Peterson, Arizona
Special Teamers
AFC
z-Matthew Slater, New England
y-Montell Owens, Jacksonville
NFC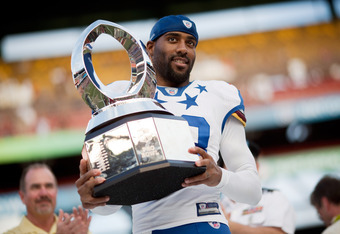 Kent Nishimura/Getty Images
Corey Graham, Chicago
LS
Jon Condo, Oakland
Prediction: NFC 35, AFC 28
MVP: LeSean McCoy, RB, Eagles
Like the new article format? Send us feedback!