NFL Commissioner Roger Goodell Is No Friend to the Fans
January 28, 2012

Mike Stobe/Getty Images
Atlanta Falcons owner Arthur Blank,  chairman of the compensation committee, shared with ESPN his affection for the man who worked his way through the ranks of the NFL corporation. "As evidenced by this contract extension, we have great confidence in Roger's vision and leadership of the NFL. Our clubs, players and fans could not ask for a better CEO."
Mr. Blank is a third correct. The clubs and owners couldn't ask for a better steward of the league, but players and fans could do much better. 
Goodell's contract extension runs through 2018, ensuring a league driven by the dictator bent on maintaining his power and expanding his league. In a conversation with 60 Minutes this week, Goodell discussed his thoughts on how the NFL has been helpful in these tough economic times.
"People want to feel part of a group, feel like they're connected, and right now during these difficult times, they can turn on free television and watch the greatest entertainment that's out there," Goodell said to ESPN. "They can forget their worries for just a few hours."
At first blush this position seems both innocuous and accurate. Football is, after all, free entertainment that does dilute worries for a few hours. Goodell's comment, however, falsely orients his football product into a position of allegiance with a struggling middle class and not in antagonism towards them. It's a master sleight-of-hand that obscures the truth and patronizes the fans.
Pro football isn't a corporatized Mother Theresa doling out Chunky chicken soup for the soul at every stadium. It's a shrewd and mega-successful business that's interested in the fans only so it may separate them from their hard-earned cash.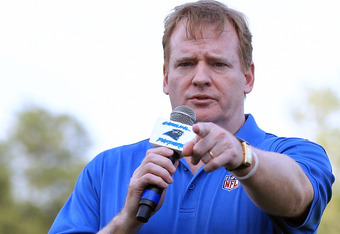 Streeter Lecka/Getty Images
Goodell's product isn't meant to salve the deep economic wounds of the country—it's meant to make money in spite of those wounds. And it does it well. Perhaps too well. 
"Our biggest challenge going forward is how do we get people to come to our stadiums because the experience is so great at home," he says. "When you turn on (a game), you want to see a full stadium."
This idea sounds populist in orientation, but Goodell doesn't want to fill a stadium out of love for the common man. His primary objective is to fill it because the audience in attendance are what Hollywood folks call "background talent" for Goodell's television programs.
These "extras" pay steeply to fulfill Goodell's needs. In one way, in Goodell's way, the surging crowds in the stadiums are unsuspecting rubes there to populate a television frame and thus increase his revenues. His interest isn't in the fans nor the players. 
Goodell's gone kicking and screaming into player safety and retired player benefits. Recently, the league's started to focus on player safety and discipline, but his rulings often seem overly harsh and idiosyncratic. As cop, lawyer and judge, he fines and suspends with an impunity that has angered many pro players who feel his proprietary approach is at best.
He's seemed to have had a double standard when approaching the sanctity of the game. While he hands down sharp fines for helmet-to-helmet hits and personal conduct policy of the players, he seems to be more nuanced when it comes to addressing coaching issues. 
Goodell was questioned for his handling of Spygate in 2007 that saw him hastily destroying all evidence of Patriot's coach Bill Belichick cheating by recording opponents signals and more. He fined Belichick $500,000, fined the team $250,000 and took away a first-round draft pick, but those fines were tepid when considering the overall sanctity of regular season and Super Bowl wins.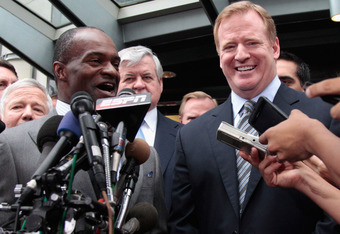 Rob Carr/Getty Images
Another example is in then-Raiders coach Tom Cable, who broke the jaw of his defensive assistant Randy Hanson during a 2009 training-camp argument that saw Goodell sit on his hands when an investigation was assumed. This was incongruous with the variety of personal conduct policy fines he leveled at players over the season.
For a man purportedly worried about the fans, his track record suggests something different. The NFL recently penned nine-year extensions with its broadcast partners in ESPN, FOX, NBC and CBS that could yield as much as $3 billion in broadcast revenues by 2022. 
23 of the top 25 rated TV programs during the football season were NFL games that lead to this year's league revenue projected to top 10 billion dollars. With that kind of cash windfall, some could assume ticket prices would stagnate or at least slow with the pace with the economic sluggishness the country is experiencing.  But no. 
Though the NFL front offices don't control all pricing they certainly have a strong influence in the area. Between parking, tickets, food and drink, a family of four could easily spend $1000 to sit in Candlestick Park on a windy and rainy afternoon. That thousand dollars could be spent on a decent flat screen television to watch a season full of games.
The pinnacle of this madness is the Super Bowl, when the average ticket for the game is $4,337. That pricing isn't for the fan at all, but rather for the corporations who send their employees and partners.
Pro football is a business, but it's more than that as well. The NFL franchises have compacts with their fans and host cities. A team is in partnership with a community, not in opposition to it.  Teams often look for public funding for help building state-of-the-art facilities and stadiums only never sharing in the revenue generated in such endeavors, but in fact, continuing to charge people for the services they helped provide.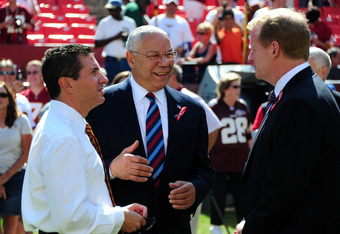 Scott Cunningham/Getty Images
And when a team is lucky enough to win the Super Bowl, the team rarely picks up the bill for the millions spent on parades and clean up. Other than the Green Bay Packers who are literally owned by the fans, the fans are there to serve the owners, and not the other way around.
Goodell is interested in his job and that is to keep his bosses happy—and his bosses aren't the fans. They're the Aurthur Blanks and Pat Bowlen's of the world.
Goodell's job is difficult and he seems to do it very well in many capacities. He was rewarded with a new contract, due in no small part, to his brokering of a new 10-year collective bargaining agreement that came in the wake of a tense four-and-a-half month lockout. Though the parameters of his new contract weren't  disclosed, it's safe to assume he's due to make more than the $10 million in salary and bonuses in his last deal. 
He's rich and he serves at the pleasure of his bosses. For some that fact is reprehensible, for others, it's a neutral fact of life, but Goodell should at least own up to what he is and who he's working for and stop pretending to be something he's not—at least then people will be part of a group who's respected.