2012 Super Bowl Picks: Betting Predictions, Against the Spread Picks, Analysis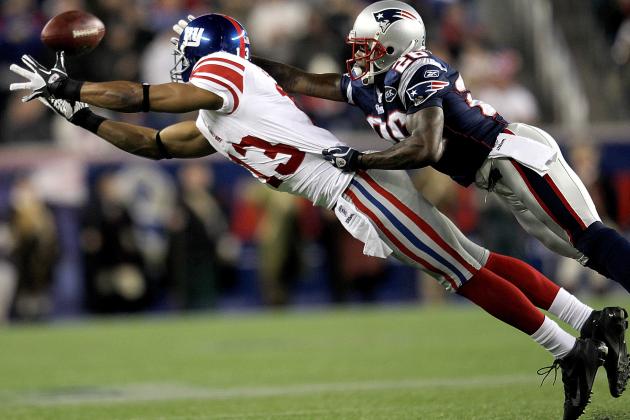 Jim Rogash/Getty Images
All in.
NFL Picks: Super Bowl XLVI
Straight Up: New York Giants
Against the Spread: New York Giants plus-3
Over/Under: Under 55.5
New England hasn't scored stratospherically against good defenses and the Giants hold pretty consistently in the mid-20s in terms of points. The score will be in the neighborhood of 23-20 or 28-24.
Regular Season NFL Predictions Record
Straight Up: 176-80
Against the Spread: 148-108
Over/Under: 130-126
NFL Playoff games are won on the strength of individual matchups. Really? Are you sure?
We hear it all the time: "DB Joe Smith matches up well with WR John Jones."
(Or, if you're talking about Detroit WR Calvin Johnson: DBs Smith, Williams and Roberts.)
In the next week, we'll continue seeing endless media product hyping Tom Brady versus Eli Manning. But these quarterbacks will be asked to execute vastly divergent offensive schemes because the offensive personnel are almost diametric opposites in terms of ability.
There is no point in comparing Manning's deep ball accuracy with Brady's. Brady won't throw more than three deep balls in the entire game while Manning will let it fly, possibly from the first snap.
The real difference here isn't even the obvious leadership style comparison. It's in fundamentally contradictory worldviews.
The first thing out of Tom Brady's mouth on the championship stage was, "Well I sucked pretty bad today but our defense saved us. I'm gonna go out and try and do a better job in a couple of weeks."
On the one hand, it's admirable that he took responsibility and praised the defense. On the other—dude, it is not all about you.
At the reverse end of the life-philosophy spectrum was Eli Manning's response when asked in the NFC Championship post-game Q&A how he was a different quarterback than the one who won it all in 2007: "Well, I'm four years older."
Not a dissertation on his skill set, improved football judgment, blah, blah, blah. Just an off-the-cuff joke as he left the room.
A new phrase has entered the American lexicon in the past decade. "The cult of personality."
It's as if, as a society, we cannot help ourselves from being distracted by bright, shiny characters. Flash over substance abounds.
One look at the amount of plastic surgery and posturing on the political debate stages should confirm the accuracy of the phrase.
The Super Bowl Vegas odds also confirm it. Let's remember that betting odds are not real. They are like stock prices. They exist as a reflection of public perception.
People will apparently bet on Tom Brady no matter what.
During these playoffs, Brady seemed to make usurping Tim Tebow's place in the American sports imagination his personal mission—he succeeded.
Playoff Tom is the absolute personification of "fired up."
Eli Manning made a rare speech to his team this week. He told them to take care of all their personal/family/friends/tickets business in the first two days so that they could concentrate on game preparation. That's it, that was the speech.
It's hard to find a single personality to "cult" around on the New York Giants.
The Patriots are Tom Brady and Bill Belichick (who has taken having no personality to such an extreme that it has become captivating).
The New York Giants are discipline, detail and toughness.
I prefer my matchups packaged as units, not superstars. I'm a firm believer in the "for want of a nail, the shoe was lost" details-before-glamour theory of team building.
Brady and Manning may be the top ornaments on their teams, but there's quite a foundation holding them up.
Begin Slideshow

»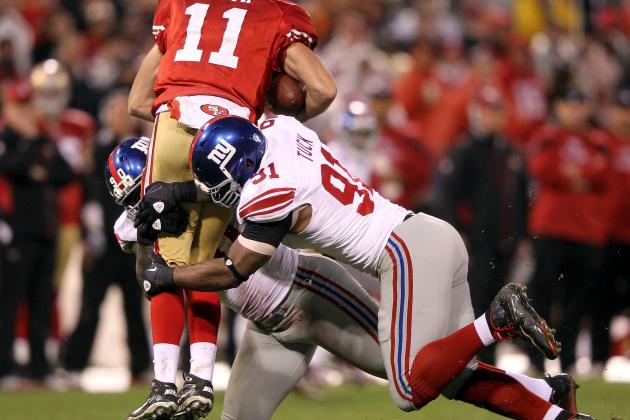 Jamie Squire/Getty Images
Gotcha
Let's face it; this is the ballgame. Forget Victor Cruz and the status of Rob Gronkowski's ankle.
If Big Blue's pass rush can disrupt Tom Brady, New York will win. If you have any doubts, replay the Championship game. Or Super Bowl XLII.
Patriots
Tom Brady's awards-stand comments were a bit extreme, but he was right.
And it was all because the Ravens defense bothered him consistently from the second quarter on. Baltimore could easily have been the winner. Actually, I think they were—but that's a different article.
The Patriots offensive line has battled injuries as well as opposing defenses all year long.
Cornerstone Matt Light is the only holdover from the Super Bowl years. He's been protecting Brady's blindside since 2001, which makes him, uh, old. In O-lineman years he's like, 100.
But the only breakdown appears to be in his more frequent injuries; his play on the field retains superstar status.
Guard Logan Mankins has only been in the trenches since 2005 and the necessity of his presence was highlighted by a recent holdout that had a devastating effect on the Pats offense.
New England fans are very fortunate that these two do not appear on the injury report. Then again, it is the Patriots injury report—which is about as helpful as a political spin machine.
29-year-old Center Dan Connolly is an excellent athlete who has been injured often in 2011, but who also is absent from the infamous list.
Then there is 12-year veteran RG Brian Waters. Even anti-Pats people have to be happy for a guy who labored away in Kansas City for years before joining New England this season. I think it's been good for New England's offense to have someone there who appreciates finally being on a winning team.
Winning may be expected in Boston, but Waters knows it's also a privilege. Waters is on the wrong side of 30, but his play this year has been glue on a much-shuffled front line.
Then there's rookie Nate Solder. Uh-oh. Yep, I said "rookie." This Colorado grad has played in all 16 games and has started 13. He's very good—but it is his first season.
Don't ever underestimate the intelligence and just plain old football savvy necessary to be part of an elite offensive line. Solder is good and he's going to be excellent. But right now, he's a bit short on the experience stick. Expect to see the Giants load up on him.
Solder, Connolly and Mankins were all first-round picks, if you have any doubts about how highly Tom Brady's health is valued in New England. As for Waters and Light—who can remember back that far?
This group has one purpose in life: protect Tom Brady. In case you haven't noticed, the Patriots running backs are kind of out there on their own. This O-line is all (and I mean all) about pass protection.
I'm sure Colts center Jeff Saturday will make an appearance or two on the NFL Network during these two weeks. Listen to him.
His offensive line has (or had) the exact same mission and makeup. Except Saturday was an undrafted free agent, so you might not want to bring up that whole "first-round pick" thing. He gets touchy.
Giants
Lest you think that the foregoing spells victory for New England, allow me to point out that the Giants defense has recorded 48 sacks this season. Their opponents have recorded 28.
Starting defensive end (and, yes, first-round draft choice from two years ago) Jason Pierre-Paul accounts for 16.5 of them. I'm fairly certain Bill Belichick is aware of this stat.
However, the key to this defense's overall power is Osi Umenyiora. Umenyiora was plagued for most of the season by nagging injuries and a nagging bad attitude. He's been unable to get a new contract and he is, shall we say, annoyed.
But sometime in December two things happened. His knee got better and he decided to put his personal contract issues aside and go "all in" with his teammates.
I think he woke up and realized that he is the elder statesman on this defense now. He was Michael Strahan's heir from 2007 onward. It just took him until now to accept the role.
The timing couldn't have been better. Osi turned into a leader and a team player and everyone else on the line finally got healthy.
DT Linval Joseph is another second-year standout, just in case Brady pulls one of those pesky QB sneaks in the Big Game.
Fellow DT Chris Canty chose 2011 to remind us all why the Giants snatched him up in free agency from the Cowboys. I admit that I had started to wonder.
Back up DT Rocky Bernard is downright frightening. Do not show his headshot to your children.
To call DE Dave Tollefson second-string really doesn't do justice to the season he has had while star Justin Tuck struggled with injuries. Tollefson racked up five sacks of his own in two games started.
Some of the jersey numbers have changed since this unit won it all in 2007, but the plan is the same: completely ruin the opposing quarterback's day.
The front four combinations are so strong that blitzes are often not needed to get the job done. But in 2007, then coordinator Steve Spagnuolo schemed them anyway. Defenders came from all three levels of the D to rattle Brady.
This is current defensive coordinator Perry Fewell's chance to make his mark in a long line of defensive masterminds. We will all be watching.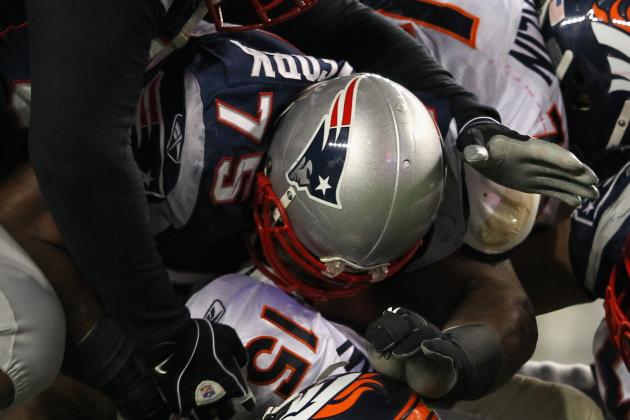 Al Bello/Getty Images
Ouch
"Games are won in the trenches." You hear it at some point during every game.
Although I couldn't find an historical notation as to exactly who adapted the phrase to the gridiron, I am sure that it was born of cold, wet days with a lot of men churning up a lot of mud while locked in conflict.
I'm always mindful that comparing sports to battle is a dangerously cavalier disservice to true soldiers, but one can certainly see the parallel when it comes to O-line versus D-line.
There may not be mud at Lucas Oil Field, but there will be Patriots DT Vince Wilfork and Giants Center David Baas. Do you think they'd mind that those two names conjure up images of Clydesdales straining against the traces?
New England
Wilfork just missed the Pats win over Carolina in SB XXXVIII, but in his eighth NFL season still made the earth rumble on two INT returns. The man is 6'2" and weighs 325 pounds. No wonder he can stop opposing runners.
Former third-string DE Mark Anderson has recently made a name for himself after the Pats lost starter Andre Carter for the year.
Second-year DT Kyle Love may not be a household name just yet, but he started 13 games and contributed three sacks and 33 tackles in the regular season. Mr. Love is a trim 310 pounds and wins the "most ironic football name" award.
Former Jet Shaun Ellis finally makes it to the "show" after two lost AFC title games with Gang Green.
He's just a little excited, judging by his interviews and scowling game face. Why not? He's 34 years old (see above note about O-lineman Matt Light's age). It's a testament to conditioning and extraordinary luck that his body has enabled him to keep playing.
New England head coach Bill Belichick made his bones as a defensive genius. His Patriots teams have always swung back and forth between 3-4 and 4-3 fronts, much to the chagrin of opposing offenses.
The front four men will undoubtedly be itching to prove that the Giants aren't the only Super Bowl team with a dominant D-line.
New York
In their way will be the aging, constantly-on-the-verge-of-IR offensive line of the New York Giants. They've been shuffled so much they resemble an Alice In Wonderland-sized game of 52 card pickup.
Here's a series of headlines from the past months:
Giants' David Diehl has boosted offensive line after position switch.
Giants' Patchwork Offensive Line Energized By Mitch Petrus.
You see the pattern, right? Frankly, it a ringing endorsement of both player character and excellent coaching that this unit hasn't gotten Eli Manning killed—yet.
When healthy, the New York Giants offensive line is Tom Coughlin's shining achievement and the building block of one of the best teams of the past eight years.
When Coughlin took over, the O-line was a joke and the team was inconsistency personified. Just ask Kerry Collins and Kurt Warner, who were lucky to get out of the Big Apple alive.
San Francisco sacked Eli Manning six times, "officially" hit him seven more times and hurried him 13 times.
Why a "hurry" includes being shoved to the ground is something you'll have to ask the football stats people. I just know that Eli Manning had weird marks all over his face after the game and seemed to be picking grass off of his facemask on every other play.
I once hear Phil Simms say on Inside the NFL that, as a quarterback, you could always tell which lineman missed the block. He was the one helping you up and saying "You okay, Phil?"
The Patriots offensive line is grounded in pride. The Giants offensive front must come up with whatever combination of anger, stubbornness or determination can allow them to both open some running holes around the mountainous Wilfork and keep their offensive leader in the game.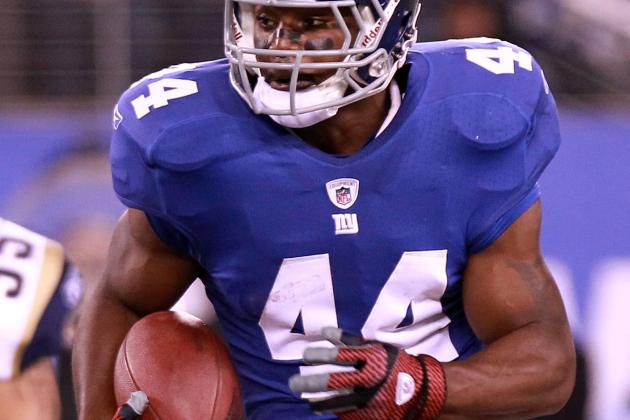 Nick Laham/Getty Images
Ground Game Needed
New England
We all know that running is not the Patriots strong suit, but you have to do it sometimes, right? Late in the year, Belichick started calling the run out of a no-huddle offense and that has brought the most ground game success thus far.
New England's BenJarvus Green-Ellis looked like a real NFL running back last week against Baltimore. Green-Ellis has averaged four yards per carry over his four-year career. Against the Giants in 2011, he has averaged one-third of a yard more. Yeah, and...?
Nothing. The only stat that will matter in the Super Bowl will be touchdowns scored. "The Law Firm" scored one against Baltimore.
San Francisco's running backs Frank Gore and Kendall Hunter were surprisingly effective against the Giants defense on Championship Sunday, totaling 105 yards.
But, Niners QB Alex Smith rushed for 42 yards. That's a challenge that the Patriots statue-esque Brady will not contribute.
However, the Patriots have running backs who are not RBs. I'm not expecting much mobility out of sore-ankled TE Rob Gronkowski, but if Aaron Hernandez is healthy you can be sure that he'll be in the backfield at least a few times.
He only had three runs for nine yards in the Championship game, but after his rushing success against Denver, Big Blue will be forced to account for him even if he never gets the ball.
Then there is tiny scatback Danny Woodhead. In his own way, Woodhead filled the Kevin Faulk role: nothing flashy when you look at the stats, just very important yards.
Watch to see if rookie Stevan Ridley will return to duty after being deactivated last weekend. Ridley's status may not be clarified until game time if Belichick decides to use him as a decoy.
Finally there is the runner/jumper quarterback Tom Brady. In what I view as another example of ego indulged, Brady on the sneak seems to be the Patriots new favorite goal-line play.
New York
I don't understand why everyone is constantly criticizing Giants power rusher Brandon Jacobs. They call him slow.
Has it really been so long since the NFL featured a power back that fans don't recognize it when they see it? Um, speed is not the point. The point is being viewed as a running tank.
The one-man New York armored division has averaged four-and-one-half yards per rush in the postseason. I would suggest that the Pats linebackers keep an eye on No. 27. It's not like he's hard to find.
Starting RB Ahmad Bradshaw will have two weeks to rest his injured foot. Giants fans hope that will result in a fresh and quick RB option.
Bradshaw rolled up 74 yards against a San Francisco defense that was the NFL's toughest in 2011.
Even rookie fullback Henry Hynoski can tote the rock—and catch it. He is one of those easily overlooked offensive weapons who can translate to touchdowns in the red zone.
And, if healthy, D.J. Ware has been known to get some tough goal-line yards.
Eli Manning is fully Tom Brady's counterpart in the anti-mobility department; I don't think Belichick will be wasting prep time on Eli as a rush threat.
I give New York the edge in rushing. Their running backs are all actually—running backs.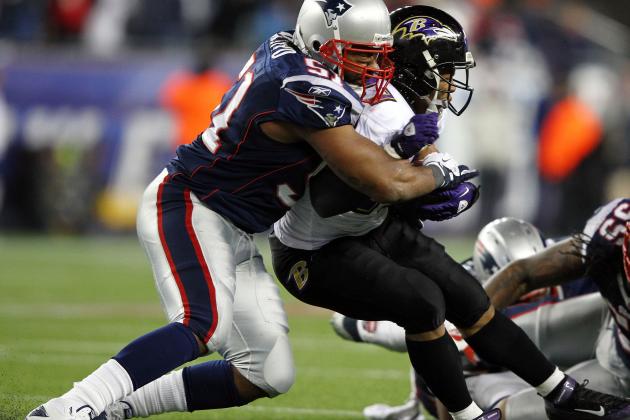 Al Bello/Getty Images
Not so fast
And who will be trying to stop those fleet-of-foot rushers? Guys wearing numbers that start with five. Well, mostly.
Giants
New York's linebacking corps has had as many injury issues as their front four. Chase Blackburn and rookie Mark Herzlich filled in admirably while Michael Boley was hurt, but both are now questionable.
Middle linebacker Greg Jones is sort of the forgotten man among the Giants' LBs. That's probably because the New York defensive scheme usually removes the MLB on passing downs. If I had that pass rush, I would do the same thing.
Outside linebackers Michael Boley and Mathias Kiwanuka also shine in pass rushing, but each is a force no matter what down they play.
The Giants defense is so flexible that 21 defenders and five different linebackers recorded tackles against the Niners.
Patriots
Jerod Mayo was drafted a few years ago to be the great new hope at linebacker in Boston. He's very good, but he's been hurt much of this season and hasn't been back at starter for very long.
Yeah, it's been that kind of year for the Pats defense. Games playing together as a starting unit have been few and far between.
In the Championship game, Brandon Spikes decided to behave himself and play football. He made one of the Championship game's huge interceptions. He also led the team with nine tackles. I do not want to jinx the young man, but I do not think that the Super Bowl hype is going to be good for him.
Rob Ninkovich has come on very strong in the latter part of the season and will bear constant watching. He's had a fumble-forcing knack that has caused quite a bit of havoc in this postseason.
The Patriots are doing something right—the NFL's second-leading rusher Ray Rice managed only 67 yards against them in the big game.
I give New York the edge here: the players are more mature, the scheme has had a longer tenure and the athletes have more talent.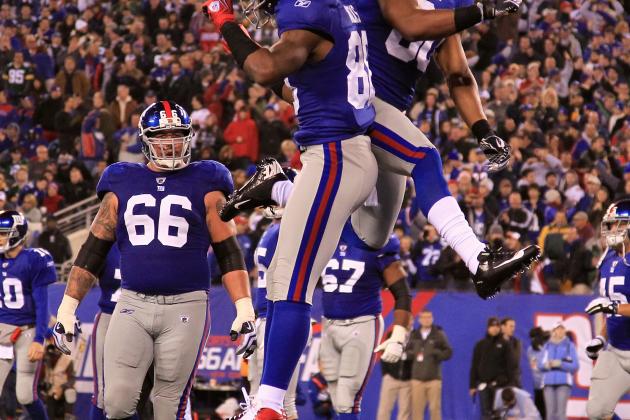 Chris Trotman/Getty Images
Now that's some hops
Well, this matchup just doesn't seem fair.
New England
The Patriots have one decent WR in Deion Branch. But Mr. Branch is only decent when he plays with Mr. Brady—so let's not get carried away.
Chad Ochocinco's father just passed away and he was not even present at the Championship Game. He is back with the team now, but he has been a complete non-factor all year, I'm sorry to say.
That's it for true wide receivers.
I don't know exactly what you'd call Patriot Wes Welker, since he's really too short to be a proper WR—but he is the single most dangerous ball catcher on the team.
Just when you've concentrated on those two Tight Ends, Welker will zip across the middle and take a checkdown pass 99 yards for the score.
After being rejected by both the Chargers and Dolphins, Welker has played with exactly the same type of "I get no respect" anger as Brady. No wonder they are so successful together.
Yet another example of Bill Belichick and Tom Brady being able to turn B-plus players into Pro Bowlers, Welker scored one TD in three years in Miami. In five years with New England he has 31 touchdown receptions.
And how about those tight ends? You know something is successful in the NFL when everyone else starts imitating it. In many ways, 2011 became the Year of the Tight End due to New England's lethal use of Rob Gronkowski and Aaron Hernandez.
Not surprisingly, no other team has had the same level of success. Gee, think it's because your tight end has to be an athlete as good as Rob Gronkowski? And you need two of them?
Let us not forget that in the 2007 Super Bowl, Tom Brady was throwing the ball to Randy Moss. Randy. Moss.
New York
Big Blue has a true wide receiving corps. Hakeem Nicks, Mario Manningham and Victor Cruz can all score at any moment.
Nicks had seven regular season TDs, Manningham had four (and he was injured for quite a few games) and young Mr. Cruz had nine.
Tight End hasn't been the strongest position in the aerial game, primarily due to Jake Ballard's nagging injuries.
But—and it's a big but—Eli Manning and offensive coordinator Kevin Gilbride sneak in a couple of passes to Ballard, Travis Beckum or even third-string Bear Pascoe in every game. And those sneaky little plays often result in touchdowns.
This is another non-comparison comparison. The offensive strategies are so unique that you can ultimately only look at points.
In the last three games, the Patriots have put up an average of 39 points per game; the Giants have scored an average of 27.
Now, before you go running to call your bookie and put it all on Brady—don't forget that 45 of those New England points were against a sleepwalking Denver defense and 49 were versus a decimated Bills D.
New York only managed 20 points versus that terrifying 49er D, but they put up 31 against Dallas a month ago.
Bob Levey/Getty Images
Really?
Super Bowl inequity seems at its height when looking at the secondaries.
New York
The Giants pass defenders aren't rookies. Cornerbacks Aaron Ross and Corey Webster and Safety Antrel Rolle are all 29 years old. SS Kenny Phillips is the baby at 25.
I consider all four DBs to be A-level players. They may not be Charles Woodson, but they can cover Deion Branch and Chad Ochocinco.
The question will be whether they can cover Welker, Hernandez and Gronkowski, too. Hmmm. Expect both safeties to play close in anticipation of several thousand different kinds of crossing routes and slants.
This is the second key matchup in this game.
Reviewing for a moment, fans—the first will be the Giants pass rushers versus the Patriots O-line.
New York's safeties and linebackers must be able to stop both Patriot tight ends and hope that if Wes Welker gets past them, the corners can catch him. This plan did not work so well against the Niners TE extraordinaire Vernon Davis. Oooh-kay.
Of course, it won't matter if Brady doesn't have time to throw. Review matchup No. 1.
New England
It is not a good sign when your utility return man/WR Julian Edelman spends a very large part of the ballgame playing defensive back.
Honestly, I kept looking and looking—and Edelman was still in there on D. Nothing against No. 11. He's a heck of a versatile athlete. But this is the Super Bowl.
Then CB Kyle Arrington sustained an eye injury and the burden fell on Antwaun Molden. Who?
He's a fourth-year player out of Eastern Kentucky who may have to fill in if Arrington hasn't recovered before Feb. 5.
Then there's Sterling Moore. The undrafted free agent has been a Pat, then not a Pat, then a Pat again in 2011. When CB Devin McCourty has had to sub at Safety, Moore has stepped in. In the AFC Championship game, he stepped in with the game-saving play.
Former Jet James Ihedigbo may also be called upon at Safety.
The best news is that original starting safety, Patrick Chung has returned to the fold to anchor the secondary.
As you can see, this is hardly the most stable unit.
Side by side this is a mismatch in New York's favor. But it will all come down to which QB has time to throw.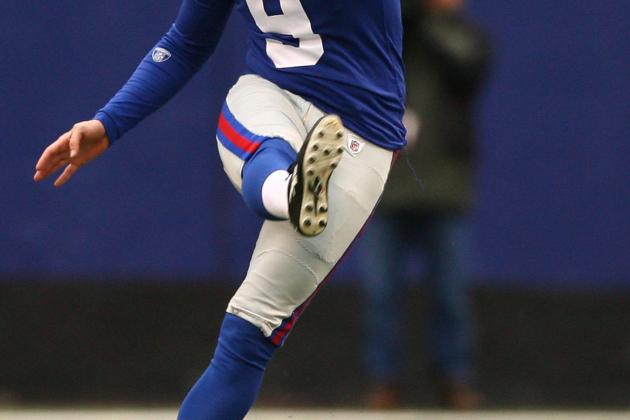 Al Bello/Getty Images
What happened to "eye on the ball?"
Patriots
If Julian Edelman isn't too tired after defending passes, he's a pretty good return man.
Pro Bowl kick returner Matthew Slater is listed on the Patriots website as a Free Safety. Uh-huh.
When he's not returning kicks, he can be seen on offense catching surprise long balls from the quarterback. He burned Big Blue for a 64-yarder the last time that they played.
Second-year punter Zoltan Mesko averages 46.5 and has nailed 24 kicks inside the 20. That is an offensive weapon all by itself.
PK Stephen Gostkowski missed a 27-yard field goal attempt the last time these two teams played. I wouldn't count on a repeat. Gostkowski has a kicking success rate of 84.8 percent.
Bill Parcells always valued special teams play and his protégé, Belichick, has built a squad that features savvy veterans instead of the usual collection of speedster rookies.
Giants
On the other side of the battle is Lawrence Tynes, whose psyche scares me.
Right after the victory, Lawrence Tynes gave FOX sideline reporter Pam Oliver a perfect example of why you do not want to be a NFL PK: "I had dreams about this last night—only it was from 42 yards, not 31."
Raises my blood pressure just thinking about it.
But he has put his team into the Super Bowl twice in four years, so maybe I should have a little faith.
Fun fact: Tynes was born in Scotland. There you go, amaze your guests with that one!
I'm rooting for Giants punter Steve Weatherford, who came up one game shy of the big show twice recently with the Jets. His stats are almost identical to Mesko's.
Plus, he is the unsung hero of the Conference Championship with that superb hold after a bad snap for the final field goal.
I'll bet Jets fans just hate it that he's a Giant!
Return specialists have not been the Giants strength this year. Will Blackmon keeps getting hurt, CB Aaron Ross has filled in and been adequate and rookie receiver Jerrel Jernigan seems to have been the first choice recently.
Kick coverage won the Championship game and this unit will probably be feeling rather confident going into Super Bowl Sunday.
I just have to say it—Devin Thomas never played like this when he was with my Redskins.
Add in smart play by Jacquian Williams and I am fairly sure that Bill Belichick has been threatening to eat the first born of any Patriots special teamer who commits a bone-headed error.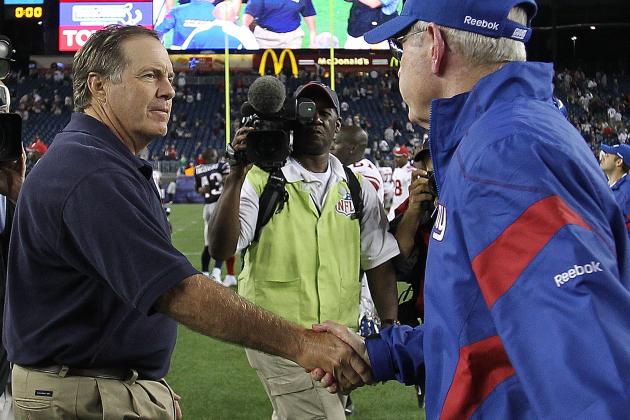 Jim Rogash/Getty Images
May the best man...
I'm sorry, but (if you close your eyes) Tom Coughlin and Bill Belichick could have been switched at birth.
Both are Bill Parcells products. They even coached together for several years in New York: Belichick as defensive coordinator and Coughlin as wide receivers coach.
Both believe in discipline, detail and the importance of team before individual.
Both have been coaching in the NFL seemingly forever.
Both have winning career records and Super Bowl rings.
Both are often accused of being humorless and yet closer examination (okay, you have to really look) reveals dry humor.
Both coaches have ultimately inspired tremendous loyalty from their team.
Despite a rocky beginning to his head coaching style, Tom Coughlin's guys are now really Tom Coughlin's guys and all say the same thing: "He really cares about his players."
He's even learned to smile. Well, sort of.
And if you haven't heard about the fanatical devotion in the New England locker room to "The Patriot Way," you don't watch enough football to understand this article.
Bottom line: it's no accident that the two teams that made it to the Big Game are led by coaches obsessed with detail and strategy and execution. Above all, execution.
Tom Brady's offense exudes confidence in their unorthodox point production while the Giants defensive front (ably augmented by linebackers Mathias Kiwanuka and Michael Boley) are so cocky that they are calling themselves the Nascar defense—referring to the speed with which they get to the opposing signal caller.
Both teams are afraid of no one and stay true to their strengths. They both dare opponents to "stop us."
In the last matchup, Coughlin won out because Belichick did not adequately adjust to Giants defense coordinator Steve Spagnuolo's relentless pressure schemes and Brady was never able to get comfortable.
I'm not sure that he'll make the same mistake twice.
My take on Tom Coughlin's place in NFL history.
One last similarity between Belichick and Coughlin: Both have benefited from A-list quarterbacks.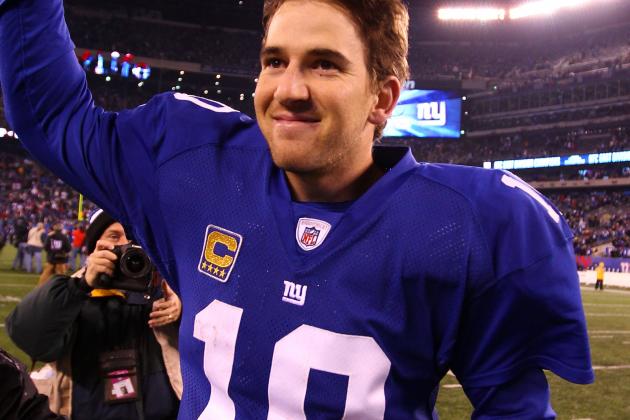 Al Bello/Getty Images
See? He can smile.
Here we are again. Tom Brady versus Eli Manning.
Without Tom Brady, the Patriots are the Cleveland Browns.
Without Eli Manning, the Giants are a pedestrian rushing team with a good defense—when they're healthy.
Neither will win the NFL MVP award.
Patriots
Tom Brady passed for over 5,000 yards in 2011 and will probably hit the 40,000-yard mark in the Super Bowl.
He completed 22-of-36 passes in a sub par performance against Baltimore. But this master of precision has completed 65.6 percent of his 2011 passes and boasts a 105.6 seasonal QB rating.
Brady doesn't usually play poorly twice in a row.
He has tied John Elway with five Super Bowl appearances and, if the Pats win, will join Terry Bradshaw and Joe Montana with four rings.
He was a draft afterthought who rose to stardom when an injury thrust him into the spotlight on a very good team.
New York
Eli Manning is football royalty and a No. 1 overall draft pick.
He struggled through the typical top-draft-pick-on-a-rebuilding-team woes.
He passed for just under 5,000 yards this season and completed 61 percent of his passes.
He is a postseason road warrior who never seems to lose in the lions' den in January. The Giants were the only postseason team to win on the road. The only one.
He threw 58 passes in the Championship game and was pummeled 20 times by the San Francisco defense. And he just kept getting up (I wonder if he spent Monday wrapped in ice—ouch).
58 passes is 44 percent more passes than in a typical game and a season high for the Giants.
Bottom line
Eli is a deadpan Zen master who plays for the kind of coach whose face redefines the color scarlet at least once in every game.
Tom Brady is a fire-breathing dragon who plays for a coach so expressionless as to make one believe in zombies.
Eli Manning gave a clinic on calm while being beaten to a pulp behind his outmatched offensive line. I do not know how he kept standing in there to throw pass after productive pass without a single turnover against the truly excellent San Francisco defense.
Until he proves otherwise, I will believe that Tom Brady does not stay cool under relentless defensive pressure.
In the last Super Bowl, Brady had a very sore ankle and I'm sure that the injury contributed to his inaccuracy. He'll undoubtedly be more mobile this time around.
But I do not think his anger will serve him well against the Giants defensive line—again.
And that is why I am picking the Giants in what I am sure will be a hard-fought game.
It's a wrap
Both teams painted gridiron portraits of perseverance in 2011. Neither allowed surrender through extremely difficult seasons that did not show many signs of ending in Indianapolis.
As Victor Cruz told the NFL Network's Albert Breer after winning the NFC Championship: "We just kept plugging away."
As we Americans slog our way through an ongoing recession, it's encouraging to see anyone keep fighting despite adversity.
Commissioner Roger Goodell attributes soaring NFL ratings to this spirit:
"People want to feel part of a group, feel like they're connected and right now during these difficult times, they can turn on free television and watch the greatest entertainment that's out there. They can forget their worries for just a few hours."
I have my issue with the phrase "ultimate team sport," but at this juncture in America, any living examples of cooperation in pursuit of a worthwhile goal can't do anything but help. Maybe Congress will learn something.
This particular climax to the 2011 NFL season has proven two philosophies to be timelessly true.
As Winston Churchill said, "Never, never, never, never, never, never give up."
And while you're fighting on, remember that the New England Patriots and the New York Giants got to Lucas Oil Field not on the strength of sweeping gestures and grandstanding, but with years of dedication to hard work and the smallest detail:
For want of a nail the shoe was lost.
For want of a shoe the horse was lost.
For want of a horse the rider was lost.
For want of a rider the message was lost.
For want of a message the battle was lost.
For want of a battle the kingdom was lost.
And all for the want of a horseshoe nail.
—15th century European proverb
Check out:
How Gronkowski's injury will affect the Big Game