Seattle Seahawks: Part 2, Have They Painted Themselves into a Corner at QB?
February 16, 2012

Otto Greule Jr/Getty Images
Earlier this week, I outlined the current situation for the Seahawks at quarterback providing my thinking as to why head coach Pete Carroll and GM John Schneider have painted themselves into a corner in Part One. 
So what bold moves can be made?
Three options seem to make the most sense. 
1. Sign Matt Flynn. 
The 'Hawks certainly have the money, but is this a wise move at the potential going price? 
Sports Illustrated's Peter King's best guess is as follows...
"Say you've investigated Matt Flynn and like him a lot. If you think you can get Flynn (assuming the Packers don't franchise him, and they certainly may) for, say, $9 million a year in a multi-year deal and you're not sure about Manning's health, you have to get Flynn."
A deal of $9 million per year may sound like a lot, but at the end of the day it might end up being $10 million if the competition is fierce.
For Flynn this is his one surefire shot to cash in. The linkage some have made to his connection to Schneider might be helpful, but in a deal like this no one is about to get too sentimental. Let's face it—if Schneider didn't help draft him, someone else would have.
In some ways this logic reminds me of the Mariners pursuit of Prince Fielder where there might be some loyalty to Jack Z given that he helped draft him, but in this case if the 'Hawks want to seal the deal they need to be quick about it, similar to when they signed Sidney Rice and Zach Miller, with a firm offer Flynn can't refuse.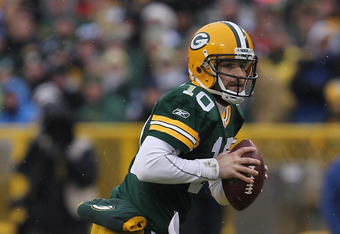 Jonathan Daniel/Getty Images
But even before they can romance Flynn they need to make sure that Marshawn Lynch is signed. 
Why is this detail important? 
If you're Flynn you're going to want a serious commitment from the 'Hawks (and every other team) that you will be surrounded with nothing but the best and as always actions speak louder than words.
Signing Lynch says, "Matt we made sure you've got a Pro Bowler to hand the ball to for the next few years. Meanwhile the offensive line may be young, but they're coming together and our receivers will only grow with you to help guide them."
Anything short of that is going to be a conversation riddled with half-truths and excuses that make the organization come across as weak.  
Ultimately though I'm not sure a deal for Flynn gets done as it would make more sense for him to shop around, especially with his former offensive coordinator in Green Bay, Joe Philbin, now taking the helm in Miami as a potential suitor.
So what if Flynn inks a deal elsewhere?
2. Get Peyton Manning.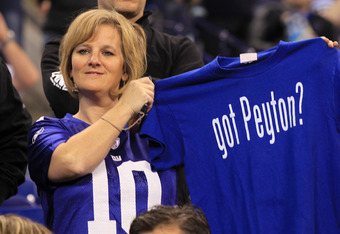 Scott Halleran/Getty Images
Unlikely, but an entertaining conversation if Flynn punts on the 'Hawks. 
Assuming the Colts cut Peyton loose, what do you do for someone who may only have one to two quality seasons left in him? Honestly, a move like this is better suited for a team desperate for one final push to reach a Super Bowl or with an owner/front office in love with the idea of star power. 
For the 'Hawks I honestly have a hard time seeing Pete dealing with all of the nonsense a move like this would involve. From day one this has been Pete's rodeo, he's not going to enjoy having someone potentially eclipse or disrupt him. To take this point further, you have to understand that whoever signs Peyton gets the whole Manning clan sans Eli... 
Can you imagine the look on Pete's face the first time he sees Archie Manning at training camp? 
How about when Archie starts making veiled comments on behalf of Peyton if the 'Hawks aren't leading the division after Halloween?
Finally if the 'Hawks did bring in Peyton, it would be the second time in Tarvaris Jackson's career his current employer demoted him to a legend. Regardless of what anyone thinks of T-Jack as a player, on a personal level wouldn't such a move border on cruelty?
Fortunately for him the odds of Manning coming to Seattle are as good as the city rebuilding the Kingdome so Peyton can play indoors.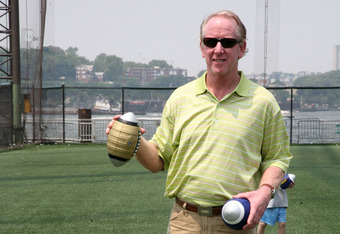 Astrid Stawiarz/Getty Images
Seattle isn't a Super Bowl team yet and while teams like the Dolphins and Redskins are hardly contenders at the moment, they both have owners willing to make bold moves in acquiring someone like Manning to get attention and sell tickets. 
Assuming someone else like Washington or Miami takes on Peyton, the 'Hawks would then be left going into the draft with very little flexibility. If either the Skins or Dolphins miss on Peyton or Flynn, it's almost none. 
3. Draft RG3. 
The price here will likely be high especially with USC's Matt Barkley and Oklahoma's Landry Jones returning to school. Yet if both Options 1 and 2 aren't available, what choice do the 'Hawks have?
Yet is it really possible to get the No. 2 pick from the Rams? Jeff Fisher knows he's sitting on a potential goldmine and will have his choice of suitors. For the 'Hawks to even have a chance, they would probably need to offer up the "Herschel Walker" special. 
Is it worth mortgaging your team's future while potentially reloading a division rival at the same time a wise move?
How many picks across how many years would it take? The answer to that question might be too painful for Pete and John to realistically consider.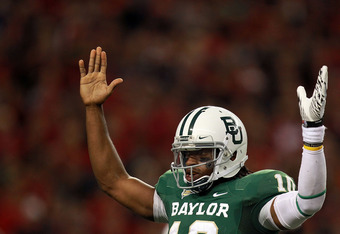 Ronald Martinez/Getty Images
What if the 'Hawks instead draft Texas A&M's Ryan Tannehill or someone else that rises at the draft combine like Nick Foles, Kirk Cousins or Brock Osweiler?
While it can't be ruled out, does anyone beyond Andrew Luck and RG3 seem ready to play from day one, let alone year one? Can Pete and John afford to put Tarvaris Jackson out again next year without any real/ready backup plan with Charlie Whitehurst likely gone?
Promising that Tannehill or whoever is the future is a huge risk. Yes Pete will sell it to the hilt during training camp, telling us, "Kirk Fosweiler looked real good today, made all of his throws, and kept his shoes tied." 
But is anyone going to be buying it this time next year if the 'Hawks fall short again?
Conclusion:
When weighing the options of trading draft picks versus spending money, I think Pete and John opt for making Matt Flynn an offer he can't refuse.  However if he does...I'd wager they focus their attention on a second to third-round quarterback while giving Tarvaris Jackson one more shot.  
The question then becomes whether Paul Allen will give Pete and John one more year if things don't noticeably improve.
It's a huge gamble as anything short of a wild-card berth could be seen a failure in the name of progress. 
Sounds harsh, but imagine the following nightmare scenario...
The Hawks give T-Jack one more year to prove himself and draft Kirk Fosweiler while also picking up a spare QB to have available in case of emergency...think Clipboard Jesus 2.0.
Now imagine the team starts the season 2-3 by playing solid defense and running the ball with Marshawn Lynch. Meanwhile, T-Jack plays well, but does little to indicate that he's turned a corner. 
Then during Week 6 T-Jack goes down with an injury that knocks him out eight to 10 weeks. Clipboard Jesus 2.0 comes in to finish, but the 'Hawks now drop to 2-4 and find themselves torn between playing CJ2.0 or Kirk Foswelier.
Pete opts for the more experienced CJ2.0 for the next three weeks to see if the season can be salvaged, but the team falters and only wins once thanks to the defense that week after week refuses to quit. 
By midseason with a 3-6 record desperation sets in and Kirk Foswelier gets the start. Unfortunately he too only manages one win while dropping his other three starts and plays like...a rookie in need of another year or two on the bench to learn. 
Finally with the team at 4-10 and with two games left to play, do you let Kirk finish up or opt for a healthy T-Jack? 
Either way you end up 4-12 or 6-10 probably nestled in the 5-10 range in the Draft with no real conclusive answer at quarterback once again.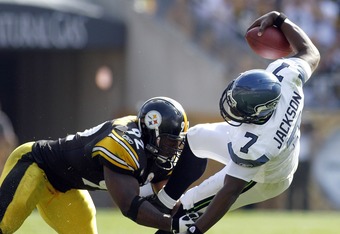 Justin K. Aller/Getty Images
Understand, this is a nightmare scenario, but it lands Pete and John back at square one if they still have their jobs having likely burned up a year's worth of Marshawn Lynch and a budding defense's prime.
Perhaps they get one more year, perhaps they don't. Let's map out the options if the team doesn't improve.  
Win only seven or eight games, you look like you've hit a wall and probably still don't have a clear/positive read on Tarvaris Jackson's worth. 
Win only four to six games and you will still need a trade package to move up for Matt Barkley as outlined above.
Win less than four games and you might be fired.
Between now and April a lot can happen. Deep down though I would wager Pete and John have a plan. The question is just how far they are willing to go to make it happen and what's Plan B if Plan A falls though? 
The time for games is almost over. It's time for a bold stroke of genius and maybe a little bit of luck.