Alex Smith: 1-Game Wonder or Super Bowl QB?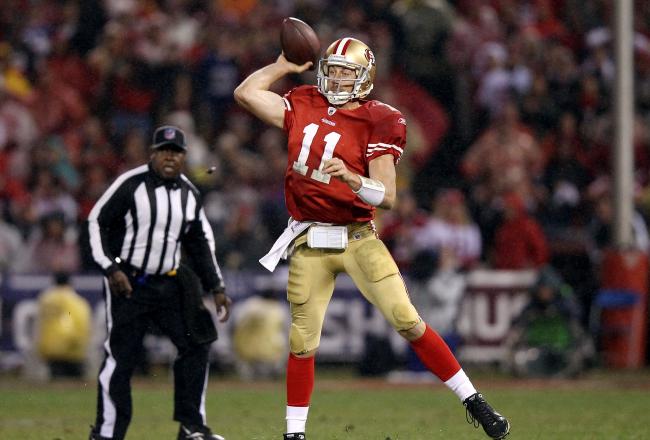 Ezra Shaw/Getty Images
It's been almost a week since Alex Smith and the San Francisco 49ers saw their season end in rain-swept Candlestick Park with a 20-17 overtime loss to the New York Giants.
Smith's performance in the NFC title game was nowhere near as dazzling as his career-best game a week earlier in the thrilling divisional-round victory over the Saints.
The 49ers now have a huge decision facing them. Should they commit to Smith as their QB for 2012 and beyond? Or, was the New Orleans game—in particular, the fourth quarter—a flash in the pan for a persistently inconsistent player who has never produced at a high level, all game long, week in and week out?
Here are four factors for Niners management to consider before deciding what to do with Smith.
1. Sample size
Smith's 2011 regular season featured career bests in completion percentage (61.3 percent), yards per attempt (7.1) and the much-ballyhooed TD:INT ratio (17:5).
All of which suggests that under the guidance of coach Jim Harbaugh, OC Greg Roman and QB coach Geep Chryst, Smith has finally turned the corner and is ready to join the elite group of NFL QBs.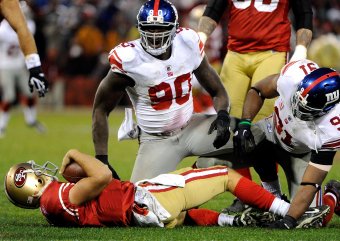 Thearon W. Henderson/Getty Images
But wait. Smith had only 445 regular season passing attempts. That was by far the lowest for any 16-game starter. Bengals rookie Andy Dalton was next, with 516 attempts.
Smith threw over 200 fewer passes than the likes of Matthew Stafford and Drew Brees, and about 100 less than other much-maligned "game managers," such as Joe Flacco and Mark Sanchez.
Prior to the New Orleans playoff game, Smith completed more than 20 passes only once all season. He had only 17 regular season touchdown tosses, as San Francisco struggled to score touchdowns in the red zone.
Against New Orleans, Smith threw a season-high 42 times and connected with his freakishly-fast TE, Vernon Davis, on scoring passes of 49 and 14 yards and completed two other late fourth-quarter passes to Davis of 37 and 47 yards.
A sign of great things to come or merely an indictment of Saints (former) DC Gregg Williams, who, insisted on dialing up blitzes while leaving the overmatched Malcolm Jenkins, singled up on the bigger and faster Davis?
2. Accuracy and yards per attempt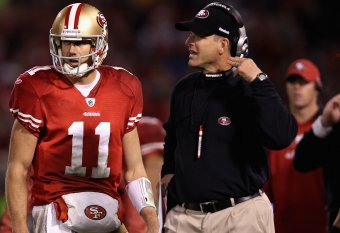 Ezra Shaw/Getty Images
While Smith's completion percentage of 61.3 was a career high, that still put him only in the middle of the pack of NFL quarterbacks.
After seven years in the league, he remains susceptible to incomplete passes that bounce in front of the receiver or sail high or wide. If accuracy can indeed be a learned skill, Smith finally has great teachers in Harbaugh and the 49ers staff to show him how.
Similarly, his 2011 regular season YPA of 7.1 was also a career best. As with his completion percentage, that was better than about half the NFL starting QBs.
Smith has shown that he can laser in on a primary target on a deep route (usually, Vernon Davis)—the Saints and Giants can attest to that. And, Smith can make a check-down pass to Frank Gore out of the backfield or to one of his tight ends.
Throughout his career, Smith has had more difficulty connecting with his WRs on intermediate routes. Some of this can be blamed on Smith having to deal with 17 different starting WRs and seven OC's during his career.
Alex Smith's 49ers future:
In the Niners' two playoff games, Smith completed a total of eight passes to his WRs for only 51 yards.
3. Sacks
Smith was sacked a league-high 44 times, which may be cause for concern, because as noted above, he dropped back to pass fewer than almost all other starting QBs.
His high sack-to-dropback ratio puts him in the company of Jacksonville's beleaguered rookie, Blaine Gabbert, and other underperformers such as Tarvaris Jackson and Sam Bradford.
The sacks may have helped Smith avoid his career-long plague of interceptions and of fumbles lost in trying to throw under pressure. But too many sacks could reflect continued sub-optimal pocket awareness and decision making ability.
4. Decision Making
Speaking of which, despite all the sacks, Smith's decision making generally improved in 2011 thanks in part to better play calling by Harbaugh, Roman and Chryst.
The Super Bowl-winning QBs of recent years—Aaron Rodgers, Drew Brees, Tom Brady, Peyton Manning, Eli Manning and Ben Roethlisberger—have all been consistently terrific at making split second reads and throws. Likewise with others such as Philip Rivers and Tony Romo.
Smith has yet to prove he can do so on an every game basis.
If Smith can continue his upward trajectory, the 49ers should be perennial title contenders for many years to come. If not, the NFC title loss to the Giants could be as good as it gets for San Francisco with Smith at QB.
This article is
What is the duplicate article?
Why is this article offensive?
Where is this article plagiarized from?
Why is this article poorly edited?

San Francisco 49ers: Like this team?