Chicago Bulls' Frontcourt Injuries Show Need for 5th Big Man
January 25, 2012

Doug Pensinger/Getty Images
Injuries have plagued the Chicago Bulls this season, and ankle injuries to center Joakim Noah and forward Taj Gibson do not help matters.
While these are not serious injuries, the Bulls should consider bringing in a fifth big man to come off the bench for added depth in this condensed NBA season.
The Bulls used to have that fifth big man in Kurt Thomas, but Chicago lost the savvy, tough veteran to the Portland Trail Blazers.
Noah and Gibson will likely have nagging issues with their ankles all year since there are many four and five-game weeks. Without proper rest, their sprained ankles could become worse.
On Monday against the New Jersey Nets, the Bulls were without Gibson, and Noah played but was recovering from his injury. So who came into the game and played 22 minutes? None other than glorified cheerleader Brian Scalabrine.
Bulls fans for some reason love the jolly giant, but Scalabrine doesn't add much talent-wise to a Bulls squad looking for its first NBA championship since the Jordan years.
Scalabrine did add five points and four assists against the Nets, but New Jersey is one of the worst teams in the NBA.
The Nets' second-best player, Brook Lopez, is out with a broken foot and Kris Humphries being their third-best player means they have some big problems. 
No matter how popular Scalabrine is with the fans, they wouldn't want to see him guarding Dwight Howard, Chris Bosh or Amar'e Stoudemire in the playoffs if Carlos Boozer or Noah are hurt or in foul trouble. He isn't athletic enough for those defensive assignments.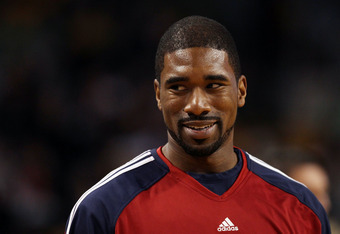 Elsa/Getty Images
What the Bulls need is another reliable big man so Scalabrine won't be the only option in an emergency. Boozer and Noah having a history of injury and Gibson suffering from a nagging injury makes signing another backup power forward/center more vital for the Bulls' championship hopes.
Earlier this month, I wrote about six free agents the Bulls could use for their title run. Chicago has proven strong in the backup point guard department, but should still go after a backup big like Joel Pryzbilla or Leon Powe.
Przybilla is a 7'1", 265-pound center who is similar in build and play to Omer Asik. The 32-year-old has 377 games of starting experience and will adequately replace Thomas' presence.
Przybilla is currently in retirement but the Bulls could entice the veteran with the prospect of winning an NBA championship. That is something Przybilla hasn't experienced yet.
As for Powe, he is only 28 years old but is coming off some knee injuries. What's intriguing about Powe is not just his athleticism, he also played a couple of seasons under Bulls coach Tom Thibodeau when Thibs was an assistant with the Boston Celtics.
Another interesting option could be former Celtics power forward Rasheed Wallace, who also played under Thibodeau. Wallace is a good defender and has loads of playoff experience and toughness. While he's 37 years old, Wallace did average nine points and 6.7 rebounds during the 2009-10 season.
The Bulls need another big man in case of serious injury. Players like Przybilla, Powe and Wallace are available and would sign for a prorated league-minimum deal.
These guys are not elite players but they would provide the Bulls with good frontcourt depth. Scalabrine is a fan favorite, but Chicago needs another backup more talented than The White Mamba to call upon in case of an emergency.
Bob Bajek is a Featured Columnist for the Chicago Bulls. He is also a freelance reporter and can be followed at Patch.com and Twitter.