Chicago Bulls: Bench Mob Weakened After Roster Moves
December 17, 2011
Jonathan Daniel/Getty Images
The Chicago Bulls may have gotten former Detroit Pistons shooting guard Richard Hamilton, but the team has not done a good job strengthening the Bench Mob during NBA free agency.
In fact, the Bulls' bench has been weakened.
The Bulls have lost valuable power forward/center Kurt Thomas to the Portland Trail Blazers. Thomas started 37 games for the Bulls last year when both Carlos Boozer and Joakim Noah were sidelined due to injury.
Thomas, 39, generated a strong post presence by being physical down low, contesting shots and even getting some blocks. He also was an adequate rebounder and has a nice mid-range jumper.
Losing Thomas hurts the Bulls if either of their starters or key backups Taj Gibson or Omar Asik suffer any severe injuries. Thomas has more value than current fifth bigman Brian Scalabrine, who the Bulls decided to bring back.
The Bulls later this season need to bring in a defensive big man like Joel Przybilla or Erick Dampier as an insurance policy for possible injuries. 
Not only that, but the Bulls also released shooting guard Keith Bogans earlier Friday. While it's true that the Bulls didn't need Bogans as a starter anymore, the 10-year veteran is a solid defender who drew a vote for Defensive Player of the Year during the 2010-11 campaign.
The Bulls could have used Bogans, along with a defensively minded Ronnie Brewer, as primary backups for Hamilton. Kyle Korver, a decent shooter but poor defender, would then slide over to small forward to backup Luol Deng.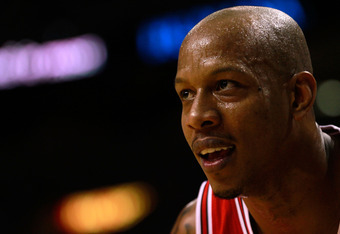 Marc Serota/Getty Images
Deng does have rookie Jimmy Butler as a backup, but the Marquette product is unproven in the league. Butler may not be successful at the NBA level, and if he is, he will have a steep learning curve until he's up to speed for the Bulls. 
Besides losing Bogans and Thomas while retaining a worthless Scalabrine, the Bulls did nothing to bring a former scorer to be their sixth man off the bench. Players who would have fit nicely like Tracy McGrady or Josh Howard have already been signed up.
The Bulls still lack a solid scorer off the bench, as Korver is really streaky and C.J. Watson is Derrick Rose's backup, so he doesn't have much of a chance to contribute.
As the season progresses, hopefully Bulls general manager Gar Forman will look to ways of further improving his bench, as depth will be needed to take down teams like the Miami Heat and Oklahoma City Thunder for the NBA title.
Bob Bajek is a Feature Columnist for the Chicago Bulls. He is also a freelance reporter and can be followed at Patch.com and Twitter.