San Francisco 49ers Review: Handing out Best and Worst Awards of 2011-12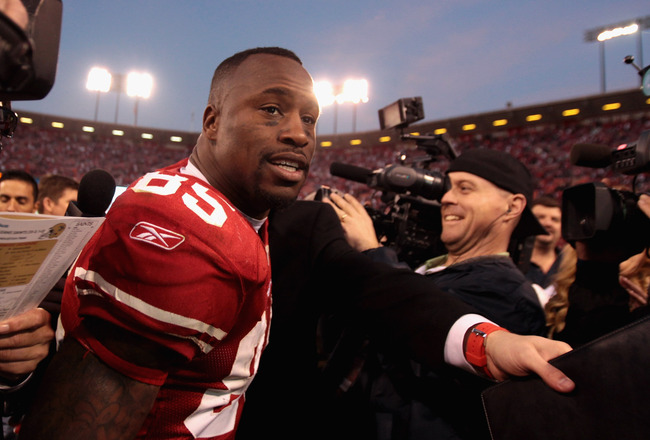 Jed Jacobsohn/Getty Images
It was an amazing ride. And to put it in perspective, I go back to July when, during training camp, a talk with Matt Barrows of the Sacramento Bee sort of set the outlook for the 49ers.
Barrows, whose astute and insightful coverage of the team stands among the best of any NFL beat writer, said that a look at the schedule for the '11 season and the fact that the new coaching staff had such a limited time to prepare that it was going to be very tough on a team in transition.
The thinking was, Barrows said, the first part of the season was going to be all about survival. After a home opener against Seattle, in came Dallas, followed by road games at Cincinnati and Philadelphia and another two weeks later in Detroit.
If the Niners survived that stretch at 2-6, then they still had a chance for the division title because of the presumed weakness of the NFC West.
Well, save for a blown coverage in overtime against Dallas, the Niners opened the season with a 5-1 mark, stretched it to 9-1 and then came in as 13-3, the No. 2 seed in the playoffs.
No one saw it coming. But then it says a lot for general manager Trent Baalke, head coach Jim Harbaugh and staff that they recognized the talent inherent to the roster and built around it.
The Niners might have had the best draft class of 2011. They certainly used their defensive talent to utmost benefit and the special teams were best of class.
With that, here's a rundown of honors, awards, distinctions (good and bad) and an outlook for 2012.
MVP: Vernon Davis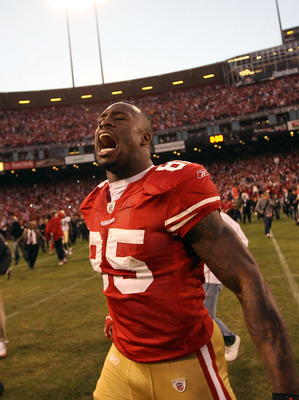 Ezra Shaw/Getty Images
He had 10 catches for 292 yards in two postseason games, with one being among one of the most clutch, crucial catches in franchise history. It's an easy win for Vernon Davis.
He had 67 catches on the season, and there were times early in the season he wasn't getting his fair share of throws, but he came through big in the big games.
Since this year was deemed by many experts to be the Year of the Tight End, it was rather troubling during the regular season to not hear Davis' name called along with Gronkowsi, Fernandez, Graham and others.
But as we saw in the first TD in the NFC Championship Game, Davis might be the fastest tight end in the game.
Defensive MVP: Justin Smith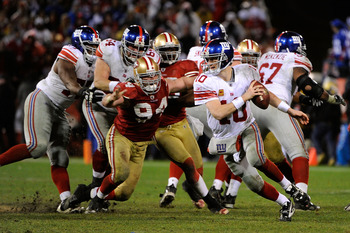 Thearon W. Henderson/Getty Images
He's a pro's pro. He earned respect among his teammates, and his opponents often started their offensive game plans with steps needed to minimize his impact. His brute strength and never-let-up hustle contrasted sharply with the me-first antics of Philadelphia's DeSean Jackson and Santonio Holmes of the Jets.
His running after and then catching Jeremy Maclin of the Eagles in the season's fourth game that stopped Philly's comeback embodies everything that JS is as well as what Jim Harbaugh wants in his team. Until Jan. 14, it was the Play of the Year.
Bust: Braylon Edwards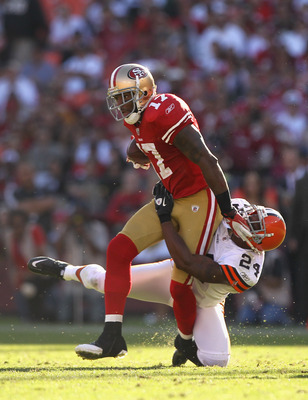 Ezra Shaw/Getty Images
He seemed to offer so much promise. He had the size—6'3" and 211 pounds—but he never got in sync with the offense. And he got hurt against Cleveland, forcing him to miss. That he was cut with less than a month to go before the playoffs suggests there was more to him than just disappointing results on the field.
He started five games, played in nine and had just 15 receptions and no TDs. Needless to say, that was a whiff in terms of filling a big need, and his position remains the glaring weakness of the team.
Best Play: Duh, Part I

The Grab, or Catch No. 3

You know, 14 seconds left, ball on the 14. Down by three against the hottest team in the NFL.
The thing that gets me is that Davis slid behind linebacker Scott Shanle and in front of Roman Harper, who reacted on the ball. Harper is a hard hitter and the collision was fierce. If you keep your eye on Harper, you can tell he was hurt.
Davis, perhaps adrenaline surging, looks like he didn't feel a thing.
Worst Play: Duh, Part II

Kyle Williams in overtime

The thing about Kyle Williams is that in certain opportunities he made big plays. He was fast. And you could sense that he wanted to make a big play so bad it hurt. He wanted it too bad.
That Williams reportedly received death threats via Twitter is another testament to NFL fans getting just a tad too involved in the outcome. It will be a play long remembered for its critical effect, but there's also the chance that Williams will prove again and again he's more than capable of making big plays.
Most Crucial Injury: Ted Ginn, Jr.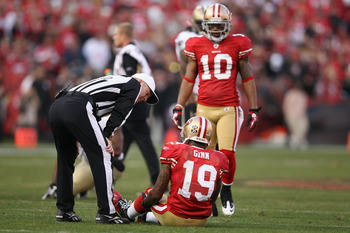 Ezra Shaw/Getty Images
It turned out that a sure-handed return man can be very, very crucial in the NFL. Ginn injured the ankle against Arizona, and Williams filled in well against Seattle.
The thing is, Harbaugh is so tight with injury news that no one knew how serious Ginn's injuries to ankle and knee were going into the NFC Championship game. Maybe we will never know. But we do know that had an impact on the final game of the season.
Second Most Crucial Injury: Joshua Morgan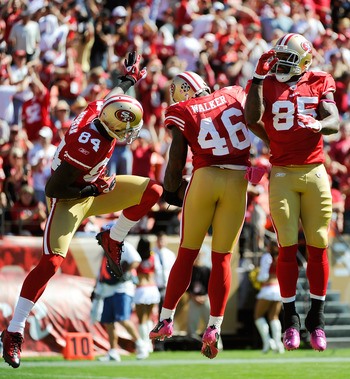 Thearon W. Henderson/Getty Images
The game was in-hand, but the Niners needed work, so the throw went to Josh Morgan (84) and a straight-up pattern late in the game vs. Tampa Bay. Just like that, a broken leg diminishes an already-lacking receiving corps.
In five games, he had 15 receptions and that one TD. He was needed in January to be sure.
Mike Iupati: 49ers 2011 Step-Up Player (Offense)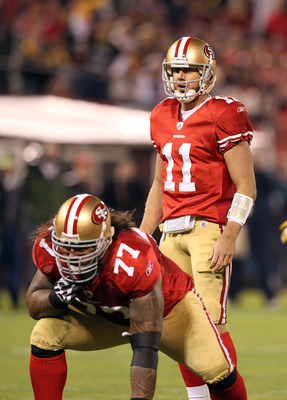 Karl Walter/Getty Images
Step-Up Player, Offense (tie): Anthony Davis and Mike Iupati
The second-year offensive linemen started to assert their will. Against the Giants, neither had major breakdowns, and Davis again proves he's a great pile driver. Iupati (77) is one of the best on the pull.
Step-Up Player, Defense: NaVorro Bowman

Catch Bowman at 1:53 and 2:53 marks

Again, let's go back to July. The Niners don't sign Takeo Spikes, who moves on down I-5 to San Diego. My god, the unknowing cried, what are they doing?
They—the coaches and the front office staff—were letting one of the NFL's newest stars emerge. Along with Patrick Willis, the Niners have that vaunted size-speed combination in the middle if the field. Both can play the "mike" and fight the run; both can play the "Willy" and run with the tight ends (though Willis does this more).
That combo, along with Parys Haralson, Ahmad Brooks and Aldon Smith, gives the Niners the best set of linebackers in the league.
Oh, and how does NaVorro Bowman get named All-Pro and not get named to the NFC Pro Bowl team? Embarrassing.
Best Draft Pick: Aldon Smith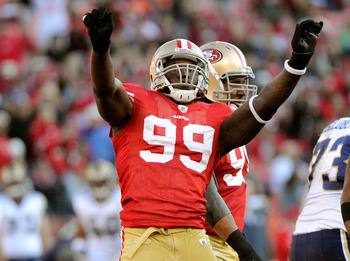 Thearon W. Henderson/Getty Images
But out of the seven they had, seven—Smith, Colin Kaepenick, Chris Culliver, Kendall Hunter, Bruce Miller and Colin Jones—played major roles or have major plans ahead.
Smith should be Defensive Rookie of the Year, and he's only going to get better.
Best Free Agent Acquisition (Tie): David Akers and Carlos Rogers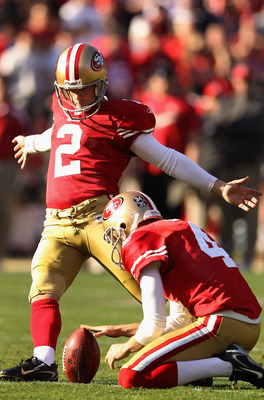 Ezra Shaw/Getty Images
Rogers had his best year with six interceptions. That he tightened up his "under coverage" of Victor Cruz on the second half of the NFC Championship game proved his mettle. He made the Pro Bowl, and derservedly so.
But Akers was just as crucial. He set NFL records for field goals attempted and made. Now, that's a good-thing-bad-thing in that the Niners needed to score more points. But his kicking proved vital as an offensive and defensive weapon.
Unsung Hero: Jonathan Goodwin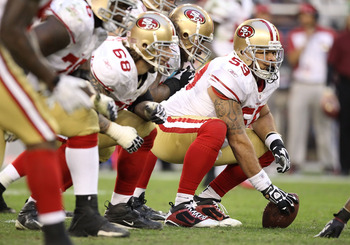 Christian Petersen/Getty Images
There are those in the 49er offices who say that Goodwin (59) might be the team's MVP. The improved play of Alex Smith and the overall effectiveness of the Niner offense can be traced to the fact that the offensive line played so much better this year.
Granted, the Niners gave up 44 sacks, but they didn't give up turnovers, and that's where Goodwin came in. Smith, for the most part, threw well against the blitz. It was Goodwin who called out the blocking schemes. That was another key pickup by Baalke.
Biggest Free Agent Need: Receiver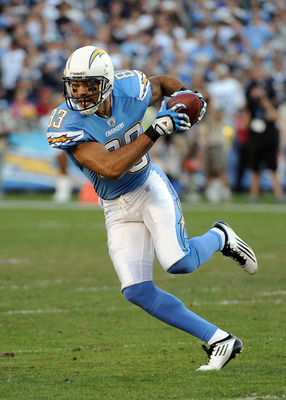 Harry How/Getty Images
Here's the deal with the Niners. You'fve got to buy into their team-first mentality. During his press conferences, Harbaugh hardly every used the word "I," and it was all team, all the time. He never criticized his players in public and never discussed potential roster moves.
But there are going to be some big-play players on the market, starting with Vincent Jackson of the Chargers and DeSean Jackson of the Eagles. The fact that the Niners signed Frank Gore to a three-year deal (two, really) doesn't preclude them from going after someone like Michael Bush of the Raiders. In that vein, why not take a long look at Marshawn Lynch of the Seahawks?
But of all the players listed there, perhaps only Bush is considered someone who could fit into the Niner way of life. Vincent and DeSean have been known to pout. That's not Harbaugh. Also, when it comes to the stars on the Niners—Davis, Crabtree, Willis, Bowman—they were drafted. The team invests in them.
Bringing in a new player with an out-sized personality from another organization is a harder fit than drafting a high-profile college player. The pro player gets set in his ways and tends to play for contracts first and then team; it's the nature of the business.
That's the one thing that Harbaugh has been able to install in the locker room: team first. It remains to be seen if they'll go outside the team to get that big star, but the issue of drafting an impact player is that they'll be drafting very late, when the best ones are gone.
Crucial Defensive Need: Shutdown Corner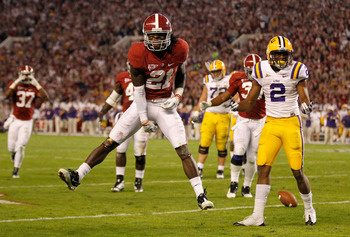 Dre Kirkpatrick of Alabama
Streeter Lecka/Getty Images
It's not that crucial. The 49ers excelled at defense not so much in the yards they gave up, but the way they tackled. The had very few missed tackles that went for big yardage, the exception being the Saints divisional game in which Darrel Sproles and Jimmy Graham had long catch-and-run TDs.
A shutdown corner would give coordinator Vic Fangio more options to present: more blitz packages, more coverage packages, better doubling capability. But then, Chris Culliver grew up in the game, and Tarell Brown proved worthy.
What may be more crucial to that position is keeping Dashon Goldson at safety. He and Whitner played very well together. Goldson, another free agent, played well enough to get that big payday he strived to obtain prior to the season in free agency. If he's smart, he'll stick with the Niners; they are his best fit.
Most Reassuring 2012 Outlook: Stability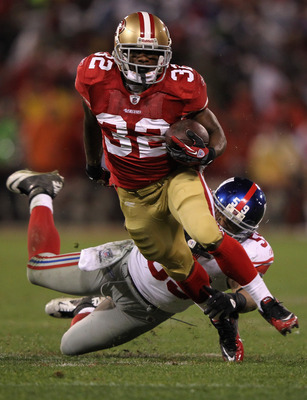 Jamie Squire/Getty Images
Trent Baalke and Jim Harbaugh have entire offseason to assess, address and tweak. Alex Smith seems assured of coming back. But the team needs to expand its offensive offerings, and so, it will be a compelling offseason to see where the Niners will lean in terms of improving the roster.
Baalke loves the draft, and if he's half as successful as he was in 2011 with selections like Kendall Hunter in the fourth round, the Niners will have added 10 starters to the team through the draft, the most economical, stable way of building a team.
Greatest Overall Achievement: Relevance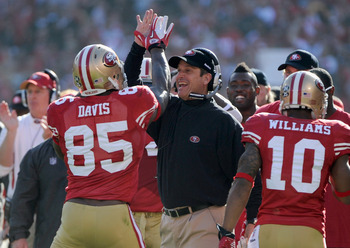 Thearon W. Henderson/Getty Images
San Francisco had sunk to the depths of the NFL. Too many coaches—change that, too many bad coaches (Erickson, Nolan, Singletary), too many bad drafts (OK, reaching here: Jim Drunkenmiller), not enough depth.
Now, the Niners have proven that they are capable of playing with anyone. The defense is one of the league's best, but the offense has enough tools around which to build into a greater force. Do that soon, as in real soon—because you never know in this game—as the Niners will be considered serious threats to make the playoffs for the next two, three or four years.
And no longer will people around the country wonder what happened to that team who played near San Francisco. They'll see them regularly in prime-time.
Keep Reading

San Francisco 49ers: Like this team?