Piers Morgan and the Voice of Discontent at Arsenal FC
January 24, 2012

Laurence Griffiths/Getty Images
Piers Morgan rages on Twitter. He's not happy that Arsene Wenger substituted Alex Oxlade-Chamberlain.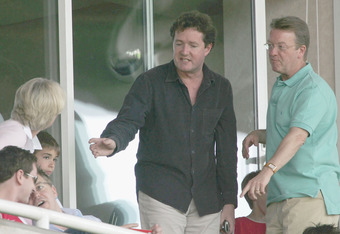 Clive Mason/Getty Images
Sixty thousand fans voiced their amen at the Emirates, when in dismay they watched the brightest star of the match eclipsed by the dead star that Andrei Arshavin has become.
Arshavin came on and promptly lent a hand to Manchester United's victory. The fans chanted, "spend some **** money" toward their miserly manager. Piers Morgan couldn't agree more.
"This reminds me of last season," he says.
There's a lot of hope and then there's a lot of concern. It seems to me that Arsene Wenger is in a constant battle with himself to figure out what to spend on what players.

When I first saw Wenger, he came in like a hurricane, winning the league, winning the double [Premier League and FA Cup] twice. He created two brilliant teams.

But there has been a sea change with the foreign billionaires coming in. Wenger would always rather find young diamonds in the rough, but there aren't many of them out there, and most get bought up by the other clubs.
For the fan who is shouting "hallelujah" and "amen" to Mr. Morgan's sermon, which one must admit is going well so far, please note this sentence from his statement above.
"He created two brilliant teams. But there has been a sea change with the foreign billionaires coming in."
Big three English clubs became big four when Chelsea suddenly became a billionaire club through the Roman Abramovich take over. Now big four is more like big six, with Tottenham Hotspur and Manchester City gate-crashing the party, the former arguably through merit, the latter through privilege.
Arsenal have always had their membership through merit, a status that's now under threat by the billionaire clubs, as Mr. Morgan rightly notes.
What Mr. Morgan fails to appreciate is the rationale or the wisdom of merit and prudence. Should every club be mad, join the wild dance of debts with the belief that someone will be there always to give or underwrite the loans that are necessary for the big signings and their exorbitant salaries?
If yes, then by all means, Arsenal should sack Wenger this very week. As a matter of fact, today. The club's management should head right away to Barclays to draw the loan Arsenal need for the Götzes, the Harzards, the Remys and the Gourcouffs. It's no less than Arsenal fans deserve.
If no, then Morgan's ironic statement about Wenger's transfer policy should force us to consider the situation more deeply, and perhaps lead us to appreciate Arsenal's greatest manager a little more.
"Wenger would always rather find young diamonds in the rough, but there aren't many of them out there, and most get bought up by the other clubs."
Mr. Morgan acknowledges that there's now competition for the "diamonds in the rough," apparently more than there was a decade ago.
While there is an argument  for the middle-of-the-road approach in the situation, to outrightly cry that Wenger be sacked despite the near-miraculous way he turned the season around before the latest set-back betrays a sentiment driven by the tide of overpowering emotions.
What's more, there's an ironic twist to all this.
Back in August, when the signing of Alex Oxlade-Chamberlain was announced, many fans were disappointed. They didn't see the point of signing another kid. To them, this was yet another proof that Wenger has lost the plot. Piers Morgan tweeted:
For those who tend to be driven by every emotion in hand, this tweet must have sounded like music to their ears. In point of fact, many Arsenal fans echoed the same sentiment. A few were clearly upset by the signing of AOC.
Now, just about six months later, the player they disdained—whose signing prompted them to demand for Wenger's head because he didn't know what he was doing—has become their anointed messiah. And, again, they want Wenger sacked for daring to substitute him.
I am less concerned about the rationale of the substitution that has prompted this latest mass hysteria. For my thought on that, see this article.  I am minded rather to point out how mindless, contradictory and shameless emotions driven by mass hysteria can be.
Consider another tweet from Mr. Morgan who appears to have really been miffed by the Manchester United loss.
In the prematch show on Fox, Mr. Morgan predicted that Arsenal would win by two goals to one. Apparently, he had forgotten that we didn't have full-backs (not through Wenger's fault) when he was making this prediction.
What this shows more than anything is a supposed "analyst" who just says anything that happens to appeal to his fancy at the time without taking time to really analyze the situation. Had Morgan done so, he'd have been reluctant to predict his 2-1 victory.
On the question why Wenger did not buy a full-back in the last three weeks, well, because good full-backs are not just there for the taking.
Moreover it doesn't make sense to buy. If you, the reader, doesn't understand why it does not make sense to buy, then you simply make my point: You show that you haven't taken time to really study the issue. To educate yourself, read this article, this and this.
But here's a final point.
To the question, which two teams in the world play the best football, most non-partisan fans would say FC Barcelona and Arsenal. Why is that so? Because both Guardiola and Wenger are products of the same tactical and philosophical school.
This has a bearing on the irreplaceable argument. Of course, Wenger is replaceable, but unless you do so with Guardiola, if your affection for Arsenal is because of the way they play, a way that sets them apart in England, then you must realize that you can't replace him without losing a big part of your identity.
Identity can be a minor or a big factor in the life of a club. How you answer the question reveals a lot about you. Should matters of principle be washed down the drain or do they matter? Do you care how a team plays football, or couldn't you be bothered one way or the other?
These questions define a fan, and in a heated moment such as this when fans are still smarting from the United loss, they inevitably divide the fans.
This, per se, is not bad. Human beings can't all be the same. But what is incumbent on every fan is to make sure that their reaction stems from a deep consideration of any given issue, not a product of ephemeral emotions whose passing is ineluctably as swift as their advent.