2012 Fantasy Football: Top 10 Tight Ends to Draft in 2012
January 24, 2012

Al Bello/Getty Images
2011 was known as the year of the quarterback, with Drew Brees, Aaron Rodgers and Tom Brady all putting a show on for us. Even Eli Manning, who has lingered in his brother's shadow throughout his career, stepped up and proved to the football community that he belongs in the elite class of quarterbacks.
What went somewhat unnoticed was that this was also the year of the tight end. Players such as Jimmy Graham, Rob Gronkowski and Aaron Hernandez competed head to head with many of the best receivers in the game in receiving stat categories.
Graham finished third in receptions (99) and seventh in receiving yards (1,310) during the 2011 season. Gronkowski finished first in receiving touchdowns (17), setting the league record for touchdowns by a tight end in one season.
Hernandez, even with sharing field time with Gronkowski, caught 79 receptions for 910 yards, and also pulled in seven touchdowns. Even Tony Gonzalez, in his 15th season, put up 875 yards and seven touchdowns on the season.
With the performance of these four, and the other top tight ends in the league, it's hard not to look ahead to 2012 fantasy drafts and think about which players have emerged as the top 10 tight ends in the league. Here is how tight ends, at this moment, may be taken in next year's fantasy drafts:
1. Jimmy Graham, New Orleans Saints
Graham was a beast in 2011, ending one reception short of 100 and 1,310 receiving yards, which were seventh best in the league. Graham also led the Saints in receiving touchdowns with 11 in the regular season, and he proceeded to add three more in the postseason.
These numbers have indicated that Graham is the No. 1 target for Brees, and we should see this continue going into 2012. The only other receiving option that broke 1,000 yards was Marques Colston (1,143), and even he scored three less touchdowns in the regular season than Graham.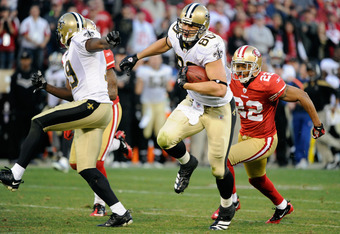 Thearon W. Henderson/Getty Images
2. Rob Gronkowski, New England Patriots
Gronkowski was one of the most exciting players to watch, rivaling Tebowing with 'Gronking.' Gronk led the league in receiving touchdowns (17), fifth in receptions (90) and sixth overall in receiving yards (1,327).
Gronkowski may take the role of Brady's favorite target away from Wes Welker, at least in the end zone. Welker had more receiving yards than Gronkowski, but scored eight less touchdowns. The only thing keeping Gronkowski from being the No. 1 tight end for 2012 is that he shares the field with TE Aaron Hernandez (whom will make an appearance later). If Gronk stays healthy, he could potentially go as high as a second-round pick in 2012 fantasy drafts.
3. Jason Witten, Dallas Cowboys
The Cowboys were a little off in 2011, plagued by injuries and failing at key moments in the season. If it weren't for the emergence of Laurent Robinson as a deep threat, Witten probably would have broken 1,000 receiving yards for the third year in the row. He caught 79 passes, which is down 15 for his totals in both 2009 and 2010.
The Cowboys will be back with a vengeance in 2012, and look for Witten to bounce back to his stat line of years past. His stat line for 2011 isn't anything to laugh at, 942 receiving yards for five touchdowns, but it can be improved upon as he previously has demonstrated.
4. Aaron Hernandez, New England Patriots
It is odd to have two tight ends from the same team being amongst the top tight ends in the league. But the Rob Gronkowski and Aaron Hernandez combination is nothing to laugh at. Yes, Gronkowski got almost all of the attention in 2011, which could make Hernandez a steal in 2012 fantasy drafts.
Hernandez caught the same amount of passes as Jason Witten (79), but scored two more touchdowns than him (7). He also finished with 910 receiving yards, and he did this all while sharing the attention of Tom Brady with Gronkowski.
The Patriots have also started to utilize Hernandez as a rushing attack as well, with Hernandez boasting a higher yards per carry than BenJarvus Green-Ellis. It appears that Hernandez maybe be utilized as a rushing and receiving threat in 2012, as they have done in the past with Danny Woodhead.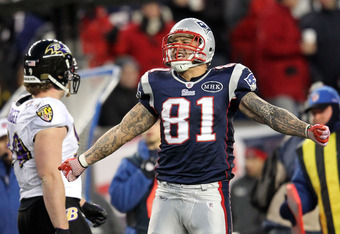 Jim Rogash/Getty Images
5. Antonio Gates, San Diego Chargers
2011 was a down year for Philip Rivers, and the Chargers as a whole. A less-than-stellar year for Rivers leads to a decline in his receiving totals for all of his receivers, including Antonio Gates.
Rivers' season can be summed up as a fluke given his career stats, and we should see a rebound in both Rivers and Gates numbers in 2012. Gates, even with Rivers below typical Rivers standards this season, still caught 64 receptions for 778 yards and seven touchdowns.
6. Brandon Pettigrew, Detroit Lions
Pettigrew set career highs in receptions (83), receiving yards (777) and receiving touchdowns (5). These numbers have propelled him into the elite class of tight ends, and Pettigrew still has room to grow.
It also helps that he has Matthew Stafford at quarterback, who is entering the prime of his career. That, and with Calvin Johnson the only other real receiving threat on the team, Pettigrew should increase his career highs next year, at least in touchdowns.
7. Vernon Davis, San Francisco 49ers
Vernon Davis angered a lot of fantasy owners this season with his on and off again performances. Davis ended up with a decent season as Alex Smith developed in the quarterback role, with Davis's season totals reading 67 receptions for 792 yards and six TD.
What is more important is that Davis had a great postseason, adding 10 receptions for 292 yards and four touchdowns. That is an astounding 29.2 average yards per reception. Look for these numbers to translate into 2012 season if Smith keeps up his good play at quarterback.
8. Jermichael Finley, Green Bay Packers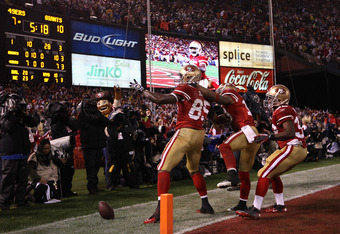 Ezra Shaw/Getty Images
It is tough for any one receiver to stand out in an offense such as the Green Bay Packers with the depth of their receiving squad. Add the fact that Finley was coming off a season where he only played in five games due to a season-ending meniscus injury, it is understandable that Finley had a slightly disappointing year.
Finley's receiving yards (767) and touchdowns (8) were above average, but his reception total of 55 was 14th amongst tight ends and 50th amongst all receivers in 2011. Finley should improve his numbers in 2012, but fantasy owners should not expect Jordy Nelson like numbers out of Finley. 
9. Tony Gonzalez, Atlanta Falcons
The man is in his 15th season, Gonzalez ranked fourth in receptions (80) and receiving touchdowns (7), and fifth in receiving yards (875) amongst tight ends in 2011. The man is a beast, and it's hard to see Gonzalez really slowing down that much next year, as long as Matt Ryan keeps playing well.
You would think it would be hard for Gonzalez to pull as many receptions and touchdowns as he did with Roddy White and Julio Jones sharing the field. The fact is that Gonzalez had 26 more receptions than Jones, making him Ryan's No. 2 target on the field. While I can't expect his numbers to increase, he should stay pretty steady with his current stat line in 2012.
10. Dustin Keller, New York Jets
The New York Jets team, especially the offense, imploded as the season progressed. Rex Ryan ran his mouth as usual, leading to team and fan disappointment when they didn't make the playoffs. They also had Mark Sanchez disappointing as usual, and Santonio Holmes causing a ruckus.
Keller stood out as one of the bright spots on this offense, setting career highs in receptions and receiving yards, and tying his career high in touchdowns. One has to imagine the Jets will be under pressure from fans and team ownership to perform in 2012, and Keller will reap the benefits.
Honorable Mentions

Jake Ballard (NYG), Brent Celek (PHI), Jared Cook (TEN), Fred Davis (WAS)