Everton Transfer Rumours: Rating the Chances of the Latest Gossip Stories
January 23, 2012

Gabriele Maltinti/Getty Images
Over the past week, the 2012 winter window has once again politely passed along at a leisurely pace, with very few eye-catching deals grabbing the headlines. Only the conclusion of the Gary Cahill and Papiss Demba Ba transfers have caused any kind of flutter to the steady tempo and, in general, wild speculative links have continued to outweigh rumours of solid substance. 
The £20 million spent so far in the Premier League dwarfs the chunks of cash exchanged during preceding years and, without a frenzy of final week deals, it seems this January could go down as one of the more quieter markets in recent times.
After a productive previous week, where Everton secured the services of Darron Gibson, the past seven days has seen the Toffees once again surrounded by varying degrees of precise speculation. So far, no recent link has been spotted around Goodison Park although, if Edson Buddle's trial was deemed successful, Everton could currently be in the process of requesting a work permit for the American. One wonders if a deal hinges on whether the Toffees can obtain anyone else first.
At the other end of the spectrum, Diniyar Bilyaletdinov seems to finally be on the brink of ending his inconsistent spell on Merseyside, with Spartak Moscow claiming they have reached a deal. If all goes through and the Russian departs, David Moyes will be hoping to regurgitate most of what comes in on an immediate replacement. Early signs suggest there will not be generous amounts of capital made straight away, but any fee will be well received. 
At the weekend, Everton's manager again went on record saying he is still seeking a defender and a striker, prompting another catalogue of potential targets to be served up in transfer gossip columns. With some links clearly more credible that others, which of the following players—all linked to the blue half of Merseyside in the last seven days—could you envisage wearing an Everton jersey soon?
Alessio Cerci: Fiorentina, Winger
Over the weekend, sources in Italy credited Everton with an interest in Italian winger, Alessio Cerci, who has been told by Fiorentina he is free to find a new home.
Currently, Serie A clubs seem to be undergoing a formation shift, with many clubs keen to morph back to a wing-back friendly era when 3-5-2 systems were in fashion. The fact that in this set-up, the wide players are required to perform duel defensive and attacking duties has left many attacking wingers—including Cerci—suddenly out in the cold.
Lacking the defensive capabilities to perform adequately as a conventional wing-back, Cerci is far more comfortable primarily as an attacking winger, or even up top as a striker. His goal return of 10 in 29 for Fiorentina is sure to inflate interest in him from Everton, given that after 26 games (in all competitions) no Toffees player has scored more than four this season.
As well as being a replacement for the presumably out-going Diniyar Bilyaletdinov, a further reason for this potential signing may be due to the impact of Landon Donovan. Playing in a wide berth, the American has quickly augmented Everton's attack and has so often been the best player on the pitch during his second short stint at Goodison Park.
Moyes may be realising just how crucial pace can be out wide, something that is not an obvious trait for the likes of Leon Osman and Bilyaletdinov.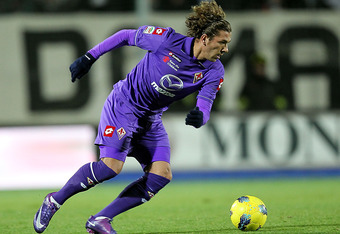 Gabriele Maltinti/Getty Images
With talk of a deal being on loan, fans may bemoan the fact that any pending Bilyaletdinov money is not instantly available for Moyes to use here. If this does prove to be the case, hopefully it is being set aside for a further addition, as perhaps it could be better used to obtain a striker.
Chances of becoming an Everton player in January? 4/5
Nedum Onuoha: Manchester City, Defender
Nedum Onuoha is a player David Moyes has been rumoured to have followed for a number of seasons. Indeed, on the final day of the summer transfer window, there were several reports Everton narrowly missed out on signing him to a season-long loan.
Strong, dynamic, and quick enough to keep up with most strikers, his career has stalled at Manchester City with so many star names continually recruited. After initially blossoming not long after graduating City's academy, he will surely be keen to find a new club in the coming week and rejuvenate his career.
His former manager, Mark Hughes, had appeared poised to take him to QPR, a deal that still looks the most likely scenario. However, with many thinking that arrangement would be completed last week, Onuoha's appearance on the Manchester City bench this weekend, coupled with a statement commenting on how he is yet to talk to any interested parties, has caused many to think again.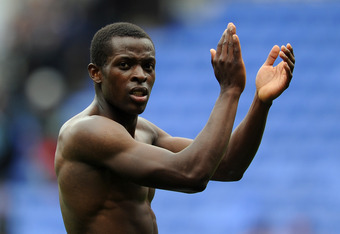 Chris Brunskill/Getty Images
Some media sources have even said it is Everton's interest that is holding up the move, with Onuoha possibly favouring a move to the Toffees for geographical reasons. His mother is currently unwell and ideally he would like to remain near her.
However, with a fee estimated to be around the £3 million mark needed to prize him away, it is doubtful Moyes would want to use a sizeable chunk of any Bilyaletdinov fee on a defender. Of course, if the Russian does not move on, any offer for Onuoha would mostly likely be scuppered.
Perhaps if a loan-to-buy deal could be devised then there may be a greater chance of this happening, but if City are adamant about a permanent deal then, despite some reports, it seems unlikely Everton would be willing (and able) to out-bid QPR.
Chances of becoming an Everton player in January? 2/5
Le Cong Vinh: Ha Noi, Striker
Possibly one of the more peculiar links surfaced in the middle of last week, when certain outlets reported on Everton monitoring the progress of Vietnamese striker, Le Cong Vinh. The story quickly captured the attention of many on Twitter and the rumour was soon magnified.  
A more obscure name compared to those generally connected with Everton, it was reported that Steve Darby (an Everton scout) had been seen assessing the striker during a particularly resounding win for his club. Darby was then even filmed, kitted out in Everton coaching attire, doing an interview.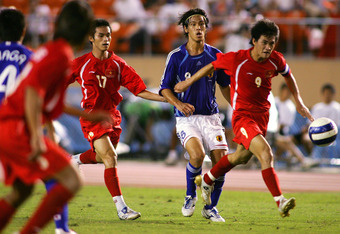 Koji Watanabe/Getty Images
However, the proverbial spanner in the works was sounded a few days later when the player himself confessed he is unlikely to meet work permit requirements.
Temporarily, this should keep Everton tracking Le Cong Vinh from a distance for now, as any prospect of a move this January would end up being futile.
Chances of becoming an Everton player in January? 0/5
Kenwyne Jones: Sunderland, Striker
Prior to the weekend, Kenwyne Jones was yet another striker supposedly interesting Everton. A one time record signing at Stoke, he has struggled for consistency in front of the goal and, since Peter Crouch's late summer switch to the Britannia, he has found himself increasingly out of favour.
A tall, rangy front man, were a switch to be on the cards Jones would find it hard not to boost the Toffees' potency up front, considering the struggles strikers have endured so far at Everton this season. He is strong in the air and adept at holding the ball up, a department where David Moyes is looking to improve.
However, now at the age of 27, disregarding the fact that a purchase would cost Everton at least around £5 million—money that is unlikely to be available—it would seem a strange gamble for a club to splash what little they have on a player whose value would soon begin to decrease.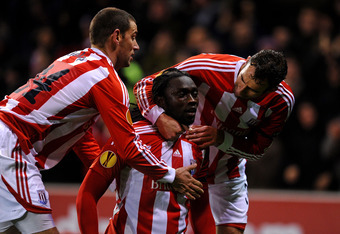 Laurence Griffiths/Getty Images
Even if Jones had two successful years at Goodison Park, as he approaches 30 his value will drop considerably and David Moyes needs to target players with future sell-on value, or risk denting the Toffees' fragile financial structure further.
The Everton business model, however precarious it seems, relies on players who will progress, evolve and ultimately become more expensive at Everton. For this reason David Moyes generally seeks younger options.
As with so many names loosely bandied about gossip columns with some vague connection to Everton, with David Moyes sadly so short of financial arsenal to play with, a move seems highly illogical here. Should Bilyaletdinov move on, as most predict, Everton would need to recoup all of his transfer fee, and possibly more to match Stoke's probable asking price.
Chances of becoming an Everton player in January? 1/5
Finally, another slightly less familiar name for many is that of Ederzito Antonio Macedo Lopes, also know as Ederzito, or even Eder. Linked with many clubs over the summer, and now in January, Everton are mentioned as being one of many sides potentially ready to swoop.
On tape he cuts more than just a visual resemblance to Chelsea's Lukaku, with pace and power two leading attributes in his game. He has registered five goals in the 15 games he has played this season for Academica, who currently hover around mid-table in the Portuguese Liga.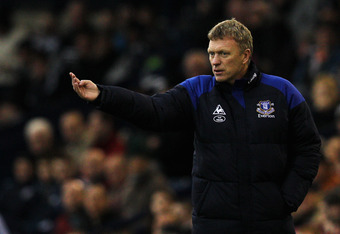 Dean Mouhtaropoulos/Getty Images
What makes his signing a little more feasible than some of the other recent gossip column offerings is the fact he is out of contract in the summer. Free to communicate with potential suitors about a summer pay cheque, were he to move now, only a small price would be needed.
Complicating proceedings slightly is how, inconveniently, Academica own just 45 percent of his playing rights, with the rest belonging to his former club.
Ederzito is one of many strikers linked with Everton in just over three weeks of this transfer window and, as of yet, not one has been recruited. Despite his ownership hurdle, his youth and favourable contract situation do help distinguish him slightly from many other older more expensive options—but would Moyes be happy pinning his hopes on a player unfamiliar with the English game?
Chances of becoming an Everton player in January? 2/5
Thanks for reading! I will persist with this format as Everton continue to get linked with various potential targets throughout January, and wrap it up next week. Here are the earlier efforts:
If you liked this article, follow me on Twitter for more EFC chat.