Everton Transfer Rumours: Rating the Chances of the Latest Gossip Stories
January 9, 2012
Michael Steele/Getty Images
It's week two of the January transfer window, and it has all been eerily quiet around the Premier League. The teams more associated with activity around this time of year have seemed unwilling to participate in the cattle market so far, and there have been few transactions of any note.
It appears Everton have become trend-setters for the two-month loan deal. Having borrowed Landon Donovan for a second stint during the MLS off-season, Aston Villa and Arsenal have now mimicked the Toffees' intelligent strategy, loaning other products from American league for the next two months.
True, David Beckham to AC Milan was the real trend-setter, but the Toffees have lead the way for Premier League clubs. Given the amount of sides struggling to raise funds, this tactic of using premium talent from the MLS, during its off-season, may well become more prominent for Premier League clubs, so long as insurance policies remain as they are.
So, to Everton's targets: Last week's six have yet to leave their clubs, although all still seem poised to move at some point during January or, at the very latest, by the summer. Out of the six, Steven Pienaar still remains the most likely contender to appear in an Everton jersey this season, although little content has been revealed about the Toffees' genuine targets. 
There has actually been movement out of the locker room. German academy prospect, Shkodran Mustafi, out of contract in the summer, left for Sampdoria. Viewed as a player of high caliber, it seems the German Under 20 captain was simply deemed unsuitable for the Premier League, as many already consider him to have an international future.
One factor that distorts David Moyes' original transfer ambitions is the injury suffered on Wednesday by Phil Jagielka against Bolton. So pivotal in defence, Everton's often stand-in captain seems destined to miss a sizable chunk of action, unlikely to return until at least March. As David Moyes has stated, that adjusts the club's focus: With only Sylvain Distin and Johnny Heitinga as centre-backs on the current roster (as well as the returning Shane Duffy), the Toffees are alarmingly bare at the back.
So, as with last week, here is another look at five more potential targets already linked with Everton, as well as the chances (as remote as they may be) of each of them making a switch to the Toffees during January.
Jordan Rhodes: Huddersfield, Striker
The current darling of gossip columns, Rhodes has been simply lethal for Huddersfield as of late. In front of the Sky TV cameras last Friday, he managed to score five goals, dazzling the plethora of scouts tracking him over the previous few months. Everton are said to be just one of several interested parties.
The stumbling block for David Moyes is the perceived interest so many other clubs have in Rhodes, following his recent surge of form. Any bid is likely to be matched, if not trumped by other clubs, and then there are sure to be negotiations that could rapidly escalate out of the Toffees' restricted budget. 
Having scored 25 league goals already this season, more than double anyone else in the division, he has also managed more than the entire Everton squad put together in the Premier League. Certainly a player David Moyes could use considering the dearth of goals across the board at Goodison Park this season, but Rhodes' recent glut of goals may well have attracted too many admirers.
Chances of becoming an Everton player in January? 1/5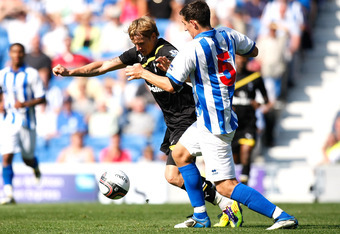 Tom Dulat/Getty Images
Lewis Dunk: Brighton, Centre-Back 
Since Phil Jagielka's untimely injury, there have been several hints stemming from the club that a defender will be signed. Brighton's Lewis Dunk is the only name generated by the press as of yet. 
A young centre-back already on the cusp of the England Under-21 side, pursuing him would certainly be a logical move. However, unless some kind of loan arrangement can be agreed upon where Everton take Dunk on until the end of the season for a fee, he is again likely to come with a price difficult for the Toffees to raise.
Having offloaded Mustafi, there is room for a young central defender to compliment the more mature talents of Jagielka, Distin and Heitinga. If Everton can move a couple of fringe players out, Moyes could find himself a little less hamstrung and with room to maneuvre.
Diniyar Bilyaletdinov has remained on the periphery of proceedings at Goodison Park and currently seems to be generating reported interest from Russia and Wolfsburg. If the inconsistent winger is moved on for a fair price, some of that money could be freed up to use on a new defender. 
Chances of becoming an Everton player in January? 3/5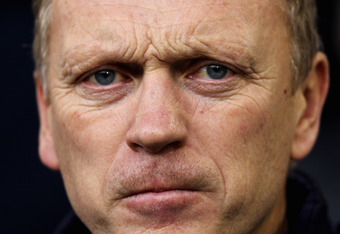 Dean Mouhtaropoulos/Getty Images
Mohamed 'Gedo' Nagy: Al-Ahly, Striker
27-year-old Gedo is an Egyptian striker with an impressive scoring ratio throughout his career. According to gossip columns, Everton are rumoured to be interested, along with several other Premier League clubs.
With just five goals registered by recognised strikers this season, the Toffees could do with all the help they can get up-front. Gado was the 2010 African Cup of Nations top scorer and, with Egypt not qualifying for this year's tournament, he would potentially be available immediately.
However, the link here seems to be more of an advert for a player who has yet to taste life in the European leagues. Likely to require a fee, David Moyes is more likely to concentrate what little resources he has on those he would feel more confident in—those who can adapt quickly to the rigours of the Premier League. 
Chances of becoming an Everton player in January? 1/5
Mevlut Erdinc: PSG, Striker
With PSG undergoing such a radical transition as the significant investment made by their new owners begins to be felt, many players are being touted as surplus to requirements. In the same way Manchester City seemed to have a revolving door for a couple of seasons whilst they adjusted, PSG are now in the same situation, and Mevlut Erdinc is a player said to be potentially available on loan.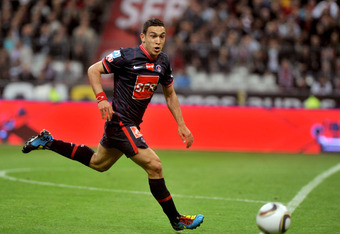 Pascal Le Segretain/Getty Images
Wanted by Newcastle in the summer, the Turkish international is no longer the flavour of the month at PSG, having lost his starting place. The fact he may be available on loan immediately meets Everton's ideal criteria, so long as his wages are not too extravagant. The Turkish press have been quick to link Erdinc to the Toffees.
Chances of becoming an Everton player in January? 2/5
Demba Ba: Newcastle, Striker
Since it has suddenly emerged that Newcastle's free-scoring Demba Ba has a generous release clause in his contract, a multitude of clubs—apparently including Everton—are said to be on red alert. As much having Ba on the end of Leighton Baines' crosses would sharpen the Toffees' offence no end, how certain media sources consider it feasible he could leave Newcastle for Goodison Park is fairly amusing.
Firstly, Everton were supposedly interested in him during the summer, when he was a free agent. Newcastle's far greater wage budget may well have been the defining factor that saw him opt to play for the Magpies, with Everton unable to offer him satisfactory terms. Surely now he would be able to command even more were he to move.
Secondly, after such a prolific season, Ba's surely more likely to be sought after by those much higher up the league than the Toffees. Considering Newcastle's current nine-point lead over Everton, any move would be particularly odd.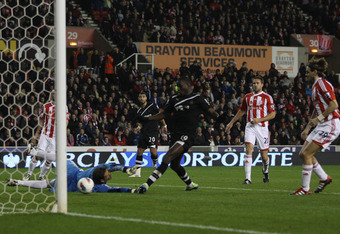 Michael Steele/Getty Images
If, after some peculiar turn of events, Ba does somehow join Everton, it would of course be a fantastic coup. However, that connection feels rather far-fetched, even if there have been few other significant transactions for newspapers to write about so far.
Chances of becoming an Everton player in January? 0/5
Thanks for reading! I will persist with this format as Everton continue to get linked with various potential targets throughout January.
If you liked this article, follow me on Twitter for more EFC chat.