Everton Transfer Rumours: Buddle, Castaignos and the Latest Gossip Stories
January 16, 2012

Jeff Zelevansky/Getty Images
With only a paltry £9.2 million splashed out by Premier League clubs so far this transfer window, January has hardly been a captivating fortnight for transfer gossip junkies. With the usual surge of hype and furore rife before the market opened, the consequential dearth of glitzy moves and intriguing links has challenged even the premier rumour merchants to produce must-read columns.
As the halfway point is passed, amusingly for Everton supporters, David Moyes heads the list as one of the busier managers, already successfully ushering in Darron Gibson and Landon Donovan. Still coveting that illusive striker as well as some emergency cover at centre-back, in an ideal world Moyes would obtain at least two further targets, although the club's desperate financial plight continues to restrict his dealings. 
The fact that Everton found the resources to raise enough of a transfer fee for Gibson even caught a few fans off guard. Although some supporters are still debating the Irish international's on-field efficiency, capturing him in a deal rumoured to initially be merely £500,000—rising to £2 million with incentives—is clearly an intelligent move by Moyes.
The fact that central midfielders Jack Rodwell, Ross Barkley and Leon Osman are all on the treatment table further enhances the logistics behind the move. An accurate passer, with a rifle of a shot, Gibson will undoubtedly augment the Toffees' passing, creativity and shooting from the central areas, facets distinctly absent thus far this season at Everton. 
So on to the next crop of players associated with a January move to the Toffees. With 11 covered so far this year, Gibson is the first to have landed at Goodison Park. Which of the following, all linked to Merseyside in the last seven days, could you envisage wearing an Everton jersey soon?
Luc Castaignos: Inter, Striker
Castaignos has been a name continually connected with Everton, among other clubs, throughout January. Unsettled at Inter Milan, the young Dutch striker seems destined to be loaned out this window, with the Toffees apparently seen as a possible destination.
Just 19, Castaignos is an agile, competent finisher who, despite his obvious youth, is already very physically developed and thrives on hassling defenders. His frame is something likely to convince Premier League scouts that he would be well-suited for the English domestic game and, despite stuttering at Inter Milan, his previous form at Feyenoord (15 goals in 37 games) had convinced many he is destined for the top.
The fact that his potential move would be loan, and not one where Everton would have to part with any cash, instantly catapults this rumour into the feasible category. Stumbling blocks may involve his wages at Inter, sure to be an amount Everton are unwilling to pay in total, and the fact that several other parties, such as Liverpool and Bologna, are rumoured to be interested.
Never-the-less a name to track, as he is surely going somewhere this winter.
Chances of becoming an Everton player in January? 2/5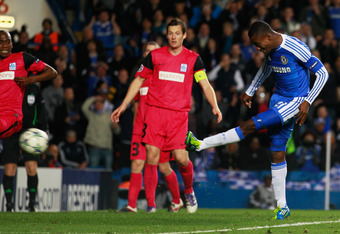 Paul Gilham/Getty Images
Salomon Kalou: Chelsea, Striker
Now entering the final months of his contract at Chelsea, Salomon Kalou has seen his name linked to Everton during most transfer windows over the last two years. Sure enough, this old association has risen its head once again with the Toffees no closer to solving their striker conundrums and Kalou no closer to winning a guaranteed starting berth at Stamford Bridge.
A sharp finisher, perhaps not ideal for the lone role in Everton's general 4-5-1 formation, Kalou would still drastically upgrade the limited options David Moyes currently has at his disposal. Now 26, having been on the periphery of Chelsea's line-up for most of his Premier League career, surely he merits a run as a club's main striker?
However, what stalls this is how Kalou has just gone on record stating he will resist any attempt made by Chelsea to cash in on him this January. Another inconvenience is that he is currently away at the African Cup of Nations, which surely complicates any potential negotiations. 
If and when Kalou does become a free agent in the summer, if Everton truly do hold an interest, it will be up to Moyes to offer an enticing deal that out-bids other potential admirers. Any January move seems wholly unlikely at the moment.
Chances of becoming an Everton player in January? 1/5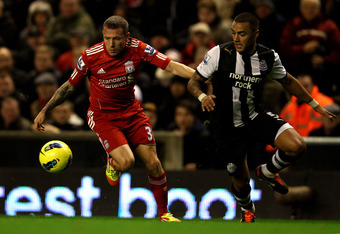 Clive Brunskill/Getty Images
Danny Simpson
A peculiar rumour, possibly devised by sources close to the player with an aim of urging Newcastle to deal out a more favourable contract. With 18 months left to run on his current deal, Simpson has been given few indications that a better offer is pending.
Recent speculation linked Fulham and Everton with the former Manchester United full-back and, although many Evertonians have long been pleading for a revamped right-back corps, Simpson hardly raises the bar from Tony Hibbert and Phil Neville. The fact Everton would have to pay for his services if they wanted him now just about eliminates any chances of this transpiring. 
With Seamus Coleman the ideal long-term solution at right-back for most fans, a move for a player under contract, requiring a fee, in a rare position where Everton do manage to keep constant competition for selection seems truly unrealistic. If this story did originate from Danny Simpson's camp, they might have chosen a more likely suitor that, for a start, is likely to spend. 
Chances of becoming an Everton player in January? 0/5
Edson Buddle: Ingolstadt 04, Striker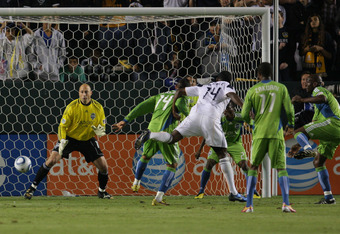 Victor Decolongon/Getty Images
This potential move has developed quickly, with Buddle now poised for a week long trial at Everton's training complex, Finch Farm. The details were leaked on Twitter via Buddle's agent, and there were even suggestions he could appear in the reserve fixture against Blackburn tonight, although they ultimately proved to be wide of the mark.
Although struggling for consistency in his club career away from the MLS—Ingolstadt currently lurk in the second tier of German football—Buddle has generally maintained a healthy scoring ratio over his career. He has also continued to be around the American national set-up and recently netted in a win over Slovenia, in front of a watching David Moyes.
The fact he is already on Everton soil seems to have convinced many he is all but signed, however trials are common in football. It is only due to advancing social media that this one has become common knowledge.
In 2006 a similar situation was revealed as South African international, Delron Buckley, also landed a trial at Everton. Many fans presumed his signing was imminent, although no deal ever transpired with the Toffees, who were clearly not convinced by what they saw. Victor Onopko, Nicolas Millan and Steve Zakuani are just a few of several other failed Everton trialists. Buddle now has a week to convince he is what is required.
Chances of becoming an Everton player in January? 3/5
Sol Campbell: Unattached, Centre Back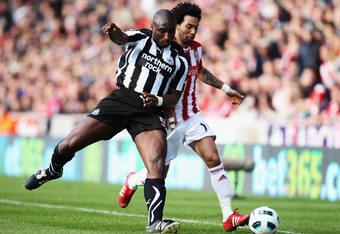 Bryn Lennon/Getty Images
With Phil Jagielka and Sylvain Distin suddenly felled by injury, Moyes has had to turn to Shane Duffy for stability at the back. The young Irishman has performed admirably in his game and a half so far, but many fans have pondered exactly what the plan of action is should the Toffees suffer another defensive casualty.
Cue Sol Campbell! Speculation was suddenly rampant over the weekend that the former England international was due at Finch Farm, ready for an emergency stint at Everton. Sadly these tails have so far proven a little far fetched, with no sign of Campbell or any other emergency signing.
Given the severity of the Toffees' current predicament at the back, Campbell to Everton is hardly the most unrealistic rumour to be bandied about this January, although it will surely remain a highly unlikely scenario.
Chances of becoming an Everton player in January? 1/5
Thanks for reading! I will persist with this format as Everton continue to get linked with various potential targets throughout January. Here are the earlier efforts:
If you liked this article, follow me on Twitter for more EFC chat.