Chicago Bulls: Making a Case for Carlos Boozer to Be an All-Star
January 22, 2012

Jonathan Daniel/Getty Images
Carlos Boozer is one of those NBA players that have you scratching your head curiously. Fans see this imposing figure in Boozer, yet they question his passion for the game. 
The majority of the criticism is aimed at his indifference on defense. His lift is lacking the explosiveness that he once had—although he was never much of a leaper. 
Two of the knocks on Boozer coming out of college were that he wasn't athletic enough, and that his size at the power forward position didn't match up to those entering the draft alongside him.  (Here is the USAToday.com draft capsule on Carlos Boozer once he declared to enter the 2002 NBA Draft.)
Boozer in many ways is an overachiever with several successful seasons in the NBA. Many saw him as a role player, even likening him to Alan Henderson.  A career average of 17.3 points and 10.1 rebounds isn't terrible for a prospective "role-player."
This season, his second with the Bulls, is perhaps the best in his nine-year tenure in the NBA—one that suggests that Carlos Boozer is deserving of some serious NBA All-Star conversation.
While his scoring average is down, so are his minutes—under 30 per game for the first time since his rookie season.  His 8.4 rebounds a game—down from the 9.6 that he snagged last year—lead the Bulls.
But his improvement has been his overall activity. Boozer is chasing down loose balls and is using better footwork on defense.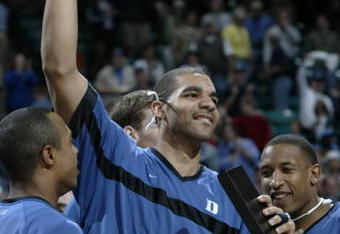 Craig Jones/Getty Images
During some third quarter stretches, Boozer has become the go-to player in the high post. His mid-range jumper has never looked better.
His best work of the season has come with Derrick Rose out while nursing a toe injury.
During the four-game time frame Carlos Boozer has averaged 21.5 points and nine rebounds.  He also got eight steals.  Good players are at their best when their teams call upon them.
It is this stretch that should begin a debate about whether or not Boozer belongs in the All-Star Game.  Locks for the Eastern Conference All-Stars are: Rose, LeBron James, Dwayne Wade, Dwight Howard, Carmelo Anthony, Amare Stoudemire and Chris Bosh. Rajon Rondo will most likely take up a spot while either Joe Johnson or Josh Smith will be the representative for the Atlanta Hawks. 
That leaves three available spots. 
Who is worthy of them?
In normal seasons, Kevin Garnett, Ray Allen and Paul Pierce would be in the discussion, but the Celtics have struggled mightily and are not even .500 at this point. 
No one player has had a complete bust-out season for the Pacers or 76ers despite their good records.  In fact, if you look at the numbers of Boozer, Danny Granger and Andre Iguodala, the comparisons are interesting.
Carlos Boozer: 14.8 points, 8.4 rebounds, 1.1 steals per game.
Danny Granger: 16.2 points, 4.2 rebounds, 1.69 steals per game.
Andre Iguodala: 14.3 points, 6.5 rebounds, 4.3 assists, 2.1 steals per game.
If you add a much-deserving Luol Deng to this group, you have four players vying for two spots.
Why only two spots? One of the three positions must go to a center.
Dismiss Joakim Noah for the time being. A late run of good games by Noah would perhaps make him a lock, as no other center in the east has distinguished himself from the others. 
Milwaukee's record eliminates Andrew Bogut's name for now as well.
That honestly leaves Tyson Chandler (no way do the Knicks deserve three All-Stars) and Roy Hibbert. 
The Bulls have the best record in the NBA, and that should count for something. If Luol Deng should take one spot, does Carlos Boozer take the other?
It'll all depend on which second center is chosen.  For now, Roy Hibbert edges out Chandler and Noah thus leaving the final spot up for grabs.