NFL Conference Championships Predictions and Storylines
January 19, 2012
Elsa/Getty Images
Note: The quotes in this article are fictional.
Baltimore @ New England (-6½)
The AFC's top two seeds advanced to the conference finals, where the Patriots will host the Ravens in the first title game in New England since 2008. The Patriots whipped the Broncos, 45-10, as Tom Brady threw for six touchdowns.
"I only had three fewer touchdowns," Brady said, "than Tim Tebow had completions. That's sad, but not the saddest part. That would be having fewer completions than commandments you follow. I also had a 48-yard punt against the Broncos. I'm not sure what surprised me more—the fact that I was punting, or the fact that we were punting.
"But I expect Tebow to come back strong next year. I've seen flashes of brilliance. Not from Tebow, mind you, but when my supermodel wife is in a teasing mood. Tebow's shown flashes of resilience. His commitment to abstinence puts him in the same category as me—we're both 'pure' passers.
"As for the Ravens, I'm sure my ongoing feud with Terrell Suggs will flare up. Suggs claims he attended 'Ball So Hard University.' I think Mark Sanchez matriculated there, as well—he majored in minors. Suggs, on the other hand, never graduated. He, much like the Ravens and their quest to reach a Super Bowl, 'left early.'"
The Ravens forced four turnovers, including three T.J. Yates interceptions, in a 20-13 win over Houston. The last time the Ravens met the Patriots in Foxboro in the playoffs, Baltimore dominated in a 33-14 win.
"We feel we're on equal ground with New England," John Harbaugh said. "No offense to Lisa Olson, but if there's talk of 'Patriot Missiles,' then there should be proportionate time devoted to 'Ravens Peckers.'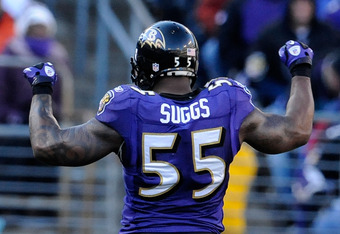 Patrick McDermott/Getty Images
"By no means do we expect the Patriots to lay down like they did in 2009. On that day, we instituted our own 'Tuck Rule:' After taking a 24-0 first quarter lead, we said 'night-night' and 'tucked' the Pats in for good."
To win, Joe Flacco must outplay Brady. That's really got nothing to do with Flacco; it's got everything to do with the Ravens defense. Flacco won't outgun Brady if the game is a shootout. Baltimore has to hurry Brady's decision-making process, and that's a tall order, because Brady doesn't need a lot of time to determine that his best option is the eight-yard pass. And they need to hit him. Hard. And often. And illegally, if need be. Of course, as Suggs knows, it takes very little, sometimes nothing, to get flagged for roughing Brady. If the Ravens can knock a few of Brady's hair out of place, they have a chance.
In the end, Brady is too much, and has too many options. The Ravens mount a late charge, but a Flacco fumble seals their fate.
New England wins, 33-27.
NY Giants @ San Francisco (-2)
San Francisco outgunned New Orleans 36-32 in a classic, winning on Alex Smith's 14-yard touchdown pass to Vernon Davis with nine seconds left. The No. 2-seeded 49ers will host the NFC title game, thanks to the Giants 37-20 upset of the top-seeded Packers.
"Davis had a 'wail' of a game," Jim Harbaugh said. "The Saints' Malcolm Jenkins and Roman Harper may not have left their hearts here, but Vernon certainly left their tails in San Francisco. Indeed, their play was so awful, it made a grown man cry. If 180 yards receiving and two touchdowns is the kind of game that makes Vernon cry, then by all means Vernon, 'play misty for me.'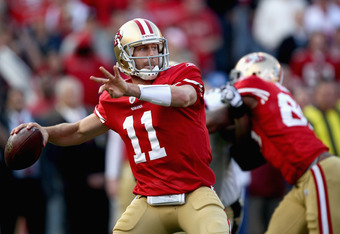 Jed Jacobsohn/Getty Images
"My team was ruthless, while the Saints were 'roofless.' And New Orleans will remain 'outside' for the remainder of the playoffs. Now, the Giants don't play indoors. They play in something much more confining—a fish bowl. Candlestick Park can be a challenging place to play for a visiting team, but the Giants have seen much more hostile environments, such as New York City on December 4th in the midst of a four-game losing streak."
The Giants' playoff streak is reminiscent of their 2007 run to the Super Bowl title, when they won three games on the road, including a win at Green Bay in the NFC championship game. This year's G-Men have looked even more dominant.
"History says the Packers are still the defending champs," Eli Manning said. "Our 37 points scored on Sunday says they're not defending anything. We made the Packers look bad, and the Falcons look not as bad. We knew the Green Bay defense could be had. They may play on 'frozen tundra,' but their defense is more like frozen yogurt: it's soft, and melts under heat, and is often licked. It's always a good sign when you have two receivers open on a Hail Mary pass.
"The 49ers got the better of us in November. I predict they'll get the better of us on Sunday, because we are better. And don't tell me that a long, cross-country flight will leave us fatigued. You can't blame everything that's wrong in New York on the 'Jets.'"
New York's Antrel Rolle has said that the only way the Giants can lose is if they beat themselves. Well, the only way they can win is if they beat the 49ers. Obviously, they can't do both. They'll do the latter. The Giants' wide receiver corps gives them a huge edge, as they can attack down the field with multiple weapons. The Giants will commit to stopping Vernon Davis, and take their chances with Michael Crabtree and Kyle Williams. And Manning will make all the right throws.
Lawrence Tynes kicks the game-winning 41-yard field goal, and the Giants hold on for a 27-24 win.