San Francisco 49ers vs. New Orleans Saints: Injury Reports and Prediction
January 13, 2012

Sean Gardner/Getty Images
From contrasting styles of play to preferred deodorant scents, the differences between the Saints and 49ers have been well documented throughout the week. 
For good reason, they are polar opposites.
One wins with their offense, the other relies on its defense.
One is playoff-tested, the other is returning to the playoffs for the first time in nearly a decade.
One features a record-breaking quarterback, the other a game manager.
However, both are equally effective and both will take the field Saturday—proud owners of identical 13-3 regular season records—with similar chances of advancing to the NFC Championship.
All they have to do is win, regardless of playing style or armpit fragrance.
Saints Injury Report
Out
WR Lance Moore (hamstring)
TE John Gilmore (toe)
Probable
S Roman Harper (ankle)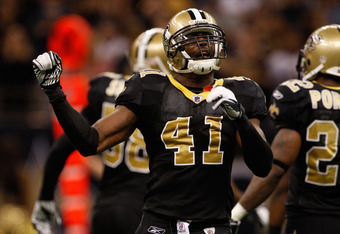 Chris Graythen/Getty Images
WR Robert Meachem (knee)
Questionable
LB Jonathan Casillas (knee)
Outlook: Though an important part of the offense, the Saints are in no rush to bring back a hobbled Lance Moore. Losing him is like a cat losing one of its nine lives: there are still eight others capable of stepping up and making plays.
The 49ers would love to see safety Roman Harper on the sideline, but his health is improving and is confident in his return. "I feel good about this weekend; I'm moving around well," said Harper about his injury, sustained in the team's victory over the Detroit Lions.
Other than that, the others will be ready to play come kick-off. The Saints, winners of nine straight, are healthy and red-hot entering Saturday's game at Candlestick Park.    
49ers Injury Report
Out
TE Delanie Walker (jaw)
Questionable
WR Kyle Williams (concussion)
WR Ted Ginn Jr. (ankle)
DT Ray McDonald (hamstring)
CB Chris Culliver (knee, illness)
Outlook: The 49ers offense instantly becomes more dangerous with the return of speedsters Ginn and Williams. With the opposing defense surely focusing on Vernon Davis and Michael Crabtree, one of the returning receivers must have a big game for the Niners to have any shot of a victory.
Look for Williams, who has recently emerged as a viable threat, to be that guy. He has been limited in practice while recovering from a concussion, but will be ready on Saturday. 
Delanie Walker will be missed for more than just receptions: he's an excellent blocker on a team that runs the ball often.
Calling Walker a tight end is like calling a Swiss Army knife just a knife—they're both so much more versatile than that. Others will have to step up in his place and not skip a beat.
Overall, the 49ers are relatively healthy and well-rested after the first-round bye.
Prediction: Much has been said about the 49ers' ability to keep up with the high-flying Saints, but little has been said about the Saints ability to win a grind-it-out defensive battle—which is exactly what the 49ers do, especially at home.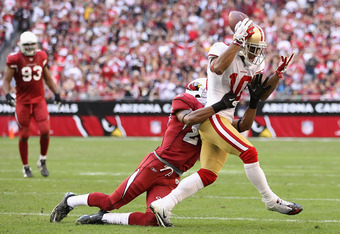 Christian Petersen/Getty Images
The 49ers will look to slow down, not stop, Drew Brees and exploit a Saints defense that has struggled throughout the season.
The 49ers wanted to secure home-field advantage for obvious reasons, and did. Now it's time to take care of business on the field.
In a clash of total opposites, the team that plays defense and causes turnovers will be victorious. That's the 49ers.
Prediction within a prediction: Running back Frank Gore will move the chains, but backup Kendall Hunter will make the big plays. He's the perfect remedy to counteract the blitz-happy Saints defense. His yards on runs and screens will prove the difference in what is sure to be a close game. 
Final Score: 49ers 30, Saints 27