NFL Playoffs 2012: Key Stats for San Francisco 49ers vs. New Orleans Saints
January 12, 2012

Chris Graythen/Getty Images
When you think of the Saints led by Drew Brees, the monster stats jump out first. 
Deservedly so, as the quarterback has had a record-breaking season:
5,476 yards, 71 percent completion rate, 46 touchdowns and a 110.6 rating. 
But (pause for dramatic effect), lurking behind the impressive numbers are other stats that significantly improve the 49ers chance of upsetting the Saints. 
I'm not usually a stats guy, but these are hard to ignore. 
Superior, Inferior
Brees is having a superior season against mostly inferior opponents. Eleven of the Saints' 16 regular season games were against defenses ranked 21st or worse. 
Remember: The 49ers have arguably the best defense in the entire NFL.
Home Sweet Dome
The Saints are 9-0 at home this season, averaging 41.6 points and 507.4 yards per game, compared to 5-3 on the road with averages of 27.3 points and 441.6 yards. That's a two touchdown difference. 
Also, the Saints defense surrenders 24.5 points per road game. 
Remember: Saturday's NFC Divisional game will be played at Candlestick Park, home of the 49ers.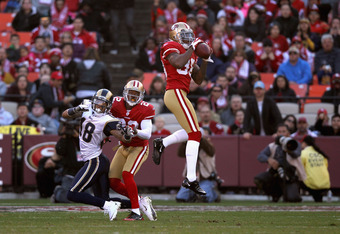 Ezra Shaw/Getty Images
The Saints have committed 12 of their 19 turnovers (65%) on the road. 
Remember: The 49ers lead the league with 38 forced turnovers, 23 of those while playing at home. 
Oh, and the New Orleans Saints have never won a single road playoff game in franchise history. Included in that is last year's stunning loss at the hands of a 7-9 Seattle Seahawks squad that had no business being in the postseason. 
The 2011-12 Saints are a great team, but are a different team when playing on the road. 
Have I mentioned the location of Saturday's game between the 49ers and Saints?