NFL Reality Check: Tim Tebow, God and Football
January 11, 2012
Doug Pensinger/Getty Images
I'm going to give you a quote from a prominent NFL quarterback and I want you to guess who said it.
"I grew up knowing what a stable relationship was by my parents' example and how it centered on Christ. When our family had its ups and downs, I knew my parents relied on God for everything and He always got us through those rough spots."
You figured it out, right? How many guesses did you need?
I'll tell you right now, you've guessed wrong. It wasn't Tim Tebow.
That is a quote by the defending Super Bowl MVP Aaron Rodgers. He is a lot more inconspicuous about his religious beliefs than the in-your-face Tebow. People often say that one of Tebow's greatest attributes is his humility, but there is nothing humble about relentlessly smearing your religion in the face of every unsuspecting football fan in the country every weekend.
Allow me to preclude this with a bit of a warning.
It's obvious that Tim Tebow will never stop glorifying Christ every chance he gets, and that he will never apologize for it (Christians are nodding their heads in approval). That's fine with me, just as long as Tebow and his disciples understand that it is hypocritical of them to get upset about the steady stream of criticism fired back in response to it. It has been said that it's rude to talk about religion because you never know whom you might offend, but that goes both ways. I just ask that you keep that in mind while you read this article.
Aaron Rodgers' faith is just as important to him as Tebow's is to him. The difference is that Aaron allows his actions to speak for him, regularly citing St. Francis of Assisi who said, "Preach the Gospel at all times, if necessary, use words." He is a leader on the field and a mentor and role model to young people off of it.
Tim Tebow is known for getting on one knee and praying during a game while Aaron Rodgers is known for imitating the motion of putting on a heavyweight championship belt.
However, if you watch closely you will notice another ritual that Aaron Rodgers has. Whenever Rodgers runs onto the field to take command of the best offense in football, he quickly looks up and points to the sky. The broadcast camera catches him doing this in virtually every game he plays. It is quick, it's personal, and it's a showing of his appreciation for his relationship with his chosen deity. The fact that he tends to keep his beliefs to himself is why he has never been embraced by the religious community—a group that prefers brash, loud, in-your-face figures that they can pawn off as being humble.
People like Tim Tebow.
In a season when Eli Manning has been masterful in game-on-the-line situations, it's Tebow whose fourth-quarter drives are deemed "miracles."
In the same season, when three quarterbacks broke the 5,000-yard mark (Brees, Brady and Stafford) and another broke the QB Rating mark (Rodgers), the majority of the conversation is revolving around a guy who completes less than 50 percent of his passes.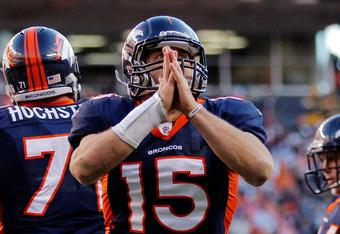 Justin Edmonds/Getty Images
It's incongruous.
Another absurdity is this idea that good things happen to good people and that is why Tim Tebow is enjoying success. To say that whenever Tebow wins is to blindly judge players on the other teams as bad people. But if they were so bad, why would God allow them to make millions of dollars playing a game? The logic, as with most religious arguments, loses all merit when thought about for more than one second.
Tebow doesn't win because he's a good person. He doesn't win because he is in God's favor. He wins because he's a hell of a football player and has, to this point, transcended his position.
I will say that his faith is a crucial factor in tense game situations. It's what he falls back on to calm him and those around him, but that doesn't make him special. Every player in the NFL has that thing that they can fall back on. Aaron Rodgers and Peyton Manning fall back not just on God, but their belief in their extraordinary preparation. Tom Brady's confidence radiates throughout his team and no game is over when playing against him. It has nothing to do with God, and he has won three Super Bowls.
Wayne Hanson, a Colorado Pastor with direct ties to the Tebow family has said, "It's not luck. Luck isn't winning 6 games in a row. It's favor. God's favor."
If that's true, the Packers must really be in God's favor. They won 19 games in a row, including a Super Bowl. I guess the New England Patriots fell out of God's favor after they won a record-setting 21 games in a row between October 2003 and October 2004. I'm sure there were plenty of whole-hearted, faithful, religious men on those teams, just as sure as I am that there are men of little or no faith on these current Broncos.
The point is that other than being a calming factor late in games, Tim Tebow's faith is irrelevant on a football field. If you find his beliefs admirable that's fine, but stop pretending that's what makes him a good player in the NFL. If God really did favor Tim Tebow, he would have made him Aaron Rodgers.
Amen.