New York Jets Lineup: Predicting the 2012 Lineup Pre-Free Agency Edition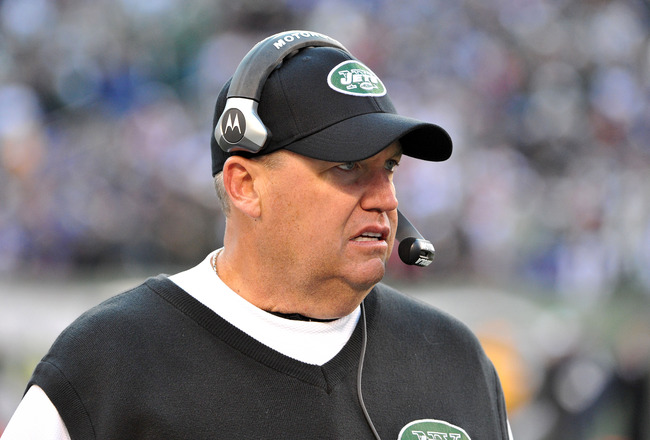 Christopher Pasatieri/Getty Images
The 2011 season for the Jets was disappointing. Stars underperformed, developing players regressed and a schism developed in the locker room. Without a doubt, changes will be made. Already, former offensive coordinator Brian Schottenheimer has been replaced by Tony Sparano.
Now, no one can definitely say what the Jets' final roster will be. Undoubtedly, free agency will change the predicted roster. But here is the best prediction for the 2012 New York Jets.
Quarterback: Mark Sanchez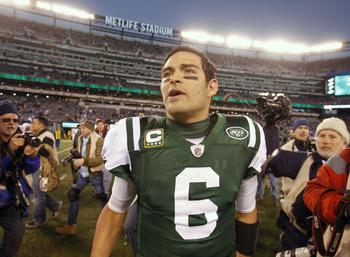 Rich Schultz/Getty Images
To all those who want Peyton Manning to be a Jet, I say this: No.
The Jets don't need to give up their developing leader for an aging, injured quarterback who has about a year left in the tank. This year wasn't just Sanchez's fault.
It was Schottenheimer having him throw ultra-conservative passes. It was the failure of the offensive line. Sanchez, as it has been stated, is here to stay. May I also point out that Sanchez's stats nearly mirror Eli Manning's third-year stats. Look how that ended up.
That being said, I expect Chad Henne to come in and compete for the job and push Sanchez.
Fullback: John Connor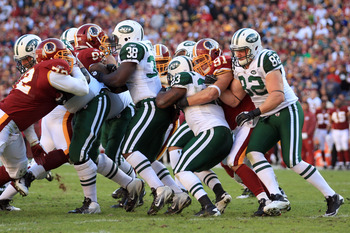 Connor(#38)
Rob Carr/Getty Images
Admittedly, John Connor wasn't the dominant fullback Rex Ryan made him out to be.The Jets used a lot of one-back sets early in the year, and Connor never seemed to catch up. He still has a lot of potential though.
Running Back: Shonn Greene/Joe McKnight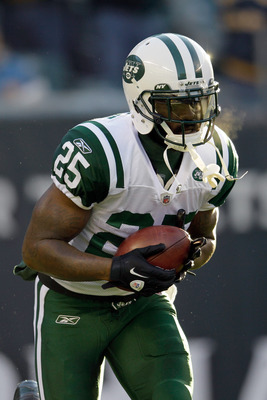 Rob Carr/Getty Images
This isn't a personnel change, but a play-time change. With LaDainian Tomlinson gone, I expect Joe McKnight to flourish. He improved vastly from his rookie season to sophomore season and I expect him to break out this year.
He is fast and will be a great third-down back. If Shonn Greene starts to struggle, McKnight could even be the starter
Wide Receivers: Santonio Holmes, Alshon Jeffery, Braylon Edwards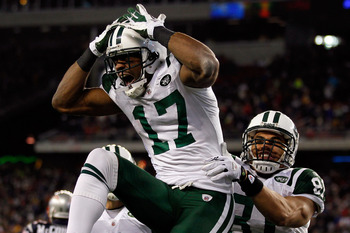 Jim Rogash/Getty Images
The Jets will absolutely steal one of the best wide receivers in the draft with the first pick of the second round. After a poor combine, Alshon Jeffery has slipped below Michael Floyd and slips into Day 2 in many popular mock drafts.
How do the Jets get the second round pick? Let me elaborate.
The Rams trade the second pick to the Browns for their first-round picks. I then predict the Jets trade down with the Rams by swapping first and second-round picks. This will let the Jets get Jeffery, a big red-zone target who will be the rich man's Plaxico Burress for years to come.
Also, after a year-long hiatus, Braylon Edwards will be back. He is a big wide receiver who is a great deep threat. Personally, I thought Braylon's absence is what killed the Jets passing game.
Without Braylon, Sanchez lost his deep threat, containing the passing game and making defense easy. Don't believe me? Think—how many deep throws did Sanchez make in 2010? How many were to Braylon?
Now, how many did he throw in 2011? A lot less.
The other major figure is Santonio Holmes. Despite being pulled out in the last game, Holmes is still a great receiver. More importantly, the Jets have too much money tied into him. Holmes will return. Also, look for Patrick Turner to have an expanded role next year.
Left Tackle: D'Brickashaw Ferguson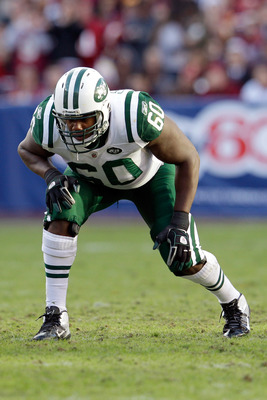 Rob Carr/Getty Images
Ferguson definitely underperformed last year. He led the team in sacks rewarded. However, he almost always was left alone. Whether assistance was given to Colin Baxter or Wayne Hunter, Ferguson often faced one-on-one protections.
Left Guard: Matt Slauson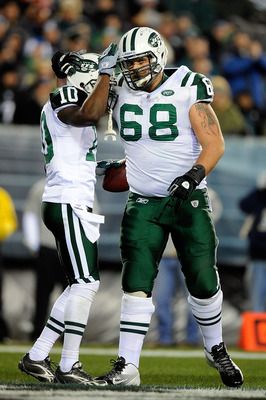 Patrick McDermott/Getty Images
Matt Slauson is a solid guard. He is great against the run. Look for him to improve pass protection next year.
Center: Nick Mangold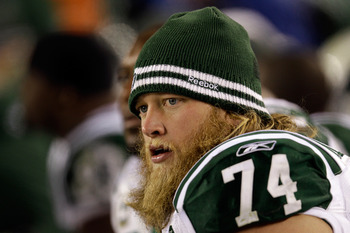 Rob Carr/Getty Images
Mangold, an all-pro center, is the keystone of the Jets offensive line. He'll be back next year, I guarantee it.
Right Guard: Brandon Moore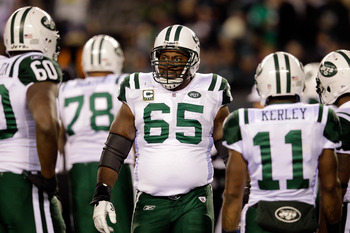 Rob Carr/Getty Images
Moore had a great year, especially being next to the human sieve that is Wayne Hunter. However, he is 33. Look for a late-round draft pick at the guard position to develop.
Right Tackle: Vladimir Ducasse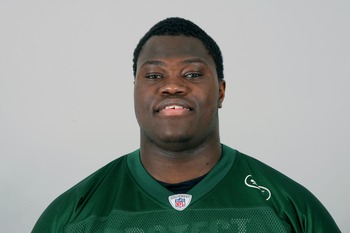 Handout/Getty Images
By the time you read this, you will have several expletive-ridden thoughts going through your head about my stupidity, my ineptness and possibly my mother. You will by now have decided to share your thoughts with the Internet. Before you do, please hear me out.
Wayne Hunter wasn't cut, so he will be back next year. That combined with the weak right tackle market means the Jets won't get anyone from free agency. I expect a late-round pick to compete as well.
There will be a three-way competition for the tackle spot this offseason. I think Ducasse will win. He is younger than Hunter, but is more experienced than the draft pick. He is a physical beast.
However, the biggest thing for me is that, over the last two years, Ducasse has been practicing at three different positions. This offseason, he is focusing on right tackle.
Call me crazy, which you will, but I believe Ducasse will be the dark-horse winner of the right tackle spot.
Defensive Line: Muhammed Wilkerson, Mike DeVito, Sione Pouha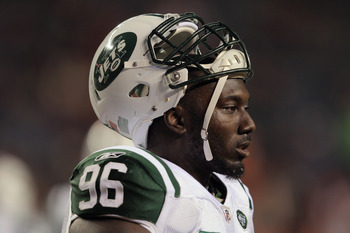 Doug Pensinger/Getty Images
The defensive line won't change this offseason. Pouha had a career-year last year, dominating in the trenches. He is the Jets' most important free agent, and will come back.
DeVito was an unsung overachiever. Wilkerson was great in his rookie year, proving himself as a solid starter for years to come.
Inside Linebackers: David Harris, Vontaze Burfict, Josh Mauga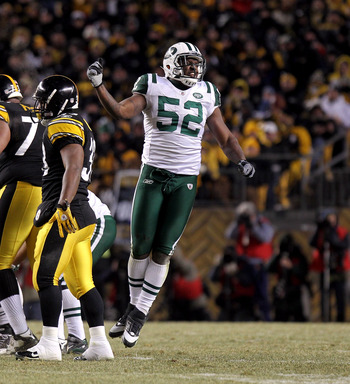 Nick Laham/Getty Images
With the Jets' fourth round pick, I see them picking—no, stealing—Vontaze Burfict. With his stock sliding, I think the Jets can snatch this once premier prospect up and run with him.
He is basically Bart Scott 2.0.
David Harris will still be David Harris. Mauga will see an expanded role next year. Look to see him line up on passing downs.
Outside Linebackers: Aaron Maybin, Calvin Pace, Jonathan Massequoi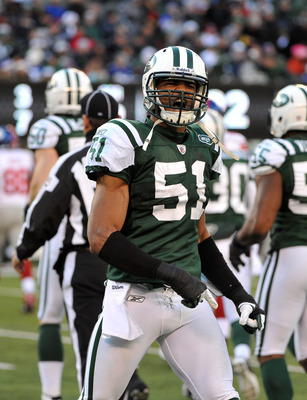 Christopher Pasatieri/Getty Images
With their third-round pick, I see the Jets going with Troy outside linebacker Jonathan Massequoi. A solid prospect, I expect him to end up as the starter this year.
The overpaid Calvin Pace will be back and will be as solid as ever. Maybin will continue to dominate the trenches, but will have a season to do so. Crazy prediction: He might make a run for the NFL sack leader.
Cornerbacks: Darrelle Revis, Antonio Cromartie, Kyle Wilson
Rich Schultz/Getty Images
No change here, the Jets will still have the best cornerbacks in the league. Cromartie will still be a good, sometimes great corner, Wilson will show steady improvement and Revis will still be the best cornerback ever.
Safeties: Mark Barron, La'ron Landry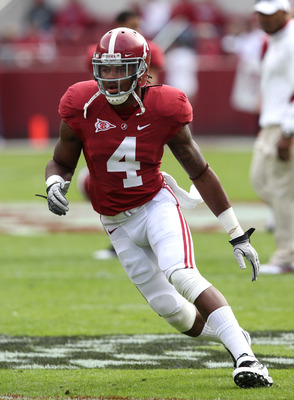 Mike Zarrilli/Getty Images
Total revamp in the safety corps. Some experts predicted two new safeties, one from free agency and one from the draft. Here they are.
Remember that 22nd overall pick we got way back in the wide receiver slide? Here's who we spend it on. Mark Barron is a talented safety with star potential.
The biggest splash the Jets make in free agency will be signing La'Ron Landry. He is a solid young safety. These moves could end up with the Jets having one of the best secondaries of all-time.
Punter: Bryan Anger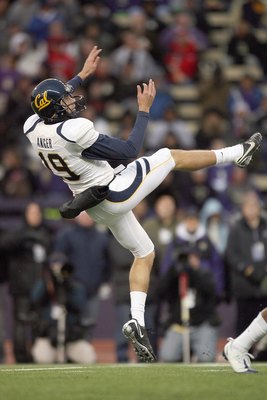 Otto Greule Jr/Getty Images
With one of their many compensatory picks, I see the Jets picking up Bryan Anger, the consensus best punter prospect. Conley is just too bad to start.
Kicker: Nick Folk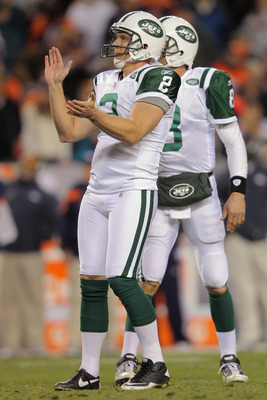 Doug Pensinger/Getty Images
Nick Folk will be back. I expect him to improve next year. Early in the year, he was nailing kicks left and right, though he started to decline later in the year. Don't be surprised to see an undrafted free-agent signing to push Folk.
Keep Reading

New York Jets: Like this team?