Matt Flynn: 3 NFL Teams That Should Look to Sign Packers' Backup QB
January 4, 2012
Jason Miller/Getty Images
Green Bay Packers' Matt Flynn wasn't a highly sought-after quarterback coming out of college.
Having only started one full season at LSU, after playing behind the likes of JaMarcus Russell and Marcus Randall, Flynn eventually led the Tigers to a win at the BCS National Championship Game in the 2007-08 season.
Flynn took home the Offensive MVP of the game and helped make the Tigers the undisputed No. 1 team in the final BCS polls.
The Packers took Flynn in the seventh round of the 2008 NFL Draft, and he came to win the backup role to Aaron Rodgers against once-praised QB Brian Brohm.
Having only started two games in his career, he made the best of both. He threw for 251 yards and 3 TDs in a surprisingly close loss to the New England Patriots in 2010 and then became the first Green Bay QB to throw for six TDs in a game just last week against division-rival Detroit Lions.
While his resume may not be as extensive as other QBs in the 2012 free-agent class, his upside and age may be enough to lure some NFL teams into signing him.
Now, now, angry Jets fans. I'm not suggesting the Mark Sanchez experiment is over, but with the lack of development of Sanchez over the past few years, having a healthy "competition" of sorts between Sanchez and Flynn could be a motivator for not only Sanchez, but the team as well.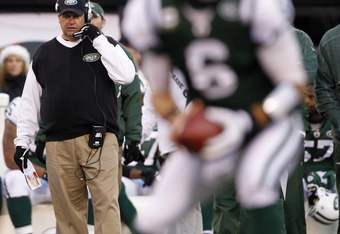 Rich Schultz/Getty Images
We all know Rex Ryan likes to push the buttons of Marky Mark to get the most out of his quarterback, so this may be enough of a driving force to finally get that untapped potential out of him.
—OR—
Flynn will run rampant in training camp and show New York Jets fans what a real QB is.
I think it's time to start anew in KC. Matt Cassel hasn't lived up to the six-year, $63 million dollar deal he signed with the Chiefs in 2009. While showing brief glimpses in the playoff year of 2010, he fell flat on his face in the lone playoff game that year and hasn't returned to form since.
With star running back Jamaal Charles assumed to return at the start of the 2012 season and a relatively deep receiving core of Dwayne Bowe, Jon Baldwin and Steve Breaston, KC needs a new face at quarterback, whether that means drafting one in this QB-rich 2012 NFL Draft or signing the up-and-coming Matt Flynn.
The Seahawks go through quarterbacks like Kim Kardashian goes through men. Matt Hasselbeck was a mainstay for many years in Seattle, but after a few injury-plagued seasons, he left for Tennessee last year. During the time Hasselbeck was on the sidelines, Seattle used players like Charlie Frye, Charlie "Football Jesus" Whitehurst and Seneca Wallace.
Tarvaris Jackson was the next in line but showed nothing in his lone year at quarterback in 2011. Seattle is in the same boat as the Chiefs; sign Flynn or Kyle Orton, or look to select a QB in the upcoming draft.
The Browns could also be put on this list, but I believe Cleveland will give Colt McCoy another chance to prove himself. They have far too many needs to put all their assets into one position.
Signing and justifying Flynn's value may be tricky. Matt Cassel and Kevin Kolb had similar ascents to relevance in the past, but both have yet to prove their worth. But that risk may more than pay off for under-producing teams looking to shake up their roster. Buyer's remorse or complete and utter satisfaction...you pick your poison.