Fantasy Football: The 5 Worst Things That Happened to Fantasy Owners in 2011
December 31, 2011
Otto Greule Jr/Getty Images
Even if you owned Aaron Rodgers, Drew Brees, Tom Brady, Rob Gronkowski, Maurice Jones-Drew and/or David Akers, you probably had at least one major problem involving your fantasy football team this season, and chances are it is listed below. 
2011 was a difficult year to be a fantasy football owner. Many players taken in the first couple rounds of fantasy drafts got injured or suffered through below-par seasons. And then there were some absences that were not explained until it was too late, which probably cost millions of fantasy owners victories on certain weeks. 
Here are the five worst things that happened to fantasy football owners in 2011: 
Marshawn Lynch Gets Benched—AFTER KICKOFF!
Before Seattle's Lynch transformed into a weekly touchdown waiting to happen (and a walking advertisement for Skittles), he stuck it to his fantasy owners in one of the worst ways possible. After starting the season slowly, with no 100-yard-games and only a pair of touchdowns over the first six weeks, Lynch faced the Cleveland Browns in Week 7. 
There were no signs of trouble or drama. Lynch was coming off a bye and looking to gain momentum after a 98-yard, one-score outing against the New York Giants in Week 5. Lynch owners probably thought he was about to turn a corner, although Cleveland's defense had been decent up to that point.
Most Lynch owners probably inserted Lynch into their starting lineups that week. When 1 p.m. ET came and lineups were locked down, all seemed fine. But by 1:10, Lynch owners were stabbed in the stomach by what they saw reported on television and the Internet.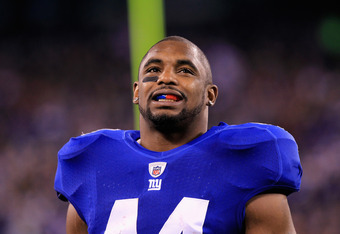 Chris Trotman/Getty Images
Turns out Lynch came down with sudden back spasms during warmups right before kickoff, and Seattle determined he would be unable to play, but this was not announced until after 1:00, too late for fantasy owners to change their lineups. So Lynch owners who used him were rewarded with gigantic zeroes in the points column.
Luckily Lynch made it up to fantasy owners over the rest of the year, running for 855 yards and scoring 10 touchdowns during an eight-game stretch in the second half of the season.      
Ahmad Bradshaw Misses Curfew—And The First Half
New York Giants tailback Bradshaw missed a month with a fractured foot, but at least fantasy owners knew he was hurt and were able to game plan accordingly. But when the Giants faced their archrival Dallas Cowboys on December 11 in a pivotal contest, Bradshaw was ready to run because his foot was good to go.  
The Giants-Cowboys tilt was a Sunday night game, and there was no mention of any Bradshaw disciplinary problems during Sunday afternoon. Yet right before kickoff it was announced on the telecast that Bradshaw was not starting because he missed curfew the night before. Giants head coach Tom Coughlin sure is a stickler.
Brandon Jacobs started at tailback, Bradshaw stood on the sidelines with his helmet in his hands and the fantasy football world groaned. Not only Bradshaw owners were miffed, either. Jacobs owners were upset that they got this news too late and could not activate Jacobs in their lineups.
All Jacobs did was run for 101 yards and two touchdowns. Meanwhile, Bradshaw got eight second-half carries for a measly 12 yards. In the end, fantasy football owners were as angry as Detroit head coach Jim Schwartz after an overzealous postgame handshake.  
A.P. Tears His Knee to Shreds
Minnesota franchise player Adrian Peterson was in the midst of having a pretty good season, all things considered. He rushed for 970 yards and a dozen touchdowns in a dozen games and also added an extra touchdown on a reception, even though opposing defenses stacked the box against him since Minnesota's passing game was below-average-at-best. 
But after returning from missing three games due to a high ankle sprain, and gaining the support of even more people in the fantasy community when Peterson said he was coming back partly "for my fantasy team owners," tragedy struck.
Peterson tore the ACL and MCL in his left knee against the Washington Redskins. Now he probably will not be ready for the start of next season, although everyone is hopeful he will be ready sometime in late September or October.    
   
In many fantasy leagues, the Peterson injury was meaningless. In dynasty and keeper leagues, though, the injury was devastating. Who knows if A.P. will be AOK when the season starts, and how much slower might he be when he does get on the field?  Have we seen the last of the old Adrian Peterson, or might he not be truly 100 percent until 2013?  Whatever the case, A.P. owners have a sad offseason to look forward to. 
Jamaal Charles Tears His ACL
The sky was the limit for the fantasy value of Kansas City speedster Charles. Heading into the 2011 campaign he was ranked as a top-10 player after amassing over 1,900 total yards in 2010. He was no longer going to share the workload with straight-ahead slowpoke Thomas Jones and was primed for a 2,000-yard year.
But after a 56-yard, one-TD outing in the opening week of the regular season, Charles' fantasy value dropped quicker than a Netflix stock. He tore the ACL in his knee on a harmless looking play out of bounds against the Detroit Lions. Charles' season was over barely before it began. 
When a fantasy owner loses his or her first-round draft pick to a season-ending injury right off the bat, the chances that person has of making the playoffs are about as good as the Indianapolis Colts' without Peyton Manning. Let's just hope Charles suffered the injury early enough in the 2011 season that he will be 100 percent by the beginning of the 2012 season. 
The Chris Johnson Holdout Debacle and Subsequent Slow Start
This fiasco has been covered by yours truly in several other articles this season, so I will try and keep the story short and sweet.
Johnson, arguably a top-five fantasy player coming into the year, held out after the holdout while asking for a multi-zillion dollar contract. He missed most of training camp and signed on the dotted line at the last minute, just in time to suit up for the first game of the season. 
But a combination of Johnson being out of shape and not ready, teams focusing on stopping him because they had no fear of Matt Hasselbeck's passing, and a new blocking scheme that did not jive with the way Johnson runs all conspired to turn Johnson into an overpriced version of Felix Jones.
Over the first eight games of the season, Johnson only had one 100-yard-game, and that was just for 101 yards. He also only scored one touchdown, so he was hardly John Riggans or Cris Carter. And during that span he did not even average three yards per carry. This all from a player who was drafted in the first round in many if not most fantasy leagues.
Johnson tried salvaging his season by dashing for more than 130 yards three times during a month-long hot streak, but he ended the season on a sour note by rushing for a paltry 134 yards and zero touchdowns between Weeks 14-16 when fantasy owners needed him the most.
Fantasy owners will have to assume that the old, greyhound-like Johnson's sprinter speed will return in 2012 when he has a full camp and is in top condition from the outset. But people will never forget how he screwed them over in 2011.