Tottenham Hotspur All-Time Premiership XI Vote: Striker
December 29, 2011
Julian Finney/Getty Images
This is the last installment of a series inviting you to vote for your favourite Tottenham players of the Premiership era, position by position. So far, we have covered the entire defence and midfield, so that just leaves one area of the team.
The final pieces of the jigsaw will be put in place after the results of this vote are in. There is a list of five candidates to choose from. You will be asked to vote for your favourite, as well as to leave a comment in support of your vote. If you haven't done so already, you can still take part in the other polls by following these links:
Tottenham Hotspur All-Time Premiership XI Vote: Goalkeeper
Tottenham Hotspur All-Time Premiership XI Vote: Right-Back
Tottenham Hotspur All-Time Premiership XI Vote: Left-Back
Tottenham Hotspur All-Time Premiership XI Vote: Centre-Back
Tottenham Hotspur All-Time Premiership XI Vote: Central Midfield
Tottenham Hotspur All-Time Premiership XI Vote: Right Midfield
Tottenham Hotspur All-Time Premiership XI Vote: Left Midfield
The candidates with the most votes will make the final XI, but if it's close, your comments could go a long way to deciding the final places in the team. So let's look at the strikers that have made the shortlist.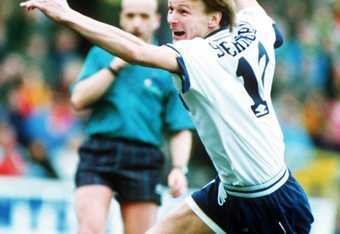 Phil Cole/Getty Images
Teddy Sheringham
The Premiership's top scorer in its inaugural season, Teddy Sheringham's legendary status with Spurs is unquestionable. Over the course of two spells with the club, he made 236 appearances, scoring 98 goals. But what that doesn't tell you is that Sheringham was considered by his peers as a genius to play with.
Both Jurgen Klinsmann and Alan Shearer enjoyed great success alongside Sheringham, whose only regrets would be that he didn't win a major trophy whilst with the club.
Upon his return to White Hart Lane, following a fruitful spell at Manchester United, Sheringham led Spurs to the League Cup Final in 2002, only for the team to fall short on the day against Blackburn Rovers.
His contribution to both creating and scoring goals has not been matched by many at Tottenham since; for that reason, he deserves serious consideration for this poll.
Jurgen Klinsmann
Possibly the transfer coup of the decade, Jurgen Klinsmann joined Spurs immediately after the 1994 World Cup, in which Germany had disappointed by only reaching the quarter finals.
Considered an enemy of the English when he arrived, mostly because West Germany had triumphed over them in the 1990 World Cup and his reputation as a diver, but he soon won over his critics with his on-field displays and cheeky goal celebrations.
He fired Tottenham to the FA Cup semi-finals and a 7th-placed Premier League finish in his only full season at White Hart Lane. He scored a total of 30 goals that season, earning himself the Football Writers' Association Footballer of the Year award.
His second, albeit brief, spell with the club was significant; his nine goals in 15 appearances ensured Tottenham staved off the threat of relegation, including scoring four times in a 6-2 victory over Wimbledon.
Jermain Defoe
Defoe's first spell at Tottenham began with a flourish, scoring as he did on his debut and going on to score over 20 goals in his first full season with the club. His playing time was later restricted following the arrivals of Robbie Keane and Mido, and later Darren Bent, all of which would result in his departure from the club to Portsmouth, despite being a fans' favourite.
He returned to White Hart Lane in January 2009. In his first full season following his transfer, he netted over 20 times in all competitions, including the famous five goals he scored in the 9-1 hammering of Wigan in November of that year.
Those goals lifted Spurs into the Champions League for the first time in their history and, unlike all the other players on this list, Defoe is still an active member of what must be considered to be the best Tottenham team of the Premiership era.
Robbie Keane
Robbie Keane had an up-and-down time at Spurs during his first spell, at one point even rumoured to be leaving the club following his public displays of frustration at his lack of first-team opportunities.
Eventually though, he struck up a dream partnership with Bulgarian Dimitar Berbatov under the management of Martin Jol. He consequently played a significant part in lifting the club from mid-table under-achievers to regular contenders for European places.
During that spell, he won his first major honour as a footballer, as Spurs triumphed over Chelsea in the League Cup final at Wembley in 2008.
Keane's other notable achievement was becoming the first ever Tottenham player to reach double figures for league goals scored in six consecutive seasons, which ultimately led to his £20,000,000 departure to Liverpool in July 2008. 
Keane returned to the club six months later after failing to settle at Anfield, contributing five goals to the second half of the season. Opportunities were limited in the next season though, as Spurs enjoyed an embarrassment of riches in the striker department; Keane spent loan spells at Celtic and West Ham before eventually departing for the US. 
Dimitar Berbatov
The only man on this list not to return to the club following his departure (at least not yet), Berbatov is not remembered fondly by many Spurs fans. His transfer to Manchester United left many feeling resentful of his behaviour, but, as with the controversial topic of Sol Campbell in the centre-back vote, we're here to discuss talent, not popularity.
The Bulgarian was a huge success at White Hart Lane, scoring 23 goals in both of his seasons there. Most significantly, he scored the equalizing penalty in the 2008 League Cup triumph and enjoyed a wonderful partnership with Robbie Keane, producing form that neither man has been able to re-create without the other, at any club.
Berbatov should be remembered at Spurs for his brilliance on the pitch (four goals in a match in a 6-4 win over Reading, anyone?) and not for the acrimonious way in which he departed when you consider who to vote for.
Vote now readers, and don't forget to leave your comments in support of your choice. I can see this being a close one, so they could make the difference.
The results of the poll, detailing all eleven players that make the grade, will be published in the new year. Happy New Year everyone!