Tottenham Hotspur All-Time Premiership XI Vote: Centre-Back
November 24, 2011
Julian Finney/Getty Images
It's time to choose Tottenham's greatest centre-backs from the Premiership era. You've already gone some way to deciding the defensive side to this Spurs XI, so it's time to finish the job.
You can still take part in the previous votes here:
Tottenham Hotspur All-Time Premiership XI Vote: Goalkeeper
Tottenham Hotspur All-Time Premiership XI Vote: Right-Back
Tottenham Hotspur All-Time Premiership XI Vote: Left-Back
Vote for your favourite and the top two will make the cut. If it's close, the comments left to back up the votes will decide the top two.
Gary Mabbutt
Tottenham's longest-serving player was at the club well before the Premier League began in 1992. He spent a further five seasons at White Hart Lane as captain, for which he rightly appears as the first in the list of contenders.
He played over 600 games for Spurs and deserves an honourable mention for pioneering the facemask look in the Premier League. Mabbutt is a Spurs legend without question—if not a Premiership legend.
Sol Campbell
Instinct tells me that not a lot of people will vote for this controversial character, following the betrayal felt towards him for his free transfer to Arsenal in 2001.
A lot of that feeling is justified, but the fact remains that Campbell served Tottenham extremely well while he was at the club. That vitriol still pours from Spurs fans at the very sight of him is enough to tell you that he was a fantastic defender for the club—his departure would have soon been forgotten if he was useless.
So when you're voting, consider the quality of the man who was named to the all-star XI at the 1998 World Cup in France (on an otherwise disappointing England team). He also captained Tottenham to their 1999 League Cup triumph over Leicester City.
He might not be your favourite former Spur, but he was one fantastic defender.
Ledley King
Current club captain and icon, King's career may have taken a very different path had he not been ravaged so devastatingly by injury. Despite being at the club for over 12 years, he has only made 254 appearances, mostly at centre-back.
Although he initially broke into the team as a midfielder under George Graham, King moved back to the defence after Sol Campbell's controversial departure to Arsenal.
His appearances—and arguably, by extension, Tottenham's performance—have been severely restricted due to injuries. Since Harry Redknapp's arrival at the club, King has managed to play a little more regularly. He has also been undergoing a carefully-managed training programme.
His effect on the team, and specifically on the individuals around him, is unparalleled. Were it not for his injuries, this man would be an all-time England great—without question.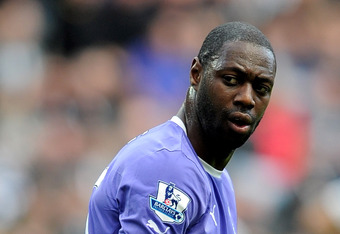 Michael Regan/Getty Images
Dawson's arrival at the Spurs has coincided with an upturn in fortunes at White Hart Lane. He has been a rock, especially when Ledley King has been absent due to injuries.
Dawson excelled throughout the 2009-10 season. He played in all but one of Tottenham's Premiership matches and captained the side to fourth, their highest-ever Premier League finish.
Those performances saw him named to the 30-man provisional England squad for the 2010 World Cup. Though he was going to miss out initially, he was flown in as Rio Ferdinand's replacement when the Manchester United man was injured.
Dawson won the club's player of the year award in that same season. Following the victory over Manchester City that clinched fourth place, his performance led Carlos Tevez to describe him as "the best English defender I have played against." High praise indeed...
So there are your choices: Vote now and back it up with a comment. I've got a feeling this is going to be a close one!